Hampton Roads SNAME Section Hears Paper On Rudder Torque Prediction
The Hampton Roads Section of The Society of Naval Architects and Marine Engineers kicked off its first meeting of 1981 with a technical presentation at the Fort Monroe Officers Club in Hampton, Va. As expected, a large turnout of 121 members and guests was present to hear the evening's paper titled "Rudder Torque Prediction," by Roy L. Harrington, naval architect and technical manager of Newport News Shipbuilding.
Taking into consideration the large amount of study that has gone into the analysis of the flow around ships' hulls and the performance of controlled surfaces, it would appear that an accurate prediction of the torque required to exercise the rudder on a large ship would be a simple undertaking ; however, such is far from the case. After studying the numerous factors that theoretically must be dealt with when predicting rudder torque, it is apparent that the achievement of precise rudder torque predictions will remain out of reach f o r many years.
This being the case, the practicing naval architect must determine how to make the best use of the data and analysis techniques currently available.
Mr. Harrington's paper discussed the various considerations to be evaluated when establishing rudder torque design values, analyzed procedures for predicting rudder torque requirements, and gave examples for rudders of the spade and horn types. Rudder type calculations were made for six ships, and the results were compared with data recorded during sea trials.
Written discussions were prepared by: H.G. Acker, Bethlehem Steel-Sparrows Point; Deborah Berman, U.S. Merchant Marine A c a d e m y ; Charles F. Butler, Newport News Shipbuilding; Edwin T. Cangin, Mar A d ; Conway D. Davis, Ingalls Shipbuilding; A. Fairlie-Clarke, Vickers Engineering Group Ltd.; Everett C.
Hunt, U.S. Merchant Marine Academy; J.R. Kane, consultant; H.T. McVey, H.T. McVey & Associates ; Perry W. Nelson, M. Rosenblatt & Son; A. Rem, Netherlands Ship Model Basin; Stanley G. Stiansen, American Bureau of Shipping; Robert Taggart, Robert Taggart Inc.; A. Taplin, consultant ; L. Vassiloupoulos, Maritech Inc.; and W.S. Vorus, University of Michigan.
Both the paper and the written discussion are considered to be a s i g n i f i c a n t contribution to the field of naval architecture. Copies of both the paper and the discussion are available from the Hampton Roads Section.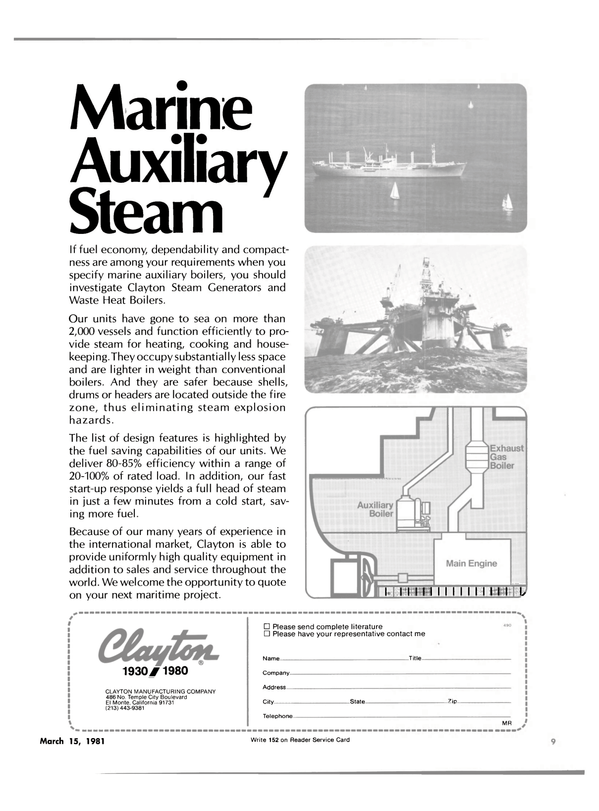 Read Hampton Roads SNAME Section Hears Paper On Rudder Torque Prediction in Pdf, Flash or Html5 edition of March 15, 1981 Maritime Reporter
Other stories from March 15, 1981 issue
Content