NOR-SHIPPING '81
Eighth Presentation Of This High-Quality Exhibition Is Booked To Capacity Indications are that this year's Nor-Shipping Exhibition, to be held as usual at the Sjolyst Centre in Oslo, will attract great interest.
All available exhibition space had been booked six months in advance, and the show's organizer, The Norwegian Fair Organization (Norges Varemesse), has also arranged an impressive seminar that will run for two days during the exhibition's May 11-16 schedule.
The first Nor-Shipping Exhibition took place in 1965, with subsequent shows held in 1968, 1971, 1973, 1975, 1977, and 1979.
Nor-Shipping '79 was visited by about 9,000 people from 43 countries.
A total of 266 exhibitors from 20 nations represented manufacturers f r om 25 countries.
More than 500 commodity groups were represented, including banks and other financial institutions, classification societies, harbor and canal authorities, international maritime publications, marine insurance companies, private and public shipping and export organizations, salvage companies, shipbrokers, shipbuilding and repair yards, suppliers of marine equipment, stevedores and cargohandling firms, suppliers of stores and bunkers, training and recruitment organizations, carriers, and others who serve or are associated with the shipping industry.
From the beginning, a seminar has been held in connection with the Nor-Shipping Exhibition. This year it will take place on May 12- 13. The goal of the seminar committee, chaired by H.T. Gram, honorary member of the board of R.S. Platou A/S, has been to let recognized experts present some of the current issues within shipping, thereby throwing light on these topics through internal panel discussions and possible contributions from the seminar participants.
At the Nor-Shipping '79 Seminar, most of the speakers expressed cautious optimism, which proved to be justified. Since then, the market has improved considerably in most trades. The future will, however, present new problems.
Ways in which to deal with these problems will be subject to thorough discussion at this year's seminar.
Among the subjects to be taken up during the two seminar days will be the role of shipping in a turbulent world — politically and economically; cooperation in shipping — the need for an international approach ; energy—another field in cost savings; and problems of manning, education, and safety.
SEMINAR PROGRAM TUESDAY, MAY 12 In Section I of the seminar, chaired by Mr. Gram, three papers will be presented by internationally known experts. The seminar committee anticipates that these presentations will influence strategic planning in sectors of the international marine industry.
The Unyielding 1980s: Andrew Knight, editor, The Economist.
This presentation will cover the uncertain and turbulent international scene, with some direct references to energy, oil, and the role of shipping and shipping-related industries.
Reflections on the Shipping Policy of the OECD and its Coordination: R.A. Humphrey, head, Maritime Transport Division, Organisation for European Economic Development.
Australian Export Potential of Raw Products — Visualized Demand for Transportation — Australia's Own Shipping P o l i c y: Ross Hawke, general managertransport, The Broken Hill Proprietary Company Ltd.
Section II will be devoted to the relations between developed and developing countries in the mar- itime field. Leading representatives from government and private industry will discuss the possibilities of establishing a constructive framework for the future maritime relations between these sectors. Under the chairmanship of Sven H. Salen, chairman, Saleninvest AB, Stockholm, and president of the Swedish Shipowners' Association, the general theme for this section will be Cooperation in Shipping—the Need for an International Approach.
D e v e l o p i n g and Developed Countries—Partners or Adversaries in the Future?: Larime Fadika, minister of shipping, The I v o r y Coast; Brian P. Shaw, chairman, Committee of European National Shipowners' Association (CENSA) ; and a third speaker, to be announced, representing the International Chambre of Commerce (ICC).
Cooperation on the Industry Level—What Is in it for Developing Countries ?: Arsenio Carlos Nobrega, director, Empresa de Navegacao Alianca, S.A., Brazil; J.P.J. Besman, L.D. Travel International (Ship Freight) Ltd.; and Atle Jebsen, vice chairman, The Norwegian Shipowners' Association.
WEDNESDAY, MAY 13 Section III will focus on the current energy situation and address different ways of reducing energy bills. With the soaring cost of oil and rapidly rising prices for all sorts of energy supplies, the question of fuel economization has become a very important one. This section will be chaired by Bjorn Wilhelmsen, managing d i r e c t o r , Nortank- Sigurd Sverdrup A/S.
Coal and Oil Reserves in the 80s: Prof. Vidkunn Hveding, C.E., Oslo. This presentation will contain estimates of the existing coal and oil reserves available this decade. Of particular interest are the North Sea reserves, which seem to be a vast resource where technical and political decisions could be a hindrance.
What Can Be Done To Existing Tonnage To Save Energy?: Carsten Boe, Det norske Veritas; and Arnold Kr. Hansen, managing director, The Ship Research Institute of Norway. The two speakers will discuss possibilities of saving energy in existing tonnage, concentrating on methods to improve machinery performance and reduce hull friction.
Coal Burning as Fuel in New Vessels: W.F. Ellis, principal consultant, W.F. Ellis and Associates Pty, Ltd. There are d i f f e r e nt theories on how coal can be utilized as fuel in new ships, but very few vessels have actually been ordered and only a handful are in service today. The speaker will report on the operation of coal-fired ships and the criteria needed for a successful project.
The final Section IV will deal with manning of ships, education of ship's personnel, and ship safety in general. The two introductory speakers and the four panelists are internationally wellknown experts in this field. The session will be chaired by Egil Abrahamsen, president of Det norske Veritas.
IMCO's Work for Safety at Sea: E.P. Srivastava, secretary general, Inter-governmental Maritime Consultative Organization (IMCO). This talk will have a special bearing on IMCO's work on international requirements regarding standards of manning, certification, and watch keeping.
U.S. Coast Guard and International Work on Safety at Sea: Rear Adm. Henry H. Bell, U.S.
Coast Guard, Chief, Office of Merchant Marine Safety. This paper will explain the difference between international regulations adopted or to be adopted by IMCO and those applied by the U.S. Coast Guard considering the impact of such differences on foreign vessels calling at U.S. ports.
IMIF's Contribution To Better Operating Standards: Dr. Helmut Sohmen, chairman, International Maritime Industries Forum (IMIF), and chairman of Marine Navigation Company Ltd. This presentation will deal with safety in human terms, elaborating on manning policies, morale and staff welfare, and safety consciousness.
Human Factors and Safety: William O. Gray, senior advisor, Petroleum Products Department, Exxon Corporation. This speech will deal with human errors defined as "competent" and "incompetent" errors, stressing the question as to where the responsibility primarily rests and how a major company like Exxon attacks these problems.
Accident/Incident Statistics for Safety: K. Harold Drager, principal research engineer, Det norske Veritas. The ultimate objective of statistics on marine casualties is to create a base for deciding priority as to where remedial actions should be put in. Safety at sea being an international matter, worldwide marine casualty statistics defining the causes of the accidents in a manner suited to an overall and systematic analysis is of paramount importance, this paper states.
Vessel Traffic Systems for Safe Navigation—Limited Guidance or Extensive Control?: Frode Ringdal, attorney at law. This speaker will question whether participation in shore-based monitoring systems should be voluntary or made mandatory. He will also discuss whether such systems should be of a passive, advisory type or be given the power to take direct action in the movements of the vessel. In the latter case the legal aspects, such as liability in case of wrong information or orders being given, have to be clarified.
Manning of the Bridge: Capt.
Erik Salvesen, Norwegian Mariitime Directorate. This paper will deal with the general basis for the existing manning rules applicable to Norwegian ships, particularly emphasizing rules and regulations related to navigational watchkeeping.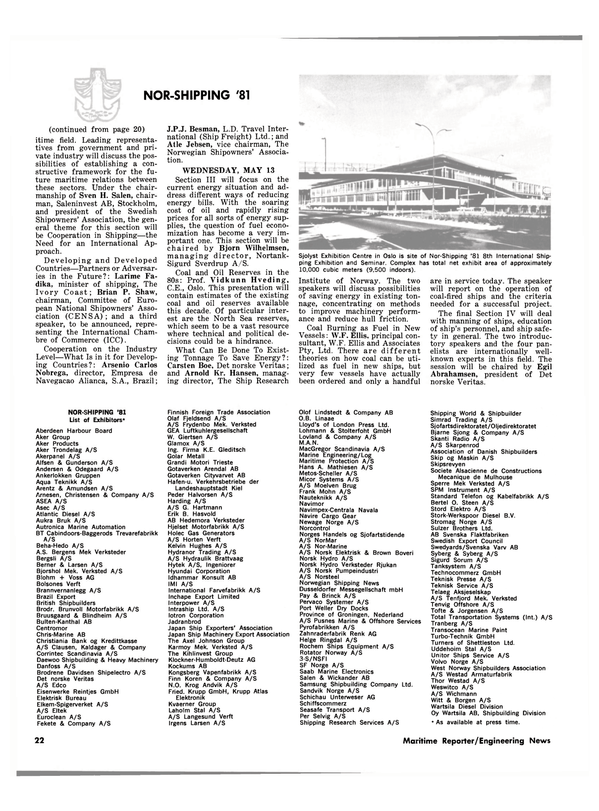 Read NOR-SHIPPING '81 in Pdf, Flash or Html5 edition of April 1981 Maritime Reporter
Other stories from April 1981 issue
Content