Navigation & Communications Equipment Review
Through technology advancements, the major manufacturers of shipboard electronics are constantly introducing innovative products in an effort to make navigation safer and more precise and communications faster and easier.
Newer, more powerful lorans, radars, radiotelephones, weather chart recorders, navtex receivers, ARPAs, hand-held phones, etc. with state-of-the-art, cost-effective features continue to be introduced in the marine market.
In an effort to sort out some of these new choices, Maritime Reporter has asked a number of major manufacturers of shipboard navigation and communications equipment and services to tell us about their latest products. The following review is based on information we had received at press time.
FOR MORE INFORMATION To receive free literature detailing any of the high-tech products described in this review, circle the appropriate reader service number listed under each company's name, using the postage-paid card bound into the back of this issue.
ALDEN Circle 10 on Reader Service Card Alden Electronics, Inc., Westboro, Mass., recently introduced the low-cost Alden Faxmate™ Weather Chart Recorder.
According to Armand Bouchard, Faxmate product manager, Alden is introducing the Faxmate to provide an economical means for all mariners to be able to acquire vital weather and oceanographic charts while underway. As an added bonus, the Faxmate can double as a printer for an on-board computer.
Designed to operate with any HF or ham radio, the Faxmate provides mariners with surface analyses charts which show current locations of storms as well as prognoses which predict the indicated speed and direction of these storms. Also, satellite pictures are available in certain areas, showing cloud cover patterns enabling the mariner to track hurricanes and tropical storms. Many transmit sites now broadcast sea surface temperatures, mixed layer depth and the location of warm and cold water eddies which are so helpful in locating various species of fish.
The Faxmate complements Alden's current line of Marinefax recorders which have won the coveted National Marine Electronics Association Award for reliability and performance for the last eight consecutive years.
COMSAT MARITIME Circle 25 on Reader Service Card COMSAT Maritime Services, headquartered in Washington, D.C., is one of two Communications Satellite Corporation rate-regulated businesses that make up the World Systems Division. COMSAT Maritime Services provides satellite and earth station services to ships at sea and offshore oil platforms for telephone, telex, data, and video communications via the International Maritime Satellite Organization (INMARSAT). COMSAT Corporation currently holds approximately 28 percent ownership interest in INMARSAT, and COMSAT Maritime Services carries out the company's responsibilities as U.S. Signatory to this international organization.
COMSAT Maritime Services provides satellite communications services to ships at sea virtually anywhere in the world through two U.S.
coast earth stations located at Santa Paula, Calif., and Southbury, Conn.
Other services recently developed and offered by COMSAT Maritime Services include daily news digests, credit card telephone calls, cash advances from credit cards, live television and radio broadcasts, group calls in which the same message is sent to many ships simultaneously, and access to computer data banks on shore via packet-switched networks.
Customers include: passenger liners; shipping, fishing, oil and mining interests; and pleasure-boaters.
In 1987, COMSAT Maritime Services handled more than 510,000 telephone calls and 2 million telex messages to ships at sea and offshore facilities.
FURUNO Circle 11 on Reader Service Card Furuno USA, Inc., South San Francisco, Calif., recently introduced three marine navigation products—a GPS navigator, a dual frequency color video sounder and an ultra-compact radar.
Furuno's new GP-300 navigator operates as a fully functional NAVSTAR system, yet compensates for the current limited satellite availability by using a hybrid system whereby the operator can choose another navigation system, such as loran C, Transit satellites, or speed log/gyrocompass, as backup and the unit automatically updates position data as soon as the GPS data is available.
The GP-300 provides digital readouts for latitude and longitude, speed/course, range/bearing, ETA/ TTG to a waypoint, waypoint details, and local or GMT date and time. Up to 10 Event marks and 20 waypoints may be entered, and audible alarms are provided for crosstrack error, arrival border approach, and anchor watch.
The FCV-261 is a dual frequency, 1,000-watt, eight-color machine with six basic ranges factory set to 1,000 feet, but customizable to 3,000 feet by the user. Phasing is in 1- or 10-foot steps depending on range scale in use. A high resolution 10- inch CRT shows any of six presentation modes that permit the user to see various combinations of high, low, or mixed frequencies, and six bottom lock ranges appear on the lower third of the screen.
The FCV-261 also has built-in memory capable of holding a full page of data, fish and bottom alarms, and choice of 6 different combinations of frequencies from 28 to 200 kHz.
Furuno's new FCV-261 is a tremendous step forward in fishing database management, permitting enormous amounts of critical information to be displayed on a convenient single CRT screen.
Furuno's new Model 1720 ultracompact full featured radar provides a steady, daylight-bright picture on a 7-inch-high resolution CRT, offers the company's no-compromise multilevel quantization, has built-in EBL, VRM and Electronic Guard Zone, is fully splash protected, and has Furuno's supersensitive custom microwave IC receiver.
It also has a unique feature— today's marine electronics industry; a compact, rugged radome antenna weighing less than 10 pounds.
The Model 1720 has Furuno's traditional commercial quality and performance features in a package that will truly fit any size vessel.
HARRIS Circle 21 on Reader Service Card One of the latest products from the Harris Long Range Radio Division is the RF-3200, a new generation HF-SSB radio that incorporates many technical innovations.
According to the firm, the outstanding difference between the RF-3200 and other HF-SSB radios is the operating simplicity of the Harris unit. A single convenient knob tunes all frequencies and channels. Pushbutton entries are kept to a minimum. It has nine different programmable scan groups, with no practical limit on the number of channels in each group. All data is protected in non-volatile memory so it is not necessary to reprogram or re-enter data every time power is disconnected.
Another important technical advance is the use of a single multiplexed multiplexed coaxial cable to the antenna coupler, which eliminates the requirement for the usual multi-conductor control cable. This coax supplies electrical power to the coupler and also provides two-way digital communication between the coupler and transceiver. This saves time and money in installation and, more importantly, improves performance in the field.
The RF-3200 operates in the 1.6 to 30 MHz range. It can also be tuned to receive down to 500 KHz for monitoring Navtex broadcasts.
Standard output is 125 watts. With the addition of an optional solidstate linear power amplifier, the unit can provide 1-kw power output.
HENSCHEL Circle 12 on Reader Service Card Henschel Corporation, Newburyport, Mass., a unit of General Signal, is a leader in designing, developing and manufacturing ship control and monitoring systems for both Navy and commercial vessels.
For more than 60 years, Henschel has supplied reliable equipment to meet the unique demands of the marine evnironment.
One recently developed product from Henschel is a new announcing system designed for medium and smaller military vessels. The system features a combined 200-watt audio power amplifier and system control unit, using modular construction designed for a larger system now in use on aircraft carriers. The system also incorporates voice processing, new design microphone control stations, and both high power and medium- power loudspeakers. The system can be reconfigured to suit any type of vessel.
Some of Henschel's other products include engine order telegraphs, wheelhouse consoles, soundpowered telephone systems, ship control and monitoring systems (for both surface and submarine vessels), ship's course indicators, bell loggers, whistle timers, throttle control levers, engineer's alarm panels, shaft speed indicator system navigation light panels, fire alarm systems, audible signals, digital master clock systems, synchro-signal amplifiers and rudder angle systems.
HULL ELECTRONICS Circle 14 on Reader Service Card Hull Electronics Company, San Diego, Calif., recently introduced the model 230 SSB Radiotelephone which offers complete frequency coverage from 1.6 to 30 MHz with channel selection by keyboard. A large selection of factory-programmed channels is provided including all of the high-seas telephone (ITU) and ship-to-ship frequencies.
In addition, the user may add up to 200 channels to suit individual needs.
The model 230 is suitable for use with radio-teletype (ARO) equipment and offers a full 150 watts PEP output. Operation is from any 12-volt DC source or from a 115 VAC source with an optional builtin converter.
Provisions have been made in the unit to scan up to 10 channels of the user's choice. Scanning can be interrupted either from the keyboard or remotely.
A plug-in module is available to provide the standard two-tone emergency alarm broadcast. A second optional module permits full break-in CW operation.
A new automatic antenna coupler, Hull model H-403CU, is offered to permit operation with typical marine antenna systems.
KRUPP ATLAS ELEKTRONIK Circle 29 on Reader Service Card Krupp Atlas Elektronik has introduced the low-priced Atlas 5400, a 12-inch conventional display relative motion radar to complement its current range of 12- and 16-inch rasterscan systems.
Suitable for either stand-alone installation or integration with other systems, the Atlas 5400 combines high-resolution display facilities with simplified LED-type data presentation.
Three display modes are available, head-up, course-up and Northup, together with an off-center capability of up to half of the display radius. Other advanced features of the Atlas 5400 include a VRM with digital readout and a ship-oriented EBL, centered or movable with digital display or absolute bearing.
The Atlas 5400 complies with IMO requirements as well as other major specifications. It operates over a series of nine phased ranges from 0.3 to 72 nautical miles. The unit is available with an X- or Sband transceiver and antenna. The system can be interswitched with other Krupp Atlas Elektronik systems such as the Atlas 5600, 7600 and 8600 rasterscan radars for cross connection or master/slave operation.
The unit also includes a performance monitor for the transceiver as well as comprehensive built-in self-check functions for added reliability.
The Atlas 5400 is available with either an 8-foot or 14-foot slotted array antenna for X- or S-band operation. Its corresponding transceiver output is 25 kw and 30 kw.
MACKAY Circle 23 on Reader Service Card The Marine Division of Mackay Communications, Inc. recently announced a new generation high frequency marine radio console.
Designated MRU-35M, the newly designed product is a 1,000-watt, solid-state unit that incorporates the state-of-the-art communications technology demanded in today's single side-band, CW and teletype environments. It is suited for shipboard or fixed station application and is FCC Type Accepted.
Four versions of the MRU-35M are available: Standard Simplex, Simplex ARQ, Full Duplex and Duplex ARQ.
The unit's all-channel, solidstate, linear amplifier (1020M) provides 1000 watts RF power to the automatic antenna coupler (4030), and automatic power reduction to 125 watts for all frequencies below 4MHz.
Optional equipment includes isolation transformer, noise suppression line filter, 5050 Full Duplex Receiver, 35-foot whip antenna and radioteletype accessories.
The Mackay Marine Division supplies, installs and services a wide array of communications equipment, including radio and satellite communications systems, navigation system including radars, ARPAs Loran C, GPS and Automatic Direction Finders, and Pollution Monitoring systems and Flow Meters.
RDI Circle 27 on Reader Service Card Radar Devices, Inc.'s advanced automatic radar plotting aids series RDI ARPA I and RDI APRA IV significantly reduce costs of installing collision avoidance radar systems aboard all vessels of more than 15,000 gross registered tons to meet International Maritime Organization's (IMO) September 1988 deadline.
Ships' owners realize these cost savings when they retrofit RDI ARPA I or RDI ARPA IV to their ships' existing radar instead of buying expensive new radar systems with costly built-in collision avoidance systems.
RDI ARPA I is one of the world's most economical add-on ARPAs that puts computer-generated ARPA symbols and vectors on almost any marine radar display, meeting IMO's requirements. The easy-to-use system is interswitchable between two existing radar displays and offers a 10 or the new GA- 20 target tracking system with manual, semiautomatic or full automatic guard zone acquisition, with Radar Devices' patented Guard Zone warning alarm.
With its own very bright 16-inch CRT, the RDI ARPA IV is one of the lowest cost full-size ARPAs available. The basic 20 target RDI ARPA IV system automatically tracks radar targets which are acquired manually, semiautomatically or automatically by Guard Zone System. The radar information is displayed in the form of target echoes, track symbols, history points and vectors. In addition, the RDI ARPA IV is designed to serve as a second display or simply be an ARPA add-on to a ship's present radar.
RACAL Circle 15 on Reader Service Card The Racal Corporation, a leader in telecommunications and data communications, defense electronics, security, avionics and marine electronics, electronic design automation, instrumentation and recorders, health and safety, serves the marine industry through Racal Marine in New Jersey, Racal-Decca Canada in Ontario and Racal Survey in Texas.
Aboard nearly every type of vessel, from pleasure craft to large, oceangoing tankers, Racal marine navigations systems, radar and instrumentation are in use. Racal produced one of the world's first production color automatic radar plotting aids, which reduces the workload and stress on a bridge, making a major contribution to safety at sea.
The company is also a major producer of hydrographic and offshore positioning systems that profile bodies of water, aid in the dredging of rivers and harbors and offer computerized positioning for naval ships engaged in mine countermeasures.
More than 90 countries have purchased Racal's marine electronics packages for their navies. These packages combine radar, precise positioning, navigation and marine automation systems. Additionally, Racal supplies highly specialized equipment to the NATO Alliance's antimissile submarine program.
Service is indispensable in the marine industry. Shipowners can be assured of dependable Racal service, with service teams located in virtually every major coastal and inland port. Some 200 dealers provide additional support.
RADIO-HOLLAND Circle 19 on Reader Service Card The Distributor Products Division of Radio-Holland USA, BV, Houston, Texas, is the North American distributor for several companies, including Thrane & Thrane of Denmark and Anschutz.
Anschutz has developed the microprocessor- controlled navigation and maneuvering system Nauto Control for the ship's command centers of highly automated "ships of the future." The central development goal for the Nauto Control system was the integration of all subsystems and sensors essential for navigation into one functionally closed total system.
The system consists of sensors— gyrocompass, rate gyro, log systems, magnetic compass\and position receivers; a computer-controlled heading reference management system called Nautocourse; course controllers— a digital autopilot Nautopilot D and an adaptive autopilot Nautopilot A; a track controller— Nautotrack; an automatic chart table— Nautoplot; and a manual steering control called Nautosteer.
In this system configuration, the track planning is carried out by the chart table Nautoplot. The data relevant to track control are transmitted to the autopilot and followed up automatically. The current ship's position is shown in the form of a light-spot on the sea chart and additionally as position coordinates on an alphanumerical display. Thus the Nautoplot simplifies and automizes the important functional procedures for the ship's command, while achieving optimal use and integration of the required nautical information system "sea chart." RAYTHEON MARINE Circle 28 on Reader Service Card Available in the U.S., Mexico and Europe exclusively from Raytheon Marine Company, this new satellite communications terminal is made by Japan Radio Company, one of the world's largest manufacturers of such systems. The JUE-45A is designed for merchant ships, commercial fishing vessels, and oceangoing yachts.
The JUE-45A culminates a successful weight-loss program, designed to make SatCom systems even easier to install and operate.
Compared to JRC's previous Sat- Com generation, the JUE-45A's Below Deck Equipment (BDE) is half the size and less than half the weight. And the Above Deck Equipment (ADE) has lost about 15 per- cent in height and, at 242 pounds, about 33 percent in weight.
The JUE-45A is not only the most compact system of the JUE series, but also the most sophisticated.
The system automatically selects the correct satellite—thanks to a new antenna scanner.
The new abbreviated dialing unit stores up to 40 telephone and telex numbers that the operator can dial automatically by pressing a twodigit number.
And when a message comes from shore, the JUE-45A automatically selects the correct computer modem, facsimile, or telephone—no one has to get up in the middle of the night to receive the message.
The system's Video Display Unit (VDU) features a 14-inch CRT with large, easy-to-read characters, 32 Kbyte memory, and full word-processing capabilities.
In addition to these and other standard features, many advanced options are available. For example, The Fleet Data Management System makes fleet operation easier and safer by connecting the shipowner's office with the ships. And, the Automatic Ship's Position Reporting System provides the shore SULZER office with real-time navigation data.
For all its abundance of highly sophisticated capabilities, the JUE series is exceptionally, reliable, boasting over 40,000 hours MTBF (Mean Time Between Failures).
Raytheon's worldwide network can service the JUE-45A as well as other products from Raytheon's complete line of navigation and communication equipment.
RAYTHEON SERVICE Circle 101 on Reader Service Card Raytheon Service Company, Marine Sales and Service Division, is a full-service, one-stop source for sales, service, installation, maintenance, overhaul and supplies for marine navigation, communication and electronic equipment and systems of all types. The company operates from eight U.S. port offices which serve all ports and shipyards either at pierside or anchorage.
Raytheon Service Company has been serving the maritime industry for over a half-century. Worldwide customers operate ships and vessels of every type: commercial cargo, passenger, military, government, commercial fishing, workboats, oil drilling and exploration, dredging, hydrographic and ocean survey, yachts and pleasure craft.
The company sells and services equipment manufactured by a broad variety of producers including the full Raytheon Marine product line. This diversity is apparent in recent agreements between Raytheon Service Company and other major manufacturers of marine electronic equipment. These agreements involve full sales and service dealerships for all eight locations to represent Odom Hydrographic Systems with their survey equipment and Magnavox Marine and Survey Systems Division for the full Magnavox line of marine navigation and communication products.
The company offers 24-hour, seven day a week service that extends to any area of the world. Raytheon Service Company provides an extensive depth of experience; its field engineers have built a reputation for service excellence, dependability and responsiveness that go beyond a ship's navigation bridge and communications center—reaching from the top of the mast to the keel, and from stem to stern, encompassing a variety of shipboard monitoring and control systems. The entire staff embodies the company-wide commitment to mastering the fundamentals and then consistently applying them to solve complex problems.
Raytheon Service Company, Marine Sales and Service Division, is a separate operating division of Raytheon Company, Lexington, Mass.
ROBERTSON-SHIPMATE Circle 16 on Reader Service Card Robertson-Shipmate, Inc. offers a full range of Robertson autopilot/ vessel control systems and Ship- mate satnav, GPS and Navtex navigation products.
Recently, Robertson upgraded the software and hardware of its service- proven AP9 autopilot and renamed it the AP9MKII. The upgraded unit's software simplifies operation and increases the system's efficiency. While still able to maintain highly precise steering control, the AP9MKII will now also accept navigation input directly from a satnav receiver as well as a loran. It can automatically sense type of heading sensor used and provide improved rate of turn control and can drive as many as Six rudder angle indicators.
Options include follow-up or nonfollow- up steering levers, watch alarm, dual station installation, AC power supply and control of both the rudder and bowthruster to maintain set heading at very low speeds or for precise maneuvering.
The Shipmate RS6101 Navtex Receiver provides a full range of weather and safety information automatically with free choice of transmitter stations. The RS6101 has only four control keys to insure simple, reliable operation. All additional functions are performed via a printed menu that describes required operator responses.
The company is now offering the new RS5200 "black box" receiver which can be added to the Shipmate RS5100 SatNav receiver to upgrade it to complete GPS compatibility.
The RS5200 senses when a reliable Navstar signal is available, switches over to the GPS mode, then switches back to Transit satnav reception— all automatically. Navigation data is shown on the existing RS5100 display. This is a completely hands-off procedure. As soon as GPS coverage is complete, estimated to be sometime in 1991, the RS5200 will become a 24-hour-aday, worldwide navigation system.
For vessel maneuvering, Robertson- Shipmate offers the Robertson Commander vessel maneuvering system, which integrates control of the thruster and main engines into a single, three-axis joystick and may be used in lieu of all other engine and rudder controls.
The system is supplied as a comprehensive main control station, containing three sub units—a joystick control module, an advanced autopilot and an engine select/thruset display module.
Robertson-Shipmate also announced that they are expecting FCC approval shortly for their RS7100 full duplex commercial VHF radiotelephone system.
SIMRAD Circle 17 on Reader Service Card Simrad, Inc., Seattle, Wash., a leading supplier of hydro acoustics, navigations systems, radio-direction finders, ocean data systems and platform instrumentations to the marine industry, recently introduced the TL-900, a high-performance, commercial grade loran. Some of the TL-900's outstanding features include a large LCD display which shows present position and navigation functions simultaneously, automatic ASF correction and magnetic variation, 99 waypoints, 10 different routes with route following, four different alarms and data output in NMEA format.
The unit has been tested in some of the worst loran-C coverage areas in the U.S. and the company has found it to be a top performer in terms of settling time, signal acquisition, tracking and user friendliness.
SI-TEX Circle 18 on Reader Service Card The full-featured A-310 Satnav System from Si-Tex, Clearwater, Fla., offers the same operational performance as that used by large oceangoing vessels, but at a fraction of the price. Multiline display on backlighted screen presents a wide range of navigation data including: Present Latitude and Longitude position, speed, heading, GMT and date, plus information on up to 20 previous satellite-fix positions and 20 future alerts. Additional displays include: Course-to-steer along with time and distance to waypoint, speed made good (SMG) and course made good (CMG).
Other features include: A 99-waypoint memory, Great Circle or Rhumb Line courses, true or mag- netic headings, arrival alarms, an instant-position memory and a "sleep" mode to conserve battery power.
Built-in manual dead-reckoning course computer, using speed heading set and drift information, provides continuously updated positions between satellite fixes.
Drift speed and direction (Drift Set) can be entered manually or automatically computed using two successive satellite fixes. In automatic mode, drift data is automatically updated at each satellite fix.
For automatic positioning between fixes, an interface for flux gate compass, speed log and Loran- C receiver is optionally available.
Interface for serial hard copy printer is also available.
SP RADIO Circle 22 on Reader Service Card S.P. Radio A/S has just introduced a new VHF radiotelephone for the marine industry called the Sailor RT2048.
The VHF Sailor RT2048 is a simplex/ semi-duplex station for shipto- ship/ship-to-shore communication.
It is equipped with all 55 international maritime VHF channels, U.S. channels, 10 private channels, scanning facilities, quick channel 16, dual watch, 25-watt output power, and built-in seacall as an option.
Due to the unique construction of its transmitter and heat sink, the RT2048 is able to operate with a continuous output power of 25 watts on all possible channels in the frequency range 154.40-163.75 MHz.
The unit also offers a choice of 30 additional private channels or scanning facilities.
The Sailor RT2048 is prepared for connection to 12V DC or 24V DC (by means of a Sailor N420 Power Supply). The set has an extremely low power consumption. In the standby mode, the power consumption is less than 0.1 a.
The new compact state-of-the-art VHF is fully transistorized and equipped with a synthesizer and microprocessor.
Its compact cabinet houses both transmitter, receiver and a large, powerful 6-watt loudspeaker, which reproduces the signal loudly and clearly—even at great distances. Furthermore, the built-in audio amplifier is capable of delivering an additional 6 watts into an external loudspeaker.
And although the Sailor RT2048 is compact (height-104 mm; width- 228 mm; and depth-169 mm), it is easy to service, since the set consists of four easily replaceable modules.
This high-quality, low-priced unit is easy to operate, even in bad weather, due to a button for continuous turnstyle operation of squelch and AF levels. All controls are easily accessible on the front plate with pushbutton keyboard, LED display and nighttime illumination.
SPERRY MARINE Circle 26 on Reader Service Card Sperry Marine Inc., a subsidiary of Newport News Shipbuilding, was selected to supply the radar/ARPA, navigation workstation, global positioning and gyrocompass systems for the Swedish icebreaker Oden II.
The Oden II's radar/ARPA system is based on Sperry Marine's newly introduced RASCAR (Rasterscan Collision Avoidance Radar).
Four complete RASCAR systems (three X-Band and one S-Band), a fifth radar display and two slave monitors were supplied in a fully interswitched system. The RASCAR was selected primarily because its superior display picture quality and resolution were deemed absolutely vital for ice detection.
All RASCAR displays will be controlled through a touchscreen mounted on the surface of the display.
The speed, accuracy and simplicity of this user/machine interface were also major considerations for the Oden II's complex radar system.
Sperry will also supply a navigation workstation based on its ruggedized marine PC model MC 500.
This computer recently received certification for cargo loading applications from Det norske Veritas, Lloyd's, Germanische Lloyd and Bureau Veritas. The workstation will allow Oden II's bridge staff to digitize charts and develop voyage plans for display as overlays on the radar displays. When printed out on the flat bed plotter, hard copies of the plan can be distributed to her envoy.
Sperry is also supplying a highreliability MK 37 gyrocompass system, as well as a 501 TR/GPS navigator.
The 501 TR/GPs is designed to automatically select the best position source—transit or GPS satellites— and provides the operator with an unambiguous, completely integrated navigation package.
Sperry Marine Inc. is a major manufacturer of marine navigation equipment and control systems and a leader in radar and collision avoidance systems for all types of vessels.
STANDARD COMMUNICATIONS Circle 20 on Reader Service Card A more powerful, completely updated 6-watt version of Standard Communications' popular Horizon Hand-Phone portable radio is now available.
The Hand-Phone 6 features 160 channels in the microprocessor including 55 U.S., Canadian and International channels, 10 weather channels and 95 expansion channels (when allocated by the FCC). "This assures that the Hand-Phone will never be out of date," Ken Ungar, marine products division vice president said.
Added watertight integrity is made possible by heavy case gasketing, use of fewer operating controls, and sealing of internal circuits.
"Fewer, logically designed controls, also make the 'Hand-Phone 6 very simple to operate," Mr. Ungar said. Push buttons provide directselection of up or down high-speed scan, channel 16 or weather channels, high and low power (the unit provides automatic power down on FCC required channels), U.S., Canadian or International channels, and programmable scan memory.
The large, backlit LCD display shows channel, power mode and frequency band.
The Hand-Phone 6 measures 2 Vi"W x VA"~D x 7"H and weighs slightly more than 1 pound. It has lifetime protection with a one-year warranty covering all parts and labor.
Additional protection is available under Standard's lifetime service plan, which guarantees out-ofwarranty repairs at a low flat-rate charge.
STANDARD RADIO Circle 102 on Reader Service Card Standard Radio & Telefon AB of Vallingby, Sweden, offers the PNW900 Navtex receiver. This Navtex receiver has dual channels for national and international transmissions.
All ships over 300 gross tons must be equipped with a new Navtex receiver by February 1, 1990. The Navtex system, which has coverage in the U.S. ranging from the New England area to the Gulf of Mexico, transmits 24-hour warnings of navigational and weather conditions.
The Coast Guard expects that total U.S. coverage will be provided by the Navtex system by late 1989.
VIGIL Circle 30 on Reader Service Card Vigil Marine Systems, a division of Mars Electronics, West Chester, Pa., has announced the addition of a new navigational system utilizing GPS and satellite navigation technologies to its line of electronic navigation instruments. The new Vigil RX GPS Satnav combines the established capabilities of the Vigil RX Satnav with a proven GPS receiver and antenna to introduce the VIGIL RX GPS Satnav.
The Vigil RX GPS Satnav utilizes its dual capabilities to receive signals from both Transit (U.S. military) and GPS (Global Positioning System) satellites to locate vessels anywhere in the world. In the Northern Hemisphere, for instance, the instrument receives GPS satellite signals for up to 18 hours daily, with Transit satellites filling in the balance of time to provide 24 houra- day positioning and course information.
The GPS receiver component is designed and built to U.S. military specifications. The Satnav component is the same RX Satnav, introduced last year. By combining the capabilities of both instruments into the GPS Satnav, Vigil has de- veloped an accurate satellite navigation system that is compact and lightweight.
Added to the Vigil RX GPS Satnav worldwide positioning advantages is its ability to interface with Vigil RX Series Radars through the Vigil RX Supervisor™. The Supervisor accepts all the data inputs from the GPS Satnav, displaying the navigation information on the RX Radar screens.
The technology of the Vigil RX GPS Satnav is also impressive. The instrument allows accuracy to within 75 feet under typical conditions and will handle up to five satellite signals simultaneously. It has all the operating features of the RX Satnav, including Auto-Locate, 99 waypoints plus MOB (Man Overboard), 10 route/25 waypoint storage, and the ability to interface with speed logs and the Vigil fluxgate compass.
The GPS Satnav is supported by an internal battery to maintain the instrument's memory during periods of inactivity.
The Vigil RX GPS Satnav joins other Vigil navigation instruments to offer boat owners a wide choice of equipment to suit their needs. Included are the Vigil RM and RX Satnavs, RX Navigator (Decca), and three radar models.
WATERCOM Circle 24 on Reader Service Card Since the first call was placed on a WATERCOM® telephone the system has been installed on the vessels of more than 34 fleets.
WATERCOM's network links vessels and their home offices through the only direct-dial, inland marine telecommunications system. Using the WATERCOM telephone, calls can be placed from vessel to shore, shore to vessel or vessel to vessel.
Low operating costs make WATERCOM one of the most economical marine communication systems available.
WATERCOM offers its subscribers the convenience and efficiency of an instantaneous direct-dial system that eliminates the need for marine operators. It provides complete privacy, with no worry that the competition may be monitoring a call; voice clarity, which greatly reduces the risk of misunderstanding; ease of use, because WATERCOM is a regular telephone; and the reliability of constant communications capability. Various purchase, lease and rental plans, tailored to meet individual needs, are available.
WATERCOM also features facsimile (FAX) machine capability which allows transmission of hard copy to and from vessels. Deck logs, payroll, crew records and requisitions can now be transmitted. Data communication is also a reality with WATERCOM, giving the vessel owner a number of alternatives for improving operating effectiveness and controlling costs. Other features, including calling cards, collect calls, operator assisted calls and crew phones offer unique crew benefits.
WATERCOM coverage extends along 4,000 miles of inland waterways, including the Mississippi, Ohio and Illinois rivers, as well as the Gulf Intracoastal Waterway.
Vessels located anywhere within this coverage area have access to instant, direct-dial communications.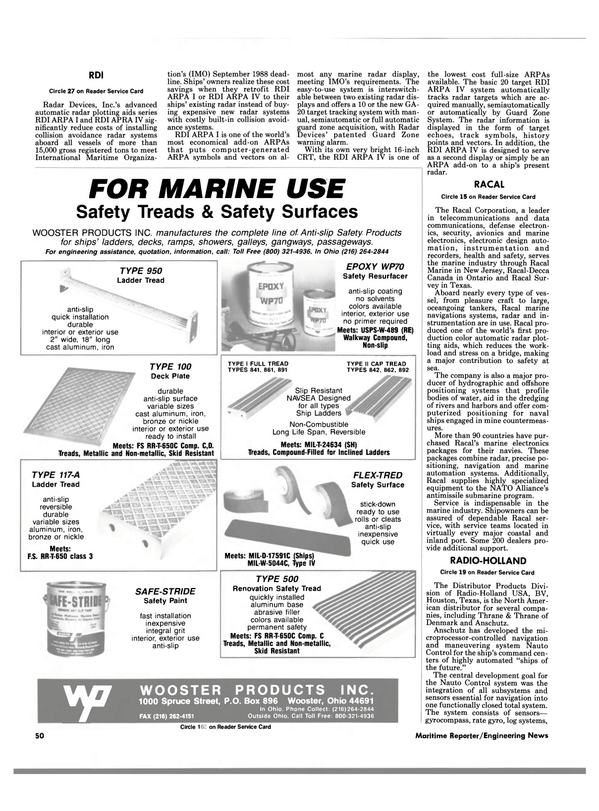 Read Navigation & Communications Equipment Review in Pdf, Flash or Html5 edition of March 1988 Maritime Reporter
Other stories from March 1988 issue
Content