MARINE SPILL RESPONSE CORPORATION
The World's Largest Oil Spill Response Organization On March 24,1989, an oil tanker struck a reef in Alaska's Prince William Sound, causing the biggest oil spill in the history of the United States. While thousands worked to clean up the spill, a small task force, organized under the auspices of the American Petroleum Institute, began taking a hard look at the existing resources for responding to catastrophic oil spills. In June of 1989, the task force reported its sobering conclusion: the capability did not exist either in industry or government, to deal with tanker spills of the magnitude of the one in Alaska.
As a result of task force recommendations, 20 oil companies began the process of creating the Petroleum Industry Response Organization (PIRO) to manage catastrophic spills. In August 1990, the oil companies created two new organizations: The Marine Spill Response Corporation (MSRC) and the Mar i n e Preservation Association (MPA). MSRC, which succeeds PIRO, is an independent oil spill response organization. It will operate out of five regional response centers, each supported by several strategically placed equipment sites. MPA, an organization including oil companies and shippers and receivers of oil, will fund MSRC but will have no control over operations.
The following are some of the key elements of what is intended to be the largest spill response organization in the world.
Geographic Coverage MSRC will have its headquarters in Washington, D.C., and will have five regional response centers in the New York-New Jersey metropolitan area; Miami, Florida; Lake Charles, Louisiana, near the Texas border; Port Hueneme, California, north of Los Angeles; and the Seattle, Washington area. Each region will have three to six prestaging areas (more than 20 for all five regions) where equipment and sometimes vessels and personnel will be located. The proposed regional centers and prestaging area sites have been identified based upon a number of factors: proximity to the sea, air and highway transport and the potential for response based on oil transportation patterns.
Spill Response And Cleanup MSRC is intended to provide a best-effort response to major spills (the size of the Alaska spill) of persistent oil (i.e., oils that do not evaporate or degrade quickly) in the U.S.
coastal and tidal waters (out to the limits of the U.S. Exclusive Economic Zone (EEZ) that are beyond the capacity of local response organizations.
Each of the five regional centers will have a variety of resources: response vessels, various types of booms and skimmers, a dispersant capability, information systems, etc. and highly trained personnel.
MSRC regions will also employ subcontractors to provide a variety of capabilities. Neighboring regional MSRC assets may also be used during major releases. MSRC will not deal in small spills unless the spill is beyond the capability of local spill response resources. Under MSRC's charter, the decision whether the spill exceeds local response capabilities is to be made by the Coast Guard.
Relation To MPA MPA members pay annual dues, based on the number of barrels of oil they transported in the area covered by MSRC in the previous year.
MPA is providing grants of funds to MSRC and these will be used to pay MSRC operating, capital, and research and development costs. If an MPA member should become a spiller, MSRC will be available to aid the spiller consistent with the spiller's contract with MSRC. The spiller—not MSRC or the other members of MPA—will pay for the actual cleanup.
Relation To Coast Guard MSRC's charter requires that it operate under the direction of the U.S. Coast Guard, which has a presence around the nation's coasts and an effective military command control and communications structure.
Coast Guard "direction" will not relieve oil spillers of their responsibility to pay for response and cleanup costs. The Coast Guard (the federal on-scene coordinator in coastal and tidal waters) must, however, provide direction and coordination of all federal, state and private cleanup operations when the discharge poses a substantial threat to the public health or welfare. In the event of a spill, Coast Guard supervision is intended to cut through interagency red tape to eliminate delays during the crucial early hours.
Relation To Local Response Organizations MSRC is not intended to replace existing oil spill cooperatives and independent response contractors.
These entities have done a good job handling smaller spills. MSRC will respond when this infrastructure does not have sufficient resources to respond to a large spill. MSRC will work with co-ops and independent responders with whom it has agreements, training and drilling with them.
Liability Of The Responder Under federal law, the responder to an oil spill has limited immunity.
He is not liable for damages or removal costs when he acts in accordance with the National Contingency Plan or as otherwise directed by the President, unless his acts are grossly negligent or constitute willful misconduct. This immunity does not apply to cases of wrongful death or personal injury. Under some state laws, however, responders may not be provided with this explicit immunity.
Since federal authority may not preempt state law in this regard, MSRC is seeking state liability standards that are at least as protective as the federal standard.
This standard is appropriate because an oil spill responder must act decisively, in a dynamic emergency environment over which he has very limited control. Moreover, he must frequently act with less than perfect information and act in the face of alternatives—each of which can be expected to cause some damage.
Most coastal states have adopted, or are in the process of adopting, the federal immunity standard.
Research And Development MSRC will administer a large research and development program to improve the knowledge and technology used to respond to and clean up spills. This program will complement other programs in government, academia and industry. MSRC studies will include those onremote sensing sensing to support operations during limited visibility including night, preventing loss of oil from ships, oil onwater recovery, treatment and handling of recovered oily materials, preventing and mitigating shoreline impacts, fate and effects of spilled crude oil and products, mitigating impact on wildlife, and health and safety.
Readiness MSRC will develop programs for evaluating the performance of itself and its subcontractors. MSRC will perform operational evaluations to ascertain its level of readiness. Announced and unannounced exercises and drills will be part of this program.
Cost MSRC's five-year costs for operations, capital equipment and research and development are estimated at more than $900 million.
Remaining Implementation Tasks A detailed implementation plan has been developed and is being carried out, but much still remains to be executed. Additional personnel— including subcontractors, who will actually do much of the work of transporting equipment to spill sites and operating it — still must be hired and trained. Each region is being surveyed to ensure that specific sites meeting MSRC operational requirements actually are available. Land and buildings are being purchased or leased for the regional centers and warehouses. Insurance is being procured.
The research and readiness programs are now starting to be launched.
Implementation Dates MSRC is working hard to be fully operational by February 1993, when the Oil Pollution Act of1990 requires new response plans to be submitted.
This Act requires shippers and others responsible for oil transportation, production and storage to show that they have access to private personnel and equipment necessary to remove, to the maximum extent practical, a worst-case oil spill they might cause. Many may want to rely on MSRC to satisfy important elements of those federal requirements rather than obtain other cleanup capability.
Only members of MPA may cite MSRC in their spill response plans.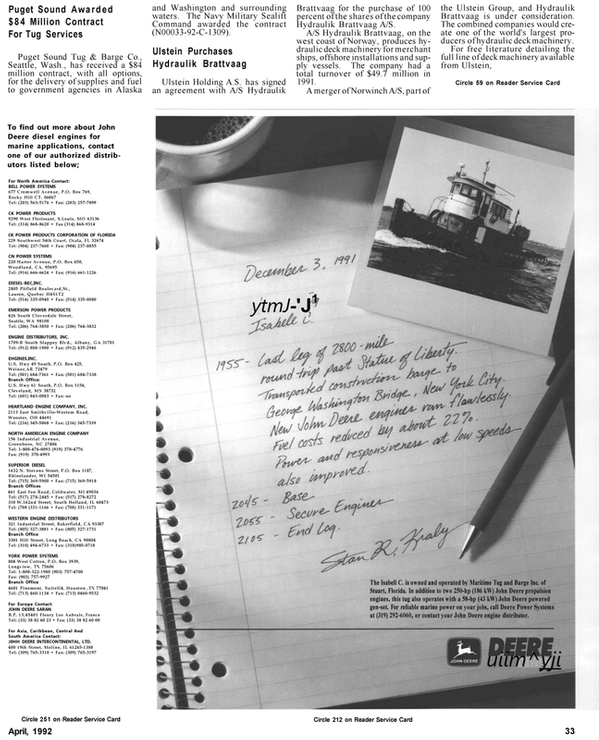 Read MARINE SPILL RESPONSE CORPORATION in Pdf, Flash or Html5 edition of April 1992 Maritime Reporter
Other stories from April 1992 issue
Content