The U.S. Navy - Reducing Shipboard Planned Maintenance
The cost of maintaining Navy ships is measured in billions of dollars and millions of man-hours. Requiring sailors to perform excessive, unnecessary, and often counter-productive maintenance does more than waste money. It also wastes that most precious of commodities — sailors' time. This problem is being addressed by the U.S. Navy through the Surface Ship Maintenance Effectiveness Review (SURFMER) program. Since October 1996, SURFMER has reduced sailor performed planned maintenance workload on surface ships and aircraft carriers by more than 35 percent, and more than 2.3 million man-hours annually. At the same time, it has improved sailors' quality of life — a top Navy leadership priority.
SURFMER began as a pilot program onboard USS Yorktown (CG-48), a CG-47 Aegis class cruiser designated as the "Smart Ship." The objectives of the Smart Ship program included reducing sailor workload, saving money, and improving the sailors' quality of life through demonstrations of innovative policies, processes, and technology. The Naval Sea Systems Command (NAVSEA) realized this was the perfect opportunity to perform a Reliability Centered Maintenance (RCM) review of CG-47 cruiser class scheduled maintenance requirements.
RCM as an engineering discipline was originated by United Airlines during the 1960s. The Federal Aviation Administration (FAA) was contemplating a vastly expanded program of scheduled maintenance to match the expanded passenger capacity of the Boeing 747 aircraft being introduced at the time. With FAA approval, United developed a rational, more cost-effective approach to preventive maintenance requirements development that became known as Reliability Centered Maintenance, or RCM. The Department of Defense subsequently mandated the use of RCM for developing planned maintenance requirements for equipment throughout the services in 1984. American Management Systems (AMS), a company with a unique 20-year public and private sector partnership with the Navy, was a major player in the Navy's adoption of RCM for preventive maintenance of shipboard systems. NAVSEA tasked AMS to develop an RCM-based process that would examine shipboard planned maintenance requirements of currently in-service equipment and systems for possible reduction. This led to creation of the RCM Backfit process, piloted onboard Yorktown and ultimately implemented fleet-wide through SURFMER. RCM Backfit is an engineered, logical, and repeatable process, applied to systems already in service, addressing age degradation of the system under review, applicability of the prescribed maintenance tasks, and effectiveness of those tasks.
In 1996, AMS engineers under NAVSEA direction, used RCM Backfit and reviewed the entire Yorktown Planned Maintenance System (PMS) work package. This stem-tostern and truck-to-keel review included more than 5,000 tasks. The engineers eliminated unnecessary tasks and rescoped or rescheduled others. Some equipment required less intrusive maintenance than existing PMS called for, others required less frequent maintenance. By the time the AMS team completed its analysis, a 46.7 percent reduction in planned maintenance man-hours was identified and implemented aboard Yorktown.
Navy engineers then validated the Yorktown results for implementation aboard all other ships of the CG-47 Class.
The result was a 38 percent reduction in maintenance man-hours across the class. The Chief of Naval Operations (CNO) at the time of Smart Ship, admiral Mike Boorda. directed that initiatives successfully demonstrated on Yorktown should be shared. As a result, in 1996, in NAVSEA implemented SURFMER across the entire Navy surface fleet.
Beginning in October 1996, SURFMER engineers began a systematic review of all scheduled maintenance requirements. Instead of performing reviews on a ship-by-ship basis as was done with the Yorktown pilot project, NAVSEA implemented SURFMER system- by-system, applying the resulting revamped maintenance procedures fleet-wide. Typically, SURFMER reviews are conducted on site, at Navy in-service engineering activities such as the Naval Surface Warfare Center detachment in Philadelphia.
In addition to application of a repeatable engineered process, SURFMER's success depends upon close teamwork between NAVSEA and AMS RCM Backfit trainers and mentors, Navy inservice engineers, and fleet sailors with current deckplate operating experience.
These three groups work together during an intensive week-long SURFMER cycle to gain proficiency in the RCM Backfit methodology. Two days of RCM Backfit training is followed by three days of analysis of specific maintenance requirements for systems under review. At the end of the week, Navy engineers submit their changes to the Navy's PMS system for implementation in the fleet. Revisions are entered into the PMS management information system and distributed periodically to fleet units via CD-ROM by Fleet Technical Support Centers in Norfolk, Va. and San Diego Calif.
To date, 27 SURFMER Cycles have been completed. The most recent being Cycle 27, which occurred the week of February 7, at the Naval Surface Warfare Center detachment in Philadelphia.
Systems reviewed during Cycle 27 included distilling plants (flash type), mooring and towing gear, electrical gear, shop equipment, SONAR domes, waste heat boilers, and boat handling gear.
SURFMER has allowed sailors more time to perform truly necessary maintenance, and while having more free time to spend on liberty while deployed and with loved ones while in homeport.
MR1 Margaret Buffa, an MR (machinery repair petty officer) from USS Gunston Hall (LSD-44), a Cycle 27 participant said, "I'm the only MR on my ship right now and have to do a lot of maintenance. I love the maintenance workload reduction I've seen from SURFMER. It has made my life easier, and the equipment still works just as well." Time savings achieved by SURFMER to date exceed 2.3 million man-hours per year, (see chart on page 20) In addition to the time savings, associated maintenance-related consumable (e.g., oils, greases, solvents, rags, etc.) and HAZMAT disposal costs have been significantly reduced as well.
The bottom line: SURFMER achieves real, measurable results, with tangible benefits to fleet sailors. SURFMER, by its nature, is a continuous improvement process — systems originally reviewed in 1996-1997 are being revisited in current cycles. The revisits sometimes yield more reductions, by percentage, than the first time around as Navy engineers become more proficient in the process and more confident in the results. The next step is to institutionalize the SURFMER methodology across the Navy's engineering community, so that it becomes the everyday way of conducting business.
Ariana Baseman is a freelance writer based in Silver Spring, MD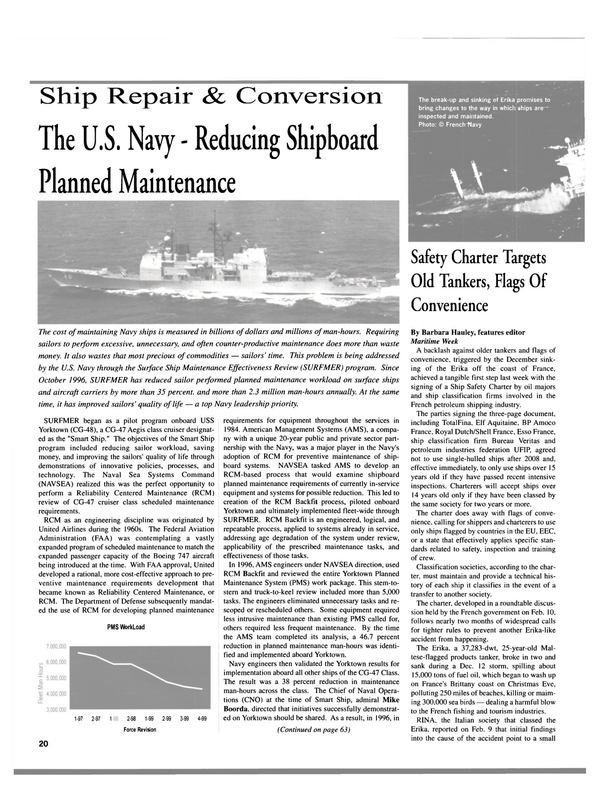 Read The U.S. Navy - Reducing Shipboard Planned Maintenance in Pdf, Flash or Html5 edition of March 2000 Maritime Reporter
Other stories from March 2000 issue
Content