Tampa Bay Shipbuilding - Gearing Up For A Boom
By Regina P. Ciardiello, assistant editor
It's one stop shopping on Florida's west coast at Tampa Bay Shipbuilding & Repair, which offers its full service facilities, including three graving docks and direct access from the Gulf of Mexico.
Touted by its owners as the largest yard between Pascagoula, Miss, and Hampton Roads, Va., Tampa Bay provides conversions, overhauls and general repair jobs with its 900-ton lift capacity.
Owned by the Tampa Port Authority since 1955, the former Tampa Shipyards became Tampa Bay Shipbuilding & Repair on February 1, 1997. According to Henry Perryman, the yard's general manager of operations, the company, who has lured back about 20 repeat customers, has performed various jobs on about 150 ships — ranging from tugs to tankers — since its establishment.
"From RoRos to bulk carriers to dredges, we repair it," Perryman said.
"Major conversions are it for us." Speaking of conversions done, one of the yard's current projects involves the installation of a 118 ft. (35.9 m) midbody on the MPF (e) vessel, LCPL Roy M. Wheat, eventually leading to added cargo space for the 864 ft. (26.3 m) vessel.
The vessel will undergo its required inspection, as well as receive a new paint job, shaft valves, and 1,500 UWILD underwater markings, which allows divers to perform underwater inspections in lieu of drydocking. This process will prove favorable, since it cuts routine drydocking procedures down from every two years — to five instead. Tampa Bay also performed work on the Beltship Gypsum Baron. Managed by Belt Ship Bermuda, the vessel underwent a 15-day "shave and haircut," consisting of routine inspection and clean up of its shafts, propellers and rudders.
But perhaps the most significant and timely task is the conversion of single hulled tankers to double hulls as required by the Oil Pollution Act of 1990 (OPA '90). The act stipulates that all single hull vessels of 5,000-gt or more will be prohibited from U.S. waters from 2010 or earlier, unless they have been outfitted with a double bottom or double sides, allowing them to trade in the U.S.
Left with the option of converting to a double hull or buying new, many tanker owners have enlisted Tampa Bay in helping to fulfill this requirement.
"There's a large market right now for double-hulling," Perryman said.
"For the next six-to-seven years, this will be a major portion of our business." The company recently proved its prowess by fabricating the inner hull, as well as the double hull prototype for Maritrans' Ocean 244.
The four inner hull super modules will each be set in the existing hull by the yard's overhead cranes, 700 tons being the largest lift.
The vessel, which commenced conversion work in November 1999, is scheduled to undergo the cutting of its main deck in April and its completion is scheduled for September.
Maritrans first called on the company two years ago to perform a double hulling for its Maritrans 192. The 10,549-ton barge was originally known as Ocean 192, and was renamed at its christening ceremony on November 9, 1998. The barge is famous for its designation as America's premiere vessel to undergo the single-to-double hull conversion.
Beyond conversions Though double-hulling activity is sure to fill Tampa Bay's coffers for years to come, the yard has ample facilities to care for other repairs, particularly the high-value and demanding cruise repair market. When the engine room on Carnival's Tropicale caught fire. Carnival tapped Tampa Bay to assess the situation.
Perryman, along with the yard's chief estimator, Johnny McCarron.
were then dispatched to Tropicale at Port Manatee where they were able to survey the damages. Pleased with Tampa Bay's analysis, the cruise line contacted them that same day to arrange for the ship to be brought to the yard.
The first task involved cleaning up the soot from the engine room. According to Perryman, this was done with high pressure water, solvent and soap. The room was also repainted, rewired and received new insulation. "All controls were replaced, as well as some steel work," Perryman said. "And, as a result of the water used to extinguish the engine room fire, one hundred motors had to be removed and reworked." Accomplished within 22 days, Tropicale was able to sail out of Tampa the day after the completion of repairs, meeting Carnival's expectations of as little schedule augmentation as possible. Tampa Bay currently performs about five or six cruise jobs a year, and according to Perryman, the yard would like to expand upon that.
What could most probably tip off Tampa Bay's goal for expansion into the cruise industry could be its recent overhaul of the Norwegian Sea in January. The vessel was laid up at the yard for 12 days where it received a basic clean up of its stabilizers, bowthrusters and valves, as well as the machinery in its engine room. In an industry whose profits parallel tanker day rates, which are currently down. Perryman, who quotes himself as "the eternal optimist," feels that the rates will eventually rise.
Circle 141 on Reader Service Card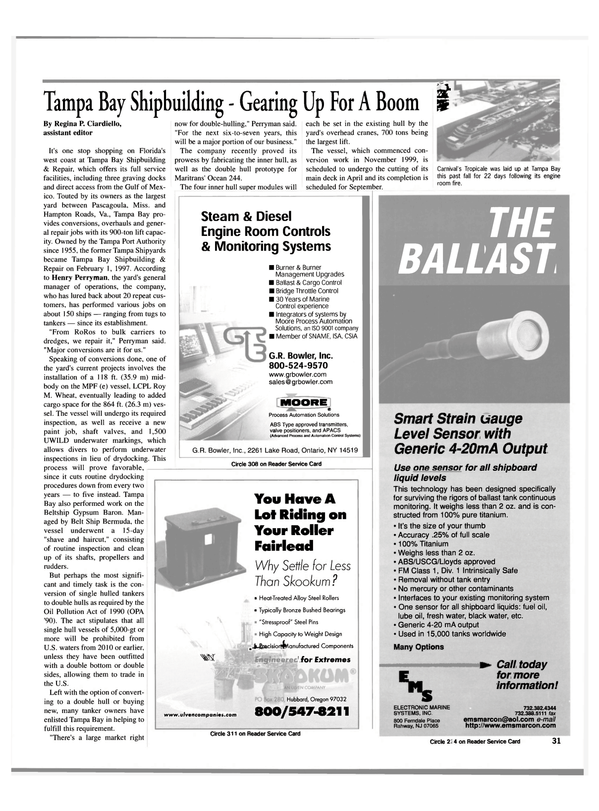 Read Tampa Bay Shipbuilding - Gearing Up For A Boom in Pdf, Flash or Html5 edition of March 2000 Maritime Reporter
Other stories from March 2000 issue
Content