Marine Casualty Reports – Clarified
by Jonathan Waldron
So you think you know when to make a marine casualty report?
There has been a lot of confusion over the years as to when to make a marine casualty report with regard to certain incidents. Yet, although the Coast Guard constantly urges industry to make required reports, it has never promulgated national guidance to promote consistency in reporting based on uniform interpretation of the regulatory standards – until now.
Specifically, the Coast Guard issued a Notice of Availability and Request for Comments (Notice) on January 14, 2014 on a draft Navigation and Vessel Inspection Circular (NVIC) to provide guidance for the identification and reporting of marine casualties and provide clear policy interpretations to facilitate compliance with marine casualty reporting requirements. 79 Fed. Reg. 2466 (January 14, 2014). The Notice is available at: http://www.gpo.gov/fdsys/pkg/FR-2014-01-14/pdf/2014-00443.pdf. The draft NVIC is available at: http://www.regulations.gov/#!documentDetail;D=USCG-2013-1047-0002. Comments are due by April 14, 2014.

Marine Casualty Reporting Today
The Coast Guard has broad authority to immediately investigate a "marine casualty" to determine the cause, whether a violation of law has occurred, whether the offender should be subject to a civil or criminal penalty and whether there is a need for revised or new laws or regulations to prevent the recurrence of a similar casualty. Under the general maritime reporting provisions of 46 C.F.R. part 4, the owner, operator or person in charge of a vessel must report casualties involving grounding, allision, losses resulting in reduced vessel maneuverability, impacts to vessel seaworthiness or fitness for service or route, loss of life, injury requiring professional medical treatment, property damage in excess of $35,000 or significant harm to the environment. 46 C.F.R. § 4.05-1. Within five days after the immediate initial notice is provided, the owner, agent, master, operator or person in charge must submit a follow up written report of the marine casualty to a Coast Guard Marine Safety Office or Marine Inspection Office on Form CG-2692 (Report of Marine Accident, Injury or Death) supplemented as applicable by appended form CG-2692B (Report of Required Chemical Drug and Alcohol Testing Following a Serious Marine Incident). These standards have been in existence for years, but there is currently no substantive written official guidance that has been published by the Coast Guard Headquarters detailing its policy interpretation of its marine casualty regulations as to when to report certain marine casualties. Unfortunately, that has been the situation for years despite the Coast Guard's emphasis on making marine casualty reports. This has led to confusion in the marine industry as to when certain marine casualties need to be reported. In many cases a particular Coast Guard Sector has developed its own ad hoc interpretations of reporting requirements which are inconsistent with industry expectations and which are not supported by regulation or any national uniform Coast Guard interpretation.

Discussion of the Draft NVIC
The stated purpose of the NVIC is to provide specific guidance for the identification and reporting of marine casualties to promote compliance with marine casualty laws and regulations. In addition, the NVIC is aimed at clarifying terminology and phrases within the regulatory context, draw attention to helpful regulatory citations and provide concise policy interpretations to assist involved parties in the casualty reporting process. In short, the NVIC is intended to serve as a common framework of understanding for both Coast Guard and maritime industry personnel. Noting that "marine casualties occur among a wide range of vessel types and operations" the NVIC was issued in the interest of supporting a "consistent national framework" that establishes expectations and reduces confusion for both Coast Guard and maritime industry personnel. Based on years of experience in providing advice on the reporting of marine casualties, I would like to highlight some of the key reporting areas which have proven problematic in finding common ground due to differing interpretations in various Coast Guard Sectors around the country and industry itself.

• Immediate Reports and Who Should Receive Reports: Defined as without interval of time. Delays caused by the need to address resultant safety concerns will be considered valid. Specific guidance as to who should, and who should not receive such reports, is included.

• Loss of Main Propulsion, Primary Steering or Other Component/System that Reduces the Maneuverability of a Vessel: This is an area fraught with differing opinions and in the eyes of the Coast Guard redundancies do not alleviate the need to make a report. Loss of maneuverability is defined as a reduction in the range of speeds in which a vessel is capable of operating and/or a reduction in the ability to make turns and/or other navigational maneuvers compared to the vessel's expected maneuvering capability as certificated by a Flag-State or by its operational design and/or intended function.

• An Occurrence Materially and Adversely Affecting the Vessel's Seaworthiness or Fitness For Service Or Route: Another minefield at sea. Seaworthiness is defined as the condition of being properly equipped, sufficiently constructed and watertight in order to withstand stress of the wind, waves and other environmental conditions that the vessel might reasonably be expected to encounter. Fitness for service is defined as the condition of the vessel and its equipment being such that it meets or exceeds minimum safety standards and is safe and reliable to operate in one or more particular types of service and in the locations in which it will be used.

• An Injury that Requires Professional Medical Treatment and, for Individuals Employed on the Vessel, that Renders the Individual Unfit To Perform Routine Duties: Generally defines injury as damage or harm caused to the structure or function of the body as a result of an outside physical agent or force to a passenger or non-crewmember. Damage or harm caused exclusively by animal/insect bites/scratches is excluded. With regard to professional medical treatment the Coast Guard adopts OSHA definitions. The Coast Guard broadly defines engaged or employed on a vessel to include even visiting contractors.

Conclusions and Recommendations
The promulgation of a Coast Guard uniform national guidance document in the area of marine casualty reporting is long overdue and should be generally welcomed by industry. The NVIC provides valuable insight going forward as to what the Coast Guard expects from industry, as well as from its own inspectors, as to exactly when a marine casualty report is triggered in certain areas in which there currently is confusion. This guidance, once finalized, should achieve the goal of ensuring that both industry and the Coast Guard are on the same page with regard reporting standards.
However, now that the NVIC has been published, even in draft form, the bar has been raised to a new standard in the sense that the Coast Guard will be expecting reports consistent with the interpretations outlined in the NVIC even though reports may not have been made in the past when such incidents occurred. Failure to make reports consistent with this NVIC, will likely result in the Coast Guard pursuing penalty action even though industry may disagree that a report should be required as proposed by the Coast Guard in its NVIC.
Accordingly, owners, operators and other stakeholders should review closely the draft NVIC, not only to assist in ongoing compliance with reporting requirements, but also with an eye to providing comments to the Coast Guard on areas in which they disagree with the Coast Guard's interpretation as outlined in the Draft NVIC. Now is the time to be heard or you will have lost your chance to influence the ultimate reporting standard when the NVIC is finalized. So submit your comments by April 14, 2014. And remember, in any event, it is better to over report than under report. In other words, err on the side of making reports to ensure that the Coast Guard does not second guess your decision to make a marine casualty report.

The Author
Jonathan Waldron, partner at Blank Rome, concentrates his practice in maritime, international and environmental law, including maritime security.
t: +1 (202) 772-5964
e: [email protected]

(As published in the March 2014 edition of Maritime Reporter & Engineering News - www.marinelink.com)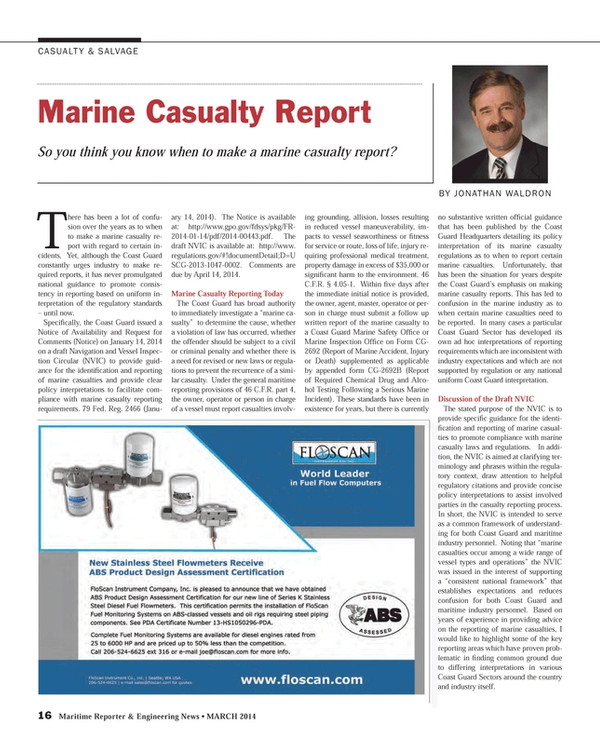 Read Marine Casualty Reports – Clarified in Pdf, Flash or Html5 edition of March 2014 Maritime Reporter
Other stories from March 2014 issue
Content