Floating Production Inventory Continues to Grow
By Jim McCaul, IMA
The number of floating production systems continues to grow; 349 floating production units are now in service, on order or off-field/being remarketed. This inventory is 5% higher than a year ago, 27% higher than five years ago.
Current Inventory: Of the total, 320 units are used for oil/gas production. Included in this figure are 211 FPSOs. They are the most common type system, comprising 65% of the existing systems and 72% of the systems on order. The remaining consists of 10 production barges, 48 semis, 23 spars and 28 TLPs.
Another 29 units are floating LNG processing systems. This figure includes four liquefaction floaters (FLNGs), all of which are on order, and 25 regasification terminals (FSRUs) . Several of the 11 active FSRUs are interim regas units being used until the long term unit is delivered. In addition, 102 floating storage units are in service, on order or available. (See Chart Below).

FPSO Owners
There are 66 owners of FPSOs, but this overall figure disguises a relatively high concentration within a few companies. The top six FPSO owners own 95 units, or 45% of the FPSOs in service, available or on order. The remaining 55% is spread over 60 owners, more than half of which own only one FPSO. Field operators own 52% of the FPSOs. Petrobras is clearly the dominant player. It owns 28 units, 13% of the total FPSO inventory. Other field operators with large FPSO ownership are CNOOC (14 units), ExxonMobil and Total (each seven units), and BP, Chevron and Shell (5 units each).
Leasing operators own the remaining 48% of the FPSOs. SBM is the largest leasing company. It owns 17 units, 8% of the inventory. Next in line are BW Offshore and Modec (each 13 units), Teekay (10 units), Bumi Armada (7 units) and Bluewater (5 units). In terms of control of FPSOs, Petrobras is the gorilla in the sector. Counting both owned and leased units, Petrobras has 52 FPSOs under its control – 25% of the FPSOs inventory.
A list of the top FPSO owners is, right. The full list on www.imastudies.com.

Production Floater Orders
Sixty-eight production floaters are currently on order. The figure includes 36 FPSOs, 14 other oil/gas production units and 18 LNG processing units. In the later are four floating liquefaction plants and 14 regasification terminals. The order backlog has remained around 70 units since mid-2012. But the composition of orders has changed. In the current order backlog are significantly fewer FPSOs (49 on order in mid-2012 vs. 36 now) and more regasification floaters (9 on order in mid-2012 vs. 14 now).
Fewer FPSOs on order reflects the slowdown in FPSO contracts during the past year. Only 11 FPSOs were ordered in 2013, down 20% from the average ordering pace over the past 10 years. FSRUs on the other hand have been hot items. The current backlog of FSRU orders is more than 50% higher than in mid-2012. Included in the current order backlog are six speculative FSRUs being built without a use contract, reflecting the bullish market for regasification terminals.
The market over the first two months of 2014 has picked up a bit. Three production floater orders were placed in January/February.
• Petronas ordered a second FLNG for use on the Rotan field off Malaysia. The $2+ billion EPC contract was awarded to Samsung/JDC. Delivery is scheduled in 2018.
• ENI ordered a production barge for use on the Jangkrik field off Indonesia. The $1.1 billion EPCI contract was awarded to Saipem/Hyundai/Chiyoda/Tripatra. Delivery is to be at end 2016.
• Exmar/Pacific Rubiales ordered a regas barge in anticipation of using the unit on a future terminal project. Wison Nantong will build the hull and handle the unit integration. Delivery is scheduled in late 2015.
Two other production floater contracts appear to have reached an advanced stage of negotiations. Premier is about to contract for a leased FPSO for the Catcher field in the U.K. North Sea. Premier has selected the preferred bidder and BWO looks like the winner. Premier also appears to have earmarked Teekay to supply a cylindrical FPSO for the Bream field in the Norwegian North Sea. Despite the pick-up in orders in early 2014, it still looks like the production floater market is in a temporary slow period. The sector lacks the vibrancy of previous years. Causing the slowdown is a mixture of cost escalation, inefficiencies caused by local content barriers, supply chain bottlenecks, oil companies pulling back on upstream investments and better financial returns from shale/tight oil and gas investments.
236 floating production projects are in various stages of planning as of beginning March. Of these, 57% involve an FPSO, 15% another type oil/gas production floater, 22% liquefaction or regasification floater and 6% storage/offloading floater. Brazil and Africa are the major locations of floating production projects in the visible planning stage. We are tracking 51 projects in Africa, 48 projects in Brazil – 42% of the visible planned floating production projects worldwide.
In terms of future production floater requirements, Brazil is clearly the leader, as several Brazilian projects will require multiple production units (up to 12 FPSOs in one project). When these large projects are taken into account, Brazil represents almost 30% of the visible floating production system orders in the planning stage.
For this reason the downsized business plan just announced by Petrobras should cause concern in the floating production sector. In late February Petrobras said its five-year capital spending plan for 2014/18 would be almost 7% lower than the five year plan announced last year.

The Author

IMA provides market analysis and strategic planning advice in the marine and offshore sectors. Over 40 years we have performed more than 350 business consulting assignments for 170+ clients in 40+ countries. We have assisted numerous shipbuilders, ship repair yards and manufacturers in forming a a plan of action to penetrate the offshore market. Our assignments have included advice on acquiring an FPSO contractor, forming an alliance to bid for large FPSO contracts, satisfying local content requirements and targeting unmet requirements through technology development.
Tel: 1 202 333 8501
e: [email protected]
www.imastudies.com
(As published in the March 2014 edition of Maritime Reporter & Engineering News - www.marinelink.com)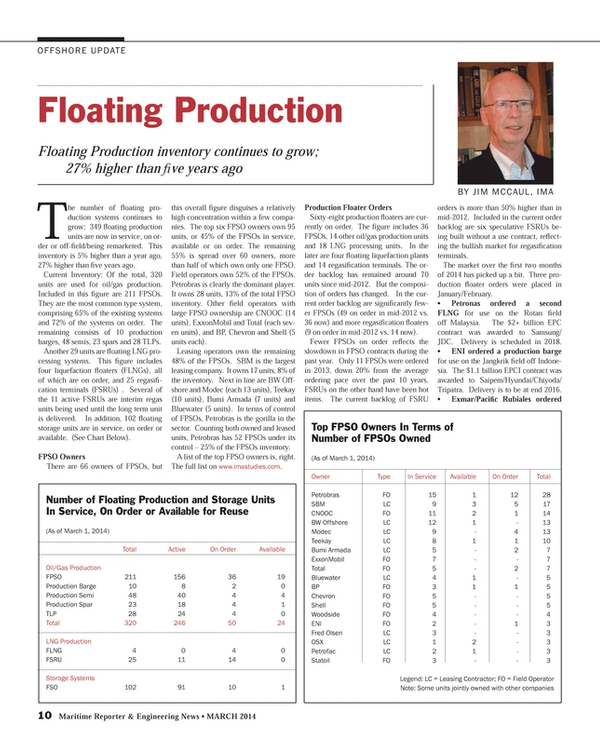 Read Floating Production Inventory Continues to Grow in Pdf, Flash or Html5 edition of March 2014 Maritime Reporter
Other stories from March 2014 issue
Content