Denmark's Promising Future
By Eric Haun
One of the world's leading seafaring nations, Denmark has maritime roots stretching back more than 1,000 years. While its history is strong, the Danish market has its collective eyes squarely on the future. In its quest for continued relevance, it seeks to continue delivering innovative technologies, as well as championing green shipping and offshore initiatives.

Denmark's maritime sector fosters engineering expertise within shipping and offshore industries, as well as maritime and technological services. The country's shippers, offshore operators and equipment manufacturers rank high among global leaders in terms of quality, competiveness and innovation. According to Danish Maritime, Denmark is home to approximately 1,000 maritime-related businesses, employing some 55,000 people.

Shipping
Shipping is the leader of all Danish industries. By value, Denmark transports roughly 10% of the world's trade and is among the largest operators in terms of total tonnage, earning Danish shipping companies approximately $21.6 billion per year. From small, family-owned businesses to huge international playmakers, the Danish shipping industry has seen considerable growth over the last 25 years, contributing a record-breaking $31 billion in 2013. According to figures from the Danish Shipowners' Association, the size of the Danish flagged merchant fleet in May 2014 was 629 vessels, a cumulative 14.7 million DWT. At the same point in time, the Danish newbuilding program counted 105 vessels on order, 4.7 million DWT.

Denmark's Key Shipping Players
A.P. Moller–Maersk Group - The A.P. Moller – Maersk Group performs in a wide range of business sectors, primarily relating to transportation and energy. Maersk is not only the world's largest containership operator, but through various subsidiaries is also involved in many other shipping-related activities, including ports and terminals, tankers, training, shipyards, offshore drilling, oil and gas, banking and retail.
Shipping and logistics company DFDS was founded in 1866 through the merge of what was then Denmark's three largest shipping companies. Today, DFDS runs a range of shipping operations, from ferries to freight, containers and logistics. Shipping division DFDS Seaways operates 50 freight and passenger ships on the North Sea, Baltic Sea and the English Channel.
Founded in 1871, D/S Norden (Dampskibsselskabet Norden A/S), an operator of dry bulk and tanker ships, is one of Denmark's oldest internationally operating shipping companies. The company operates both owned and chartered tonnage, in total more than 200 vessels, excluding single trip chartered. In addition NORDEN has a newbuilding program with 30 vessels on order (26 dry cargo ships and four tankers).
TORM, presently in its 126th year, operates a fleet of tankers which carry refined oil products such as gasoline, jet fuel, naphtha and diesel oil, additionally operating dry bulk vessels mainly focused in the Panamax segment, primarily transporting grain, coal and iron ore.
Svitzer, now a Maersk subsidiary, has provided safety and support at sea since 1833. Now with 4,000 employees, a fleet of 430 vessels and operations worldwide, the company is a leader within towage, emergency response and salvage.
J. Lauritzen A/S transports dry cargo and gas products around the world through a fleet of more than 150 vessels including short-term charters. The company's business portfolio includes Lauritzen Bulkers (dry bulk cargoes) and Lauritzen Kosan (petrochemical and liquefied petroleum gases), as well as part-ownership of flotel service provider Axis Offshore Ltd. through a joint venture with HitecVision.
Nordic Tankers is a ship owning company operating one of the largest global specialized chemical tanker fleets in the segment below 25,000 dwt. The company operates by owning, chartering in, pooling and having chemical tankers on commercial management.

High Tech Equipment
Denmark is a trailblazer for energy-efficient shipbuilding, design, repair and retrofitting, and produces a variety of high-quality, innovative products, from engines, scrubbers and ballast water treatment systems to ship paint and coatings, navigation systems and safety equipment. Denmark is a hub for green shipping technology. Half of the world's scrubbers are produced in Denmark and one in three containers throughout the world is painted with Danish paint, according to Danish Maritime. Many leading companies devoted to ballast water treatment technology are located in Denmark.
As a global leader in environmental innovation, Denmark recently launched a research project called Blue INNOship, which aims to develop or enhance technologies which reduce emissions and particles from sulphur (Sox) nitrogen (NOx) and carbon dioxide (CO2)through a focus on ship design and propeller solutions, performance and monitoring, alternative fuel solutions, emission reducing technologies and service/retrofitting.
Denamrk's foothold on the green technology front is one of its greatest strengths, helping the cluster maintain competitiveness in shipbuilding, repair and equipment manufacturing. It is challenged however, by lower production and labor costs elsewhere, mainly in Asia, but also other European nations. Ship repair, retrofit and conversion, markets where Denmark maintains a secure position, are industries in demand.

Offshore
Pioneering wind efforts and oil fields in the North Sea have helped Denmark maintain its role in activities relating to offshore energy. The world's first offshore wind park was established in Denmark in 1991, and today, Denmark relies on offshore wind for roughly 10 percent of its electricity production. At more than 130 vessels servicing offshore wind activities, the Danish-operated fleet is one of the world's largest. Denmark has seen an uptick in growth potential offshore as more wind farms, extended lifetime of oil and gas fields as well as increased demand for decommissioning services provide areas for major development in the Danish sector.
Denmark houses a range of shipping supply companies which specialize in developing business concepts that enhance key offshore processes, from maintenance and supply, to emergency work and transport of personnel, all of which stand to benefit from boosted offshore potential.
The country is also home to a number of shipyards dedicated to offshore oil, gas and wind.

(As published in the February 2015 edition of Maritime Reporter & Engineering News - http://magazines.marinelink.com/Magazines/MaritimeReporter)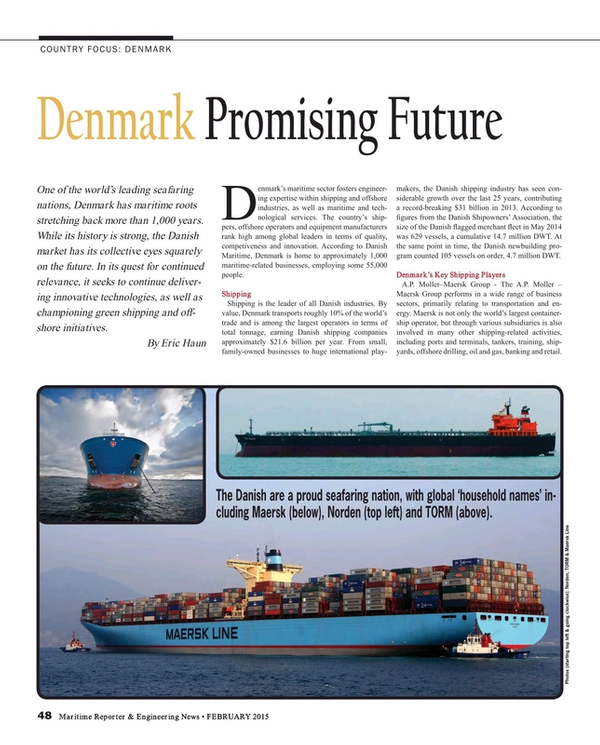 Read Denmark's Promising Future in Pdf, Flash or Html5 edition of February 2015 Maritime Reporter
Other stories from February 2015 issue
Content