Dieselgate 101: Opening the Door to Cleaner Engines
By Patricia Keefe
Don't do the crime if you can't do the time – or at least pay the staggering fine. And pay it forward, Volkwagen will.
The auto manufacturer got caught using software to trick emissions control software during testing on some cars – nearly 500,000 2.0 liter and 83,000 3.0 liter diesel vehicles – in order to get a passing grade, after which the cars operated in violation of the Clean Air Act. The years of cheating on vehicles from model years 2009 to 2016 sold and leased in the U.S., resulted in emissions of up to 40 times the permitted level of nitrogen oxides (NOx) and particulate matter.
As part of a series of three settlements with the U.S. Environmental Protection Agency (EPA) totaling close to $14.7 billion, Volkswagen was required to fund two mitigation trusts to the tune of $2.925 billion, which will be used to clean up diesel emissions – one for the states, Washington D.C. and Puerto Rico; and one for the Indian Tribes. Both trusts will be administered by an independent trustee, the Wilmington Trust.
The money is to be used specifically to fund projects with "eligible mitigation actions," such as upgrading tugboat or ferry engines, to reduce the excess emissions that were produced by the illegal cars. Engines change outs can only be repowered to EPA levels Tier 3 or Tier 4. However, operators can use Verified Emissions Upgrade Kits to move their existing engines from any EPA level to a Tier 1 or Tier, says David Holt, E&T Industry Consultant, Caterpillar Global Aftermarket Solutions. Other eligible options include hybrid engine solutions or all-electric.
How much money each state receives depends on how many of these "illegal" vehicles were sold or leased per state. As it happens, the top 10 recipients of trust funds are also the states with the largest marine sectors.
The states and tribes can take up to 15 percent of their funding to cover administrative costs. They have to select a board or agency to oversee the process and distribute the funds; pick up to 10 categories – of which tugs and ferries are one - in which to spend the money; create a public-facing web site and post a draft mitigation; collect public comments; revise the plan; submit it to the Wilmington Trust for approval. One that happens, the trust beneficiaries will post the plan and application forms, process and information, including the all-important, "when do you get your money?" Some states might opt for upfront grants; others may prefer to reimburse post implementation.
The beneficiaries have 10 years to request their funding and implement approved mitigation actions. Any monies not spent after 10 years will be redistributed to the states that did use up their allocations. Applications must include projected NOx reductions and impact on air and community health. Project priority will be based on the emissions reduction or offset per dollar spent, as well as factors such as health benefits and impact on wild areas. There are free online calculators for modeling numbers (see Tools box).
Applicants can work through the process themselves, which one analyst likened to doing your taxes; work with their dealer or supplier; or, depending on how complicated or big the project, hire a firm that helps clients write and defend winning applications, such as advanced transportation specialists at Gladstein, Neandross & Ass., or M.J. Bradley & Ass.
Only a couple of states have made it to the final approval stage, one of them being Maine, which has committed a major part of its funding to reducing marine diesel emissions.
States are expected to start getting their funds in June, accepting applications in late summer through the fall, with projects kicking off anywhere between the fall and the spring of 2019.
The beneficiaries, or states, are encouraged to be as cost-effective as possible and to, where possible, look for way to serve Environmental Justice areas, areas that have been overly burden with pollutants and wastes – typically area around ports and industrial areas.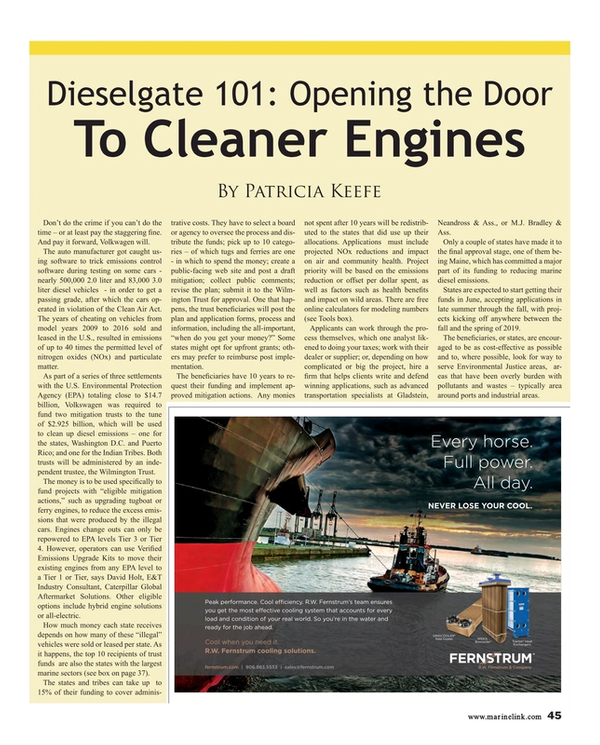 Read Dieselgate 101: Opening the Door to Cleaner Engines in Pdf, Flash or Html5 edition of March 2018 Maritime Reporter
Other stories from March 2018 issue
Content