Production Floaters Orders Are on the Rebound
By Jim McCaul
Fifteen production floaters were contracted in 2017 – 11 FPSOs, two production semis, a wellhead TLP and an FLNG – and the number of deep water projects in the near-term planning queue indicates production floater orders are set to accelerate.
This is a big change from 2016 when orders for new units totally dried up and the deepwater future looked pretty bleak.
Recent Orders
Here's a round-up of contracts awarded last year and in January 2018.
Tempera FPSO - Keppel in January 2017 received a contract from Dixstone Holdings, an affiliate of Perenco, to convert a tanker to an FPSO for use on the Yombo field offshore the Congo. The 2002-built Aframax-size tanker Tempera is being used as the conversion hull. When completed, it will replace the Conkouati, which has served as the FPSO on the field since 1991.
Carioca MV30 FPSO - In October 2017 Modec was awarded an EPCI contract + 21 year lease to supply an FPSO to Petrobras for use on the Sepia field in Santos Basin. The FPSO, named Carioca MV30, will be VLCC-size (1.4 million bbls storage) and have capability to produce 180,000 b/d oil, 212 mmcf/d gas (which will be re-injected) and 240,000 b/d water injection.
Ca Rong Do FPSO - In April 2017 Yinson Production finalized a contract to supply an FPSO to Repsol for use on the Ca Rong Do oil/gas discovery offshore Vietnam. The unit will be leased on a time charter basis for a firm 10 years with five extension options of one year each. The estimated aggregate value of the bareboat charter is $1 billion for the entire 15-year period.
Guanabara MV31 FPSO - Petrobras in December 2017 signed an EPC contract + 22-year lease with Modec to supply an FPSO as the pilot production unit on the Mero (ex-Libra) field. The FPSO will be a VLCC-size unit with capability for 180,000 b/d oil, 420 mmcf/d gas, 225,000 b/d water injection and 1.4 million bbls storage. Start of the production is planned for 2021.
Liza #1 FPSO - SBM in June 2017 was awarded the EPC contract and lease for an FPSO to initiate development of the Liza oil/gas discovery offshore Guyana. The lease is for a firm 10 years with up to 10 one-year extensions. The FPSO will have production capacity for 120,000 b/d oil, 170 mmcf/d gas and water injection capacity of 200,000 b/d. The conversion is being done at Keppel.
Adolo FPSO - BW Offshore in mid-2017 began modifying the Azurite FPSO for use as a production unit offshore Gabon. Keppel is doing the modification. Azurite had been available for redeployment since 2014. The FPSO currently has production capacity for 40,000 b/d oil, 18 mmcf/d gas and 60,000 b/d water. It is single hull with spread mooring able to store 1.35 million bbls oil.
Aoka Mizu FPSO - In July 2017 Bluewater was contracted by Hurricane Energy to modify and redeploy the Aoka Mizu for use as an early production system offshore the UK. The 605,000 bbl FPSO has production capability for 30,000 b/d oil and 20,000 b/d water production. It will be connected via a manifold to two production wells on the Lancaster reservoir. Dubai Drydocks World is doing the modifications/upgrades.
Johan Castberg FPSO - Statoil in December 2017 awarded an EPC contract to Sembcorp Marine to fabricate the FPSO hull and living quarters for the Johan Castberg FPSO. In February 2018 an NOK 3.8 bil contract for topsides fabrication and hull/topsides integration was awarded to Kvaerner. SBM is supplying the turret mooring system. The FPSO will have 1.1 million bbls storage and production capacity of 190,000 b/d oil, 290 mmcf/d gas.
Fast4Ward Spec FPSO - SBM in June 2017 contracted with CSTC and SWS, both in China, to build a speculative VLCC-size FPSO hull that can be used on a future FPSO contract with short execution requirement. According to SBM, Fast4Ward can accelerate delivery of an FPSO by up to 12 months.
Mad Dog 2 Production Semi - In January 2017 Samsung was awarded a $1.27 billion contract to build the production semi for BP's Mad Dog Phase 2 project The unit will have capability to produce 110,000 b/d oil and 25 mmcf/d gas from up to 14 production wells. Mad Dog 2 will be used to develop further oil discoveries near the original Mad Dog Spar in the GOM. Production is expected to begin in late 2021.
Vito Production Semi - In December 2017 Sembcorp Marine received an LOI from Shell for a turnkey contract to construct the production semi for the Vito field in the GOM. The production unit will comprise a single topside module supported on a four-column semisubmersible hull. It will be moored in water depth of 1160 meters and have production capacity of 100,000 b/d oil + 100 mmcf/d gas.

Ca Rong Do TWLP – In April 2107 PTSC received an EPCI contract to fabricate an 18 slot dry tree TWLP to use with an FPSO on the Ca Rong Do oil/gas field offshore Vietnam. PTSC is fabricating the unit in its Vung Tan facility. This is the first TWLP fabrication contract to be executed by PTSC. FloaTEC has a $40 million contract to provide engineering and support services to PTSC during the construction period.
Coral South FLNG - ENI in June 2017 proceeded with its project to develop LNG exports offshore Mozambique using an FLNG with 3 mtpa LNG + 0.5 mtpa condensate production capacity. Technip/Samsung/JGC JV was selected for the $ 2.5 billion FLNG EPC contract. The FLNG will be 439 m long, 65 m wide – and displace 210,000 tons. Production start is scheduled in mid-2022.
Penguins FPSO - Shell in January 2018 contracted with Fluor to supply an FPSO for use on the Penguins cluster in the UK sector of the northern North Sea. The production unit will be based on a Sevan Marine 400 cylindrical design FPSO. It will have peak production capability of 45,000 boe/d – including 35,000 b/d oil – and storage for 400,000 bbls.
MTC Ledang FPSO - Puteri Bangsa, a 350,000 barrel 1992-built tanker formerly used as an FSO, was modified into a small 15,000 b/d FPSO for use on the Ophir field offshore Malaysia. MTC Engineering had the EPC contract + lease to supply the unit. Keppel had the conversion contract.
Sururu FPSO - In December 2017 Petrobras contracted with CIMC Raffles to build the FPSO hull for the Sururu/Atapu Norte fields in Santos Basin. The hull will be VLCC size, designed to support a 100/120,000 b/d + 200 mmcf/d topside plant. Delivery of the hull is scheduled in mid-2019. This was earlier to be the P 71, the sixth FPSO in the serial hull project.
Planned Projects
Looking forward, we are currently tracking 227 floating production projects in various stages of planning.
Geographically, 35 percent of the projects in the planning queue are located in South America, 26 percent in Africa, 11 percent in SE Asia, 8 percent in Northern Europe and 7 percent in the GOM. The remaining 13 percent are spread over a half dozen other regions.
Of the total projects, 53 percent involve an FPSO, 10 percent another type oil/gas production floater, 33 percent liquefaction/regasification floater and 4 percent storage/offloading floater.
As for timing, 64 percent of the projects in the planning queue are likely to lead to a production system contract within the next five years. The remaining 36 percent consists of longer term projects where the production system order is likely after 2022. In the very near term are 24 FPSO projects, several FPU projects and 20+ FLNG/FSRU projects likely to reach an investment decision within 2018/19.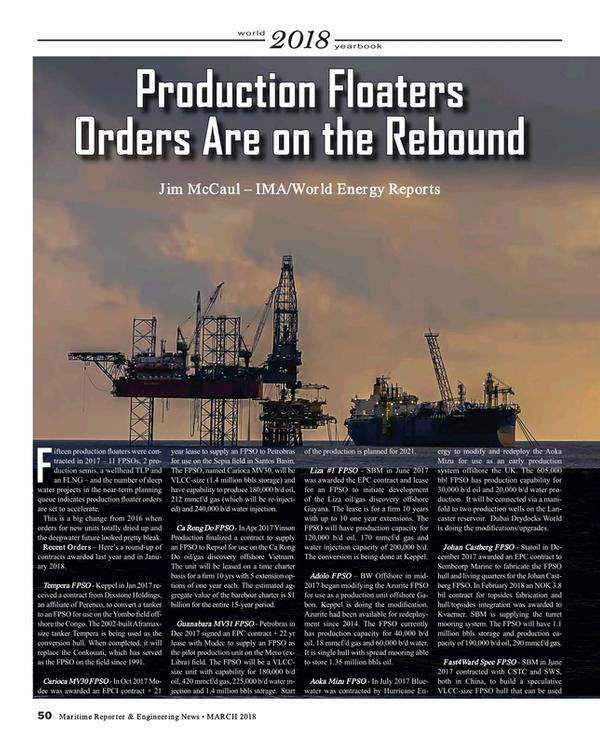 Read Production Floaters Orders Are on the Rebound in Pdf, Flash or Html5 edition of March 2018 Maritime Reporter
Other stories from March 2018 issue
Content