Shipbuilding: One-on-one with David M. Thomas, Jr.
BAE System's San Diego yard is a critical player in keeping U.S. Navy ships operating
Walk with David M. Thomas, Jr., VP & GM, San Diego Ship Repair, BAE Systems, and a few things become immediately clear: Dave Thomas is passionate about cleanliness and order, as the San Diego yard is compact and bustling with work, yet impeccably clean. Dave Thomas is passionate about safety, and he takes the health and welfare of every employee, colleague, client and guest personally. Most of all, Dave Thomas is passionate about everything U.S. Navy. Following a distinguished U.S. Navy career, his second act is ensuring that this big, meticulous client and the ships that it operates are ready and able for any mission that might fall to them, anywhere in the world.
"I walk to work every day and I am inspired every time I walk around this yard," said Thomas. "I always wanted to be in the Navy, it's all I ever wanted to do since I was a little kid. My dad was in the Navy and I couldn't wait to join, which I did the day after I turned 18."
That passion for the U.S. Navy born with the man still burns today. "It's an honor for me to be able to continue to serve my country. To the sailors and the marines who will take those ships far away. It's a privilege. I love what I do."
But the job of maintaining Navy ships takes more than passion, and Thomas understands the business courtesy of his Navy career. "Having been the customer, I understand the requirement for compliance with the specs, the Navy's appropriately high standards," said Thomas during our recent visit to the San Diego yard. "Our commitment to that quality and the timely delivery of those vessels is our number one priority. It's not a challenge, it's a commitment."

The "Pivot West"
San Diego has always been a navy town, but as the U.S. Navy works toward the stated goal of a 355-ship navy combined with its 'pivot west,' there is obvious growth in and around this major southern California city. In fact Thomas is seemingly part of the 'pivot west', as us until a year ago he held the same position at BAE Systems' Jacksonville, FL, yard before accepting the San Diego assignment. "The opportunity to continue to repair and modernize navy ships attracted me to the position in San Diego, but really it's the same customer, different coast," said Thomas.
But in San Diego the size and diversity of the Navy presence is evident, as there is everything from aircraft carriers, to the large deck amphib class ships, the LPD17s, the cruisers, destroyers and minesweepers, as well as the addition of the new DDG1000, and LCS populations.
"We've worked on ships with 30 years' of time in service to brand new ships and everything in between," said Thomas. "We've worked on ships with wooden hulls and we've worked on ships with aluminum superstructures to steel ships."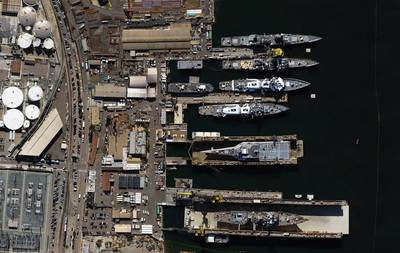 BAE System's San Diego yard is compact, but packed with U.S. Navy business. Photo: BAE Systems
When Maritime Reporter & Engineering News visited in November 2018, the diversity in the ships under repair was evident with the following in for repair:
• USS Omaha (LCS 12), Littoral Combat Ship (LCS);
• USS Howard (DDG 83), Guided Missile Destroyer (DDG);
• USS Pearl Harbor (LSD 52), Dock Landing Ship (LSD);
• USS San Diego (LPD 22), Amphibious Transport Dock (LPD);
• USS Cape St. George (CG 71), Guided Missile Cruiser (CG); and
• USS Sterett (DDG 104), Guided Missile Destroyer (DDG).
While a shipyard's facilities, particularly docks and lift capability, are an obvious part of its success, Thomas maintains that without a qualified employee base and competent subcontractor network, the best facilities are of little use. "People are most important, without question," said Thomas. "The facilities are incredible too, but without the right team, without the right leadership, the facilities don't matter as much." To this end, the company is investigating an apprentice program for long-term workforce developmet.
Like any shipyard, the BAE systems facility in San Diego requires continuous investment and upgrade, the biggest and most evident one being a second drydock delivered just over one year ago. "We've invested in a brand new drydock to accommodate all of the ships in the fleet here in San Diego, up to the large deck amphibs and the conventional surface fleet."
David M. Thomas, Jr. is a stickler for detail, running a clean, efficient yard to service its primary customer: the U.S. Navy. Photos: BAE Systems/Maria McGregorKeeping Clean
While San Diego is a long-tenured navy town, it is somewhat unique in that there is a large population base – an estimated 1.5 million – situated in close quarter with a string of shipyards, all residing in California and its demanding environmental laws. Being a good environmental steward is the mandate, not the expectation. "I read 'Silent Spring' as a kid; I watched Jacques Cousteau, and I literally sailed around the world, so I know what it looks like when the environment is well maintained and preserved, and unfortunately I've seen what it looks like when it is not," said Thomas. "Our company, me personally, and our team are all committed to be good stewards to the environment. We continually look for ways to improve, whether that be the addition of new electric vehicles in the yard; it's about being a good business, it's about being a good neighbor."

Safety Culture 1, 2, 3
When David M. Thomas, Jr., VP & GM, San Diego Ship Repair, BAE Systems talks shipyard safety, he doesn't just say it, he means it. "It starts with being confident that everyone who works in our shipyard is aware of the reality of the hazards, but the fundamental core value of safety and the uncompromising commitment to safety in everything that we do. There are 3 things that I tell every new employee, and that I repeat at every morning muster or other gatherings:
1.Safety is an uncompromising core value in our shipyard;
2.Every employee has the right and the responsibility to stop work if they see an unsafe situation; and
3.It's not my shipyard, it's our shipyard. If you see a way to improve it, speak up.
Dry Docks:
Pride of California:
Length, o.a.950 ft.
Length, Over Pontoons 852 ft.
Clear Width Between Fenders 162 ft.
Maximum Design Draft 65 ft.
Rated Lift Capacity 55,000 Long Tons
Two 50 Ton Electric Wing Wall Cranes

Pride of San Diego:
Length, o.a.567 ft.
Length Over Pontoons 528 ft.
Clear Width Between Fenders 106 ft.
Maximum Design Draft 38 ft.
Rated Lift Capacity 23,000 Long Tons

Berths:
Length ft. Depth ft. MLLW*
#1 South: 871 ≥35
#3 North: 722 ≥45
#3 South: 842 ≥35
#4 North: 561 ≥35
#4 South: 561 ≥35
*Mean Lower Low Water

Cranes:
#1 Pier served from POCA & POSD*
#3 Pier: 80 ton rail crane
#4 Pier: 22 ton – 60 ton electric rail crane
150 ton floating crane to service any berth/dock
5 additional mobile cranes any pier
One 27 Ton Crane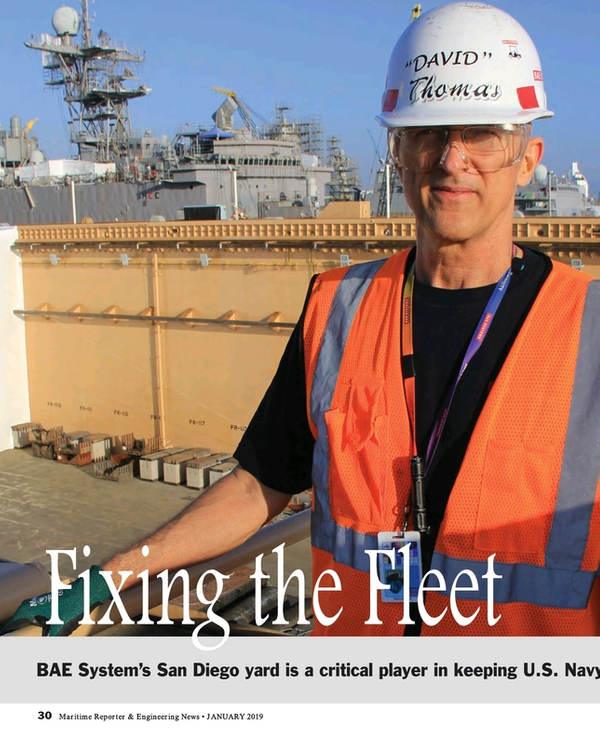 Read Shipbuilding: One-on-one with David M. Thomas, Jr. in Pdf, Flash or Html5 edition of January 2019 Maritime Reporter
Other stories from January 2019 issue
Content