The Maritime Industry and COVID-19
Dennis Bryant
The COVID-19 epidemic, which was first called the novel Coronavirus and then the 2019-nCoV, is spreading fast around the world. It is more contagious than the 2002 SARS outbreak, its cousin, but not as lethal. Unfortunately, its impact on the maritime community seems to already be greater than that of SARS.
Ships are being required to submit Maritime Declarations of Health prior to arrival. Ships that called in Chinese ports during the previous 14 days or have persons on board who have been to China during the previous 14 days are either prevented from entering numerous ports or their activities in port are curtailed. Some ships with infected persons on board are being banned – one cruise ship was turned away by four different countries before finally finding refuge in Cambodia. Cruise ships have largely withdrawn from calling in many East Asian ports. Crew changes are impacted across the entire maritime industry.
International trade is slowing. Health measures in China are leading to decreases in manufacturing and power consumption. As a result, raw materials for production and for power generation (such as coal and LNG) is less necessary, reducing imports. With manufacturing down, exports from China are decreasing. It is currently impossible to forecast how long this downturn will continue.
The major problem is our lack of knowledge about the virus. There is currently no vaccine to prevent it and no medicine to cure it. Medical kits to diagnose the illness are in short supply and don't have a 100% success rate, as the outbreak is so recent. Traditional care largely works, but there are exceptions, particularly among the young, elderly, and those with compromised immune systems. But COVID-19 is capable of striking down perfectly healthy individuals also. Medical professionals estimate that an infected individual can no longer transmit the virus to another person 14 days after contracting the condition, but this is not known for certain. Medical professionals do not yet know whether a pre-symptomatic but infected individual may transmit the virus. It is also unclear how long the virus can remain potent after landing on a surface such as a table or handrail.
Authorities are only starting to consider the problem of passing this contagious virus along. Consider the following scenario: A crew member or passenger acquires the virus and (it is supposed) is able to pass the condition to others for 14 days. After 13 days, that infected individual passes the virus to another crew member or passenger. The 14-day watch period begins anew. This theoretically could go on until everyone onboard has become infected and gone through the 14-day infectious stage.
The primary means of transmission from person-to-person seems to be through coughing and sneezing, but coming into contact with an infected person may be sufficient. A Japanese health care worker was recently diagnosed with the virus after conducting an inspection on a quarantined cruise ship.
Health officials fear that COVID-19 will become widespread – a community virus. Thus control measures such as quarantine, isolation, and surveillance are being implemented to buy time in hopes of finding a cure and better treatment medicines. Those measures have had limited success to date, as the number of reported cases keeps growing and it is clear that there are numerous unreported cases. The situation continues to change, so pay attention.

Summary
The real problem, though, would be the disruption in trade. Due to the (hopefully short-term) reduction in international trade, many ships could be without cargoes (and possibly crews, support personnel, and bunkers). Ships could end up delayed in departure ports because the arrival ports are not accepting ships therefrom. Alternatively, the ship could be required to anchor out for an extended period awaiting clearance – recalling the ancient quaranta giorni or 40 day delay imposed by Venice. This has already occurred to cruise ships off Tokyo, Hong Kong, and Saint Lucia.
Other ports have announced that entry will not be allowed for ships carrying persons who have been in China in the previous 14 days. All of this is adding fresh meaning to the concept of "restraint of princes."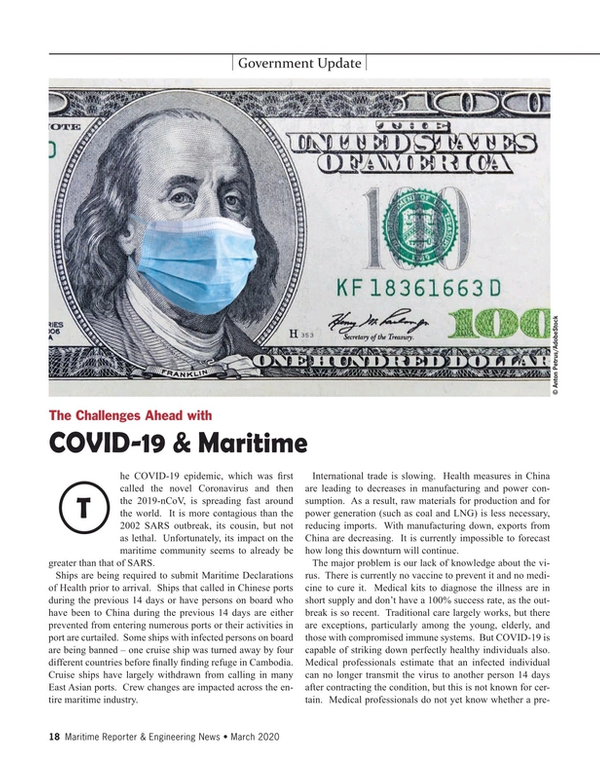 Read The Maritime Industry and COVID-19 in Pdf, Flash or Html5 edition of March 2020 Maritime Reporter
Other stories from March 2020 issue
Content