Opinion: Maritime Freedom & the Global Commons
By Captain Todd Bonnar, MSC, CD
"Freedom" – the absence of subjection to foreign domination or despotic government
It has been decades since international relations in the world order dictated true competition for sea control, sea lines of communication, access to world markets, and diplomatic partnerships. However, it is becoming increasingly alarming that nations such as Iran, China and Russia seek to accumulate/consolidate power and re-define international maritime norms, potentially at the peril of diplomatic, economic, and military bonds that link NATO allies and critical partners.
Iran claims control of the Strait of Hormuz and has put the threat of closure or denial at the core of its asymmetric war strategy. In a 2019 statement in response to the U.S. plan to end waivers on Iranian oil exports, Alireza Tangsiri, head of the Iranian Revolutionary Guard Corps navy force confirmed that the Straits of Hormuz was a critical arrow in Iran's proverbial military quiver. Tangsiri remarked that "If we are prevented from using it; we (Iran) will close it. In the event of any threats, we will not have the slightest hesitation to protect and defend Iran's waterway." 1
Renewed tensions between Iran and the United States, heightened further following the Trump administration's decision to target Iranian Major General Qasem Soleimani, have renewed Iranian narratives about closing the Straits of Hormuz in an effort to break another set of renewed western sanctions. Carrying one-fifth of the world's traded sweet crude oil, a possible interruption of oil and gas exports through the strategic waterway would have a significant, negative, impact on the global economy. 2 Moreover, it is not only oil. According to the International Energy Association, huge amounts of natural gas are also transported on that route with an estimated 33 billion cubic meters of gas, including from Iran and Qatar, passing through the Strait of Hormuz each year. 3
Likewise, China's attempts to rationalize and assert control of 80 to 90 percent of the South China Sea, including waters allocated to neighboring sovereign states under the U.N. Convention on the Law of the Sea (UNCLOS) are equally troubling. 4 As author Bill Hayton aptly describes it in book The South China Sea: The Struggle for Power in Asia, the South China Sea is "both the fulcrum of world trade and the crucible for conflict." 5 The challenge posed by China's refusal to abide by international law in the South China Sea may potentially re-define the practical application of the concept of maritime freedom. Beijing is bullying its way through its selective application of UNCLOS to a maritime entitlement five times larger than permitted via the convention (China ratified UNCLOS in 1996) and customary international law, carving out an illegitimate sphere of influence. 6 In effect, if Beijing gets its way, the South China Sea will become a seaward extension of Chinese territory and the ruling Chinese Communist Party will ipso facto dictate what foreign vessels and aircraft can and cannot do. 7 The cascading effects for other critical SLOCs, from the Persian Gulf to the ever increasingly more accessible Arctic routes, could be severe if other coastal states, such as Iran and Russia, decide to press their own revisionist interpretations of maritime law. 8
Many Russia watcher and analysts support the premise that Russia, through its confrontation with the Ukrainian Navy in the Kerch Straits in November of 2018 and its subsequent restrictions on shipping, is similarly trying to rewrite the rules in the Sea of Azov, just as China has done in the South China Sea. Experts such as James Holmes, a professor of maritime strategy at the United States Naval War College, agree that the Russian actions in the Black Sea region pose a challenge to international maritime law.
"It's an effort to set a precedent that Russia can then apply to other seas that it would also like to dominate if not control, much as the South China Sea is an expanse that China would like to 'own,' " he said. "If Russia can define the Azov Sea as Russian territorial waters, there is no reason in principle it could not do so in the wider Black Sea, the Baltic Sea, Sea of Okhotsk, et cetera. So this is an easy win for Moscow and an easy place to set that precedent." 9
In all of the examples above, the international norms and UNCLOS regulated system of maritime trade, commerce and military endeavors has come under direct challenge. In all such cases, it is incumbent upon maritime nations that believe in the freedom of the sea and require international sea based trade to maintain their quality of being, help defend this centuries-old concept that the high seas are a global commons. International waters belong to everyone and no one, with few, minor and narrowly defined exceptions. No state owns it, and no state can make laws dictating what others do there. 10 Operations, such as the ones listed above, threaten the freedom of the seas, seek to intimidate neighboring states and coerce weaker nations into violation of international law.
On a daily basis, surface naval forces of the NATO Alliance's nations and partners are conducting peaceful operations across the globe. These joint forces at sea protect freedom of maneuver, secure the sea-lanes for global trade and economic growth, defend and promote key national interests and prevent competitors and adversaries from leveraging the world's oceans against us. The navies of the democratic and peaceful countries of the world and the international maritime community share concern over safeguarding strategic sea lines of communication.
Versatile and scalable naval forces fulfill these crucial roles, which are the necessary preconditions to ensure the free movement of trade and commerce and to safeguard the interests of NATO and partner nations all the while maintaining a strictly defensive posture. The persistent forward presence and power projection of the Alliance's naval forces backed by credible combat capability deters potential aggression and seeks to limit regional frictions from escalating to greater levels of conflict. These forces strengthen conditions that enable mutual prosperity.
The freedoms to use the maritime domain—the oceans, the littorals, waterways, and seafloor; the rise of global information systems, especially the role of data in decision making and the security of data supporting operational decision making are shared fundamental areas of concern, not only for the individual nations and the Alliance in general, but also for the maritime industry.
Security in the global maritime commons is not a given. Without a comprehensive, shared understanding of what is occurring in the maritime domain, achieved through a robust Maritime Situational Awareness (MSA), vital opportunities to detect and mitigate threats or critical vulnerabilities at the earliest opportunity may be lost. A comprehensive MSA network is required to facilitate information sharing and can only be established with the cooperation of military forces, national law enforcement agencies, and close cooperation with the international maritime transportation industry. Understanding Pattern of Life is critical to identifying abnormalities that may be indicators to hostile or subversive actions.
The lack of modern and agile global and regional governance structures has generated friction between the globalized corporate sector, maritime authorities and military policy-makers that undermines the maintenance of persistence relationships necessary to enhance true maritime situational awareness. In an increasingly inter-connected, inter-dependent and rapidly changing globalized world, there continues to be an absence of persistent relationships between the ever-increasing number of key stakeholders in the global maritime community of interest.
Operating according to disparate mandates, objectives, areas of responsibility and jurisdiction, there is an obvious need to develop a shared network and develop a collaborative contribution to achieve a comprehensive MSA capability in which all stakeholders' requirements are met and enhanced.In the maritime domain, our continued freedom of the global commons requires an understanding of persistent relationships, time, space, risk, oceanography, the global supply chain, critical infrastructure and the environment, as well as the nature of the risk, and the capabilities, readiness and location of one's competitors. So as James Holmes so eloquently states, these clashes are not merely about the Strait of Hormuz or the South China Sea.
The world's oceans and seas comprise a single interconnected body of water. Seagoing nations must stand on the principle that maritime freedom is likewise indivisible. If the maritime community in general relinquishes its inherent freedoms in the global commons in one body of water for the sake of placating a predatory coastal state such as China, the global maritime community stands the risk some other strong coastal state will mount similar challenges in some other strategic waterway.
The maritime community needs better cooperation and situational awareness between key stakeholders and regimes (merchant shipping community included). As such the Combined Joint Operations from the Sea Center of Excellence is acting with key academic, industry and military partners, to advance the interests of the maritime community and to promote information exchange and networking across all stakeholders through discussion at the Maritime Security Regimes Round Table being held at the Slover Library in Norfolk, VA 29th to 30th April 2020. For more information, please contact us at [email protected]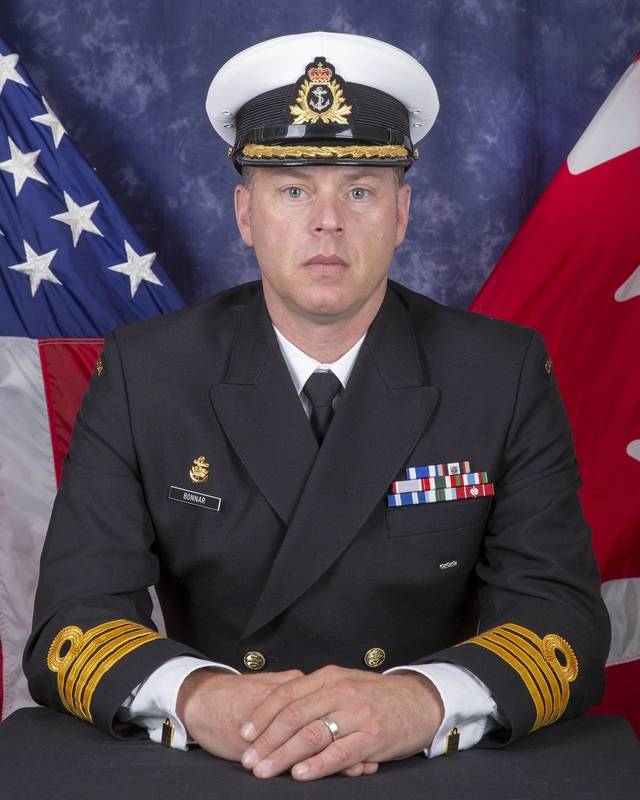 The Author: Captain Todd Bonnar, MSC, CD joined the Canadian Armed Forces as a Direct Entry Officer in 1997. After completing Maritime Surface Officer classification training in HMCS VANCOUVER in 1998, he was selected to represent Canada in an exchange with the Royal Australian Navy in HMAS HOBART and HMAS ANZAC during which time he participated in the UN Peace Keeping Mission to East Timor. In 2017 he represented Canada as Chief of Staff and Deputy Commander of NATO's high readiness maritime Task Group, Standing NATO Maritime Group One, participating in Operation REASSURANCE in the Baltic Sea and Operation SEA GUARDIAN, NATO's enduring counter-terrorism and security operation in the Mediterranean, earning the Meritorious Service Cross for his leadership of the Task Group. He holds a Bachelor of Social Sciences Degree from the University of Ottawa and a Masters of Defence Studies with a focus on Chinese Domestic Policy, from the Royal Military College of Canada. He is a graduate of CF Joint Command and Staff Program 36.
Footnotes
1 Arsalan Shahla and Ladene Nasseri, Iran Rasies Stakes in US Showdown with Threat to Close Hormuz; Bloomberg Politics 22 April 2019. Available from https://www.bloomberg.com/news/articles/2019-04-22/iran-will-close-strait-of-hormuz-if-it-can-t-use-it-fars; Internet, accessed 14 January 2020
2 Arsalan Shahla and Ladene Nasseri, Iran Raises Stakes in US Showdown with Threat to Close Hormuz; Bloomberg Politics 22 April 2019. Available from https://www.bloomberg.com/news/articles/2019-04-22/iran-will-close-strait-of-hormuz-if-it-can-t-use-it-fars; Internet, accessed 14 January 2020

3 Omid Lahabi, Strait of Hormuz: Why does Iran threaten to close it? Euronews 28 June 2019. Available from https://www.euronews.com/2019/06/28/strait-of-hormuz-why-does-iran-threaten-to-close-it; Internet, accessed 13 January 2020

4 James R Holmes, China Swings a Small Stick in the South China Seas. The Hill 28 July 2019. Available from https://thehill.com/opinion/national-security/454402-china-swings-a-small-stick-in-the-south-china-sea; Internet, accessed 14 January 2020.
5 Bill Hayton, The South China Sea: The Struggle for Power in Asia (New Haven: Yale University Press, 2014) xvi

6 Zack Cooper and Gregory Poling, America's Freedom of Navigation Operations are Lost at Sea, Foreign Policy Magazine 1 August 2019. Available from https://foreignpolicy.com/2019/01/08/americas-freedom-of-navigation-operations-are-lost-at-sea/. Internet accessed 15 January 2020
7 James R Holmes, China Swings a Small Stick in the South China Seas. The Hill, 28 July 2019. Available from https://thehill.com/opinion/national-security/454402-china-swings-a-small-stick-in-the-south-china-sea; Internet, accessed 14 January 2020
8 Zack Cooper and Gregory Poling, America's Freedom of Navigation Operations are Lost at Sea, Foreign Policy Magazine 1 August 2019. Available from https://foreignpolicy.com/2019/01/08/americas-freedom-of-navigation-operations-are-lost-at-sea/. Internet accessed 15 January 2020
9 Andrew Higgins, Russia Slowly Throttles a Ukrainian Port, New York Times, 14 December 2018. Available from https://www.nytimes.com/2018/12/14/world/europe/moscow-ukraine-azov-mariupol.html; Internet, accessed 14 January 2020
10 Andrew Higgins, Russia Slowly Throttles a Ukrainian Port, New York Times, 14 December 2018. Available from https://www.nytimes.com/2018/12/14/world/europe/moscow-ukraine-azov-mariupol.html; Internet, accessed 14 January 2020
Read Opinion: Maritime Freedom & the Global Commons in Pdf, Flash or Html5 edition of March 2020 Maritime Reporter
Other stories from March 2020 issue
Content