Coast Guard Auxiliary Supports Research Efforts
By Lowell Siegel, Bruce Buckley and Dr. Joe DiRenzo
Unique among the nation's armed services, the Coast Guard's missions include national defense, law enforcement, natural disaster incident management, recreational boating safety and environmental protection. This diversity of mission scope presents opportunities for the Coast Guard at the strategic, operational and tactical levels as the service works to make their efforts as effective and efficient as possible.
Contributing to the service's overall execution effort is the Coast Guard Research and Development Center (RDC), based in New London, Connecticut. This 80-person command is the center of gravity of ongoing applied research, development, testing and implementation of new technologies that enable the Coast Guard to address the nation's increasingly complex maritime challenges. RDC opened in 1972, and has served as the tip of the technological spear, engaging in a wide range of projects which the Coast Guard and other agencies in the Department of Homeland Security (DHS) have identified as mission critical.
As part of a continuous effort to improve capability and enhance engagement, the RDC has developed partnerships with other organizations and research entities. The partnership with the Coast Guard Auxiliary, established two years ago, has been a true force multiplier in all aspects of research.
The Auxiliary is an all-volunteer force of more than 22,000 that was established in June of 1939, while the active-duty reserve components were mobilized for deployment overseas. Today, Auxiliary members nationwide support seven of the 11 Coast Guards missions. Auxiliary members volunteered over 3.5 million hours to the Coast Guard in 2018.
Auxiliary support for the RDC reached 1,200 volunteer hours in 2019, and continues to grow. Each week a new request appears. The coordination effort occurs on a daily basis and has been dubbed a successful "work-in-progress" by Capt. Bruce Buckley, the Auxiliary liaison to the RDC, because he expects the partnership to continue to expand in scope and impact.
Auxiliary research support is made up of a wide range of activities. Auxiliary members have been identified as subject matter experts for current and future projects as the RDC's research leads build their project plans. In addition to providing technical expertise, Auxiliarists participate in field experimentation -- supplying boats and boat crews for events from Long Island Sound to Alaska. Additionally, a cadre of Auxiliary members serve as a virtual public affairs staff for the RDC. They have developed feature articles, captured video which has been developed into short documentaries, and shot photos in remote regions of the country during field experimentation. These Auxiliary members bring exceptional backgrounds … such as former members of The New York Times editorial board, experience with media relations companies, former TV news producers and videographers. The extraordinary thing … all are supporting the RDC as volunteers. Here are a few examples of Auxiliary-supported Coast Guard research and development projects: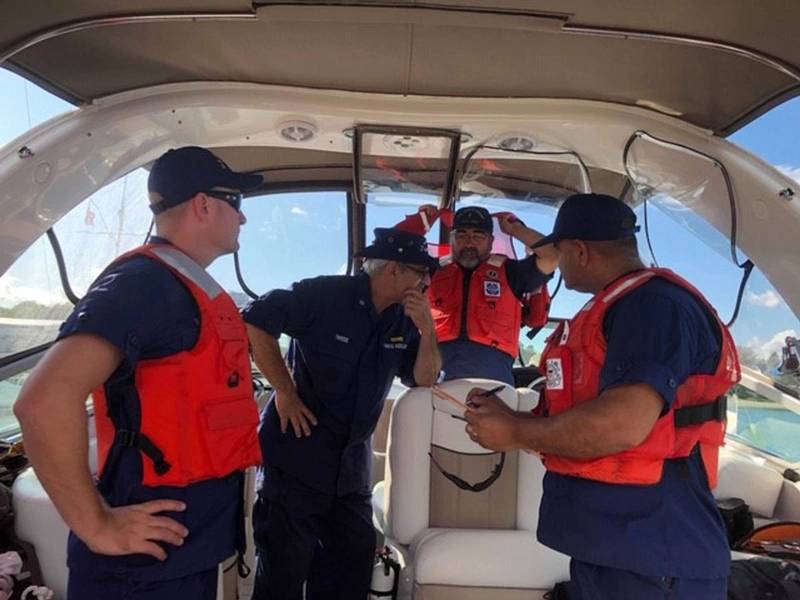 Photo courtesy USCG RDC.
Maritime Object Tracking Technology
Maritime Object Tracking Technology (MOTT) was developed as part of the Coast Guard's on-going effort to thwart drug smuggling. Devices were designed to drift with contraband jettisoned by fleeing drug smugglers, using integrated software technology for tracking and recovery. The Concept of Operations: Assets (surface or air) drop the devices among the jettisoned cargo during a pursuit, returning later to retrieve the evidence. A series of tests was conducted to validate survivability and functionality for both surface and air assets.
One test was conducted in New London, Connecticut; to simulate dropping the unit from a helicopter, they were dropped from the Gold Star Memorial Bridge. The Auxiliary supported this test evolution with two boats and crews. They provided critical standoff/security zone management and recovery of the devices in the water. In addition, photography support was provided for all of the testing operations for public affairs releases and test documentation.
The lessons learned in this early MOTT testing have been incorporated into a technology solicitation released by the DHS Science and Technology Silicon Valley Innovation Program on behalf of the Coast Guard. Details available here.

Ready for Rescue Technology Challenge
The goal of this public prize competition was to research affordable and effective enhancements to basic personal floatation devices. Unique ideas for improving the conspicuity of a person in the water were solicited. Concepts, ideas, prototypes and commercially-off-the-shelf (COTS) products were all considered. RDC provided guidance and technical contributions to the inventors to successfully improve the prototypes. This prize competition, sponsored by DHS Science and Technology, awarded over $250,000 in prize funding directly to the inventors.
Coast Guard Auxiliary support was wide-ranging, from judging the concepts to test planning and on-water evaluations. Two experienced Auxiliary boat crew members were part of the on-the- water test planning team. They advised on commercial vessel traffic during test area selection and provided a safety plan for RDC personnel functioning as test observers and statisticians. Underway support included four boats and 12 boat crew members during the eight-hour field event which assessed final prototypes in open water day/night test events. The manpower and expertise provided by the Auxiliary teams contributed to the success of the testing and armed industry participants with knowledge to improve their innovations.

USCG CubeSat Ground Station
Another project with exceptional Auxiliary support involved CubeSat research. CubeSats are a type of miniaturized satellite for space research and typically have a mass of no more than three pounds per unit. They are commonly put in orbit by private deployment companies as secondary payloads on a launch vehicle. More than 1,200 CubeSats have been launched as of January 2020. As part of the DHS Science & Technology Polar Scout CubeSat project, the RDC constructed a satellite ground station in Fairbanks, Alaska. This labor-intensive effort required the construction of an 18-foot radome structure. The successful completion on this ground station provided a valuable resource for the Coast Guard and DHS while testing CubeSat technology in support of Arctic search and rescue.
The Auxiliary support consisted of five members from the local Fairbanks area with construction experience. They were quickly mobilized and worked for three days assisting the on-site RDC team and providing skilled labor.

In-Situ Burn (ISB) Research
This past summer, the RDC conducted testing on Little Sand Island in Mobile Bay, Alabama, to provide critical new information for dealing with difficult oil spills. Testing occurred in a large tank to evaluate in-situ burning (ISB) as a countermeasure to spills in fresh water, such as the Great Lakes. This testing protocol included two full-scale ISB tests of flowing crude oil in fresh water, with and without marshland vegetation, which occurred over five days and had been preceded by weeks of preparation. The testing captured important data for researchers to use to best inform methods available to federal on-scene commanders.
Auxiliary members recorded the event, creating a documentary-style video for the research team similar to a report one would find on 60 Minutes or Dateline. The final 15-minute video with narration documented two major burns for the project team and included interviews with onsite technical experts.
These four examples capture a very small number of all the research events that Coast Guard Auxiliary members have been a part of at the RDC in the past two years. Eighty researchers combined with the bench strength of skills and resources of 22,000 Auxiliary members is a powerful win for Coast Guard research!

About the authors:
Lowell Siege and Bruce Buckley are members of the Coast Guard Auxiliary. Mr Buckley has been the Auxiliary Point of Contact for the Research and Development Center (RDC) currently and for the past two years since the formal partnership started. Dr. Joe DiRenzo III is the Director of Research Partnerships at the RDC and a long time contributor to Marine News and Maritime Technology.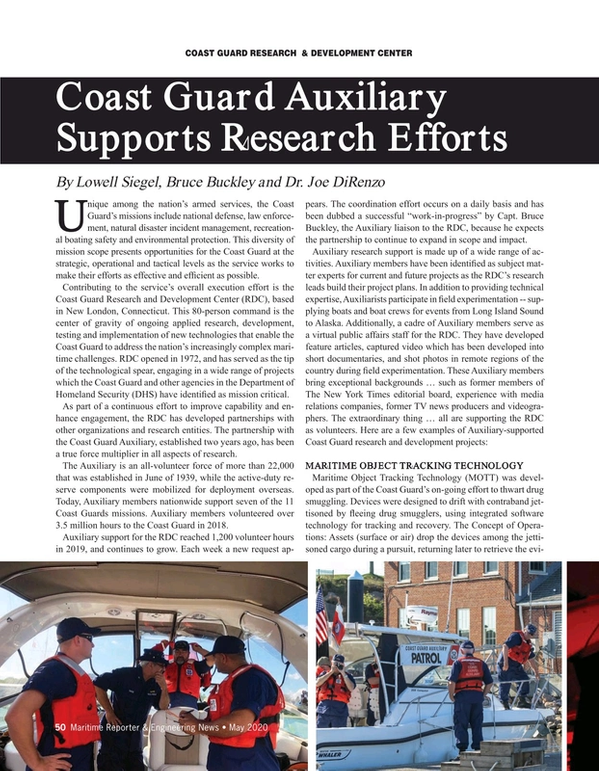 Read Coast Guard Auxiliary Supports Research Efforts in Pdf, Flash or Html5 edition of May 2020 Maritime Reporter
Other stories from May 2020 issue
Content