Profiles in Maritime Training: Martyn Thomas, Chief of Staff, Stream Marine Training Ltd. (SMT)
Greg Trauthwein
Martyn Thomas is the Chief of Staff at Stream Marine Training Ltd (SMT Ltd.) following many years working for both global training providers and cruise companies. SMT is a maritime skills and technology business providing fire-fighting, sea survival, survival craft and HSE training to the global maritime, oil and gas, renewables and construction industries.
Thomas works out of SMT's head office in Glasgow where SMT trains the majority of its theoretical based courses, including Alternative Fuels, HELM, Security Awareness, and Security Duties, as well as its pool-based training courses like Personal Survival Techniques and custom-developed Water Safety courses. SMT also operates a fire-fighting training facility at Glasgow Airport where it trains all the STCW Fire Fighting courses, Enclosed Space Training, Rescue at Height and other offshore fire courses. In early 2020 SMT opened its new £500k boat training facility in Greenock moving from its previous site which was opened in 2015. This has allowed it to increase its boat training capacity for all STCW Boat courses with future expansion into other offshore training markets.

Meet Martyn Thomas
Thomas began with a career in maritime, starting with his original apprenticeship as a Marine Electrical Engineer in the shipyard in Barrow-in-Furness before moving to A&P Appledore in Southampton. He was lured ashore for an electrical position, but "I was drawn back to the maritime industry where, until the late nineties, I was exposed to various maritime vessels from new builds to refurbishments."
His career hit a turning point while working for Hotpoint as a service engineer, receiving his first Management & Leadership training from GE as part of their Technical Sales Leadership Program. "This is where I first gained an appetite for teaching and training," said Thomas.
This appetite for teaching and training eventually led him to academia where he continued to work and completed his teaching degree, and as the Deputy Head of Faculty at Further Education College he would develop a number of qualifications, one of which was a course designed to help "would be" electrical engineers to become Electro Technical Officers for Carnival UK.
"I left the college and joined Carnival UK where I became their Cadet & Technical Training Manager," said Thomas. "As part of this role I developed and implemented the first edition of the competency framework for Deck, Engine & ETO Officers (3rd to 1st) within Carnival UK to enable them to demonstrate their professional and technical competence beyond the achievement of CoC's. While at Carnival I was also an active member of the MNTB where I was the Vice Chair for the Ratings Trailblazer group where I helped develop several new maritime apprenticeships."
He eventually became the Head of Maritime & Safety Training and managed the development and implementation of the Marine LS LMS which enabled easier access to remote learning on board vessels. He also managed the creation and implementation of several e-learning courses which were launched, not only for Carnival UK vessels, but also to the wider Carnival Corporation.
In 2019, he joined the global training company RelyOnNutec to become its Global Head of Maritime Training. After supporting a number of its global centers to build its maritime divisions, the global business needed to re-focus on its offshore portfolio so his role there was cut short.
"While at Carnival UK I was introduced to Martin White, the owner of a new start-up maritime training business in Glasgow called Stream Marine Training Ltd (started in 2014)," said Thomas.
"This introduction was in 2015 and our aligned passion for training beyond compliance was part of the original reason for me working with him at a time when Carnival UK were seeking to utilize training providers who saw beyond compliance and helped train towards competence."
While not directly involved in maritime training, Thomas' role is to ensure the staff are focused and suitably trained to meet the needs of the modern seafarer and support our wide customer base in delivering standard and bespoke courses. "I am also responsible for enabling the staff to achieve this through their own professional development," said Thomas. "Our clients range from ferry operators, MOD, Offshore, tanker and bulk carrier operates and major cruise companies and meeting the ever-changing needs of these industry sectors requires us to find and use the best trainers."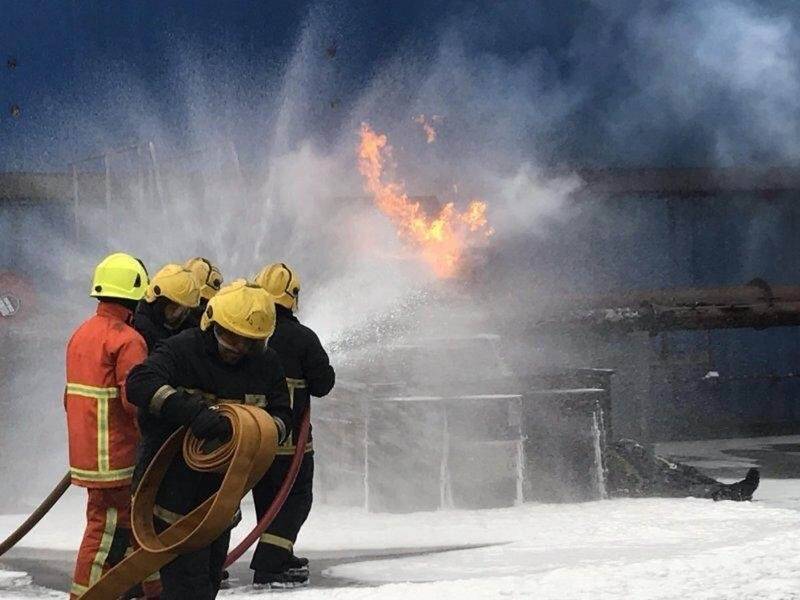 Safety & Survival is the backbone of SMT's business and delivers every aspect of STCW, MNTB, maritime and shore-based safety and survival training. Photo: SMTMeet SMT
"We are uniquely placed to offer three areas of expertise: Safety & Survival, Marine Technology and Careers," said Thomas. "The business in total has an annual turnover of £2.5M and we issue more than 8000 certificates annually across our full spectrum of courses."
Safety & Survival is the backbone of SMT's business and delivers every aspect of STCW, MNTB, maritime and shore-based safety and survival training. "Our instructors have a breadth of industry knowledge and help our clients build courses to meet their needs where required; this department operates over our three sites," said Thomas. In recent weeks we have been approved by both the Bahamas Maritime Authority and the MCA to deliver a number of STCW courses through the use of Webinars. This is allowing us to deliver classroom teaching around the world to seafarers requiring training during this period of restricted travel.
Following the launch of its Alternative Fuels (LNG) training in 2017, SMT decided to create a Marine Technology division to look at new areas of focus in the maritime industry, "and since then we have developed bespoke courses in Polar Survival, Maritime Evacuation Systems (MES), Crisis Management, Tanker Operations and Alternative fuels beyond LNG," said Thomas. "The M&T team are specialists in their fields and not only develop high level courses, they also teach across the course spectrum allowing them to be flexible assets which enables them to look into unique training methods and practices to keep SMT as an innovator in maritime training."
In addition to serving the qualified officers of the Merchant Navy SMT's Careers department is currently managing the training of more than 40 cadets, "which, as it was only started 18 months ago, is a fantastic achievement," said Thomas. "As a forward thinking, innovative business, we are constantly looking at the future and how we can support the training of crew both onshore and whilst at sea. While e-learning is the first evolutionary step to this, for SMT this will be a small stepping-stone to our future goals in our mission to support the training of seafarers, going beyond compliance and meeting the needs of both the seafarer and the shipping companies. (In addition) with the development of AR & VR and units becoming cheaper and more portable, the use of this equipment will support the future training of SMT and by ensuring that assessment is completed as an integrated piece of the training it means that seafarers can demonstrate competence alongside knowledge checks."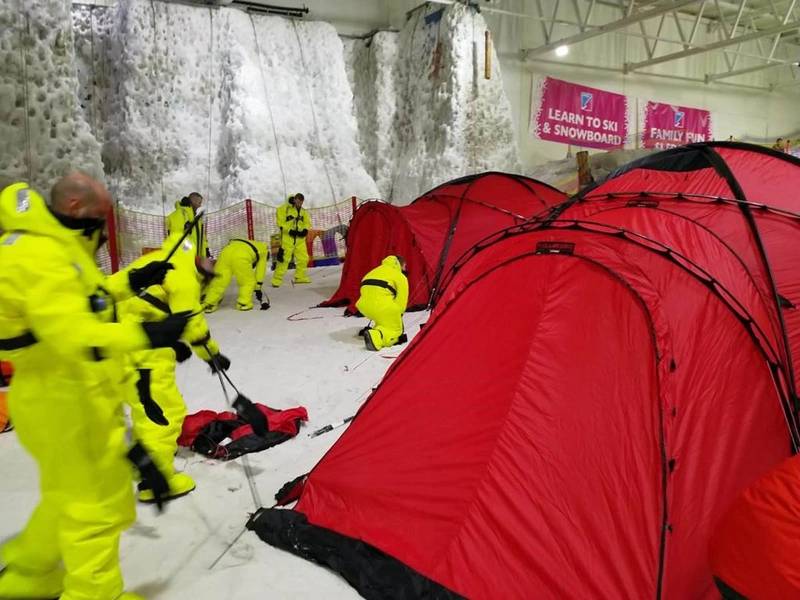 SMT decided to create a Marine Technology division to look at new areas of focus in the maritime industry, "and since then we have developed bespoke courses in Polar Survival, Maritime Evacuation Systems (MES), Crisis Management, Tanker Operations and Alternative fuels beyond LNG," said Thomas. Photo: SMT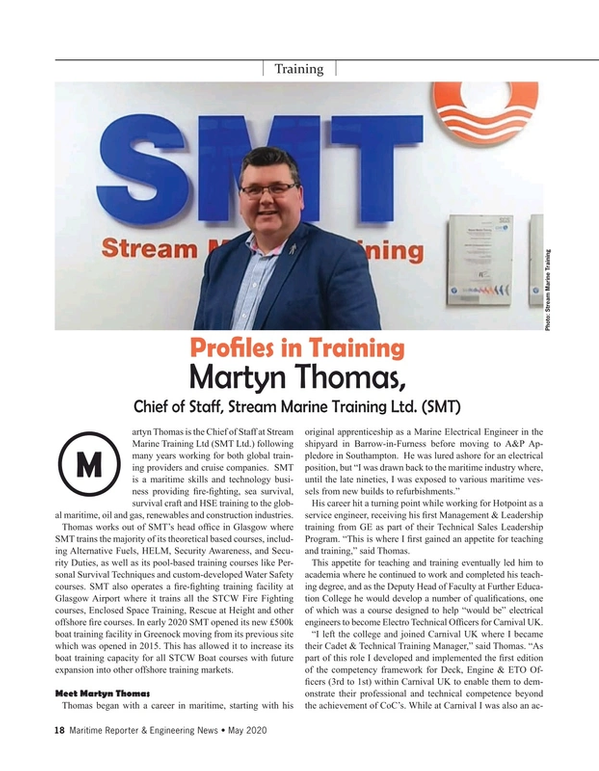 Read Profiles in Maritime Training: Martyn Thomas, Chief of Staff, Stream Marine Training Ltd. (SMT) in Pdf, Flash or Html5 edition of May 2020 Maritime Reporter
Other stories from May 2020 issue
Content