The Final Word: COVID-19 & the Treatment of Seafarers
Greg Trauthwein
Frank Coles, CEO, Wallem Group, is known to "call 'em like he sees 'em". We caught up with Coles via video conference from Hong Kong last month to discuss the impact of COVID-19 on maritime, the future of digitalization and autonomy, and the shameful treatment of seafarers.
"The only shock to my system that was at the same level was 9/11, because of its impact on the world," is how Frank Coles puts the current COVID-19 pandemic in perspective. "That was a one-time thing on one-day, with implications that we still live with today."
Coles is regarded for being a visionary of sorts, someone that is adept and willing to distill a variety of complex topics and trends into a clear long-range picture. And unlike many in the maritime sector, he freely shares his opinions 'on the record' in both traditional and social media. That makes his contention that his current 'long range' planning is the next 24 hours all the more jarring. "Every day I wake up and think OK, 'what has changed, and how is this going to impact how we operate in the next 24 hours?,' because right now you can only think about the next 24 hours," said Coles.

An Impetus for 'Real Change'
In his previous job as the CEO of Transas, Coles spoke often about the real change needed within the maritime sector to bring its operations and technology up to speed with other transport logistics sectors. He sees the current COVID-19 situation as a potential inflection point for real change moving forward. "It might be the kind of Black Swan event that we need to trigger real change in the shipping industry, in particular its approach to digitalization of vessel operation," Coles recently wrote. But real change takes real investment, and as of mid-April many industries and corporations were focused on simply staying afloat, let alone investing in new technology.
"It depends how long this goes on," said Coles, when asked to identify likely first movers in vessel and operational modernization. "If this continues another two or three months, and trade continues to decline, there are shipping companies that are not going to come out the other end."
Despite a "compression" of the market, maritime stands strong as the primary heavy hauler of raw materials and goods, and today's broken economy will present "opportunity for companies to work in a completely different way when they come out the other side. I don't know how they can go back to business as usual, because everything around them will be different … cargo availability, banks, charterers, the way that countries deal with ships coming in and out … there will be a need to be more efficient."
According to Coles, despite generous helpings of hype from the media and a few large tech giants, he said that "the technology currently found onboard ships, in the operation centers run by shipmanagers and in owners' head-offices is improvised, disconnected and fragmented."
"We're right at the very beginning still (of this technology revolution)" said Coles. "You can read an article on an autonomous tug … so what! I'm not knocking it, but it's like having a remote driven car driving around a track in Disney Land. It's not like autonomous cars driving down the highway. We have a long way to go in the maritime industry."
While the technology has arrived to enable autonomy on short, local routes, Coles believes that there is a level of complexity, standardization and control that is missing, key ingredients to seamlessly fit together systems between ship and shore. Even some shorter local routes are not slam dunks for autonomy. "Do you think you'll see a fully autonomous Staten Island ferry? I don't think so."
Part of the problem in moving these technologies forward faster in maritime is simply the size of the industry itself. "It's definitely a matter a scale, because at the end of the day the total universe of ships is pretty minimal in the grand scheme of things."
Scale is one thing; proving the ROI to shipowners is another. "No one has produced the financial model that convinces any owner that if he invests in a total solution … the engine and navigation system is designed and connected together that it will make him efficient enough to make them money," said Coles. With charter rates historically fluctuating so wildly, he contends that "you can put the technology in, but until there is a certainty of revenue that comes along with it," it won't gain steam.

The Future of Green Shipping
When it comes to the laundry list of environmental regulations that have swept through the marine industry in recent years, Coles said "There's the absurdity of ships carrying millions of tons of coal, oil or products extracted from the ground using large amounts of fossil fuels, running on low sulfur fuel and pumping corrosive effluents into the ocean in the name of, checks notes, 'protecting our environment'."
He said particular caution should be paid to the 'green' fuels debate, as it has a fundamental impact on not only vessel design but ship life.
Once the smoke of COVID-19 has cleared, the world and traditional trading patterns could be radically changed. "I'm not an economist, but I firmly believe that the over-reliance on manufacturing countries by the developed countries is going to change. The U.S. will have to do some sort of de-risking of the situation," said Coles. "I'm convinced we will evolve to a much more regional model, which is not necessarily a bad thing when you look at the future of 'green ships' because distance has always been a limiting factor (for certain 'green' fuels)," he said. "There's an opportunity for a new kind of ship. A ship that only has to go 1000-2000 miles looks completely different than a ship that sails 10,000 miles."

The Seafarer
Seafarers have been put in the spotlight by COVID-19 as never before. Courtesy of their profession which entails long distances traveled and months away from home, seafarers have never entered public consciousness, despite the fact that in good times and bad, they are a central player in keeping the global economy flowing.
The plight of the seafarer during this pandemic has been shameful by most accounts, as the men and women serving on commercial ships have been denied crew changes in many countries, and in cases where they could disembark, it is oftentimes difficult to impossible to get them home as many countries … lead by India … have effectively closed their borders.
"Someone just asked me the other day; will people even want to go to sea after the way that they've been treated?,'" said Coles. "One thing that I don't think will change is that there will be people that will go to sea anyway no matter what conditions we put them in; and I think that's a sad reflection on the industry." As an organization with more than 7,000 seafarers, Wallem is doing the best it can to help its seafarers. "We are carrying out crew changes as much as possible, and conducting a risk assessment each time to assess the risk of them getting stuck; the risk of infection," said Coles, an ex-seafarer himself. "My real concern is the mental well-being of the crew, and the impact of being unable to make crew changes."
The real challenge could come in a few months when Coles estimates that about 400,000 seafarers will be overdue and out of contract. "That's a huge number. So if we wake up on June 1 and find all of these restrictions are gone, we're going to then have a mad dash to replace crews."
Pending what the economic and shipping landscape looks like by the summer, Coles sees an even darker sky looming ahead. "The problem is that the hangover is going to be far worse than the actual problem, and that's my fear regarding the crews … we just don't know how bad it's going to be afterwards."
Real change in the treatment of seafarers is likely to come from a change at the top levels of political leadership. "I think that it's time for the big boys in maritime to step up and truly use their influence. I'm sure that many of them have access to the right people, and they need to do their bit," said Coles. "If you truly want world commerce to go on, you need to take care of the workers. If the workers stop, world commerce will stop. Take care of the people and commerce will take care of itself."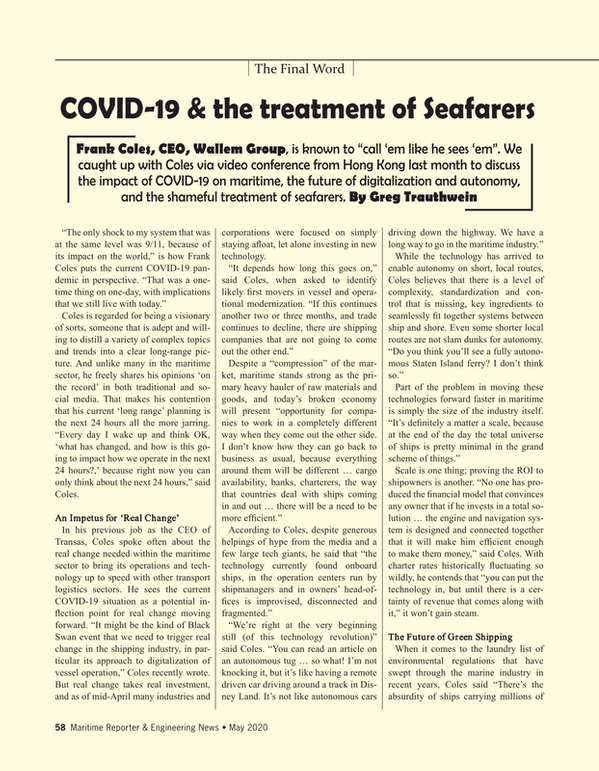 Read The Final Word: COVID-19 & the Treatment of Seafarers in Pdf, Flash or Html5 edition of May 2020 Maritime Reporter
Other stories from May 2020 issue
Content