Insights: Mike Ellis, CEO, American Commercial Barge Line
Eric Haun
There is no shortage of challenges confronting the U.S. barging industry, and executives such as Mike Ellis, CEO at American Commercial Barge Line (ACBL), are leading their companies past hurdle after hurdle. The Jeffersonville, Ind.-based company, which owns a fleet of approximately 150 towboats and moves a fleet of some 4,500 barges (including roughly 4,000 owned), is focusing on factors it can control while planning and investing for the future.
The weather
Mother Nature is often unkind to the barging industry. Water levels have received a lot of media coverage, especially amid last year's historic lows, but Ellis said fog is frequently overlooked as a major weather-related disruptor. "Fog has probably been the one that gets the least amount of attention, yet may cause the most inefficiencies because you just can't run in those conditions. It's dangerous."
Ellis said the "continued onslaught of 100-year weather events that we seem to have every year" continue to wreak havoc on commercial navigation. "The extreme weather has been difficult. It's made it difficult to navigate, it's made it difficult to be efficient, and difficult to keep our commitments, because capacity is restricted when these weather events occur, whether it's extreme high water, extreme low water or icing."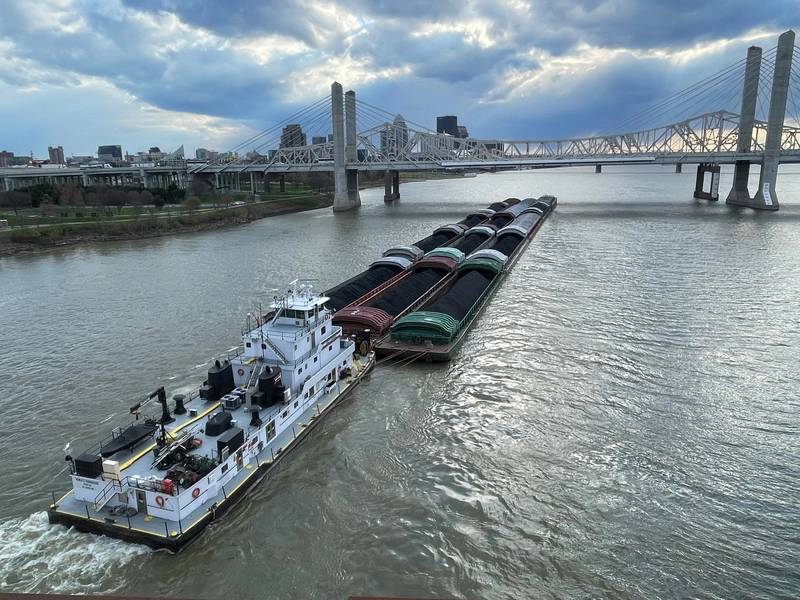 (Photo: ACBL)
Still, the U.S. inland waterway system is the most efficient waterway system in the world, boosting the competitiveness of American imports and exports, Ellis said. "The inland river system is vital to our country's economic dominance, and we have to continue to support it," he said. "We have come together and recognize the need—not just the industry, but Congress as well—to better fund [river infrastructure]. . . We have funded our infrastructure to be able to repair and operate locks and dams very well. But what we haven't done is given the U.S. Army Corps of Engineers enough money so they can be more proactive in dredging."
Due to budgetary constraints, the Corps has had to be largely reactive in its dredging operations, moving assets where needed when low water events occur. But, if funded properly, the Corps would be able to shift to a more "systematic, proactive way of dredging". Ellis said. "It can be done."
It's also important that the U.S. Coast Guard continue to be able to mark channels, Ellis said, noting that this has been a bit of a struggle as the agency awaits its new buoy tenders.
"There are a lot of things going on that will help [the industry deal with extreme weather events]. The industry is aware, and we're working together. There's no disagreement in what we need to do, and there's not even a disagreement in terms of funding today, Ellis said. "Our industry is doing what we need to do collaboratively and responsibly to make sure that we mitigate these extreme conditions."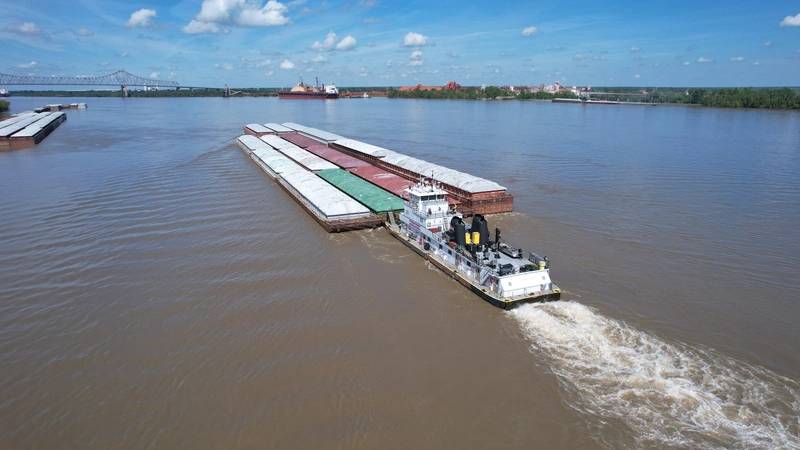 (Photo: ACBL)
Workforce woes
The industry's top challenge, Ellis said, is a people problem. "The most pressing issues we have is our continued shortage of qualified personnel we need to run our boats and to run the business. It's probably the most pressing need of the industry as a whole," he explained. "There's been so much demand on people. It's been harder to get people in the door, harder to choose a career on the water for these young adults coming out of either high school or college. So, we've had to make a lot of changes to our business to attract the people we need to attract."
A challenge the industry faces is that the work is both physically and mentally demanding in nature, which can be a turn-off for some. That is to say companies need to find and retain the right type of people. "We have to run the business safely, and we have to have qualified people that are willing to make a career in this business. But 28 days on and 28 days off—that's probably our most popular schedule—it's not for everyone," Ellis said. "We can't pay our way and hire our way out of this. We have to train our way out of this. We have to invest in the future of our people, by continuing to train and keep a pipeline of qualified mariners ready to step up to that next position when we have either a retirement or someone leaving the industry for some other reason. That is something our industry works on as a whole, and we spend a lot of time working at ACBL to make it the most attractive place for mariners who want to start a career."
Ellis said ACBL has seen its flow of applicants grow after the company expanded its search efforts beyond the areas it has traditionally pulled talent from, tapping into areas hit by slowdowns in other industries. "We've had to go out and find those applicants. It didn't just happen," Ellis said. "It's been a team effort to go to those communities where we could be most effective."
ACBL has also had great success through in-company mentorships for its new hires, with the aim to help the next generation meet their goals and advance their careers. "We've made sure that their mentors are keeping contact with them even during the periods when they're not on the boat," Ellis said. "We like to say the biggest asset someone has to invest is their time, and we're very cognizant of the fact that their investment needs to pay returns. We are doing more to fulfill their mentorship, help them advance faster. The faster you advance, the more money you make, obviously, but also the quicker you can get to the position that's your goal, whether it's in the wheelhouse or the port captain, come onshore. There's a lot of different opportunities, and having that mentor and that career path are important. And we find that as we've been more proactive in that effort, our retention rates have gone up."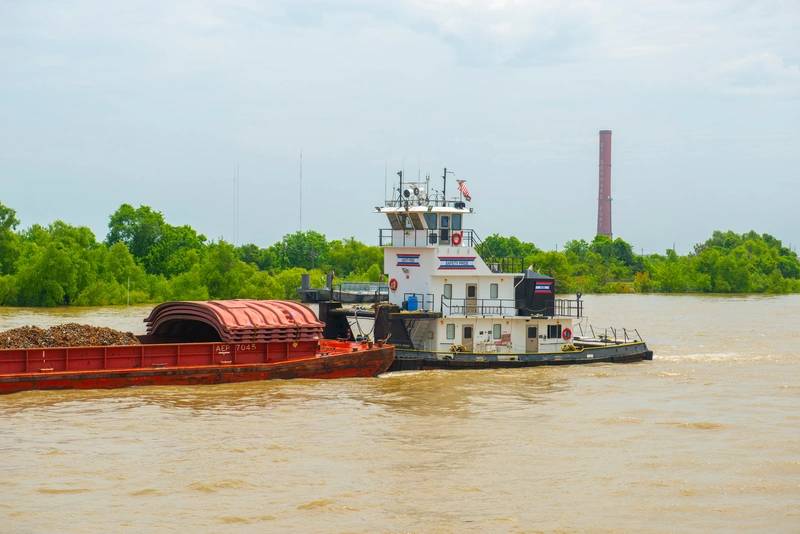 © Wangkun Jia / Adobe Stock
Navigating the market
The barging industry has been stronger of late than it was say five years ago. "Demand has been strong, and supply has been somewhat limited or shrinking," Ellis said. "And severe weather events, as bad as they are, tend to constrict supply even more. When you're running a low water at 40 to 50% of the barges you normally carry on a boat or a tow, that does a lot to the cost, but it also decreases your capacity as an industry, because you only have so many boats, and if you're only carrying half the barges on those boats, that affects the overall supply that we can bring to the market. So, when these weather events happen, that tighten the market even more."
Do the economics support newbuilding? "They may today, but history will tell you that today doesn't pay for that 30-year bond, or that 30-year boat. It takes a long period of time to pay those assets back," Ellis said. "Hopefully we continue to see that supply versus demand at equilibrium to where there is a decent return for our market to build new equipment. Because eventually we're going to have to build new equipment—the industry, not just ACBL."
"We operate a lot of equipment, obviously, and have to continually add, even continually build, both barges and boats to replace assets that are retiring. . . Our plans are to periodically add so many barges and so many boats per year to take care of attrition, but it won't happen evenly over that period," Ellis said. "There are different ways for us to keep our optimal fleet size of barges. One way is to build and one way is to buy on the market. We still feel consolidation is important in this industry, and it needs more consolidation."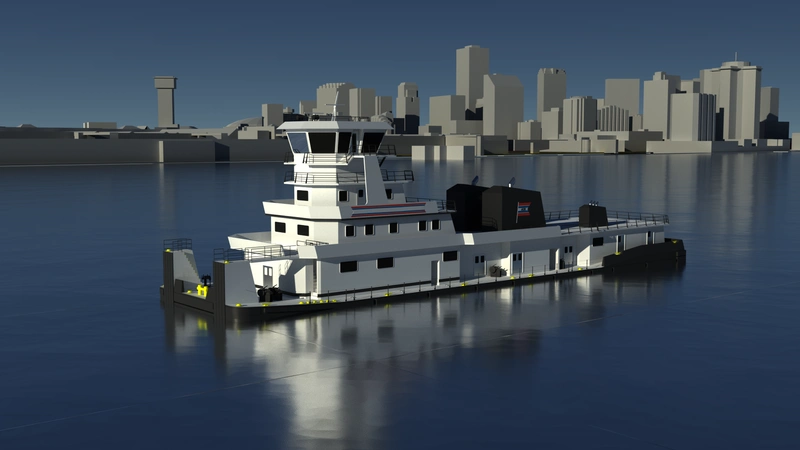 ACBL recently ordered an 11,000-horsepower towboat at C&C Marine and Repair in Belle Chasse, La. (Image: ACBL)
Asked about the company's potential consolidation plans, Ellis said ACBL tends to focus on areas where it is most efficient. "We think we're very efficient with our mainline system in moving chemicals south and from the Gulf Coast up north and vice versa," Ellis said. "But they run a 10,000-barrel margin. So, you'll see a concentration of our efforts there."
And on the dry side, Ellis said ACBL will continue to look for acquisitions that support its business, such as "boat-short" companies with many more barges than towboats. "That fits our profile pretty well because we have a great repertoire of boats and horsepower, and we're probably going to be looking more to replace or add barges than we are boats."
ACBL is also exploring growth potential in nontraditional areas. "We're always looking for new opportunities for our industry. One of the ones that's been thrown around in our industry, the inland waterway system, is containers on barge," Ellis said. "But it has to be supported from an infrastructure standpoint to be able to efficiently trans-load these containers at different ports up the Mississippi, up our waterway system. Until that happens, it is somewhat limited, but it is gaining more and more momentum."
"Any time you can use existing barges or boats, even if you have to build some new equipment, to add to the amount of traffic and the amount of goods we'll bring in on the inland waterway system, it helps support our business."
Green questions
ACBL currently has several new vessels under construction, including a mighty 11,000-horsepower towboat at C&C Marine and Repair in Belle Chasse, La.; a clean-burning EPA Tier 4 retractable towboat at Steiner Construction Company in Bayou La Batre, Ala.; and Hydrogen One, a first-of-its-kind towboat that will run on emissions-reducing methanol-to-hydrogen generator technology, being built at Intracoastal Iron Works in Bourg, La.
"The barging industry is already the greenest form of transportation. There's no doubt. It's not even close," Ellis said, but noted that the industry is always looking at the way it operates and the technology it uses as it continually strives to be even more environmentally friendly. "Our most immediate focus is on how we operate. When we're running low water and the channels aren't properly dredged and marked, or locks and dams aren't operationally sound, the whole industry becomes more inefficient. We're burning way too much carbon per ton mile."
"What we've done is create additional efficiencies by being able to safely turn off certain main power when we're not needing it. That's something that's fairly new to what we do, and we've saved a tremendous amount of not only fuel, but also carbon emissions."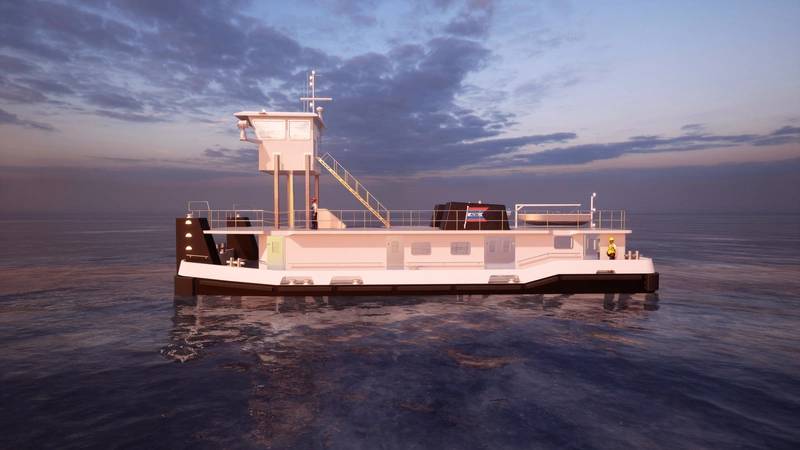 ACBL has on order an EPA Tier 4 retractable towboat at Steiner Construction Company in Bayou La Batre (Image: ACBL)
The next step, Ellis said, involves exploring new technologies. "The Tier 4 engines are a prime example of our industry moving to a cleaner form of combustible propulsion, and there's also the future of other forms of non-combustion type propulsion, which you see with the Hydrogen One vessel that we will operate."
"From an operation standpoint, there will be a lot that we are able to learn [from Hydrogen One] about the technology and how sustainable and applicable it can be to different types of cargo movements," Ellis said. "We are looking forward to operating the equipment to test its boundaries."
Ellis said other alternative fuel options are on ACBL's radar, but that its investment in these technologies in the near future is unlikely. "We're investing time, but we're not investing hard dollars [at this point]," he said. "We're probably paying closer attention to certain applications for battery-operated vessels within short haul ports, and how to interchange battery packs to make downtime less of an issue and less of an obstacle. We have to develop ways to keep the downtime on these battery-operated vessels to a minimum."
Of course, the cutting edge of technology typically brings higher price tags. Pure battery-powered vessels, for example, may make sense in certain scenarios, but are often not commercially viable without support from some type of grant program or government funding, Ellis said. "Our industry will not be able to see any real meaningful [technological] changes until they become more economically feasible."
"So, until the cost versus benefit for the operators like us who have to make investments balances, we probably won't see the industry move as fast as customers probably want us to, or our government would want us to, Ellis said. "The cost of the technology is still much higher than anyone is willing to pay for it."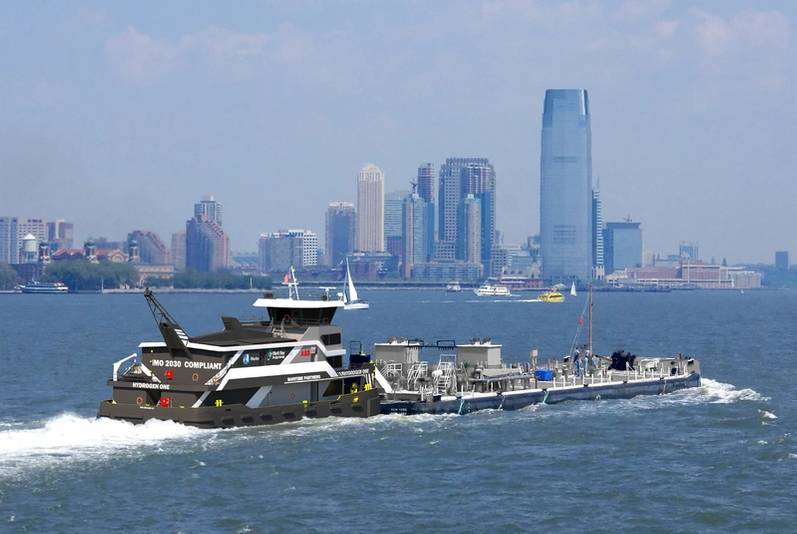 ACBL will operate Maritime Partners' Hydrogen One, a first-of-its-kind towboat that will run on emissions-reducing methanol-to-hydrogen generator technology, being built at Intracoastal Iron Works in Bourg, La. (Image: Elliott Bay Design Group)
The power of AI
As it strives to maximize efficiency, ACBL is making use of advanced technology such as computer modeling and artificial intelligence (AI) to best map out how it operates. "There are parts of our business that are very complicated, when we're moving 4,000-plus barges on our network," Ellis said. "How we move those barges, how we build those tows, how we run our intervals are super important to us."
Last year, ACBL kicked off a program called MOST (Marine Operating System Transformation), which combines a number of software products the company uses to improve operational efficiency as well as the experience and interface for its customers.
"We are investing in some really interesting technology to help us more efficiently run our business, and to be able to turn our barges faster, to be able to provide a better customer experience from beginning to end on where your barges are, what the status is," Ellis said. "That technology is a huge piece of what we do, and we're very excited about it."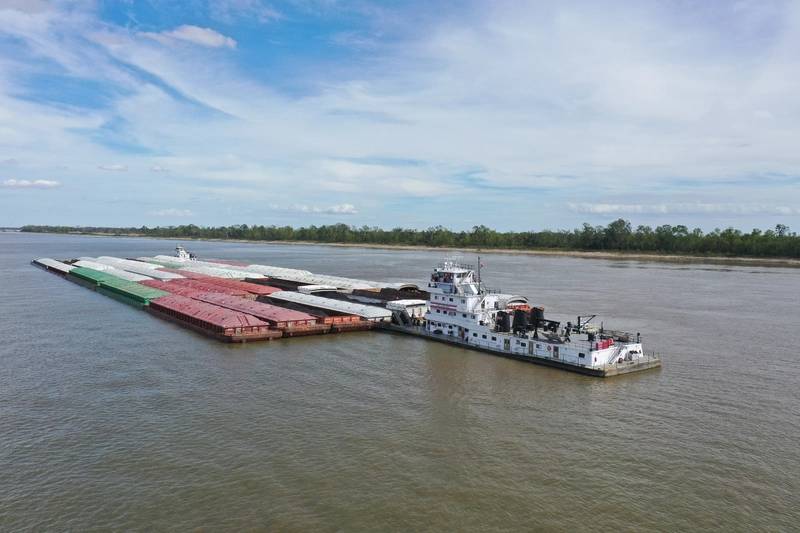 (Photo: ACBL)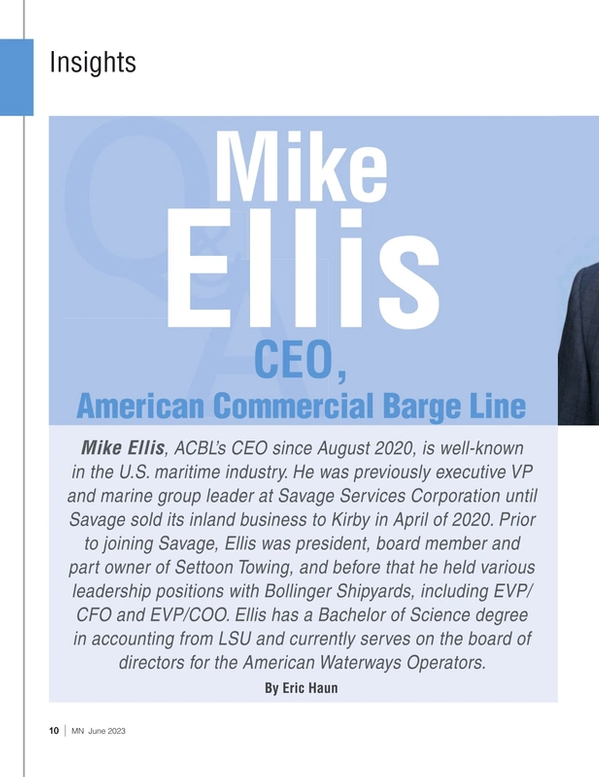 Read Insights: Mike Ellis, CEO, American Commercial Barge Line in Pdf, Flash or Html5 edition of June 2023 Marine News
Other stories from June 2023 issue
Content