Rethinking Shroud Technology
Marine News
MPT's prop shroud solves WBV and RS Issues and increases performance.
The Idea: Terry Smith and William Schultz, an aeronautical engineer with lineage to the original Kort nozzle invention, were both dedicated to offering solutions to known critical vessel issues. Specifically, they pinpointed shock mitigation, reduction of maintenance and replacement costs, prevention of needless tragic injuries and deaths, conservation of fuel for the shipping industry, protection of the environment and its living entities, improved habitability for personnel and most importantly, creation of a safer, more efficient day on the water. Smith is currently extending the patent with recent design engineering for scaling up the technology for ship platforms, branded the Schultz Nozzle.
Technology: The Multi-Nozzle Venturi System establishes a 4th axis (the W axis) that becomes the focal point for hull control by providing circular rudder control of all 3 axes (pitch, yaw and roll), fundamentally eliminating cavitation vibration and creating vessel stability. The multi-nozzle system consists of 3 integrated, hydro-foiled components:
Safety Ring: forward of propeller, reducing size of possible entry area into propeller, increasing structural integrity, with hydro-foiled struts and trusses for added deflection & entry protection.
Thrust Nozzle: actually shrouds the propeller itself.
Exhaust Nozzle: positioned aft of the propeller, trailing by 3 inches.

Hydrofoil configuration Benefit: The system design yields lineal feet of hydrofoils that are all paralleled to the prop shaft (W axis) providing directional thrust and side force. (the 19.5" Thrustor creates approximately 20 lineal feet.)
The Patent: The Venturi Port function and its part in the Multi-Nozzle Venturi System is the basis for the patent (granted 2010), and is the source of the ability to increase propeller performance at all speeds. The Venturi Port solves issues with ducted (single nozzle) propellers: vessel performance being restricted to lower speeds and increased propeller cavitation vibration from mild to severe. The Multi-Nozzle systems provide an effective propeller propulsion solution. The Venturi Port (VP) creates an injection of atmospheric pressure, Venturi Action (VA), and more water to the propulsion column formed by the nozzles. Smith has recently added new IP for scaling up the technology for ship platforms, branding it the Schultz Nozzle. The Multi-Nozzle Venturi System is branded Thrustor for smaller craft.
Concept Proven: For over five years, the U.S. Navy has used the MPT nozzle in their HM14 (and now HM 15 for 2 years) craft. Both groups use MPT's 19.5" nozzle for their fleets of 7m RHIB workboats. Under heavy tow, over ground speeds in 2+ sea states have doubled. U.S. Navy Chief Benjamin Moore (ret) reported, "The deck runs quiet and the sea moves under the boat – does not slam into it." He also provided annual reports describing how Thrustor solved their vital issues concerning speed, power, shock mitigation, habitability, performance and safety, and without downside. According to Moore, the nozzles rapidly paid for themselves by eliminating the need for propeller replacements and damages to lower-end drives. The Chief noted all their vital benefits were maintained at all hull speeds ranging from 0 to 30+ KT and that personnel reported less physically damaging impact effects due to WBV (Whole Body Vibration) and RS (Repeated Shock). Acording to MPT, the HM14 operational evidence compares performance (with and without the Thrustor respectively) for these test issues: (1) open-water speed in 2 to 3 sea states (20mph vs. 9±mph); (2) open water speed under heavy tow (6-7.5mph vs 3-4mph); (3) average top speed (31-33mph vs. 28.5mph); and (4) hole shot (6-8 seconds vs. 15-20 seconds).
Neptune's Rail Effect: The vessel connects to the sea under the surface as a roller coaster is connected to its track, thus creating the "Neptune's Rail Effect". Using the MPT's Prop Shroud, the vessel's hull becomes proactive to the water's surface topography, interacting with the hull, rather than being reactive.
Scaling up the technology: Marine professionals – for example, Dr. Robert A. Warren, nationally accredited safety expert, USN technology evaluator and MPT marine advisor and Dr. Kam Ng, previous cavitation expert for ONR hydrodynamics – both confirm the technology as appropriate for scaling up for ships and larger work platforms for predicted fuel savings. The first proposed testing involves adapting the multiple nozzle system for up to 60" diameter applications. Current customer designs are underway for the following applications:
Unmanned landing craft;
Power cats with diesel powered inclined shaft drives;
Canadian mono hull fishing vessels with diesel powered inclined shaft drives;
Hawaiian high speed ferry boats; and
Tug Boat model testing – goal to exceed 17 KT.

Customer & Beta Test Validation: Reports from customers, including the U.S. Navy, Parks and Recreation, amphibious search and rescue craft (the 829), Florida Tour boats (pontoons) in manatee regions, and others claim that the vessels have gained speed, achieved excellent maneuverability, become more stable working platforms, increased the towing ability, are protective of environment and aquatic creatures (manatees, sea turtles, whales), improved overall vessel and life form safety, reduced cavitation vibration and have fuel savings at cruising speeds and in challenging surface conditions.
U.S. Coast Guard Testing Protocol: In September, the U.S. Coast Guard, perhaps recognizing the emerging technology as something that requires closer scrutiny, announced the release of Propeller Guard Test Procedure report, intended for use by developers of propeller guard devices and independent third party testing entities to test propeller guard products in a consistent and repeatable manner. The test procedure was developed through comprehensive on-water testing of various available propeller guards to compile evaluative performance criteria and laboratory testing of the personnel protection capabilities of these same propeller guards. The diagnostic test equipment required for the performance testing will be made available on a loan basis to interested parties on a first-come, first-served basis for the cost of shipping and insurance.

View the test procedure by clicking:
www.uscgboating.org/safety/default.aspx.
Marine Propulsion Technologies on the Web:
http://www.mptmfg.com/


(As published in the October 2013 edition of Marine News - www.marinelink.com)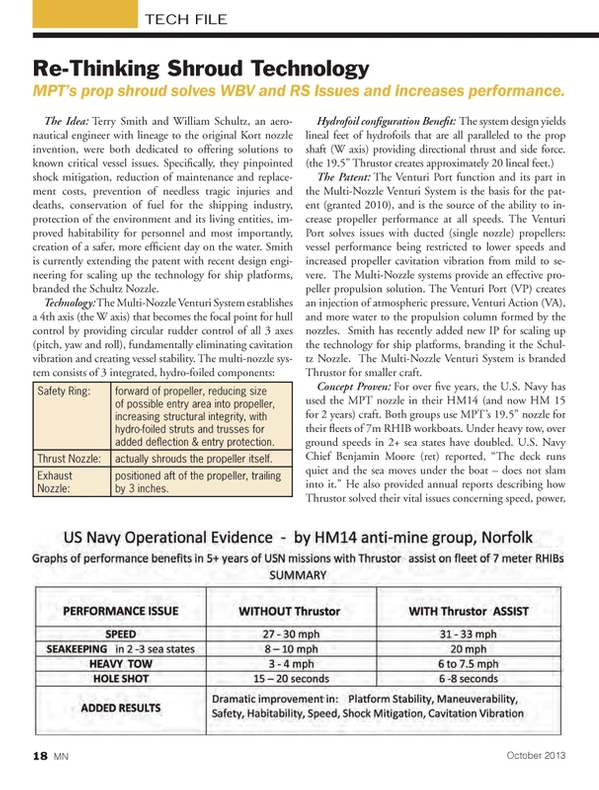 Read Rethinking Shroud Technology in Pdf, Flash or Html5 edition of October 2013 Marine News
Other stories from October 2013 issue
Content