Marine News Insights: Engine Room Challenges
Marine News
Those MarineNews readers who are not familiar with Bob Kunkel, probably should be. That's because Kunkel, President of Alternative Marine Technologies, previously served as the Federal Chairman of the Short Sea Shipping Cooperative Program under the Maritime Administration and Department of Transportation from 2003 until 2008. A past Vice President of the Connecticut Maritime Association, he is a contributing writer for Maritime Professional Magazine and of course, MarineNews. A graduate of the Massachusetts Maritime Academy, Kunkel sailed as a licensed engineer and eventually continued his career in ship construction at National Steel and Shipbuilding, San Diego, Hyundai Heavy Industries, South Korea, Chengxi Shipyard and Dalian New Shipyard in Mainland China. He is a senior member of the Special Committee on Ship Operation with ABS and an elected member of the National Cargo Bureau.
AMTech Partner Poul Korsgaard received a Bachelor of Science degree in Mechanical Engineering in 1978 from the Technical University of Denmark. He joined MAN B&W Diesel A/S in 1980, in the Operation Department. In 1994, he was promoted to the position of Manager, Technical Service Department and in 1995 was made Senior Manager responsible for managing and directing the operations of the department engaged in servicing diesel engines. This included directing the activities of service engineers and technicians as well as providing technical advice to ship owners and their engineering and technical staff. Mr. Korsgaard joined the MAN B&W Diesel Group in the US in July of 2001 as President and managed Diesel activities until 2013. What both Kunkel and Korsgaard have to say about today's challenges in the Engine Room provides the ultimate propulsion primer in this month's INSIGHTS focus.

What's the number one driver for engine selection today for workboat operators? Would it be emissions control, fuel consumption, or both?
The majority of customers have commercial interests and as a result, fuel consumption and costs are still paramount. Emission control is a factor of regulations and the historical trend shows that the majority of owners/operators wait out those regulation dates and compliance periods until it is absolutely necessary to make the change and comply. Look at the rush to lay keels before January 1, 2016 in order to fit into the existing engine Tiers as an example. That said, environmental sustainability is an important part of a company's mission statement and the list of owner/operators looking to meet that sustainability in their logistics change is growing every day. Future decisions will take emissions into account regardless of regulation.

Where are we today in terms of the workboat market for engines – Tier levels, present and future? What's required and what is coming? Who is exempt and who is not?
Every manufacturer is providing new technology to meet these requirements. No one is looking for the way out, only the way forward. We don't see any project that discusses being "exempt" regardless of any size, power or KW engine that may fall below regulatory requirement.

Has the crash in the price of crude oil and subsequently, traditional bunker fuel stalled LNG-as-a-fuel for now?
The drop in crude value may have stalled some U.S. building projects in the short term but most of the industry believes those crude values will rise back to historical levels. In our experience, it has not stalled LNG.

Talk about the cost premiums for installing a dual fuel and / or LNG engine over that of a conventional engine burning distillates. Is it worth it?
The cost is a long-term investment and payback. It is not fair to make the comparison at this point as the first companies that elected to make the installation are paving the regulatory and infrastructure paths at costs well above a normal construction model. In the long run, and once the country understands how safe LNG can be, the costs will level.

Give us some viable alternatives to LNG for the operator who wants to comply, do that cheaply and achieve fuel economy along the way.
The fuel side provides different options; none of them are mature at this point, but they are moving into the market. Depending on your operating profile, diesel-electric hybrid drive looks to offer some good solutions. Combine that propulsion arrangement with low sulfur fuels and you have a good chance of meeting your regulatory requirements efficiently.

Subchapter M is coming this Fall – so they promise. What does that mean from a standpoint of power plants for the 4,000+ vessels that are currently uninspected which will then fall under an inspection regime? Are we looking at a large volume of repowering jobs or perhaps wholesale fleet replacements?
Subchapter M (Sub M) began as a simple statement in the Coast Guard Act of 2004, which mandated the regulation of towing vessels. The Coast Guard began to develop a federal set of rules for the inspection of those vessels. A concentrated effort has gone into providing a complete inspection process designed for the towing industry. There are two main components of the proposed set of rules; the first being a decision of whether your vessel meets certain standards of seaworthiness. The second relates to the development of an audited safety management system. The Department of Homeland Security's Semi Regulatory Agenda indicates the final rule date has been set for 2015. We don't see the Sub M rules targeting power plants or propulsion engines beyond safety issues of fuel leakage, shutdowns and operation. Emissions targeting may identify a new group of uninspected vessel engines that will need to address the regulatory issues. That said; it won't lead the list of inspection requirements.

Workboat operators have a number of options – questions, really – available to them as they seek emissions compliance. After-treatment, LNG, low sulphur diesel coupled with other measures, to name just a few. Which ones will reign supreme for this market and why?
To list them in an economically viable order – Low Sulfur fuel leads the list followed by after-treatment with SCR and EGR, and Hybrid configurations. LNG requires new construction and/or a large investment during conversion.

An engineering firm is now marketing Selective Catalytic Reduction (SCR) plus a Diesel Particulate Filter (DPF) as a means to bring workboats into EPA Tier IV compliance. Is it feasible, can it fit onto the standard workboat platform where space is at a premium, is it affordable and more importantly, are there more practical options?
There are many firms and systems providing after-combustion treatment(s) that work. In the workboat market – real estate is the problem stalling many of the installations. Overboard discharge, open loops versus closed loops and the cost of the actual operation will also affect decisions.

A more complete burn is a more efficient, cleaner burn. That said; has the emissions regime of tiered phase-in deadlines, ECA's and all the rest of it made for a more efficient, cleaner marine workboat engine. In other words, are operators getting more ton-miles out of less fuel today?
In most applications the addition of after combustion equipment or natural gas and methane burn results in increased fuel consumption. That is the trend, whether the emission control is internal or external. This can, to some extent, be compensated by improvements to the hull and propeller. If it does not, then question whether that actual increase in fuel consumption meets the goal of reaching environmental sustainability.

What's the number one mistake today's marine operators make when making repower solutions for their fleet?
We don't believe the operators are making mistakes. The information available to them to make the right decision is readily available – whether it is through a quick read of Insights, the employment of a qualified consulting group and designer or an extended meeting with your engine manufacturer. There is no reason to make a mistake; just listen. And, they are listening.

Diesel electric drives are once again (arguably) hot. For what reasons and under what circumstances would you advise a client to go that route?
We have seen many projects now accepting the upfront higher construction costs associated with diesel-electric designs in order to assist them in meeting future emission regulations. The engines run and set speeds which make it easier to meet the TIER requirements and this configuration also lends itself easily to Hybrid battery applications.

LNG is now a mainstream option for workboat operators. Bunkering barges, LNG pushboats abound on the drawing boards. Infrastructure to support LNG, LNG tugs, and bunkering is ramping up. LNG supply, in theory, is abundant. If that's really the case, what's the number one obstacle to more vessels going this route?
Regulatory issues are still unclear and problematic not just for the workboat operator but also for the infrastructure. In Blue Water applications there are OEM refit kits available from all major manufacturers. In the workboat and towing sector, that does not seem to be the case. There are some non-OEM kits available for land-based power plant and gas installations but they cannot easily be converted to marine use. Consequently, we are talking engine replacement and/or Newbuild resulting in high prices to meet the requirements. LNG is one of the long-term solutions, it's time has come and the first companies working towards meeting their environmentally sustainable are feeling that pain. The industry should thank them for taking the initiative and working towards solving the problems. Beyond this, the U.S. Coast Guard has been one of the single shining beacons in helping these projects get up and running. Their assistance has been stellar in the projects we are involved with.

You've been quoted as saying that methanol will overtake LNG as the new fuel of choice in the future. Why, how and when?
When you are looking to convert your diesel engine workboat or ship you must remember that LNG is gas injection and Methanol is liquid injection into your combustion space. We see Methanol as an easier solution as many configurations will allow the use of existing fuel tanks and the delivery system is simpler than a gas distribution system. Larger two stroke engines are on the test bed and we know of one project where the methanol engine has been written into the specification.

Retrofit (re-power) or rebuild: that is the question. What should today's workboat operators do and why?
We don't think Today's workboat operator is forced into a different answer than Yesterday's workboat operator. You run your equipment until it is no longer efficient or economically viable. When that time comes, look to the most efficient new technology and build. Consider the way the industry dealt with double hull barges – it's a similar analogy.

What do you think the repower market looks like in the near term for Workboats? If operators decide not to repower, will there be a rush for replacement tonnage?
The workboat sector is smarter than that. There will be no rush to repower or build due to regulations. The rush comes only with profitable commercial markets, charter and daily rates. We have recently seen more difficulty in finding funds and bank support to step into and solve construction problems to rebuild your fleet. The problem of speed is not related to regulatory issues.

You advise a myriad of clients on all sorts of power plant decisions. What's new and what do you tell your clients when they ask about power options?
We have jumped in with both feet to Hybrid applications and LNG in the U.S. ECA markets. In our foreign new construction programs we are still building historical heavy fuel designs with larger MGO tank space to change fuels and operate in the ECAs for extended periods. We advise our customers that it is dependent on your operation tempo, location and daily requirements. Once those operational requirements are visited and defined, it is then easier to decide to follow the crowd or step out on your own and build to the alternative technologies.

(As published in the July 2015 edition of Marine News - http://magazines.marinelink.com/Magazines/MaritimeNews)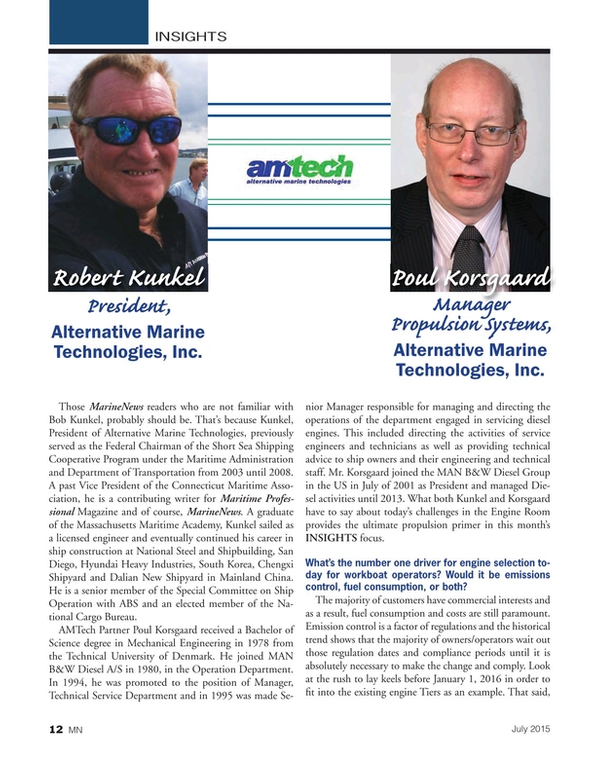 Read Marine News Insights: Engine Room Challenges in Pdf, Flash or Html5 edition of July 2015 Marine News
Other stories from July 2015 issue
Content