Emerging Tech of Online Education and Training
By Captain Stan Wallace
The emerging technology tool is embraced by award winning West Kentucky Community & Technical College's Inland Logistics and Marine Institute and its students.
Years ago, it was not uncommon for a deckhand on a towboat with no higher education to work his way up the ladder to become a Captain or Chief Engineer. Today as technologies are added and new U.S. Coast Guard regulations are put into place, individuals are finding that working on America's Inland Waterways requires not only a love of the waterways, but also a commitment to continuous learning.
The Marine River Industry, like its deep-water counterpart is moving fast into a new technically advanced era. An era where advances in navigation equipment, communications, and shipboard systems that diagnosis themselves and communicate problems has quickly outpaced our ability to have a well-trained and educated work force to deal with it.

Training means Logistics, Logistics, Logistics
Part of the problem is the ability to schedule the needed training for industry personnel. When can the company schedule allow sufficient personnel to go and receive needed educational updates and still be able to conduct daily shipping business? Beyond this, there's the cost of coordinating and arranging travel and locating a training facility to accommodate this task.
In the past, providing marine industry education and training centered on using the traditional method of students in a structured physical classroom environment. Entering the scene right behind these advances in emerging technology is a newer concept of training and education through the online environment. The idea is to get industry to embrace the use of online technology that is a more cost effective and timely method of providing ever-changing education and training.
Online education has come a long way in a few short years. Today, many nationally accredited colleges as well as U. S. Coast Guard approved schools and training centers take the time to develop competency-based courses taught through secure online venues. Not only is the training material reviewed, but the delivery, and security of safeguarding content and student information is verified as well. West Kentucky Community & Technical College (WKCTC) located in Paducah, KY – and the very heart of America's river economy – has two such programs, "Marine Technology" and "Logistics and Operations Management," offered in the new and innovative means of achieving higher education through the online Blackboard learning environment. The Marine Technology program gives professional mariners the opportunity to rise above the crowd and establish themselves as a leader in the Industry as well as improve their opportunities to advance professionally. The curriculum for the Marine Technology program is taught online with flexible schedules to accommodate the ever-changing schedules of the mariner.
WKCTC's online courses offer a fresh new opportunity to working adults who no longer have the ability or time to juggle job, family, and trips to a college campus in order to achieve a college degree. With a focus on the Marine River Industry and that of Logistics, workers in those fields or individuals in other jobs who are looking for a change, have the opportunity to improve their skills and knowledge.

WKCTC OnLine
Developing courses that engage the students through the use of 3D technology, online lab exercises, and other interactive material, both the Marine Technology and Logistics programs at WKCTC offer a more focused, easier to use learning experience.
The two programs are overseen through WKCTC's new Inland Logistics and Marine Institute located in Paducah. This satellite campus lies near the marine industries served in Paducah and the Ohio River, allowing Institute personnel to work closely with local marine leaders to receive feedback in order to adapt and refine what is taught in the programs.
Students are able to accomplish college admission online and can enroll online for the courses leading to an Associate in Applied Science degree from WKCTC. They attend the courses through a secure learning online environment known as "Blackboard," completing assignments, taking exams, and tracking grades all online.
Notably, students in these online WKCTC programs are not required to pay higher, out of state tuition regardless of their state of residence. Instead, they pay the lower in-state tuition for any online class they take from WKCTC. Students can even purchase textbooks, apply for financial aid, and pay tuition online.
Providing training and education for the work force is a primary goal of any industry and a well trained workforce is a safer and more efficient tool in getting the job done in a timely manner and under budget. The cost of training and education provided online offers an additional benefit in scheduling time for training of personnel, eliminating travel costs, and empowering the work force. Some in the industry even see the advantage of using tuition assistance as a cost effective incentive tool for their employees when compared to previous educational/training budgets.
Catering well to the inland community of mariners and employers alike, West Kentucky Community & Technical College has been named one of the top 3 community colleges in the nation by the prestigious Aspen Institute. The college was also recently named one of the top 25 colleges for online learning by "Best Colleges.com." As more individuals seek to improve their knowledge or skills in the Marine industry, West Kentucky Community & Technical College's Inland Logistics and Marine Institute is responding by offering online courses that meet the challenging needs of today's workers.


(As published in the September 2015 edition of Marine News - http://magazines.marinelink.com/Magazines/MaritimeNews)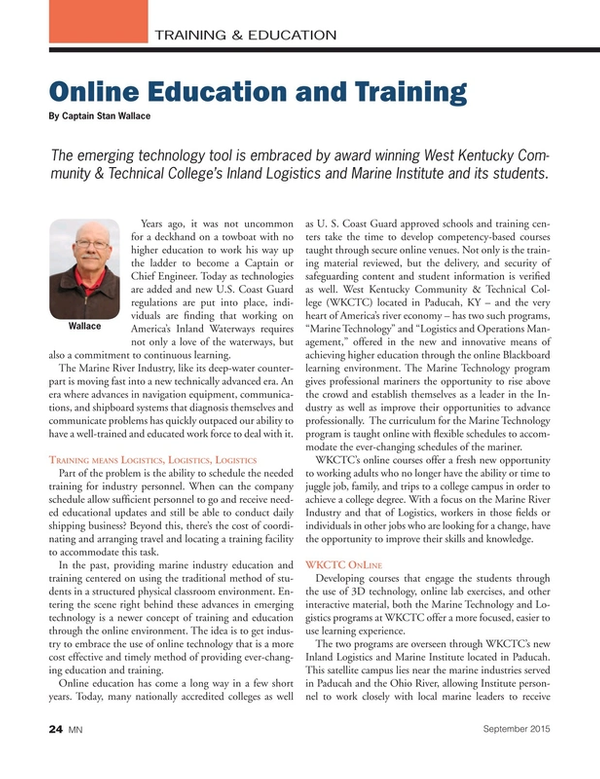 Read Emerging Tech of Online Education and Training in Pdf, Flash or Html5 edition of September 2015 Marine News
Other stories from September 2015 issue
Content