Marine Sanitary Devices: Size Matters
By Joseph Keefe
When it comes to marine sewage, it pays to measure. It turns out that the physical size of the equipment itself is not your only worry.
Marine Sanitation Devices: (perhaps) the three dirtiest words in the nautical lexicon. Nevertheless, Marine Sanitary Devices – or MSD's, as they are affectionately known – are pre-engineered, pre-packaged blackwater/greywater treatment systems. We don't like to talk about it, we know that waste streams are treated and – we hope – that they are also in compliance. Installed on all manners of vessels, nowhere are these devices (arguably) as important as the ones that provide service on the myriad of inland and brown water workboats.
Sewage, that product that everyone loves to hate, is defined indelicately under the US EPA Clean Water Act as: "human body wastes and the waste from toilets and other receptacles intended to receive or retain body wastes", and includes greywater discharges from commercial vessels operating on the Great Lakes." But, what do the regulations actually say?
For starters, towboats operating on the domestic waters (coastal as well as inland) of the United States are subject to U.S. Coast Guard regulation 33CFR 159 c. 1975. This specifies Type I discharge standards for vessels under 65' in length and Type II standards for vessels over 65' in length. There are three different types of MSDs that can be certified by the U.S. Coast Guard to meet the requirements in 33 CFR Part 159, each having its own design, certification, and discharge criteria.
Then again, what if things change again? Not to worry, says, Robert Rebori, CEO and President of MSD manufacturer Scienco/FAST. "This is a common question asked by vessel operators and naval architects," he offered, adding, "Since the US Coast Guard, which is based upon the Water Pollution Control Act of 1970 amended 1972, issued 33CFR159 in 1975. Very little has changed in 40 years for the vessels operating United States waterways. Perhaps the major change is that greywater is now considered sewage on the Great Lakes."
Today, in real practice, and despite many years of recognized need, there is little accommodation for holding and pumpout to shore on the inland rivers of the United States. Beyond this, remember that most line towboats do not come in to dock but stay in midstream while tugs add and remove barges from their tows. Hence, the opportunity to do anything except 'treat on board' rarely presents itself. That doesn't make compliance any easier, nor does it lessen the laundry list of regulatory requirements hanging over all aspects of industry, like the proverbial Sword of Damocles.
For wastewater treatment application manufacturers, therefore, the market spans newbuild construction, system upgrades, and retrofits (think: SubM, perhaps) from failed systems not in compliance. Over time, the cost of fines has increased making it making it decidedly costly to roll the dice and remain out of compliance. And, in an era where the U.S. Department of Justice's favorite weapon is the obscure Migratory Bird Act, do you really want to be the operator who kills the seagull with improperly treated waster effluent?
Sewage: Measure Thrice, Treat Once
Alan Fleischer, of Scienco/FAST (a Division of Bio-Microbics, Inc.) told MarineNews in August, "If graywater is to be considered and treated as sewage, it substantially increases both the hydraulic and the organic loading on the sewage treatment system." Translated into simpler nomenclature, Fleischer gently warns those who build, operate and design today's workboats that when it comes to MSD capacities, size does matter. That Type II system, depending on the model that you choose, could take up half of your machinery space. It doesn't have to, according to Fleischer – a subject matter expert on MSD's – but at the same time, he says, it does need to handle more volume than you probably know.
Scienco/FAST is an original equipment manufacturer specializing in marine sewage devices, environmentally-friendly cleaners and other industrial water management technologies. Now celebrating its 30th anniversary, Scienco/FAST has several different models to offer, depending on physical footprint, weight of operating unit, access for retrofit installations, and price. Scienco/FAST's Fleischer said in August, "There are many factors and waste streams to be considered when deciding just how much 'MSD' your particular vessel needs."
Graywater, blackwater and other sources of wastewater simply present organic and hydraulic loading; nothing more, nothing less. If the treatment system is sized to handle the increased loading, there should be no problem. For example, says Fleischer, although ground food waste is not considered sewage by the Coast Guard, Fleischer shows the effect (in the table below) upon organic loading. He adds, "Note that the effects are significant. A unit designed to handle blackwater only from 30 persons will only handle blackwater plus all graywater from 20."
Fleischer continues, "It is very common in the US to use in-sink garbage disposal units, but this is not considered sewage in the marine regulations. Rather it is considered garbage and is covered by MARPOL Annex V, not Annex IV. But, if it is mixed with the sewage, then it must be treated to the same standard. I present that figure to discourage people who want to be all things to all people without counting the size, weight and cost of the unnecessary result."
When it comes to MSD capacities, Fleischer obviously is a careful calculator. When it comes to the rule changes for Great Lakes operators, he opines, "The effect upon our existing installations on Great Lakes vessels was less than one might expect for two reasons – First, vessel manning has gradually been reduced over the past 40 years or so. Beyond this, and thanks to process improvements, we have been able to substantially increase capacity of both existing and new units of the same model."

The Scienco/FAST Approach
Vessel builders and operators have many options when it comes to choosing MSD applications. The MarineFAST MSD process, as it is called, for example, uses an efficient, aerobic fixed film process capable of meeting or exceeding any known effluent standard worldwide. Combined with a disinfection system to prevent the spread of aquatic invasive species, the MarineFAST MSD System offers compact, modular designs with simple, fully automatic operation to provide trouble-free solutions. Too voluminous to list in this edition, the Scienco/FAST client and install list since 1978 spans 36 pages, thousands of systems, and reads like "who's who" of domestic inland operators, with dozens of repeat clients.
Of interest to workboat operators, the Scienco LX-Series was originally developed for smaller vessels where the high cost of properly designed and built epoxy coated steel tanks was prohibitive. The LX-Series employ salvage drums and overpacks already certified by DOT for transport of toxic waste. The tanks are fabricated from high density polyethylene and cross linked polyethylene, and are insensitive to marine corrosion or vibration. Fleischman explains, "We are only able to employ them for our smaller systems and larger such tanks are simply not available."
According to Fleischman, the FAST process is more efficient volumetrically than most competitive processes of similar capacity. But, these units are designed for long service lives in continuous duty and cannot compete with units designed only to marginally pass a ten day certification test. Similarly, 'dilution machines' that simply dilute the sewage with large volumes of seawater are inherently more compact – because they really don't do anything. Emphasizing the situation, Fleischman says simply, "Note how many large fleets continue to purchase our FAST units over a period of years even though we are rarely if ever the low bidder."
It turns out that, when it comes to sewage, size does matter – and, for more than one reason. Chances are you never gave very much thought to something that is typically named, provided, installed and generically stocked by someone else on your newbuild delivery. It's way past time that you did. www.sciencofast.com


(As published in the September 2015 edition of Marine News - http://magazines.marinelink.com/Magazines/MaritimeNews)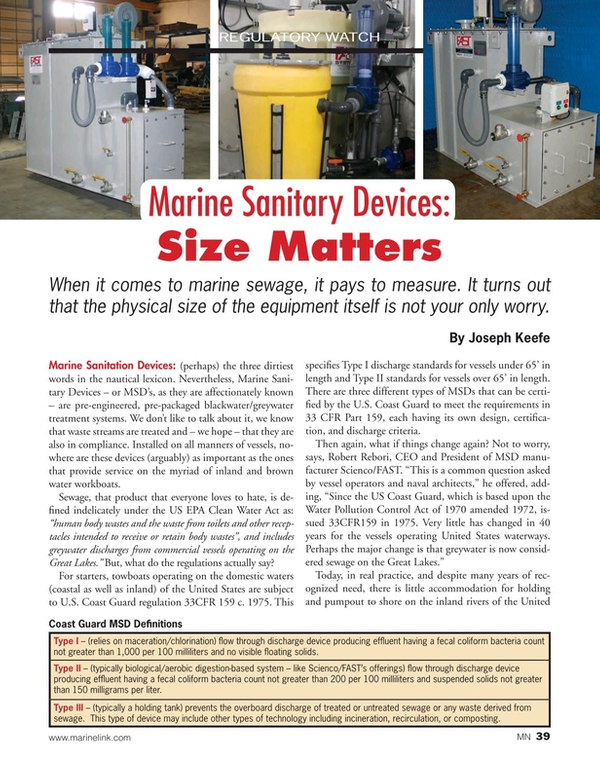 Read Marine Sanitary Devices: Size Matters in Pdf, Flash or Html5 edition of September 2015 Marine News
Other stories from September 2015 issue
Content