Interview: Aaron Smith Zeroes in on the Offshore Sector
Marine News
Insights: Aaron Smith - President and CEO, Offshore Marine Service Association (OMSA); Executive Director, OSVDPA
As the Executive Director for the Offshore Supply Vessel Dynamic Positioning Authority (OSVDPA), Aaron Smith is charged with managing the day-to-day operation of the Authority. Along with the OSVDPA Board of Directors and Technical Advisory Council (TAC), Aaron has helped to craft the Authority's dynamic positioning operator (DPO) certification program. This includes ensuring that the program is ultimately accepted by the offshore energy industry, and its many international and domestic counterparts.
Prior to joining OSVDPA, Aaron was the Deputy Chief of Staff and Legislative Director for Congressman Jeff Landry (LA-03). In this role, Aaron was responsible for developing strategies to turn the Congressman's vision into legislative victories. In addition to assisting with the Coast Guard and Maritime Transportation Act of 2012, Aaron also drafted and secured House-passage of legislation increasing Louisiana's share of offshore royalties and ensuring offshore wind farms must comply with the Jones Act. Prior to joining Congressman Landry's office, Aaron served in similar capacities for former Congressmen Kenny Hulshof (MO-09) and Henry Brown (SC-01) as well as current Congressman Aaron Schock (IL-18). Based in Metairie, Louisiana, he remains both geographically and strategically close to the constituency that he serves today.
Concurrent – but separate from his OSVDPA responsibilities – Smith also serves (since October of 2015) as President & CEO of the Offshore Marine Service Association (OMSA). The two roles complement one another, with similar and sometimes overlapping membership and stakeholders. Incorporated as a nonprofit, OSVDPA seeks to improve the safety of the maritime industry by improving the quality and quantity of certified DPOs. OMSA is the leading association of and spokesman for the offshore marine transportation service industry in the United States. OMSA proactively fosters, develops and promotes ideas that advance the common good and the interests of its members with governmental and regulatory bodies across the globe. Representing more than 225 member companies, including approximately 100 firms that own and operate marine service vessels, OMSA also seeks to encourage and advance the highest standards of safety and environmental protection among its member companies. Listen in this month as Aaron Smith zeroes in on the offshore sector and the issues important to those stakeholders. Arguably, no one else today is in better position to do so.
What's the number one thing on your plate when wearing the hat of OMSA's President? Why, and what are you doing about it?
Without question, the downturn in the market makes everything more difficult. It makes normally small issues seem like big challenges, and big challenges seem monumental. From the Jones Act to regulatory response, to state taxes, to even the administration of our association. Unfortunately, OMSA can't influence the price of oil, so we can't address this challenge, but we can help our members try to cope with its effects. Thus, things are business as usual; the great team at OMSA is striving to provide an increased service to our members during this trying time. We've added a new conference to our annual schedule; we created a new membership category, increased communication with our members, are becoming involved in new issues, and are watching every dollar we spend. As a result, OMSA will come out the other side of this downturn as a stronger organization.
Besides the elephant in the room that is the downturn in the energy markets, what else is occupying OMSA's time these days?
It's always surprising to see where the next challenge comes from. This year's surprise came from the Bureau of Ocean Energy Management (BOEM). As part of almost every recent offshore lease sale BOEM has declared that offshore activity doesn't affect onshore air quality. Most people would think those statements were proof the existing national and international regulations on vessel emissions were working. Yet, BOEM published a new massive rule regarding offshore air emissions. After surveying our members, we determined that the rule would cost OMSA members at least $270 million in just initial compliance costs. Yet, the agency's own analysis said they were unsure the rule would have any positive effect on the environment. For that reason, we worked with our members to ensure these detrimental and unnecessary impacts were well documented in the docket. OMSA also worked with our industry partners (API, NOIA, OOC, IADC and others) to have an amendment passed by the House of Representatives that prohibits this regulation from moving forward before it is proven necessary and cost effective. This amendment was championed by U.S. Representatives John Culberson (R-TX) and Steven Palazzo (R-MS). Additionally, U.S. Senator Bill Cassidy (R-LA) led a letter from 16 of his Senate colleagues to BOEM echoing OMSA's message of not moving forward with the regulation until it is empirically proven to be beneficial. All of that said, OMSA recently sat down with BOEM and found the agency to be very receptive to our comments. As such, we are hopeful that if these regulations are promulgated, they will be done so in a way that provides a positive environmental impact without negatively affecting our members.
You mentioned working with BOEM, but what about the other regulatory agencies? How is OMSA's relationship with those agencies?
OMSA and the Coast Guard continue to have a great working partnership. In fact, at least twice a year the OMSA Board of Directors and Admiral Paul Thomas meet for the OMSA/Coast Guard Partnership. During these meetings, we spend hours in a constructive dialogue regarding safety improvements and other issues impacting the offshore industry. Sometimes, we agree to disagree, most of the time we find a pathway forward. Even when we don't find consensus, we know that our regulators are listening to the needs of our industry. That willingness to listen extends down to the District and Sector level as well. We have local Coast Guard personnel at almost every OMSA meeting. Regardless of the level we are speaking to, our association is always impressed with the Coast Guard's willingness to find a solution, instead of looking for reasons to say "no." Additionally, OMSA has a very good partnership with the U.S. Customs and Border Protection, the agency charged with enforcing the Jones Act. We were especially pleased to see CBP announce in July the formation of the National Jones Act Division of Enforcement (JADE). This office—headquartered right here in New Orleans—will be a clearinghouse for all coastwise trade and Jones Act issues and assist CBP and industry partners in understanding and enforcing the Jones Act and coastwise trade laws. We're certain that the formation of JADE, will lead to a furthering of our partnership.
You bring to OMSA deep Washington, D.C. experience from the legislative side of the equation. What can maritime organizations like OMSA do better to communicate "the message" to our elected officials?
The best thing OMSA—and anyone else wanting to affect policy—can do is, be involved. Elected officials, be they local, state, or federal officials can only represent and advocate for your views if they know what your views are. The OMSA Board of Directors has always understood that fact and has always prioritized political involvement. That said; the recent Louisiana budgetary fights and other legislative and regulatory issues have caused us to be more involved in politics and policymaking. For this reason, we've redoubled our efforts in Washington and have become more involved in Baton Rouge than ever before. Some examples of this involvement include having Louisiana Governor John Bel Edwards come and speak to our members and, this year, we took more members to DC for our annual fly-in than ever before. In short, the old adage about policymaking remains true, if you're not at the table, you're probably on the menu.
The past 18 months have been especially difficult for Jones Act proponents – the attacks from various coalitions have ramped up considerably. Where are we now in that battle? Is the situation still precarious?
To be truthful, I'm running out of ways of telling the Board of Directors and membership of the latest unprecedented attack against the Jones Act. While these attacks are unfortunate, they haven't moved the needle. Besides a non-compulsory sentence in the unofficial part of a defeated budget alternative and single plank in the non-binding Republican Party platform, the Jones Act remains intact. Every attempt to weaken the actual law has been decidedly defeated. Of course, that is a very good thing. The 40,000 U.S. Flag vessels in operation (and the more than 170 new vessels that are built every year) employ 80,000 Americans directly and 500,000 indirectly. As important as those jobs are, even more important is Act's preservation of our nation's shipbuilding capability, an asset the DOD has said would cost tens of billions to replace if the U.S. flagged fleet went away. Moreover, the Jones Act is important to our Homeland Security, keeping our 95,000 miles of shoreline and 25,000 miles of navigable waterways safe. Thus, those of us that are Jones Act supporters have a great story to tell. And fortunately, we have a wealth of good friends on Capitol Hill that are more than happy to help us tell that story. Case in point; U.S. Representative Garret Graves (R-LA) did a masterful job of defending the Jones Act during a recent Congressional hearing. Chairmen Shuster (R-PA) and Hunter (R-CA) have also continued to be champions for the Jones Act as well. So, while I don't like having to relitigate the Jones Act every quarter, these fights have strengthened our connection to our existing allies and allowed us to build relationships with new allies.
You became the President of OMSA last year, and are still working with the OSVDPA. Is that a sign that the two organizations are merging?
No, OMSA and OSVDPA continue to be separate organizations with separate Boards of Directors, finances, and even addresses. My circumstance is like so many in the oil patch right now, we're all trying to do more with less. Thus, I'm far from the only person in our industry wearing two hats right now. This arrangement works right now because both organizations have engaged, committed, and immensely knowledgeable Boards of Directors and staffs of industry-leading experts.
What is the current status of OSVDPA's certification program?
The OSVDPA's DPO certification scheme is operational and working well. Mariners are taking our assessments and we are issuing OSVDPA DPO Certificates. We worked hard to make our assessments (the cornerstone of our certification system) as close to real life DP operations as possible and the feedback has so far been that we hit the mark. Additionally, mariners have found our website to be intuitive and easy to use. Hats off to OSVDPA Administrator Ben Berson for designing the site and making it run efficiently. Ben's system and customer service recently received a great vote of confidence with a letter from Captain Chuck Williams who wrote to us to say, "This has been absolutely hands down the best and easiest interaction I have had with any maritime governing body." As we work in such a close-knit and—quite frankly—wary industry, we greatly appreciate that sort of feedback.
What about the training centers, where do you stand in accrediting the centers where future DP operators will take their courses and conduct assessments?
I'm pleased to report that in July, the OSVDPA accredited the Marine Training Institute as its first accredited Training Provider. TMTI impressed us with their professionalism, commitment to safety, and ability to uphold the OSVDPA's high standards. Our accreditation process is not easy. After TMTI filled out what some referred to as a mountain of forms regarding their facility, equipment, curriculum, and procedures; and the OSVDPA reviewed all of this information, the OSVDPA and the independent auditor we contracted with camped out at TMTI for more than three days reviewing and testing every aspect of TMTI's operation. Additionally, we have recently received an accreditation request from GE's Marine Technical Training Center in Houston. Kongsberg Maritime has also submitted forms to have their Houston training center accredited. We are currently reviewing each of these training providers' applications and hope to conduct their accreditation site visit sometime in the near future. Our hope is that by the end of the year we have training providers accredited across the Gulf Coast.
What about other stakeholders? How have they reacted to the progress made by the OSVDPA?
Some of the best news the OSVDPA received came in late July. On the 29th of that month, the U.S. Coast Guard issued an informal information note in the Federal Register, stating that the USCG was "aware of three industry accepted training certification programs for dynamic positioning," specifically listing the OSVDPA, the Nautical Institute, and those programs accredited by DNV-GL. The notice did state, and the OSVDPA understands, that Coast Guard "does not endorse or recommend" any one DPO certification scheme, however, it was great to have the Coast Guard place the OSVDPA on equal footing with the other DPO certification schemes. Additionally, I'm looking forward to next month when the OSVDPA will present a paper at the Dynamic Positioning Conference 2016 in Houston as sponsored by the Marine Technology Society's DP Committee. This paper will be a statistical review of the assessments conducted by the OSVDPA over the past few months, in this review we will show what common faults and failures we have found in these assessments. It is our hope that by presenting this information, we can show the industry where our collective weaknesses are, and once that point is known we can work to fill those gaps and hopefully prevent incidents.
(As published in the September 2016 edition of
Marine News
)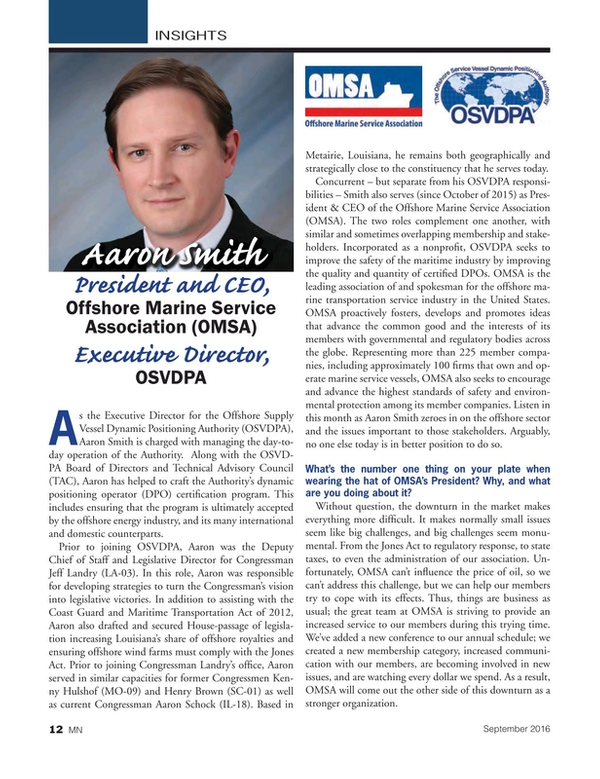 Read Interview: Aaron Smith Zeroes in on the Offshore Sector in Pdf, Flash or Html5 edition of September 2016 Marine News
Other stories from September 2016 issue
Content