CARB Powers Clean Air in California
Edited by Joseph Keefe
California Commercial Marine Operators Take Advantage of Grant Money to Repower with Eco-Friendly Engines.
Capt. Joe Nazar recently repowered his whale watching excursion vessel in San Francisco with twin Volvo Penta Tier 3 diesels, and he couldn't be happier with the results. Since the new engines were installed, he is seeing dramatic improvements in fuel efficiency, lower emissions, reduced noise levels and better performance. He has another good reason to be happy. A large percentage of the cost of repowering the boat came from a State of California grant.
New Power, Cleaner Air, Lower Costs
Nazar's 64-ft. catamaran, Kitty Kat, was retrofitted with a pair of Volvo Penta D11 625 hp Tier 3 engines in April, replacing the previous 12-liter Tier 2 engines. The installation was performed at Bay Marine Boatworks in collaboration with Helmut's Marine Service, an authorized Volvo Penta Power Center in San Francisco. Kitty Kat carries up to 99 passengers on daily whale-watching tours of the Farallon Islands National Marine Sanctuary.
Nazar said he normally repowers his vessels every five years. He was more than ready to switch, being dissatisfied with the competitor engines, which he described as "dirty-burning, oil-leaking monsters, constantly rattling and shaking."
"Our customers could tell the difference right away after we installed the Volvo Penta engines," said Nazar. "With no diesel fumes on deck, we are getting fewer cases of seasickness when we're out on the open ocean, and you can barely hear the engines when they're running – just a low-level 'swoosh' like the sound of a passenger jetliner in the air." Nazar also reports fuel savings of at least 60 percent. "I don't go to the fuel dock nearly as often, and that goes straight to our bottom line," he said.
Carl Moyer Program
The state grant money for Kitty Kat's repowering came from the Carl Moyer Memorial Air Quality Standards Attainment Program, usually referred to as the Carl Moyer Program. According to the California Air Resources Board (CARB), the Carl Moyer Program is a voluntary grant program intended to reduce air pollution by providing incentive funds to private companies and public agencies to purchase cleaner engines earlier than required by law. The broad-based program embraces on-road trucks, off-road equipment, locomotives, stationary agricultural equipment, forklifts, light duty vehicles, airport ground support equipment, lawn and garden machines, emergency vehicles and marine vessels.
The Moyer program, according to CARB, has provided over $710 million since its inception in 1998, and disburses $60 million in grants per year, funded through tire fees and smog impact vehicle registration fees. The funds are distributed through the 35 local Air Districts in California, but the application requirements and criteria for selection may vary somewhat from region to region based on local priorities.
The strategy behind the Moyer program is to accelerate the replacement of older engines with new greener engines before they are required by regulation. In order to receive Moyer funds, the project must not be subject to any regulatory requirement, and it must be completed at least three years prior to the deadline for mandatory replacement.
"By funding emission reductions that are surplus – earlier and/or beyond what is required by regulation – the Moyer Program complements California's regulations," says CARB. "Small businesses with vehicles or equipment that are exempt from or not yet subject to air quality rules are particularly encouraged to apply." Funds are allocated annually and applications are evaluated by the Air Boards on a first-come first-served basis until all funds have been awarded.
The program pays 50 to 85 percent of the cost to repower commercial marine vessels, according to the Bay Area Air Board, which covers San Francisco and surrounding regions. Eligible projects include replacement of an older engine with a new lower-emission one or installation of an engine remanufacturing kit that reduces its emissions. In some limited cases, the program will provide funds for purchase of a new marine vessel with engines certified to be at least 30 percent cleaner in terms of NOx emissions. All repower applicants must demonstrate a cost-effectiveness of $18,030 per weighted ton of NOx, ROG and PM emissions reduced by the project to be eligible.
CARB Commercial Applications
Barges, crew boats, supply boats, dredges, excursion vessels, ferries, towboats and tugs operating mainly within the harbor and inland waters can receive grant money up to 50 percent of the cost of upgrading. Fishing boats, pilot boats, work boats and other vessels not subject to Harbor Craft Regulation in-use compliance requirements can receive 80 percent for upgrade to Tier 2 or 85 percent for Tier 3 repowering projects.
Eligible costs include the capital cost of the new engine and modifications to the cooling system, fuel and exhaust system, wiring and harnesses, power take-offs, controls, gauges, alarms and other ancillary items. The program also covers the cost of moving frames to accommodate the new engine. Tax and transport costs are included, as is labor for installation.
"The Carl Moyer program incentivizes small commercial marine operators with limited financial assets to take advantage of new-technology engines that reduce operating costs significantly in terms of fuel and oil consumption, maintenance, service and less downtime," said Helmut Ahollinger, president of Helmut's Marine Service.
Helmut's Marine Service does about 20 to 25 Volvo Penta repowers per year in Southern California and Northern California with Air District grants, according to Ahollinger. Usually the installations are made by a local boatyard. "We provide assistance to steer our customers through the grant application process, using an independent consultant who is very familiar with the rules and regulations. She ensures the applications are complete and correct, and all the necessary documentation is included, to speed up the process."
Another boat recently repowered with Volvo Penta under the Carl Moyer program is the research vessel Harold Heath, operated by the California State University at Monterey Bay. The 1982 vintage 46-ft. Hatteras motor yacht was donated to the university's marine science department in 2010 for use in seafloor mapping projects. Capt. Bill Williamson said that the boat was still running the original engines and was in serious need of repowering.
Fortunately, the Carl Moyer program came to the rescue. A pair of new Volvo Penta D11 625 hp Tier 3 diesel engines was installed this past Spring by Peninsula Diesel at Moss Landing Boat Works. Williamson said the compact package made it easier to fit the new engines into the cramped engine room. He's thankful for the Moyer funds – without it, he believes the university would have had to get rid of the boat and look for a replacement. The boat underwent sea trials in April, and Williamson is very pleased with the result. "It was exactly what we hoped for – very economical cruising range, good performance at top speed and ability to cruise at slow speeds for long periods of time when doing underwater survey work."
"It's too early to have any solid fuel efficiency data, but we expect at least 35 percent improvement – maybe more," he said.
As for Nazar, he says he will repower his other two excursion boats as grant money is released. In the meantime, he's more than happy with his new eco-friendly and efficient Volvo Penta Tier 3 diesels.
(As published in the September 2016 edition of
Marine News
)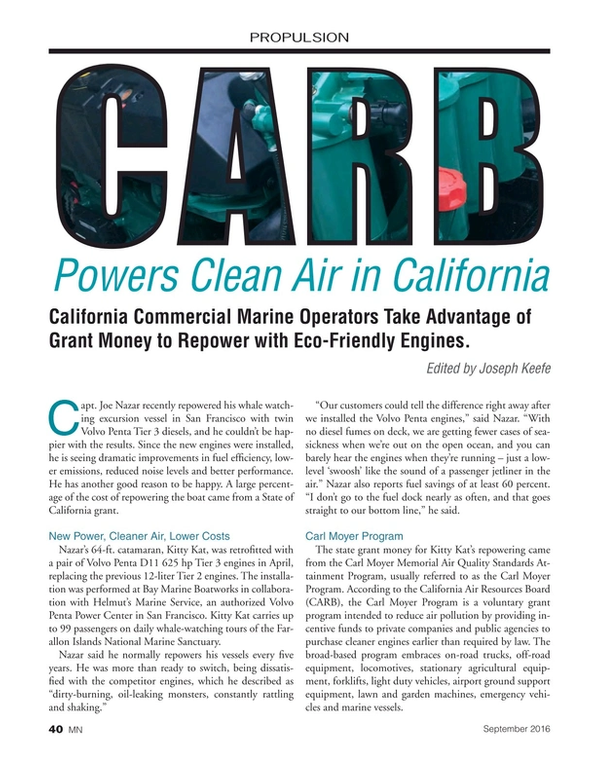 Read CARB Powers Clean Air in California in Pdf, Flash or Html5 edition of September 2016 Marine News
Other stories from September 2016 issue
Content