Innovative Boats: Marine News' Best of 2016
Marine News
Marine News looks back at the past 12 months and showcases the best of North America's workboat design shop and shipyard output.
In a year where some stakeholders might not rank 2016 as the best of years in the shipyard or on the waterfront, we might disagree. And, there is plenty to write about. New contracts, deliveries and designs all combine to show that the collective workboat waterfront is moving forward, with technology, the environment and replacement tonnage requirements as the main drivers. Inland operations, Arctic requirements, LNG propulsion, dredging, government requirements, offshore wind, inland operations, harbor assist, shortsea shipping and a host of other needs were addressed and met in 2016 by North American builders. The best of those designs and deliveries are chronicled below:
Vard Marine Design for New USCG OPC
In the long-awaited decision for the U.S. Coast Guard's high-profile Offshore Patrol Cutter sweepstakes, Vard Holdings Limited earlier this year announced that a design developed by its subsidiary Vard Marine has been selected for the US Coast Guard's new Offshore Patrol Cutter (OPC) program. Building that design is Eastern Shipbuilding Group and its team partners for the detailed design and construction phase for the US Coast Guard's Offshore Patrol Cutter (OPC) program.
Harvey Gulf Receives ABS and USCG Approvals
In September, and signaling that it had no intention of slowing down on its quest to make 'LNG as a fuel' viable for commercial operators, Harvey Gulf International Marine (HGIM) received both ABS and USCG approvals on a 4,000 cubic meter LNG articulating tug barge (ATB) construction drawing package. The design accounts for ship-to-ship transfer and shore side resupply transfers. Working with its design partner Waller Marine, and in conjunction with ABS and USCG, HGIM developed the design package ahead of construction, minimizing the potential for delays and significant cost impacts during construction. The ATB meets all domestic and International requirements of a gas carrier. Working together with Wärtsilä, the cargo systems integrator on the complete design, supply, and integration onboard the vessel, assures both functionality and confidence in the operability of the system. Another key design component of the design is the use of a sub-cooler for boil off gas (BOG) management, the teamwork in conjunction with Air Liquide using their Turbo-Brayton Technology (TB 350) as a means to condition the cargo as necessary to manage BOG.
Tuco Marine's Arctic Workboat Daughter Craft
In 2016, Danish producer Tuco Marine introduced an all new Arctic Workboat Daughter Craft. Developed in response to international requests and specifications, the unique craft has been in every detail optimized for Arctic and/or cold weather operations. Tuco Marine ProZero series of Daughter Crafts, Workboats and FRC´s are designed to meet the needs of the huge number of Arctic Patrol Vessels, Icebreakers and Polar Research Vessels that are currently under development and construction. Tuco worked closely with Arctic operators and ensured that end users were closely involved in the workboat's design and layout. A module-based business model allows for quick delivery time even when the boats is customized during the design phase.
Avalon Freight Services: Redefining Shortsea Shipping
A new freight service began operation in southern California this past April. For the businesses and residents of Catalina Island who depend on freight from the mainland, this new service aims to provide the safest, fastest, quietest, most efficient, eco-friendly and state-of-the-art freight transportation in the island's history. Customers will also benefit from the use of unique and innovative tonnage built specifically for this niche trade. In doing so, Avalon Freight Services is redefining the concept of short sea shipping. Custom-designed vessels were built, and a new style of self-propelled Landing Craft named the Catalina Provider, which meets EPA Tier 3 emission standards, allows for transportation of freight or evacuation of residents. In addition to Provider, the fleet currently includes one tug – the Lucy Franco – and two deck barges. The 150-foot x 150-foot Catalina Provider, was built by Diversified Marine in Portland, Oregon, a company that had provided similar landing craft for the Alaskan fleet. Catalina Provider can carry up to 12 passengers in addition to a small number of trucks with containers as well as smaller loads.
ATB Design Comes of Age
The emerging trend of marrying the design of an articulated tug and barge (ATB) to a particular propulsion system to maximize efficiencies of that system has taken hold in workboat markets. This year, a partnership between Bouchard Transportation, Guarino & Cox, Nautican Research & Development and VT Halter Marine shipbuilders aptly demonstrates the concept in practice. What the collaboration produced, is even more important. New York-based Bouchard Transportation recently launched and put into service two ATBs that operate in the U.S. Gulf and East Coasts. The tugs are first in their class designed to be double-hulled for superior environmental protection, and both barges have cargo capacity of 255,000 barrels of petroleum products. Additionally, each tug and barge is equipped with a Hyde ballast water treatment system. GCL consulted Canadian-headquartered Nautican on their propulsion system before going ahead with the design phase. While Nautican is no stranger to ATB jobs, this was their first project with Bouchard. GCL had oversight of the model test program that was carried out at Oceanic Consulting Corporation in St. John's Newfoundland. The model test confirmed the efficacy of the barge's blended skeg stern developed by GCL. Hydrodynamically, the tug and barge unit then more closely resemble a single ship-like unit with a significant reduction of resistance. The need for towing the barge is virtually non-existent, but if ever necessary, the tapered deep notch sides and the drag of the notch face will provide sufficient course stability to obviate the need for appended skegs further reducing resistance.
Moose Boats' M2-38: a Multi-Mission Wide Cabin Oil Response Catamaran
Moose Boats, an aluminum boat builder for military, law enforcement and firefighting applications in Petaluma, CA, earlier this year delivered its new M2-38 Wide Cabin Oil Response Catamaran for California Department of Fish and Wildlife. The catamaran's 120 square foot cabin is equipped for extended operations hosting four shock mitigating seats, a workstation, galley, dinette and cuddy cabin with a single berth. The M2's bow is equipped with a heavy-duty push knee and the foredeck is configured with handrails to assist Game Wardens with boarding other vessels for inspection purposes. The large jet guard/swim grid is equipped with a custom integrated flush mounting dive ladder, crew safety rails and an electric pot-hauler.
With federal grant funding opportunities holding individual project value caps under $1M, most agencies seeking new vessels pursue a multi-mission platform. In essence, when a grant for a new vessel is awarded, the recipient agency is motivated to equip the boat to perform as many duties as are foreseeable during its service life. The challenge for the agency, and the vessel builder, lies in ensuring that the craft to be delivered addresses all of the criteria without considerable operational compromise or exceeding the budget. A single M2 catamaran can be configured for a host of duties including patrol, search and rescue, personnel transport, firefighting, CBRN detection, side scan sonar monitoring, patient care, dive and multi-day command operations while still remaining under the $1M cap, and without detriment to its core role as a response craft.
Jensen Maritime Designs New Tier IV Tractor Tug
Jensen Maritime this year designed a new high performance tractor tug for Vessel Chartering LLC that features some of the first Tier IV engines meeting higher federal air emissions standards among U.S. tugboats. The multipurpose tractor tug, which is being built by JT Marine of Vancouver, Wash., was jointly developed by Vessel Chartering LLC and Jensen. The 110-foot long vessel will feature the ship assist and escort capabilities of smaller harbor tugs, while delivering the improved towing performance and increased range of larger ocean-going tugs. The escort capability was enhanced to provide support for assisting large, 18,000 TEU containerships due to an increased future demand in West Coast ports of call. The engines are designed to meet the federal Tier IV standard, which incorporate the emissions-reducing performance requirements by the U.S. Environmental Protection Agency (EPA). To meet the requirements, the two engines on this vessel use systems that clean exhaust gases after they have left the engines. The tug is planned for delivery in the second quarter of 2017 to Vessel Chartering.
Blount Boats' US Flag Wind Farm Supply Vessel
Serving notice that U.S. yards can and do build workboats for the nascent North American offshore wind farm industry, Blount Boats this year delivered the Atlantic Pioneer, America's first U.S. Flagged Crew Transfer Vessel (CTV) for Atlantic Wind Transfers. It began service for Deep Water Wind Block Island at the end of May. The 21 meter aluminum vessel was designed by South Boats IOW, a pioneer in designing and manufacturing crew transfer vessels. South Boats IOW has designed and built approximately 81 crew transfer vessels for the European Offshore Wind Sector servicing wind farms throughout Europe. The South Boats' 21m is a twin hulled, all aluminum catamaran, dual certified to USCG Subchapter T (Small Passenger) to carry up to 47 passengers and subchapter L (Offshore Supply Vessel) to carry up to 16 offshore workers. The vessel was specifically designed to carry up to 12 tons of cargo in the bow and 3 tons of cargo in the stern. The forward and after decks are outfitted with cargo lashing and container sockets.
USACE M/V Dan Reeves
The M/V Dan Reeves was commissioned in January of 2016 for the U.S. Army Corps of Engineers (USACE) Little Rock District. Built by Horizon Shipbuilding and overseen by the USACE Marine Design Center, the vessel is designed to comply with proposed USCG Subchapter M Requirements. Power and propulsion is provided by two Cat C32 WOSR "C" Rated main engines, giving 1,300 HP Each at 1,800 to 2,100 rpm. But, it is the two Thrustmaster Z-Drives (model TH1500MZ with a 5.74:1 Reduction Gear Ratio) that make this vessel special. Thrustmaster builds a complete line of Z-Drive azimuthing thrusters from 500 HP to 4,000 HP for the inland towboat industry, specifically designed to endure the demanding conditions when operating in brown water. Beyond this, each Thrustmaster package is specifically customized for the individual hull being fitted. Using Z-Drives on towboats results in substantially improved fuel efficiency, shorter trip times, decreased maintenance downtime and higher customer satisfaction when compared to traditional shaft and rudder installations. At the same time, Thrustmaster believes that designing hull forms to optimize flow into the Z-Drives further increases performance and provide a competitive advantage to the operator. Thrustmaster struck a perfect balance between providing the ability to customize a Z-Drive to a customer's specifications while maintaining the ability to deliver a standardized product that is competitively priced and stocked with spare parts to support the vessel. Unique to this Z-Drive installation is a customized flaring of the Z-Drive inner well mount to perfectly match the curvature of the hull bottom. The depth of the inner well, which constitutes the distance between the horizontal input shaft and the propeller shaft, was also specially designed to fit the hull depth per specifications. Beyond this, the complete driveline was built to Ice Class specifications.
Ellicott's Completely New Series 2070 Dragon Dredge
Ellicott introduced a completely new design 20 inch (500 mm) cutter suction dredge, the Series 2070 Dragon dredge. The new dredger takes advantage of modern, up-to-date technology and advanced design techniques. This unit will replace the renowned Series 1870 Dragon as Ellicott's standard and in-stock 20 inch dredge. Like the 1870, the 2070 Dragon supplies ample power to the pump using a dedicated engine rated at 1300 HP (970 kW) and has a separate 440 HP (328 kW) engine dedicated to the hydraulic system. This dual-engine system allows for full hydraulic power to the cutter and winches, even when reduced RPMs on the pump are called for – something single-engine dredges cannot do. All engines are from Caterpillar and meet all current air quality standards. The entirely new hull was designed to meet BV Rules for Sheltered Waters. The new design criteria allows for increased portability and easier construction in the field. Ellicott accomplished these goals by reducing the number of side pontoons from four to two. In addition, the dredge uses a new, simplified bow gantry design. Another major improvement is the hydraulic system, which is now based on highly efficient variable displacement pumps. This approach allows for lower HP input and thus less fuel usage to get the same hydraulic power to the devices. The 2070 is also equipped with a modern electric over hydraulic control system using Parker IQAN controllers for increased reliability. Options such as anchor booms, or spud carriage, or swivel elbow discharge can be easily added. The Series 2070 Dragon is suitable for a variety of projects; including harbor, river and waterway dredging, land reclamation projects, sand mining, and mining and tailing pond assignments.
Towboats for Tidewater Transportation & Terminals Towboats
Granite Point and Ryan Point are the newest inland river towboats in Tidewater Transportation and Terminals' fleet. Three years ago, Tidewater retained the services of naval architect CT Marine to design a towboat that can maneuver barges through the swift-moving currents, high winds, and eight navigation locks along the Columbia Snake River System. Once the plans were developed, Tidewater contracted with Vigor's Portland shipyard to construct the series of vessels, returning propulsion-construction to Swan Island, and partnered with Umpqua Bank's Equipment Leasing and Finance Division to finance the two tugs. The first vessel in the series, Crown Point, was christened in June of 2015 and has been in operation for over a year. All three vessels are built to the same specifications – 104 (length) by 38 feet (beam), with a depth at full load of 11 feet, and a hexagonal wheelhouse with floor-to-ceiling windows on all six sides. An enhanced steering system utilizing four main steering and four flanking rudders, coupled with two Caterpillar 3516C Tier 3 engines, allowed the design team to increase the margins of safety and efficiency. With crew endurance being a priority, Tidewater employed Noise Control Engineers (NCE) to develop a sound and vibration control package. By incorporating Christie and Grey vibration control mounts and comprehensive acoustic insulation, noise levels register at less than 60 decibels in the accommodations during vessel operation – which is equivalent to an air conditioner.
Brunswick's Groundbreaking IMPACT RHIB's
In late November, Brunswick Commercial & Government Products (BCGP) introduced an 8.5-meter aluminum RHIB. A first of its kind for the Company, the 850 Aluminum Impact RHIB is the introductory model from a line-up that features five variants ranging in size from 7.5-meters to 12-meters. Designed for the commercial and government marketplace, BCGP will market the new line-up to domestic law enforcement agencies as well as militaries worldwide. The aluminum hull is a mill-finish welded structure designed by BCGP, fabricated by a local aluminum contractor and assembled at the Company's Florida headquarters. Notable features include dual 350 HP Mercury Marine Verado outboard engines, a hard-sided urethane-coated polyester fabric collar system by CPI, shock mitigating SHOXS Seats, a Raymarine electronics package and a Boatmaster heavy duty aluminum trailer. According to Brunswick, the new aluminum RHIBs augment the firm's existing product line-up by its ability to offer customers a one-stop shop experience. Now providing both aluminum and fiberglass solutions, Brunswick will help government agencies have more commonality in their fleets, allowing for maintenance optimization and interoperability for officers in the field." The announcement followed the firm's earlier introduction of its most exciting hull to date – one that can now be ordered with an aluminum hull. First on board to test drive the new vessel was Marine News Editor Joe Keefe. An exhilarating 35 minute cruise revealed all of the exciting features the new vessel had to offer – whether barreling ahead at 63 KT in open waters or smartly backing down at the berth with the help of Brunswick's JPO joy stick controls. Taken from the new wide body 11 meter RHIB design, the boat has an all-new top skin with two options: the full tube IMPACT, and the D Collar style. Turning on a dime at more than 60 KT, the vessel represents a major breakthrough for municipal and military customers, both in terms of maneuverability and new features that promise to dramatically improve boat handling and navigation for small patrol craft. Brunswick will position the craft to sell into the municipal law enforcement and military, littoral patrol markets.
(As published in the December 2016 edition of
Marine News
)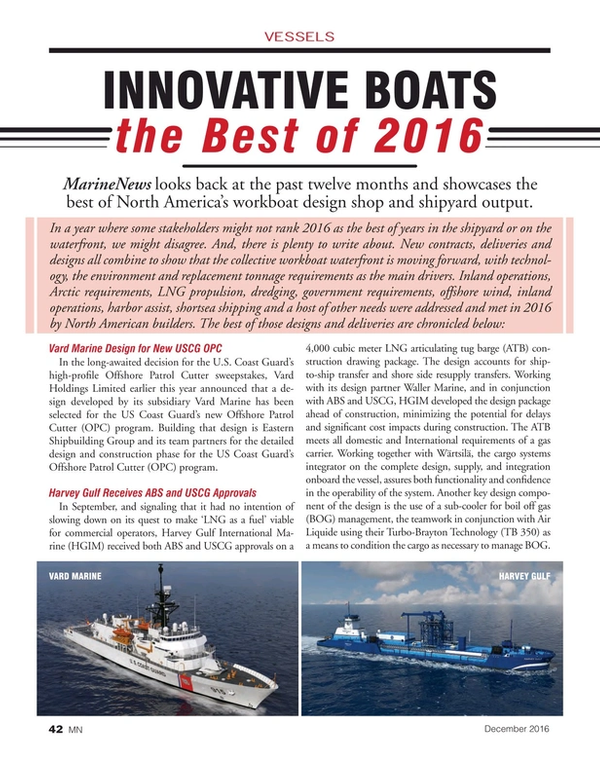 Read Innovative Boats: Marine News' Best of 2016 in Pdf, Flash or Html5 edition of December 2016 Marine News
Other stories from December 2016 issue
Content