Marine Battery Systems Come of Age
By Annie Sennet
Saft's Seanergy Marine Battery System offers a different way forward in the quest for reduced emissions in marine propulsion.
Stricter Regulations Demand Immediate Solutions
Discovering new means to reduce emissions and improve energy efficiencies are top-of-mind for all companies in today's day and age. The Paris Climate Deal, initiated nearly a year ago, is just one example of the world coming together to combat global warming.
In the marine industry, operating with clean propulsion is a crucial goal for all parties involved, from navies, designers and shipyards to original equipment manufacturers (OEMS) and battery suppliers. With new environmental regulations implemented regularly, it is imperative for ship designers to integrate innovative technologies into the architecture that include revolutionary battery technologies to address emission reductions and cost efficiencies.
Workboat operators are increasingly looking to hybrid propulsion systems to enhance operational performance with the clean and consistent power generated from hybrid systems. This demand – driven in part by regulatory pressures being exerted on the marine industry – is also propelling rapid technological advances.
Saft, the industrial battery specialist, plays an essential role in the marine industry, partnering with various parties to deliver fully integrated battery systems, particularly lithium-ion (Li-ion) with vast technical support to the OEMS and end users. This cutting-edge technology contributes to achieving the rigorous operational targets set for reduced emissions, safety, fuel efficiency, vessel productivity and optimized total cost of ownership (TCO).
Addressing Clean Propulsion Demands
With the Li-ion battery market anticipated to increase to more than $77 billion by 2024, from $30 billion in 2015, it is clear advanced Li-ion technology is well-suited to address the needs of the marine industry. Saft's Li-ion Super-Iron Phosphate (SLFP) maintenance-free technology delivers increased safety, high efficiency, and a long calendar and cycling life. Another advantage of SLFP is its compact footprint containing full electric propulsion.
In 2014, Saft launched its Seanergy marine Li-ion modules, a fully integrated solution containing SLFP chemistry, delivering safety, performance and reliability qualities of SLFP. Seanergy is a specially designed solution for civil marine propulsion installations. Its design flexibility coupled with energy and power modules enable it to power full-electric and hybrid electric marine applications.
Sustainability and energy efficiency are among the demands of the civil marine industry powering the need for electric propulsion in order to reduce emissions and noise all the while increasing efficiency. Saft's state-of-the-art technology addresses the needs of the marine transportation industry – silent, clean and cost-effective.
Saft appreciates the critical safety needs involved in industry applications, and the numerous standards to be addressed and met. Thus, with its more than 20 year history in developing cutting-edge and customized Li-ion battery solutions for the space and satellite divisions, it was equipped to develop the essential demands of harsh marine environments. Saft provides Seanergy customers with confidence, serving as the 'end-to-end' manufacturer of the complete system, thus maintaining ownership of comprehensive quality control.
Nearly two years ago, the Independent Safety Assessor (ISA), Bureau Veritas awarded Saft's Seanergy technology with the premier certification for safety approval set forth by marine specificities and standards. Bureau Veritas granted the certification after completing an independent design review, sample testing and verification of product controls. Beyond this, Seanergy is also DNV certified. Most recently, Saft's Seanergy energy storage systems received approval from the Norwegian Maritime Authority. With SLFP chemistry, the batteries passed every simulated thermal runaway test.
Because batteries contain chemical substances commonly associated with inherent dangers, Saft customizes each battery system to its customers' precise requisites. With safety at the forefront, Saft ensures each system is fitted with the right combination of chemistry, technology and electronics to provide the safest and most efficient battery system.
Seanergy On Board the OV Bøkfjord
Coupled with Saft's proven track record for providing critical safety in industry applications, along with the various certifications awarded for the Seanergy technology, it was the ideal power solution for Rolls Royce to insert into its high energy battery system for OV Bøkfjord, a hybrid multi-application workboat vessel owned by Kystverket, the Norwegian Coastal Administration (NCA).
The vessel went into service in September of this year and is the third in the NCA's multifunctional fleet. It will help the NCA with numerous tasks from maintaining the infrastructure of navigation of other ships in the area, to providing onsite assistance in the middle of the ocean for emergencies. Also, it will support the completion of routine maintenance tasks required for lighthouses and fixed and floating aids.
Addressing the rigorous environmental implications for the marine industry, the battery system from Saft and Rolls Royce will help NCA address its climate and environmental goals. For this workboat's hybrid propulsion system, Saft's Li-ion technology energy storage system works in tandem with the hybrid diesel gensets and together deliver up to 25 percent in fuel savings for the OV Bøkfjord.
Peak shaving enabled by the battery system will provide the vessel with exceptional emission control, reduce the strain on the diesel engine and help reach peak power demand as needed. In fact, the battery system will provide enough power for the vessel to run, using a single diesel engine. From an overnight hotel load perspective, the battery will be able to provide power for the whole night while the engine is shut off and parked.
Whether there is shore connection or not, the battery system will take care of the power required for lighting, kitchen, and other similar functions. Saft's Seanergy technology onboard the OV Bøkfjord is additionally designed to withstand the various climate and temperature changes the vessel will experience while operating across the ocean.
Seanergy: Paving the Way for the Future
This progressive, hybrid power system multi-purpose workboat is paving the way for technological advances and demonstrating the efficiencies possible when utilizing cutting-edge technology. In today's fast-paced and digitalized world, marine operators everywhere are striving to achieve instant gratification in the most efficient ways possible. Saft's Seanergy technology has already shown what is achievable when utilizing customized technology that can optimize hybrids and other applications.
With the world releasing more than 30 billion tons of carbon dioxide in a single year, a sum expected to rise in the future, new regulations and tactics to combat these emissions will be in abundance. Saft's Seanergy solution is just one example of its commitment to protecting the environment.
The Author
Annie Sennet is the Executive Vice President of Saft's Space and Defense Division. She began her career with Gates batteries in Gainesville, Fla. which was purchased by Saft in 1994.
(As published in the December 2016 edition of
Marine News
)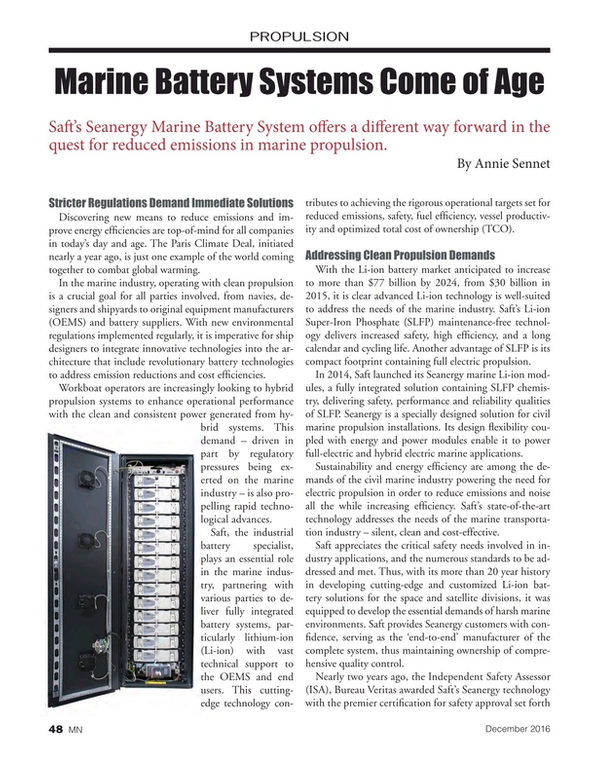 Read Marine Battery Systems Come of Age in Pdf, Flash or Html5 edition of December 2016 Marine News
Other stories from December 2016 issue
Content