Grooving the Way: Back to the Future
By Joseph Keefe
Anything but new, the Victaulic method of pipe-joining has been around for a long time. Armed with myriad type approvals from most IACS groups, Victaulic's output will no doubt (and soon) form a part of your marine equipment for a long time to come.
The conservative and staid domestic waterfront, especially where it intersects boatbuilding and repair, recently set sail for increased efficiencies, driven in part by emerging technologies, but also through improved management and new assembly techniques. It was in 2013 that Boysie Bollinger's son, Chris Bollinger, then a member of the Bollinger senior management team, proclaimed, "Boatbuilding is evolving into something that will more closely resemble manufacturing, as we know it in other industries." Today, Bollinger is a leader in robotic shipbuilding, right here at home on the Gulf Coast. Separately, other similarly positive developments are also underway.
History Repeats Itself
Today's need to become more efficient, cost-conscious and to provide higher quality output mirrors a similar situation which played out more than 75 years ago. The advent of World War II forced U.S. builders to more quickly produce merchant hulls in quantity, and with good quality. Eventually, more than 2,170 Liberty Ships and later, 531 Victory Ships were produced – at the sometimes astounding speed of one every 30 days. That process was surely sped along was through the use of Victaulic pipe couplings.
The John W. Brown, one of two surviving fully operational Liberty ships, was launched in Baltimore on September 7, 1942. In 1983, Project Liberty Ship acquired the Brown and, in 1988, moved the vessel to the harbor of her birth where it serves as a memorial museum ship. But, Liberty ships were not expected to last even five years; never mind 75. The longevity of the Brown can be credited to many things – the all-volunteer crew that returned it to operating condition, for one. Another element includes the vintage ballast lines, joined so many years ago with Victaulic grooved couplings.
For more than 70 years, the lines have remained leak-free. There is no known record of any maintenance being performed on the ballast lines, and the grooved couplings visible today are the original couplings installed in 1942. This carbon steel piping of the ballast system consists of flexible malleable iron Victaulic couplings, which at the time were referred to as standard couplings for grooved steel pipe. Victaulic Style 77 flexible grooved couplings are the equivalent of these couplings today. Indeed, Victaulic promotional brochures for marine applications can be sourced as far back as the 1920s.
Ballast Battles: no problem
The same benefits that Victaulic brought to that class of vessel long ago are no less important today. That's because an estimated 60,000 vessels will need ballast water treatment systems (BWTS) in the next five years, and mathematically, there is not enough yard capacity or skilled labor to meet expected demand. That's where Victaulic comes in. In 1942, speed and ease of installation was probably the most important factor in selecting grooved joining systems. That hasn't changed. More importantly, and although some owners remain unaware of this system, it isn't anything new.
For Jones Act tonnage fleeing to Asian yards for a less expensive fitting, Victaulic manufactures not only here in the United States, but also in Mexico, Poland and China, as well. Wherever you go to refit – or build from new – Victaulic parts can be efficiently and economically obtained. But, what if you are one of the 60,000 vessels that can't find dry dock space? In that case, a Victaulic-enabled BWTS system might be installed at sea, without having to deal with hot work.
In space-challenged pumprooms (where BWT equipment will be shoehorned), space is already at a premium. The reduced footprint of a Victaulic coupling will help to find room for BWTS equipment not originally envisioned by a builder, ten years prior. In fact, Victaulic coupling's 360-degree orientation capabilities, together with its smaller profile compared to a flange, make the installation of grooved systems ideal for any confined space. That's because traditional flanges are twice the outside diameter of the pipe they are attached to.
A six inch valve assembly that utilizes a grooved-end butterfly valve, grooved-end pipe and two rigid couplings to connect the components weighs approximately 35 pounds, representing a 58 percent weight reduction over the flanged assembly. Beyond this, a DIN 150 ballast line installed showed a weight reduction of 30 percent when Victaulic was used instead of traditional joining methods. 52 slip-on flanges, bolt sets and gaskets, versus 60 rigid couplings accounted for major weight increases in the welded/flanged system. Moreover, weight reductions by using grooved pipe couplings are achievable across a range of pipe sizes.
Shipyards that have used grooved couplings in place of flanges on selected systems have recorded weight savings of 12 tons on OSV tonnage. The benefits of grooved technology can translate into more deadweight capacity, additional passenger load and/or less fuel consumption. It goes without saying that lighter assemblies are easier handle during installation and/or maintenance. After the fact, where excessive vibration can decrease the lifetime of a piping system, the elastomeric gasket contained within the grooved coupling reduces noise and vibration.
Finally, and with some estimates of BWTS installation costs reaching as much as $1.5 million USD (not to mention lost opportunity costs), a comparison of a DIN 150 ballast line installed using Victaulic grooved products versus traditional joining methods showed a 66 percent reduction in installation time required (293 man hours). Time is money, and every second spent unnecessarily in drydock is time that any vessel – in any trade – isn't earning revenues.
Type Approvals for Myriad Applications
Victaulic's mechanical pipe-joining systems have achieved approvals from IACS classification societies such as ABS, BV, DNV, GL, the Korean Register and Lloyd's Register for Vic-Press, the flame-free press system for joining small-diameter stainless steel pipe. With these approvals, shipbuilders will be able to take advantage of Vic-Press as a means of joining stainless steel pipe in new-vessel construction, retrofit and repair operations. The system is approved for use in class III piping systems for marine and offshore applications. And, the utility of this type of piping system has the potential to significantly ease the pain of the coming BWTS installations.
Beyond the IACS approvals, the scope of tasks now allowed for use of Victaulic solutions has expanded exponentially. Available in both rigid and flexible forms, grooved mechanical pipe couplings may be used in lieu of welded/flanged methods in 30 systems, subject to installation criteria established by each certifying agency.
Beyond BWTS
Not every vessel will need a ballast water treatment system. But, owing to the uncertainties surrounding the sVGP and proposed VIDA legislation, workboats nevertheless need to think about the unintended consequences of poorly connected or worn piping. With 27 discharge streams governed by EPA's VGP, there's a Victaulic solution for any and perhaps all of those worries. Take McAllister Towing, for example, who avoided a date with the drydock, not too long ago.
Leveraging Victaulic's methods, McAllister was able to accomplish repairs not just quickly, but at a lower cost and in a safer manner than conventional methods. The Robert E. McAllister, a harbor assist tug built in 1969, has seen a lot of action over time. In this case, a bolted sleeve type coupling on the Robert's engine cooling water supply line sprung a leak, and maintenance personnel needed a way to fix it quickly, once and for all. It wasn't the first time that joint had leaked, and if they tightened it as they had in the past, there was no guarantee the seal—or for that matter, the coupling—would hold.
McAllister considered welding the pipe, but in this case, they also didn't have the luxury to go into the drydock. Instead, Victaulic visited the tug to review the situation, and recommended the Style 99 Plain End Roust-A-Bout Coupling to replace the bolted sleeve couplings.
With multiple IACS type approvals, Style 99 is advantageous for retrofit and repair services because there's little upfront tooling cost. The lack of extensive pipe-end preparation means the coupling can be installed quickly, limiting downtime. In fact, the repair was completed dockside in just over an hour, all without the need for a certified welder and/or hot work permit. The cost was limited to the price of the couplings, which was well within the repair budget. As a result, McAllister has done the same type of repair on many other of the firm's tugs.
Victaulic Vetted
The same characteristics of grooved piping systems that accelerate installation also make system maintenance a similarly simple task. That said, and because they do not require retightening, these couplings eliminate much of the routine maintenance associated with flanges. Chances are – witness the John W. Brown – you won't need to deal with that joint ever again, but if you do, you'll double your CapEx savings on the back end.
It is still the case that many operators are unfamiliar with Victaulic and grooved couplings for piping, in general. Those unsure about the concept can, however, be sure that it has been thoroughly vetted and stood the test of time. Shipyard repair challenges haven't changed much over the past 75 years, while the reasons for these issues certainly have. Through it all, Victaulic has always been part of the solution.
Advantages:
Creates rigid, permanent, leak-tight joints in seconds
No flame, arc or cutting oil / or hotwork permit needed
Simple system limits extensive training requirements
Pipe joining can be accomplished while underway
Elastomeric gasket & pipe grooving reduces leaks
Lighter than standard flanging
Smaller volumetric footprint
Faster than welding, traditional methods
Time = Money (reduced installation time)
Reduced vibration
A Sampling of Victaulic Type-Approved Applications:
Fresh Water
Bilge Pipes
Potable Water
Sanitary
Fire Main
Ballast Water
Sea Water Cooling
Compressed Air
Vents, Overflow, Sounding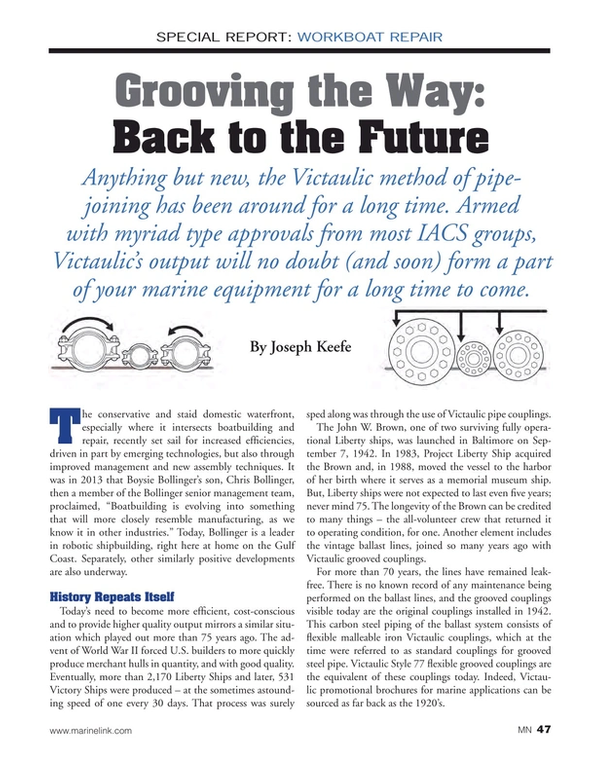 Read Grooving the Way: Back to the Future in Pdf, Flash or Html5 edition of July 2017 Marine News
Other stories from July 2017 issue
Content