Sizing Up the Market, Scaling Solutions to Size
By Joseph Keefe
GE Dips its toes in inland waters with its compact and easy to install Tier IV EGR solution
In October of 2014, news of Oceaneering's purchase of GE Transportation's newest marine engine offering was making waves. These engines – ones which meet EPA Tier 4i and IMO Tier III Emissions standards – without the need for a Selective Catalytic Reduction system (SCR) exhaust gas after-treatment, had workboat operators everywhere looking at new possibilities. Before that, Harvey Gulf International Marine also entered into a contract to construct a new Multipurpose Field Support Vessel (MPFSV) at Eastern Shipbuilding, this one also powered by GE's Tier 4 compliant, EGR main engines. That's important because Harvey Gulf, the recognized North American leader in rolling out LNG and dual fuel propulsion vessels, in this case, selected a pure diesel engine.
Fast Forward
Two years later, more compact versions of the environmentally advanced engines have been introduced to the inland and workboat sectors. Until recently, the repower or rebuild quandary was largely a question of whether to go with diesel and SCR, dual fuel and/or pure gas engines. As mid-year 2017 approaches, vessel operators in virtually every category have a new choice to consider when it comes to newbuild or repower decisions. The GE Marine 12V250 Marine diesel engines reduced NOx emissions by 70 percent when compared to EPA Tier 2 or IMO Tier II. Common rail fuel injection provides better fuel atomization through a high-pressure fuel rail feeding solenoid valves instead of individual high-pressure fuel pumps feeding individual injector units. This injection method also allows for better control of injection timing over the entire operating range. Exhaust Gas Recirculation lowers NOx emissions by cooling, mixing, and recirculating a portion of the exhaust gas with incoming air to reduce stack emissions. This method is self-contained within the engine.
Beyond this, GE Marine's self-described 'breakthrough' engine technology not only eliminates the need for SCR, but all of the extra costs associated with that extraneous equipment. Now, that option also comes in both 6L and 8L versions.
Operators tempted by the LNG route still must decide whether the present infrastructure – and that which is promised – will materialize and if so, will be adequate to their requirements. For others, the answer, until just recently, was quite clear: eventually you'd need SCR. And in the case of both LNG and SCR assisted diesel arrangements, operators were looking at large infrastructure installs and the potential loss of deadweight and/or capacity. Not anymore, says GE.
GE Engines are offered for direct mechanical propulsion or as gensets for diesel-electric propulsion.
GE's Newest Marine Engines – up close and personal
In a late May, Marine News and Hatton Marine's Thor Hatton and Matt Zeitz toured the GE Marine Engine production facility located in Grove city, PA. Employing 500, GE produces three Tier 4 compliant, EGR solution marine engines here. Seattle-based Hatton Marine, an engine distribution shop providing both service and installation work, partners with many OEM's, none more important at this time than GE Marine. Firm believers in the GE EGR solution, they've gotten in on the ground floor with GE, and are now actively planning and taking orders for the simple Tier 4 solution.
For Thor Hatton, sales will never be Hatton Marine's main focus. That said; and with so many different lines to choose from, Hatton Marine will always sell the customer what they want and what is best for their application. For example, Hatton represents Brunvoll-Volda Propulsion, allowing Hatton to offer a complete, turn-key propulsion package along with the GE engine, whether conventional, diesel-electric or in a number of different configuration options. Following every engine from cradle to grave, Hatton provides, 24/7/365, worldwide, the following services:
Sale of an engine;
Installation and commissioning;
Fabrication of engine room exhaust and piping;
Gear and drive line sale and installation
Generator sale and installation
Service support over the life of all those products
The GE Tier 4 solution has gained considerable traction in the past three years, and sales of the 6L and 8L versions – those suited to smaller workboats – are eclipsing the sales of the larger engines. This is hardly GE's first rodeo with Tier 4. With more than 850 Tier-4 compliant locomotive engines already in service, GE's marine sector offerings are based on a proven, time-tested concept. Hatton told Marine News in May, "The 250 series marine engine is based on the GE Evolution or 'EVO' locomotive engine which was originally a 12 cylinder V engine. A few years ago GE developed an inline 6 and inline 8 engine based on the same 250mm bore engine platform. Typically this has been used in tugs, ATB's, fishing vessels."
The most immediate impact of Tier 4 regulations to the maritime industry is with new construction vessels, but that hasn't stopped Ingram from plans to repower at least three of their workboats with the GE tier 4 solution.
Decisions: Data Driven
It can be a difficult decision for any operator to decide how, when and which propulsion option to select. These choices include so-called 'tier beaters,' LNG, dual fuel and of course, Tier 4 compliant SCR solutions. Hatton's Matt Zeitz answered that question with one of his own, saying, "One of the questions that I am frequently asked is 'Why is GE the only one using this technology?' The answer is that GE already had a large market for the Tier 4 engine platform due to their position in the railroad industry which allowed them to make the significant investment it took to develop the technology. Rail operators required a solution that was compact enough to fit within a locomotive car body, and that did not use urea to achieve emissions compliance."
The new GE Tier 4 engine is larger and heavier. Based on GE data, the weight increased by 9 percent and engine room space consumed increased by 12 percent. That increased size could also involve increased engine foundation strength. The GE 8L250 is nominally heavier than the CAT 3516 (not surprising comparing medium speed to high speed engines – see table 5), but, says Hatton, "There's no comparison when you consider the added weight of the aftertreatment system and urea."
On any workboat, however, space is always a concern. GE's Tier 4 engine has increased incrementally in weight and volume, but the footprint is essentially the same as a Tier 2/3 engine. Using SCR, a line haul tug or fishing vessel would need to carry a significant volume of urea compared to, say a harbor tug. Hatton adds, "Many of our customers operate in remote areas of Alaska for extended periods of time, or tow back and forth to Hawaii. Logistically, supplying DEF to vessels in these areas could be difficult."
From an OpEx perspective, the GE Tier 4 engine requires no additional maintenance, and there is no interval for a 'top end' overhaul. Hatton continues, "Certain components of the SCR system will require maintenance or replacement ahead of a typical engine overhaul cycle – pump, dosing injector, the catalyst itself."
Separately, an operator must consider fuel consumption. An industry analysis report comparing the GE solution to the SCR solution showed that the overall fluid consumption for the SCR solution was about equal between their Tier 2 and Tier 4 engines; expected fuel savings combined with increased urea cost was a 'wash.' Hence, for a comparable Caterpillar Engines, for example, it is not any more expensive to operate the C280 Tier 4 than the C280 Tier 2 engine.
Conversely, GE has shown that their Tier 4 engines have achieved lower fuel consumption compared to the Tier 2 product. Since no urea is used, overall fluid consumption is lower. According to GE, the EGR impact to fuel consumption will be slightly better than the Tier 2 engine solution, providing potential savings.
The GE solution has the least amount of impact to the vessel. SCR solutions, in contrast, constitute significant impact to vessel design. For GE's EGR version, the only significant non-engine component that will need to be addressed is the shipyard supplied engine cooling system, which will need to reject more heat due to the addition of cooling for exhaust gas recirculation. DEF storage for SCR solutions, on the other hand, could be reduced depending on voyages, plans, logistics and operator preference. At the same time, and depending of the arrangement of the DEF storage, cargo fuel storage capacity may be displaced to allow room for DEF storage.
Zeitz points out that the SCR solution is unstable at extreme temperatures, and at least in the short term the market for it would be limited, especially in remote areas. In May, Jensen's Johan Sperling told Marine News, "A lot of people don't like urea – I don't blame them. The after treatment system can be large, it is warm; it has all kinds of things that we're not used to." That's because Urea is caustic, creating a highly corrosive environment. For example, if freezing is a concern, additional tank and blanket heating might be needed. Conversely, if temperatures rise above 122°F (50°C), ammonia is formed, causing degradation of the DEF solution. After 6 days of being stored at 122°F (50°C) or greater, the maximum limit of ammonia is exceeded. Therefore, a cool, well-ventilated DEF storage should be considered.
On the Water, Now
Bob Dorn owns and leases out three tugboats that collectively employ a total of eight, inline 8 GE engines. The Hatton Marine client was effusive in his praise of the GE brand, saying, "The more I dove into it, GEs were by far the best choice. When we were going through this process (Engine selection for his new builds) fuel was at four dollars a gallon, and the engines that I've operated for over 30 years burn about 5,000 gallons a day. I was hoping to burn 4,000 gallons a day with GE, and at 4 dollars a gallon I figured that's a great savings—we can save $4,000 a day. It turns out that instead of 4,000 gallons a day they were burning 2,700 gallons a day. That meant a savings of $10,000 dollars a day on fuel, and you have these vessels for 30 to 40 years that's an amazing savings over time."
Dorn touches upon one additional (perhaps unexpected) benefit of the GE engines. He explains, "The Coast Guard has done lots of studies on crew fatigue and one of the outcomes of that is a lower frequency sound is easier to live with so everybody loves working on a GE engine boat as opposed to high speed or two stroke engine vessels. I've been happy with the decision we made (GE engines) and the customers we have like them a great deal."
An extensive test cell at the Grove City plant verifies the performance and compliance of each engine, before it is shipped. In GE's locomotive sector, that engine performance is monitored in real time continuously and that same advantage is being developed and discussed for GE's marine engines, as well. At that point, the proven utility of this Tier 4 solution might be as common as the 850+ GE locomotive engines, from which this marine offering emanated. In the meantime, Tier 4 compliance just got a little easier; in the yard, on the water, and beyond.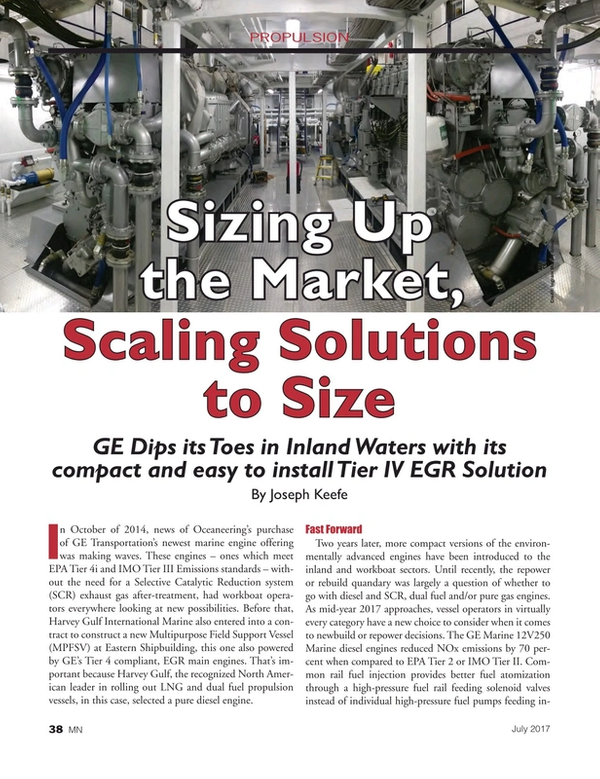 Read Sizing Up the Market, Scaling Solutions to Size in Pdf, Flash or Html5 edition of July 2017 Marine News
Other stories from July 2017 issue
Content