On Patrol with Cutting Edge Technology
By Joseph Keefe
Combat, patrol and first responder craft of all types are increasingly in need of state-of-the-art equipment to get the job done. That's where FLIR and Raymarine come in.
Raymarine products are known around the world for their rugged reliability and tactical advantage. From best-in-class sensors to integrated navigation displays, Raymarine systems enhance multi-agency interoperability for military, law enforcement and first responders. As a trusted supplier to myriad coastal and response vessels, Raymarine offers a comprehensive suite of professional tools. That mission is about to get bigger still.
In April of 2017, FLIR was awarded a $50 million contract from the U.S. Coast Guard for integrated navigation electronics under the U.S. Coast Guard's Scalable Integrated Navigation Systems 2 (SINS-2) program. As part of the contract, FLIR will provide electronics systems that will be a standard fit on over 2,000 U.S. Coast Guard vessels, ranging from small-class boats through large cutter-class vessels. The massive deal underscores the close collaboration between FLIR and its DHS customer, as well as the trust that the Coast Guard has in FLIR's hardware.
According to Joseph B. Abeyta, FLIR's Director of Business Development for First Responder Programs, the Coast Guard is still in the prototype phase. Abeyta, a retired U.S. Coast Guard LCDR, told MarineNews, "They have 51 vessel classes they have customized their systems to. The Coast Guard's strict prototype policy and process requires a 6-month prototype phase. They have currently completed prototyping on 6 classes with 2 classes being added monthly. Once a vessel class completes prototyping, the equipment lists are refined and full-scale production begins."
"Scalability is the key to the system. Whether it is a single eS 7 which is a small 7" display with just a transducer or a 5-display system on the National Security cutter, all of the components are interchangeable," James McGowan, Marketing Manager, Americas told MarineNews, adding, "This allows them to maintain a smaller inventory and maximize commonality across the fleet."
The contract involves a 5-year IDIQ contract with a 5-year renewal option. The Coast Guard hopes to have all vessels completed within the next four years. Additionally, as new vessel contracts are awarded OEM's will begin installing and ordering Coast Guard designated systems as well.
Long Trusted, Easily Integrated
As impressive as the current contract may look, this isn't this firm's first rodeo with the nation's fifth uniformed military service. One of the first contracts with the Coast Guard was for the Safeboats Over-the-Horizon (OTH) platform. SAFE Boats OTH platforms were fitted with a Furuno system along with a FLIR M618CS thermal camera. Abeyta expects that, over time, these boats will be upgraded to the new Raymarine system for consistency across the fleet. That's because interoperability with existing FLIR camera assets was a very important consideration when this new system was chosen. Abeyta explained, "Raymarine was the very first electronics manufacturer to integrate fully with FLIR thermal cameras, and support advanced capabilities including target tracking. Post-upgrade, these OTH vessels will have an even higher level of system integration and performance than they have now with their Furuno systems."
In fact, much of the Coast Guard's legacy equipment from other OEM's won't integrate, in part due to its collective age. FLIR camera systems, on the other hand, will integrate seamlessly. James McGowan says that this is one of the real strengths of his firm's offerings.
"FLIR Maritime thermal camera systems work with all the major manufacturers of small-boat multifunction displays including Raymarine, Furuno, Garmin, and Simrad," explained McGowan, adding quickly, "Even for large-ship applications, FLIR products use industry-standard interface protocols and signal formats making them widely compatible with many other types of shipboard and shoreside display systems and network infrastructure, too."
Encrypted, Protected and Next Generation Technology
Beyond the need for robust hulls and competent sailors to bring them out to sea, operators first need the ability to transmit data securely. To that end, and leveraging the same VHF frequency band as AIS, Raymarine's LightHouse OS is the first Commercially-Developed, Military-Qualified navigation system to send and receive data via encrypted SBU Type-III Tactical Data Exchange System (STEDS.) Designed specifically for the needs of the United States Coast Guard and first responders, SBU Type-III encryption-ready LightHouse software also supports secure text communication between agencies, enabling crews to send and receive short messages with tasking and status reports.
Abeyta describes the system like this: "Our LightHouse operating system for the Coast Guard is certified to Sensitive But Unclassified (SBU) Type III encryption requirements. This allows the 'good guys' to share information without fear of that data falling into the wrong hands."
The encrypted MFD and the network it participates on also ensures the accuracy and completeness of messages, tasking orders, and other missions. McGowan adds, "Consider a SAR pattern, which in the past would need to be manually plotted on a chart or entered into an electronic system. Not only was it time-consuming, but also the potential for data entry errors was very high. Our integrated, secure system allows a SAR pattern to arrive digitally without the need to manually copy it down or plot it out. It is essentially ready-to-use when it's 'beamed' aboard."
SAR Patterns, Automatic Generation & Display
Raymarine MFDs can generate electronic navigation-compatible search patterns that comply with the requirements of the International Maritime Search and Rescue Manual (IMSAR). These pre-programmed SAR (search and rescue) patterns aid rescue agencies by ensuring search accuracy and increasing the probability of detection.
When interfaced to a compatible eAIS transceiver, encrypted Raymarine multifunction navigation systems can display Blue Force AIS symbology, along with conventional AIS targets. Mariners see the optimal course for intercepting any AIS or Radar (MARPA/ARPA) target of interest with easy-to-understand graphics that automatically update as conditions change or targets attempt evasive maneuvers.
Municipal Customers and First Responders
Raymarine boasts that it has changed the landscape for the first responder. The proof behind that statement can be found in Raymarine's first responder interface kits that are sold over the counter and off the shelf with no price increase. Today, the first responder is getting Search and Rescue patterns and Target Intercept plotting with the COTS version offered by Raymarine. These are features unique to Raymarine. Currently, though, outside agencies are limited to just Search and Rescue patterns and target intercept. Eventually, and once the Coast Guard locks down the encrypted software features, other agencies will be able to order the systems with the Coast Guard specific software. Notably, that will add features such as encrypted vessel-to-vessel text messaging, encrypted vessel-to-vessel target intercept sharing and the ability to receive and send search patterns to and from command centers to the first responder's tool kit.
As more of these components become available on the open market to state and local agencies, FLIR and Raymarine will help to strengthen the interoperability of all first responders as they also satisfy the needs of their primary customer, the U.S. Coast Guard.
Safety: a Partnership with Customers
At its lowest common denominator, this type of equipment all comes down to safety. McGowan insists, "Our LightHouse operating system was designed with safety and situational awareness in mind. For example, the electronic charting system is customized to the class of vessel it is installed on. The system knows the navigational draft, air draft and beam of the ship or boat and uses the data embedded in the navigation chart to alert the crew in advance to potential hazards. This can be especially critical in a high-speed rescue, intercept or pursuit-type operation. An alert, warning or cue from the system can help to prevent grounding or collision."
Joseph B. Abeyta agrees. "Total system integration is really where we shine. Of course, the Raymarine and FLIR components work together seamlessly, but that it to be expected. The extra work we've put in to deliver the secure communications, SAR patterns, intercepts, and more really put us out in front." In the end, Raymarine and FLIR didn't arrive at this juncture alone.
McGowan sums it up nicely, saying, "We knew going into this that we would need to listen to the specific needs of our customers, and deliver a solution that was powerful, reliable and simple to use. It's not just delivering on a contract. There is also a very strong sense of partnership we've developed with our first responder customers that helps us to deliver the tools they want and need to accomplish their missions." Knowing that, I feel safer already.
(As published in the June 2018 edition of Marine News)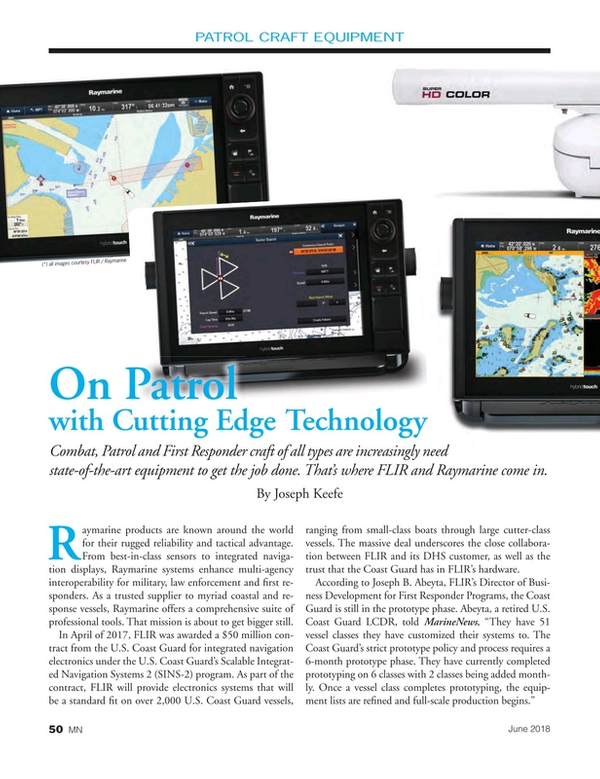 Read On Patrol with Cutting Edge Technology in Pdf, Flash or Html5 edition of June 2018 Marine News
Other stories from June 2018 issue
Content