[Op/Ed] The Gulf of Mexico: An Energy Platform for America
By Erik Milito
Even as business, schools and scenes from everyday life seem frozen as society adjusts to the coronavirus, the U.S. marches closer toward the November presidential election. In early August, Vice President Joe Biden announced Senator Kamala Harris as his running mate. As the Biden-Harris ticket works out their policy platforms, they should move beyond past comments attacking American offshore oil and gas production. In fact, a strong American offshore oil and gas industry is a platform every candidate should stand behind.
Between New Orleans and Houston, Interstate 10 winds through bayous, rivers, woodlands and plains. Thousands of companies and hundreds of thousands of people that call this area home are linked by a mutual mission: safely producing American offshore energy.
In 2019, the U.S. Gulf of Mexico produced an average 2.3 million barrels oil equivalent per day. More than 345,000 men and women employed by dozens of operators and producers and thousands of suppliers, service companies, specialists and other expert businesses worked in concert safely producing homegrown American energy.
The economic impact of Gulf of Mexico oil and gas production stretches beyond the Gulf Coast, too. From buoy specialists in Maine to personal protective equipment manufacturers in Minnesota to software companies in Florida to automation experts in Connecticut, every state has jobs and economic investments dependent on Gulf Coast energy production. The U.S. offshore industry had a more than $28.6 billion impact on U.S. GDP last year.
Gulf of Mexico oil and gas production not only drives economic growth, it supports the environment and strengthens our national security. Every barrel produced in the U.S. Gulf of Mexico, is a barrel that American consumers – and our allies – do not have to import from countries such as Russia and Venezuela.
Government revenues from our offshore oil production can be used to fund vital programs, including programs furthering environmental stewardship. In fact, virtually every single dollar of the $1 billion of funding for the Land & Water Conversation Fund last year came from offshore oil and gas revenues. President Trump recently signed into law the Great American Outdoors Act, which allocates funding from offshore oil and gas to much-needed maintenance of our nation's treasured national parks.
But this wellspring of energy, economic and national security is threatened through restrictive Federal policies.
During his debate with Senator Bernie Sanders, Vice President Biden said, "no offshore drilling." Previously, Senator Harris tweeted that "offshore drilling threatens the health and well-being of the American people." Vice President Biden and Senator Harris should resist the call from some more progressive circles to permanently halt Gulf of Mexico oil and gas exploration and production.
The Biden-Harris ticket places a great emphasis on environmental justice and growing attention will be placed on this important issue. Offshore energy development occurs far and away from population centers and eliminates the "not-my-back-yard" complaints, thereby also eliminating issues associated with environmental justice. Furthermore, the offshore oil and gas industry is an established part of the fabric of the Gulf Coast, providing employment and economic support for coastal and local communities through the region. Our companies and their employees are proud neighbors and greatly contribute to the support of the local education, healthcare and social needs of the local communities.
The benefits of continued production in the Gulf should be embraced. By 2040, the Gulf of Mexico energy industry could support 367,000 jobs, create $31.1 billion in annual gross domestic contributions, provide $30 billion in annual industry spending and generate $6.7 billion in annual government revenue. Conversely, an offshore leasing ban would reduce the economic and employment outlook by 50% to 60%, while a drilling ban would cut them by 75% to 85%.
Development of the Gulf of Mexico has led to the creation of world-class infrastructure and some of the most robust environmental and safety regulations and standards in the world. Companies want to keep working in the Gulf of Mexico. Since 2014, the region has trailed only Guyana as being the most productive prospective offshore region.
Continued investment translates to continued American energy, continued high-paying jobs, and continued national security. The Gulf of Mexico can remain a prolific basin for decades to come and continue to be an energy and economic driver. America's future can remain bright due to the ingenuity and dedication to safety of the men and women of the offshore energy industry. Success for the Gulf means success for America.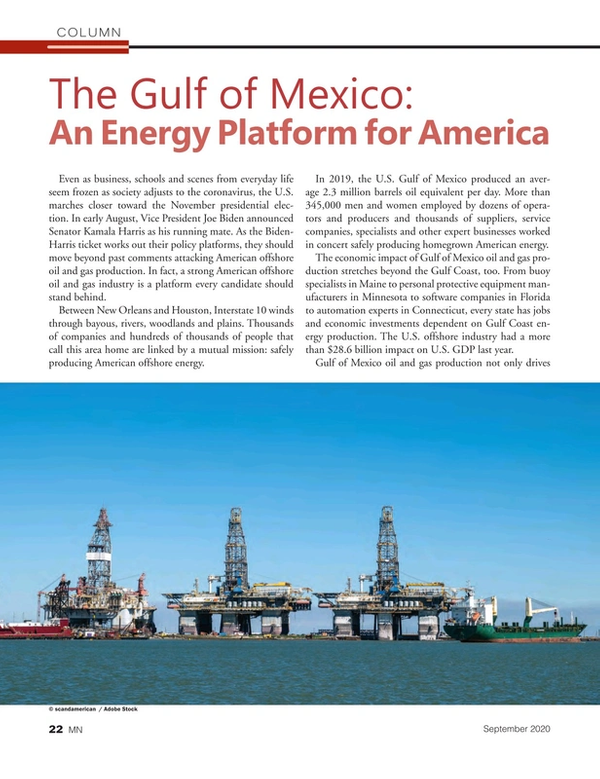 Read [Op/Ed] The Gulf of Mexico: An Energy Platform for America in Pdf, Flash or Html5 edition of September 2020 Marine News
Other stories from September 2020 issue
Content