Interview: Mike Fitzpatrick, Robert Allan Ltd.
By Eric Haun
Robert Allan Ltd. is a consulting naval architectural firm, established in Vancouver, Canada in 1930. Mike Fitzpatrick has been a driving force in the company's growth since joining the firm in 2003. As a key member of the initial employee ownership group, he was named president and CEO in 2015, responsible for corporate direction, business development, management of senior project managers, and project priorities, schedules and profitability. Fitzpatrick is a 1995 graduate of the University of New South Wales in Australia, with a Bachelor of Engineering in naval architecture. Prior to joining RAL, he worked as a naval architect at InCat Designs in Sydney Australia.
As tug designs continue to evolve, what are some of the key ways that Robert Allan Ltd. is helping to make these vessels safer, greener and more cost efficient?
Robert Allan Ltd. has made a considerable investment in the development of some very sophisticated design tools – in particular computational fluid dynamics (CFD) and finite element analysis (FEA). CFD allows us to accurately predict the characteristics of a vessel in ways that are not possible with conventional empirical methods. CFD also help us design hull shapes that are more efficient and therefore have better fuel economy. FEA allows us to calculate the stress in high load areas, making them stronger without excess weight. We also work closely equipment manufacturers to integrate the latest in new technologies into our designs, enabling customers to be assured that their vessels are utilizing the latest in technologies and fully meet all their expected performance requirements.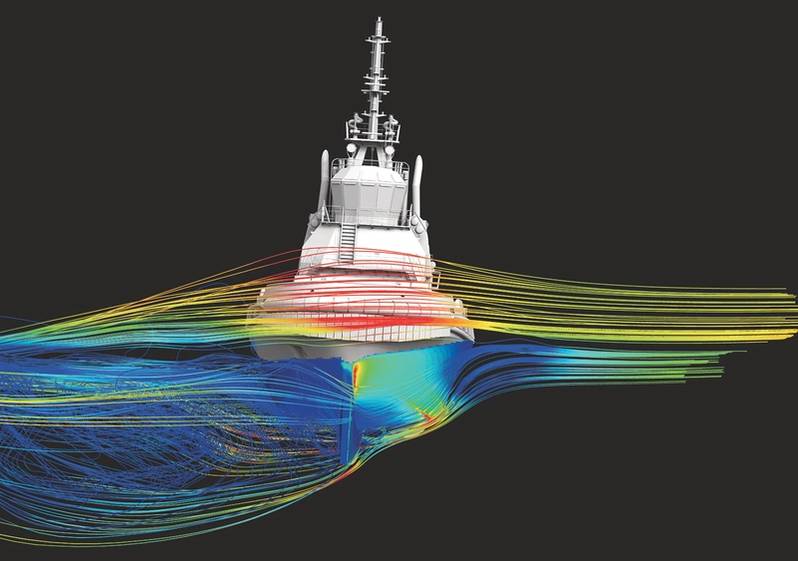 Robert Allan Ltd. has made considerable investments in CFD, significantly enhancing the firm's design capabilities. (Image: Robert Allan Ltd.)
How do you see the future for remotely operated, automated and autonomous workboats? Please describe Robert Allan Ltd.'s efforts and goals on this front.
We expect to see interest in remotely operated workboats increase for hazardous applications like firefighting and for tug applications that involve higher levels of risk to crews today. This includes bow tug operations with ships moving at speeds over 5 knots, and tanker hold-back operations which can be very demanding on crews in uncomfortable sea conditions for hours on end. With more specialist vendors of control and communication systems for work boats having entered the market over the last few years, there are more options than there once was for our clients who may have their own supplier preferences or working relationships for these crucial systems. As naval architects, we can focus on system integration and designing the best possible physical workboat platform, taking full advantage of the space that becomes available from not having crew on board. We are taking the opportunity rethink arrangements for equipment and propulsion to improve performance and reduce size. We believe that the best way to capitalize on the potential advantages of remote operation is to tailor a workboat design as closely as possible to suit the client's mission and business goals. In other words, the design should be mission-driven, not generic. This is second nature for us since we have a history of customizing our workboat designs to suit our clients, so we are simply carrying this approach forward with our uncrewed designs, but can now do so to an even greater extent.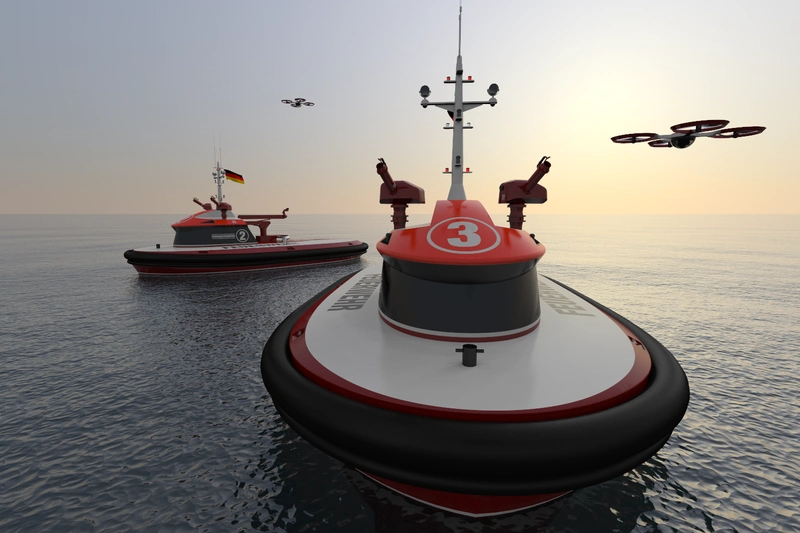 RAL's crewless RAmora concept (Image: Robert Allan Ltd.)
Robert Allan Ltd. has been involved in several LNG and hybrid tug and towboat projects globally. From your perspective, why has the uptake of these technologies been slower in North America compared to other regions? Do you see a shift happening in North America?
It's worth making the distinction between LNG tugs and hybrid tugs in answering this question because the drivers are slightly different. When it comes to LNG as fuel, Europe and Norway took an early lead because of the NOx tax imposed in 2008 and initiatives like the Norwegian NOx Fund to support low NOx solutions like LNG as fuel. This was not the case in the U.S. at the time. Although LNG was attractive as a lower cost fuel than diesel, with tugs the business case for choosing LNG was not always clear due to high capital cost premium for LNG systems unless the annual fuel consumption was exceptionally high. The relatively large space required to accommodate cryogenic storage tanks can also work against LNG where a highly compact tug is called for. While the uptake of LNG in North America has been slower that other regions, the adoption of LNG as fuel on workboats has also been slower than expected globally. There are probably two main reasons. A few years ago, LNG was one of the few options to meet the stringent IMO Tier III NOx emissions limits in emissions in Emission Control Areas (ECAs), however engine manufactures now offer SCR-based solutions for conventional diesel engine that can work out to be more economical and space efficient. The lower price of oil has also reduced the economic case for turning to LNG solely as a means to reduce cost. That said, LNG remains attractive as a relatively inexpensive, clean-burning fuel and we expect to continue designing LNG tugs, especially for ports and terminals where LNG is readily available.
When it comes to hybrid powering systems on tugs and workboats, the capital cost premium is also such that the business case tends to depend on incentives like those behind the first North American hybrid tug, the Robert Allan Ltd.-designed Carolyn Dorothy in 2009, where funding from government and port sources was available to reduce fuel consumption and emissions. Today, in a more general sense, we expect to see hybrid tugs playing a role wherever a high value is placed on reducing environmental footprint in a local context. One recent example is the Swedish Port of Luleå for whom we designed the new 36-meter icebreaking Vilja tug. Of course, environmental footprint may also take into account underwater radiated noise URN) and its effects on marine life. Hybrids with batteries allow quiet running on batteries alone, at least for some period of time during operations in environmentally sensitive areas. We are already working on low carbon designs of battery electric tugs and pilot boats for operations where shore charging from renewables is possible. It is difficult to predict the number of hybrid tugs for the North American market, or any other market for the time being, since the demand is not driven by economics alone, but by the value placed on reducing environmental footprint by a given operator, port or government and the incentives or regulations that prevail locally.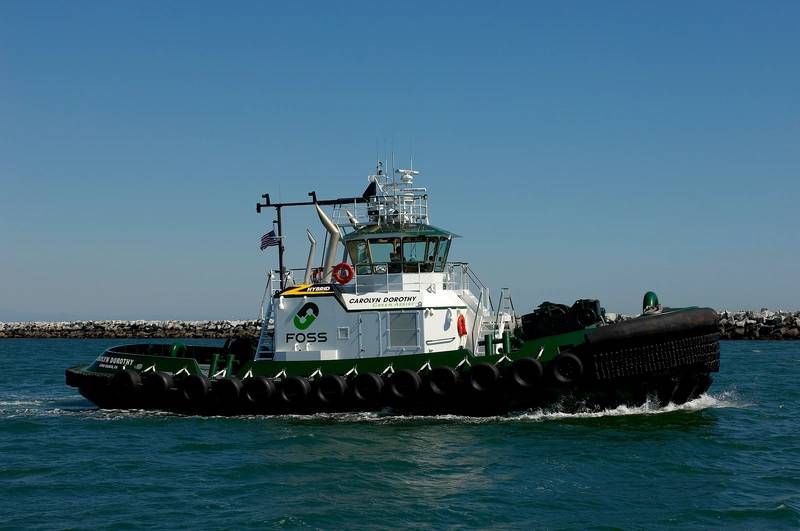 The first North American hybrid tug, the Robert Allan Ltd.-designed Carolyn Dorothy (Photo: Robert Allan Ltd.)

What is your top goal as president and CEO, and what is being done to help achieve it?
My primary goal as president and CEO of Robert Allan Ltd. is to preside over our 100th anniversary party in 2030. Not as president anymore because I will certainly have handed over the reins to the next generation by then if I have done my job properly. The 10 shareholder employees that bought the company from [chairman Robert G. "Rob" Allan] in 2008 consider ourselves to be the fourth generation in the Robert Allan Ltd. storyline even if we don't share the same bloodlines as Rob, his father and grandfather. We have hopefully put the company on a path to maintain independent internal ownership for several more generations to come. A fifth generation of employee ownership is now already well established at Robert Allan Ltd., and I am highly confident that they will take the company onwards and upwards long after I have stepped aside.
What do you count as your top challenge, and what is being done to address it?
The top challenge I face really depends on which day of the week it is because it is an ever-changing landscape. Keeping our employees engaged and rewarded in a competitive international business environment is near the top of my list most days, but so is strategic planning to maintain our position as the leading international designer of small commercial workboats. Solving the latter of these challenges generally also takes care of the former. Staying at the forefront of our market segment requires continuous improvement so we invest heavily in our internal processes, R&D and the tools needed to support this improvement. There aren't many naval architecture firms specializing in relatively small workboats that can afford to invest in valuable infrastructure like a million-dollar CFD like we have done, so we leverage this advanced analytical capability to maintain our current strong position.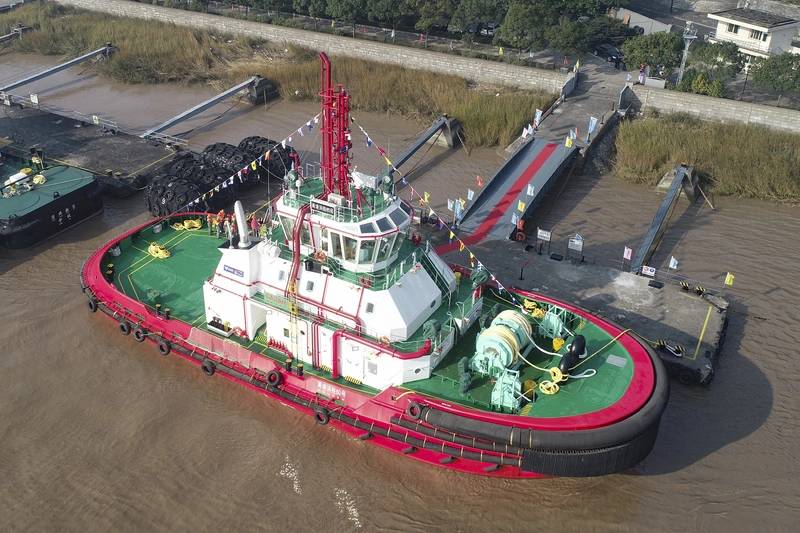 "The RAstar 3800-DF delivered to the Port of Ningbo in China is probably the most representative of our status as one of the leading innovators in the tug design world. That the tug was built in China for a Chinese operator is a testament to the value that we provide our clients." - Mike Fitzpatrick (Photo: Robert Allan Ltd.)

How has the coronavirus pandemic materially impacted your business to date?
The coronavirus pandemic has surprisingly not had a significant material impact on our business so far. We had a couple of projects canceled in the initial few weeks when the uncertainty levels were high but have since settled into a nearly normal workload. We consider ourselves to be very lucky that our profession lends itself well to a remote working environment. Even before the current crisis, we already had a number of employees scattered about the globe working remotely, so we already had the computer infrastructure in place to allow all of our employees to work efficiently in a remote environment. Incredibly, all of our good shipyard clients around the world have found ways to continue production safely and efficiently in the midst of this pandemic.
Please describe how you came to a career in the maritime industry. When did you first know you wanted to become a naval architect?
I studied aeronautical engineering in Canada when I finished high school in the early '80s but a passion for sailing and travelling got in the way of my studies after the first year and led me astray for most of a decade. I went back to university to study naval architecture in Australia in my late 20s. That first engineering calculus course after 10 years out of school almost ended my academic comeback but I managed to struggle through somehow. Life is (hopefully) full of impactful moments where you can choose one path versus another, and so I am grateful that my younger self managed to stick it out as a mature student.
What advice would you give a young naval architect just entering the industry?
I think working in a design office is an excellent professional environment but it is good to get some shipyard experience first if you can. It's hard to grasp the implications of a poor structural detail you've drawn up on a computer if you don't have a production team next door threatening to make you weld it up yourself. Rule number one for a professional engineer is to never pretend to know more than you actually do.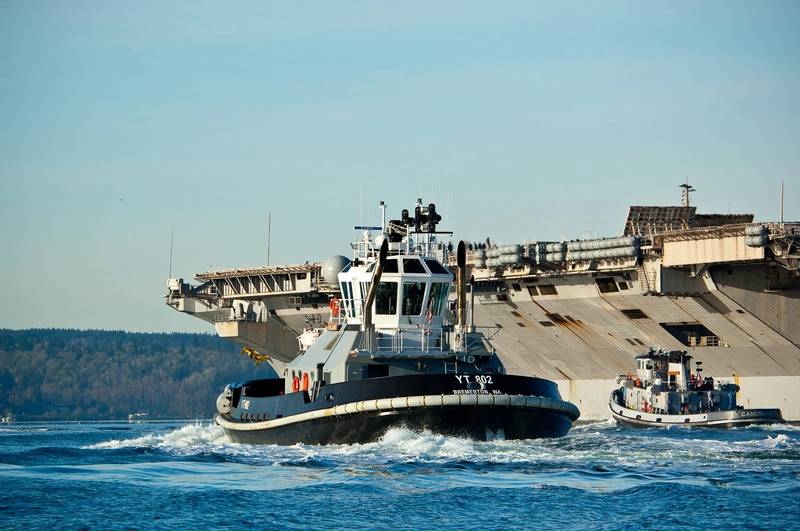 (Photo: Robert Allan Ltd.)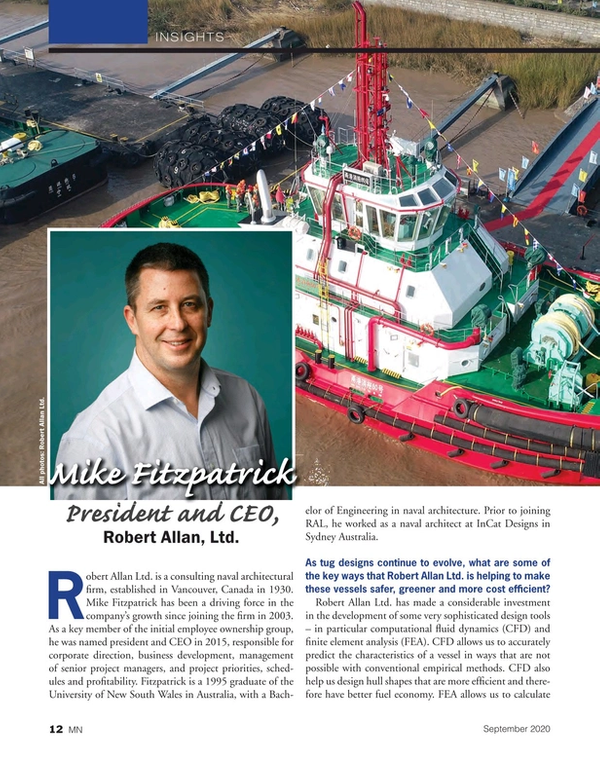 Read Interview: Mike Fitzpatrick, Robert Allan Ltd. in Pdf, Flash or Html5 edition of September 2020 Marine News
Other stories from September 2020 issue
Content