Opportunities Gust Off US Shores
By Barry Parker
Throughout the world, offshore wind is on a growth trajectory. With green energy mandates from states in New England and the mid-Atlantic, the U.S. is joining the fray. Consultants Wood MacKenzie, in its U.S. Offshore Wind Outlook 2020-2029, suggested that as much as 25 gigawatts (GW) of capacity could be deployed in the U.S. by 2030 (though estimates range from 14 GW to as much as 34 GW), accounting for a hefty portion of incremental capacity coming online.
Shipyards in New England have already seen the tip of the offshore wind iceberg, with Blount Boats and Senesco having delivered crew transport vessels. The potential is exciting. On a Marine Money webinar in early July, lawyer Charlie Papavizas, from Winston & Strawn, waxed very positive about the prospects for offshore wind, saying, "The major issues are regulatory…how fast that the [projects] could be permitted by the U.S. government as they are all in Federal waters." He added, "It's a tremendous opportunity for the vessel industry . . . a lot of Jones Act vessels will be built." He cited crew transfer vessels, costing at the lower end between $5 million and $10 million, as being "perfect for the smaller yards in the United States." In discussing the more sophisticated special operation vessels (SOV) with "walk to work" capabilities, he pointed to price tags between $50 million and $100 million.
Peter Duclos, president at the Gladding Hearn shipyard, in Somerset, Mass., best known for pilot boats and for passenger ferries, told Marine News, "We've been actively pursuing the windfarm sector, going back more than 12 years since the Cape Wind project. We are closely watching the Vineyard Wind developments. We've responded to many Requests for Information from potential vessel operators, and we've made numerous proposals."
Duclos explained that his yard's "sweet spot" would include CTVs (compliant with right whale speed restrictions) in sizes of 20 to 35 meters, as well as "SATVs"- a hybrid smaller walk-to-work SOV with crew transport and live aboard capabilities. Cape Wind was a project that was abandoned in the face of fierce local opposition; Vineyard Wind is a project now in the final stages of environmental reviews.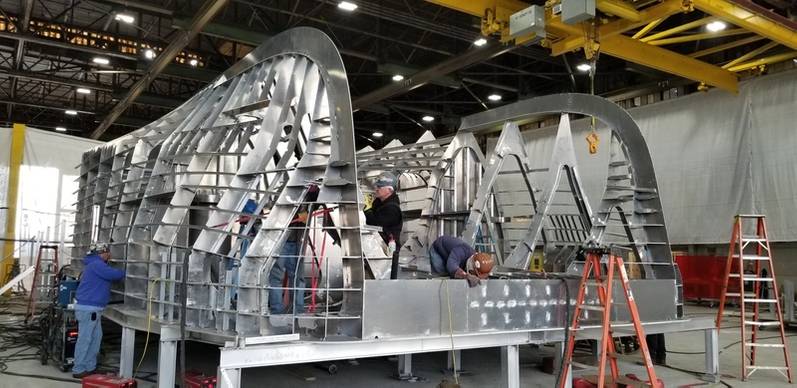 To serve the offshore wind vessel market, Senesco acquired the capability to build with aluminum. It is building a CTV for sister-company WindServe Marine, which has the contract to operate the vessel for Ørsted (Photo: Senesco)
For marine and other businesses in the ports along the New England and mid-Atlantic states (many of which have seen reduced business due to 2020's economic pullback), this newly emerging market sector has the potential to provide a broad spectrum of new opportunities. In a different study by Woodmac (part of an effort commissioned jointly by a handful of trade associations), the analysts look for 25 GW of U.S. offshore turbine capacity by 2030 tied to anticipated auctions by the Bureau of Ocean Energy Management (BOEM).
Very traditional maritime businesses will of course benefit from offshore wind activity, but the subsequent operation will benefit other entities, notably on the manufacturing and construction sides of the business. Joe Martens, Director, New York Offshore Wind Alliance (one of the sponsors of the latest Woodmac study), said, "This study documents the enormous near- and mid-term economic benefits that offshore wind energy can provide: more than $1 billion in revenue to the federal treasury, tens of thousands of jobs and billions in investments in ports, vessels and other infrastructure, at a time when the nation needs it the most. It's time for the federal government to act with the same urgency as the states."
According to another study sponsor, the American Wind Energy Association (AWEA), citing results of the jointly funded analysis, "Total investment in the U.S. offshore wind industry will be $17 billion by 2025, $108 billion by 2030 and $166 billion by 2035. From 2022 to 2035, capital investment of $42 billion will go to turbine manufacturers and the supply chain, $107 billion will go to the construction industry, and $8 billion will go to the transportation industry and ports. Annual capital investment for O&M activities will increase to $2.4 billion in 2035." The study looked at the New York Bight, coastal Maine, coastal Carolina, and coastal California.
The involvement of governmental policy and economic development agencies will also drive the flow of electricity, but also the flows of money. "Local content" is a consideration where the individual states are heavily involved in the procurement of power.
Consider New York, which, in July, issued a tender for purchasing power tied to an April solicitation for between 1 GW and 2.5 GW of power. Included in the solicitation was a financial incentives program, for up to $200 million (in debt, and in actual grants) that would help fund infrastructure investment in 10 ports. New York's planners note, "The prioritization of staging and/or manufacturing port utilization necessitates active coordination between projects and eligible ports in order to create real, persistent and sustainable institutional and labor capabilities in New York State, thereby creating long-term economic opportunities and helping to lower the cost of future offshore wind projects."
---
---
The spirit and legal language of local content looms large all along the coast, as offshore wind ramps up. In New Jersey, the state will be investing $300 million to $400 million in the New Jersey Wind Port (on the eastern shore of the Delaware River), a project with a 2026 completion date. It aims to support $500 million of annual economic activity, with 1,500 permanent jobs.
Further south, the developers of Marwind, an inchoate wind project offshore Ocean City, Md. (which recently saw an equity investment from private equity giant Apollo Global Management), will be required to invest $110 million into a steel fabrication facility and port upgrades at the Tradepoint Atlantic shipyard. The yard, formerly known as Sparrows Point, was, at one time, a leading builder and repair facility for deepsea vessels owned by Bethlehem Steel.
Later this year, in a pilot project Ørsted and Dominion energy will be generating power from two turbines offshore Virginia Beach (a precursor to a much larger 2.6 GW project). Virginia's Department of Mines, Minerals and Energy (DMME) had launched a Port Readiness Study in 2015, with the Commonwealth hoping to serve projects throughout the mid-Atlantic.
For now, the turbine installation vessels, with capabilities to lift up to 1,500 tons, are not Jones Act compliant; foreign flagged vessels are used. Another trade group the AWEA was active in removing "Jones Act waiver" language from a House version of the National Defense Authorization Act (which covers the U.S. Coast Guard) that would have slowed down contracting of the foreign flagged, non-Jones-Act-compliant installation vessels slated to work in U.S. waters. AWEA urged Congress not to move in the direction of such rules (since there are no Jones Act compliant installation vessels, which "take years to manufacture and cost hundreds of millions of dollars"), saying, "Offshore wind will mean business for U.S. mariners and vessels—at least 18 different kinds of vessels are needed to construct and maintain an offshore wind farm, and U.S.-flagged vessels are available for the vast majority. Tugs, barges, crew transfer vessels, feeder barges and more are all abundant U.S. ships that offshore wind will put to work."
Rules on Jones Act matters (for offshore oil and gas, and now offshore wind) continue to be a muddy area. Papavizas, who heads Winston & Strawn maritime practice, wrote, regarding a mid-July ruling by Customs & Border Protection (that was subsequently withdrawn, illustrative of the confusion), "In the ruling, CBP confirmed the well-understood maxim that a foreign installation vessel can install wind tower components so long as the vessel is stationary and does not 'transport' components but is provided those components from shore via Jones Act qualified 'feeder' vessels."
As offshore wind advances in the U.S., a long history of offshore oil and gas will provide a guide path. Just as drilling rigs moved from fixed positioning (jack-ups) to floating (drillships and platforms), so too will offshore wind turbines. At a media briefing held in conjunction with the Business Network for Offshore Wind's International Partnering Forum, Liz Burdock, the group's president, said, "Where we see an opportunity is in the floating technology space…". Noting her Network's mission of tying together disparate players, Burdock added, "It's also a great technology that can incorporate our oil and gas supply chain…that helps [offshore oil and gas participants] move into offshore wind."
There are other business angles. In early August, a NYSE-listed shipping company closely followed by the U.S. investment community, Scorpio Bulkers, recently announced that it would be pivoting toward investment in multiple offshore wind turbine installation vessels, to be built in South Korea, with prices of circa $265 million to $290 million each. A sister company in the Scorpio Group has already had a foray into oil service vessels.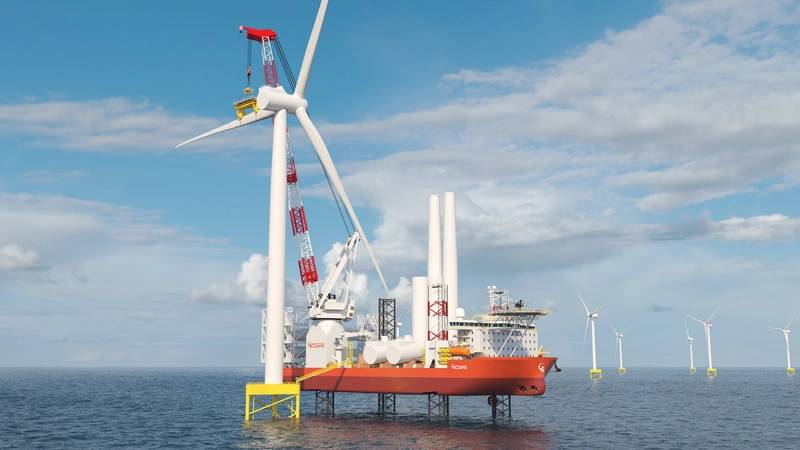 Dry bulk shipowner Scorpio Bulkers recently signed a letter of intent to purchase a newbuild wind turbine installation vessel (WTIV) as a "first step in a transition towards a sustainable business in renewable energy". Scorpio said it expects to sign a $265-$290 million shipbuilding contract with South Korea's Daewoo Shipbuilding and Marine Engineering (DSME) in the fourth quarter of 2020. The deal would include options for up to three additional vessels. (Image: Scorpio Bulkers)
At this time, the big installation vessels will come from elsewhere; but crew transport vessels are already here and service vessels are looming on the horizon. At end 2019, the American Bureau of Shipping (ABS) granted an approval in principle (AIP) for a Vard-designed SOV that could be built in the U.S., with a another AIP for a second SOV design announced in early August. Darren Truelock, Vice President, Vard Marine Houston, said, in a Vard release, "The U.S. market seems to be moving quickly starting on the East Coast, so a purpose-built U.S. offshore wind Jones Act fleet is inevitable."
Marine News asked Gladding Hearn's Duclos for his views on likely operators of such vessels, and he suggested that "We have spent a lot of time gaining an understanding of who the 'right' customers are. The logical operators are folks already in the Jones Act business. They could be tugboat owners and passenger vessel operators, but certainly they could also be folks who are operating OSVs in the oil patch."
Data from Clarksons Platou Renewables, included in Scorpio Bulker's offshore wind announcement, suggests that the number of turbines installed in coastal waters around the world will double from around 7,200 presently, to more than 15,000 in 2025 and 27,000 in 2030. Presumably, a healthy portion of these will be sited in U.S. waters, and serviced by U.S. built vessels.
Duclos offered a big picture view: "The U.S. maritime industry is ready to respond. We have the capabilities . . . look what we can do . . . just look out the window in New Bedford, or in the U.S. Gulf." On timing, he suggested, "It may take a year until we see an operator come in. Somebody needs to get out in front; it may be a speculative order, but it will come with a very big payoff."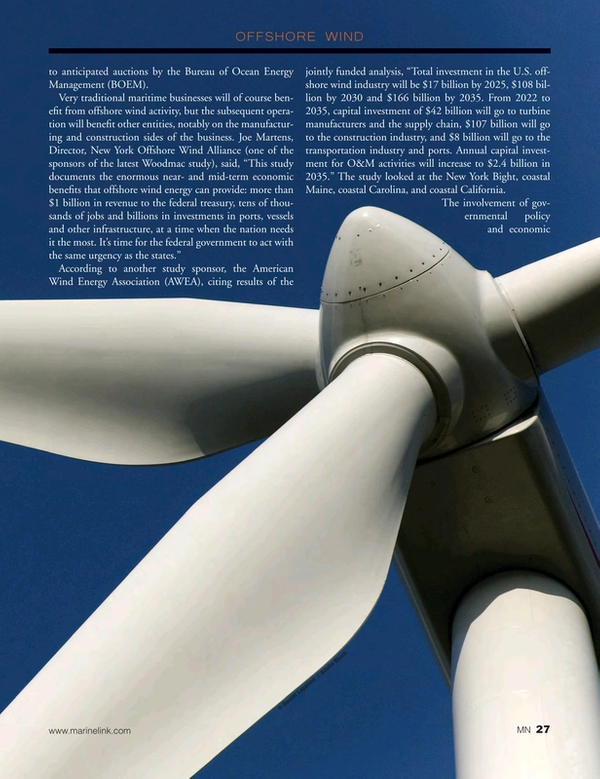 Read Opportunities Gust Off US Shores in Pdf, Flash or Html5 edition of September 2020 Marine News
Other stories from September 2020 issue
Content