MarPro Profile: Frances L. Keeler
By Joseph Keefe
Frances Keeler, Senior Counsel, Clyde & Co US LLP, might not necessarily be your typical 'maritime professional' but what she does on a daily basis is no less important to the waterfront – and the environment – than, for example, anything the builder of the best designed vessel in service today can put together. That's because Keeler represents clients before various regulatory entities including the US EPA, California Air Resources Board and the local air pollution agencies on rule development, compliance issues, state and federal Clean Air Acts; district, state and federal regulatory development; Title V and equipment permitting, credit trading, global climate change.
As a member of her firm's criminal environmental defense team, you may also someday (but hopefully not) find that Frances is the best friend you've got. As the South Coast Air Quality Management District's Senior Deputy District Counsel from 1998 to 2006, she advised the District Governing Board, staff and advisory committees on legal authority and obligations under all applicable laws including the state and federal Clean Air Acts, California Environmental Quality Act, Torts Claims Act, Brown Act, regulatory development, conflicts and contracts law. As she worked her way up the ladder, there was little she didn't take on when it comes to protecting the environment, defining the law and ensuring compliance. All of that, and more, comes in quite handy in private practice, especially when it comes to guiding her many maritime clients.
In the beginning, Keeler earned her Bachelor of Arts in Chemistry before attending Western State University's College of Law where she earned a Juris Doctor in August 1987. And if all of that seems like it's a long way from the waterfront, then you are probably right. But, as the regulatory noose tightens around the collective maritime industry, stakeholders not only find themselves trying to play catch up with myriad equipment installations designed to ensure environmental compliance, but also scratching their heads as they navigate the legal aspect of the compliance game. And, that's where Frances comes in.
Early Decisions, Changing Course
An undergraduate degree in Chemistry doesn't necessarily translate into a career in law, or for that matter, the hint of a right turn towards the water. But, in Keeler's case, that's exactly what happened. She told MarPro in February, "Growing up I always wanted to be a doctor, and never thought I would become an attorney. During college, I volunteered for five years with the Red Cross in hospitals on air bases, either in the emergency room or laboratory and participated in the professional internship program during high school conducting research in radioisotope labeling of tumors. I had some doubts at the wrong time as to whether I could cause pain to people in order to help them. When I graduated, I began working at the air district. I felt the need to continue my education and at the suggestion of several different colleagues and former professors, I applied to law school two weeks before the semester started. I had not even taken the LSAT at the time."
Frances moved a lot during her formative years. With her father in the U.S. Air Force, she actually attended 13 different schools before graduating from high school. And, while some might have viewed this nomad, start-and-stop lifestyle as a negative, for Keeler, it was anything but. "What I learned was to be quiet and listen. I was lucky enough to have a lot of great teachers wherever we lived, and was able to get a lot of different advice and then choose what was best for me."
Not necessarily someone who would ask for help along the way, Keeler characterizes herself as very independent. Nevertheless, there was help and wisdom to be gleaned from others along the way. "The term 'mentor' was always a bit foreign to me. I never really have sought out advice, but again studied other people very carefully. That said; there were a few people who I really admired and helped shape who I am. If I had to pick one I would say Edward Camarena, who was my boss early in my career and was the Deputy Executive Officer for Engineering, Compliance and Source Testing at the air district. He was always very calm, thoughtful and fair. He put the needs and the mission of the agency above any personal ambition, though his career is quite impressive. I often ask myself when preparing a case, 'What would Mr. Camarena want to know?'"
For Keeler, her years as a regulator have proven invaluable. She explains, "I started as a field inspector at the South Coast Air Quality Management District. I went to every kind of land based industry imaginable. Combined with my technical degree, that allowed me to get a solid understanding of a large variety of industrial processes and pollution controls. I went to law school part-time at night and then transferred to the legal division helping to draft and interpret rules and regulations. Not only does all of this education and experience help me to understand the agency perspective, it puts me in a better position to determine whether there is a problem and to help find a solution that everyone can buy into."
Keeler continues, "Actually, what I am most proud of in my career is helping to greatly improve the air quality in the greater Los Angeles area and reducing the health impacts air pollution causes to millions of California residents. When I first came to Southern California, I didn't know there were mountains in our backyard. Today I can look out the window and see the beautiful snow-covered peaks; the result of all our collective (agency, industry and community) hard work."
Beyond that, Keeler is a puzzle-solver. She enjoys helping clients find the best solution to their issues and working with regulators to find an amicable solution. She adds, "While I do litigate and find that sometimes it is the only solution, I don't necessarily believe that litigation is the best way to resolve an issue." That might just be music to the ears of today maritime shipping executives.
On the Waterfront
In California, where it seems most everything is regulated, Frances told MarPro that the most difficult issues typically involve blue water shipping engaged in international trade. Along the way, Keeler has seen it all, from both sides of the equation. She applies that knowledge and experience every day to the task(s) at hand, saying, "I think the biggest environmental challenge, not just for the commercial waterfront, is addressing so many different issues all at once and doing everything well. Water, air, waste, hazardous materials, and many other media need to be tackled. I was shocked [when I left the air agency and came into private practice] at just how many regulations affect any given industry. And, so many of them are very complex. It takes a lot of time and training to have successful environmental programs, and it takes constant attention."
Keeler is only too aware as to the enormous regulatory pressure being exerted on the maritime cluster at this time. That said; she doesn't necessarily think that the waterfront is being unfairly targeted. She explains, "Land-based industries have been regulated for many years. When an agency looks at reducing pollution, for instance air pollution, they first look at who is contributing to the issue and by how much. In years past, marine vessels were contributing to a smaller portion of the total volume of air pollution. As land-based industries continue to be regulated, their portion of the pollution is reduced and the relative contribution of mobile sources, such as marine vessels, becomes larger. I am not sure there is an issue with the industry not being proactive; we see a lot of companies pushing to become greener and looking for new technologies to help reduce environmental impacts. I think it is just that it took longer for everyone, including regulators, to focus on the industry."
Today, whether it involves a maritime or stationary source, the bulk of Keeler's practice is rooted in environmental and/or regulatory compliance, permitting, analysis (such as CEQA), rule development advice, and when necessary, litigation. Whether on the dock, aboard ship or in the courtroom, Keeler approaches all of it in the same fashion. "I am fortunate enough to work with a lot of intelligent, nice, committed and interesting people from all over the world. I am fascinated by their stories. The people are all great and believe in protecting our environment, whether maritime or land based. The only difference is the applicable regulations."
Mentoring and Collaborating: finding common ground
When she's not solving a thorny environmental issue or defending her clients in court, Frances Keeler somehow finds time to join and actively participate in a raft of maritime, educational, ports and harbors organizations. Among these organizations, she notably serves as President of the Board of FuturePorts, as Secretary/Treasurer of the Board of the Harbor Association of Industry and Commerce; a Board Member of the International Trade Education Program; and is a member of the Propeller Club of Los Angeles-Long Beach.
She finds great satisfaction in them all, explaining, "I believe that educating the next generation is key to maintaining and improving our way of life. Equally important is for industry, regulators, community and environmental organizations to keep an open dialogue. There is a lot of common ground that actually is shared among all, but is obfuscated because of misunderstanding and misinformation. Whatever small role I may have in keeping our global supply chain strong or economy healthy and improving our environment, I am happy to contribute."
One such place where her influence is especially helpful is at California Maritime Academy (CMA). Serving on the California Maritime Academy Foundation Board, Keeler supports the goals of the University, but her participation doesn't end there. She told MarPro in February, "I try to participate in various activities at the University so that I better understand the culture and educational program and therefore its needs. When I am on campus, I will randomly approach cadets and start a conversation. I am always impressed at how poised, eloquent and open they are."
Like CMA, all of the maritime academies are addressing diversity in terms of recruiting a wider variety of students. Keeler approaches that issue thoughtfully, saying, "A big part of the solution is just awareness. As a young woman in the seventies, I drove past the Academy hundreds of times on the freeway and did not know it was there. I knew nothing of merchant mariners. Getting out to the community, to high schools and letting students know that there are so many opportunities for them in the commercial waterfront and global supply chain will go a long way in influencing career and higher educational choices."
And, of course, like so many of her colleagues, Keeler is an active member of Women's International Shipping & Trading Association (WISTA), a networking organization for women at management level in the maritime industry. WISTA gives women in the maritime industry a place to network, a source for mentors and advice, and a voice in the industry. For Keeler, also a WISTA board member, the organization and affiliation means so much more. "I love being able to spend time with intelligent, accomplished women. I am always so impressed and humbled to see women, like my fellow board members, out there contributing and positively influencing the industry while at the same time helping other women advance. I am fortunate enough to be a part of this formidable force of change. I can't wait to see what happens to the face of the industry in the next ten years," she says, adding, "And besides, they laugh at my jokes!"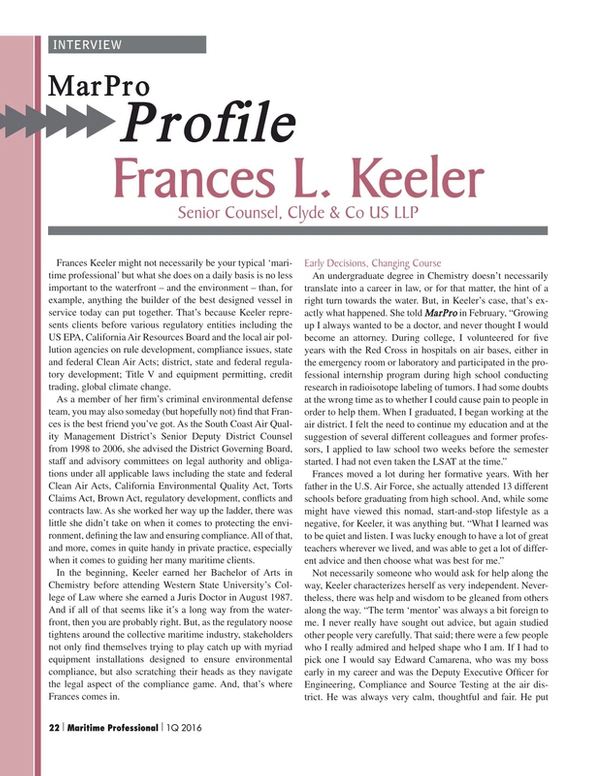 Read MarPro Profile: Frances L. Keeler in Pdf, Flash or Html5 edition of Q1 2016 Maritime Logistics Professional
Other stories from Q1 2016 issue
Content