Simulating the Next Big Thing
By Joseph Keefe
As simulation technology evolves, the methods and techniques used to train today's mariners are also changing.
A growing list of regulatory training and competency requirements is further complicating the already crowded 'to do' list for today's mariners and tomorrow's future professionals alike. That's not going to change any time soon. What is changing, however, is the way in which maritime training institutions utilize the latest in cutting edge simulation technologies. New equipment, promising previously unheard of bells and whistles, all interconnected, are making maritime simulation more realistic. A look into the world of maritime simulation tells us how and why.
Kongsberg & CMS
The Center for Marine Simulation (CMS) at the Marine Institute of Memorial University in New Foundland, Canada CMS was conceived in 1991 as a simulation facility to carry out specific industry training and industrial projects designed to reduce risk in offshore operations. The school has been using Kongsberg Equipment for over 20 years. Captain Christopher Hearn, CMS Director explains, "After the tragedy of the loss of the Semi-Submersible Ocean Ranger in the early 1980's, the inquiry into the loss of the rig and its entire crew highlighted the need for more realistic and advanced training platforms and technology. The offshore industry and public entities invested in a facility that could create realistic operating conditions that reflected harsh environments like the Grand Banks." That investment, begun in 1994, now includes over Kongsberg 24 simulators, through which the school develops its own ship models, geographic databases, and undertakes applied research.
Kongsberg Vice President Clayton Burry says that CMS equipment represents the latest and most sophisticated simulators available today. "They have a full range of Kongsberg simulators, including among others: a DNV-GL Class A K-Sim Polaris Bridge on a 6-degree-of-freedom motion base, four part-task ship bridge simulators and a tug bridge, DP training center with both SDP and K-Pos systems, an ECDIS lab, a 2-DOF full mission ballast control simulator and related desktop lab; a full mission K-Sim engine room simulator and desktop lab, and most recently, a new DNV-GL Class A K-Sim Navigation / Offshore simulator sitting on top of an 8,000 kg motion base."
For CMS, Kongsberg K-Sim technology is especially important. Hearn explains, "Kongsberg has spent several years developing a new simulation technology (K-SIM) with a highly advanced physics engine that could simulate the forces and actions typical of an offshore operation. The new simulator is mounted on a 6 degree motion base that allows for highly realistic movement similar to what these types of ships experience in a seaway. The New simulator is fitted with a Kongsberg KPOS DP system allowing us to carry out Dynamic Positioning (DP) training and operations similar to what people would actually be involved with."
In the changing world of DP, CMS is clearly not satisfied to be just a training school – rather, Hearn and CMS look to set the standards. "Looking ahead to the future CMS is in discussion with its clients to examine the establishment of a specific offshore Newfoundland DP training scheme through adoption of the DNV DP training standards," said Hearn, adding, "Under this process CMS would develop its own DP scheme that would be audited and approved through DNV. This would increase the flexibility of services for its client base in terms of the type of DP training they are looking for."
Simulation is only one part of the equation. Ultimately, mariners training on one system need to be able to operate the same equipment in the real world, said Burry. "From the simulation side, we supply DP simulation training systems that meet both Nautical Institute and DNV-GL standards but ultimately, it is the market that dictates the classification society to which it wants its DPOs certified. And it is the market that creates demand for new types of DP applications. Beyond the simulation training component, Kongsberg is a dominant player in the supply of real DP systems and the related reference systems that are installed on vessels worldwide."
Burry insists that the ability to provide both simulation and on board equipment is critical. He asks, "If you are going to invest money to train on a DP system, would you prefer to train on a system you would probably never see on a real ship, or one that you will find on most?" He adds, "This is one of the great strengths we have at Kongsberg. Because we have so many installed DP systems on real ships, and our DP training systems use the exact same consoles and DP software, the training value on a Kongsberg system is incredibly high. Once the DPO completes his or her training, the familiarity with the onboard system is one-to-one. For DP training service providers shopping for a DP training system, the decision is usually a pretty straight forward one."
Kongsberg has installed equipment on more than 17,000 active vessels. Specifically, Kongsberg Maritime delivers products and systems for dynamic positioning, navigation and automation for commercial vessels and offshore installations, as well as products and systems for seabed surveys, surveillance, training simulators and fishing vessels and fisheries research.
Burry explains further, "If it happens offshore, there is a training requirement for it. The range of offshore operations training is almost limitless now with the introduction of K-Sim Navigation and K-Sim Offshore." The list of requirements includes navigation and shiphandling, dynamic positioning, platform support, rig moves (towing), anchor handling, buoy loading, tandem loading, heavy lift & pipe lay, subsea vessel operations and more. CMS leverages Kongsberg's K-Sim Navigation and K-Sim Offshore to get the job done. But, what is K-Sim?
In a nutshell, Kongsberg embarked on a multi-year development initiative to create a whole new simulation technology platform that could handle all the navigation capabilities of its popular K-Sim Polaris technology, while enabling a whole new set of instructor and student station tools that would open a new era of simulation possibilities. The result has been a new generation of ship bridge simulator, including K-Sim Navigation and K-Sim Offshore.
While fulfilling STCW and DNV-GL standards for maritime training, K-Sim Navigation provides structured and cost-efficient methods for building competence. Designed with a contemporary and intuitive user interface, K-Sim Navigation allows instructors to create and conduct exercises more efficiently. K-Sim Navigation's cutting-edge technology and integration possibility with other Kongsberg simulators provides an opportunity for future expansion and course offerings to meet training requirements and R&D projects.
Some of the more useful features of the new K-Sim technology include improvements in the instructor graphical user interface (GUI), where the instructor can select a point on the planet and zoom into an area of interest to set up a new training scenario. The instructor can play back the exercise from any point and the student can make a change in his or actions and re-conduct the exercise with a full set of different outcomes. The instructor view has been greatly expanded, with a full view of surface and sub-surface objects and even deck equipment. This is particularly useful for subsea operations, and with an integral physics engine, the line dynamics are realistically modeled.
The new DNV-GL Class A K-Sim Offshore simulator on a 6 degree-of-freedom motion base, equipped with both forward and aft bridges capable of a full range of offshore operations from DP to anchor handling to iceberg deflection (towing) is especially important. In addition to navigation and ballast control room training, for example, they have even conducted research studies into key areas of interest such as seasickness and wind loading on high-rise building structures. Motion offers a unique ability to test the operation performance limits of people and equipment, ranging from navigating in heavy seas, ice-breaking operations and iceberg management. Burry adds, "With the new K-Sim SeaView system, it is becoming more difficult to tell the difference between the simulated ocean environment and the real thing."
Leveraging its Kongsberg equipment and long term relationship, CMS carries out applied research in collaboration with many entities looking at onboard systems, human performance, effects of stress on decision making, improved radar and positioning systems to help companies and researchers improve the state of the art. That's a winning combination for CMS, Kongsberg – and industry itself.
MPT & Transas: Leveraging the Past, Looking to the Future
Fully 3,000 miles to the south of the impressive CMS facility in New Foundland, Canada, Florida-based Maritime Professional Training (MPT) offers equally impressive facilities and services to a similarly international audience. Unlike CMS, however, MPT uses simulation technology provided by Transas, another industry giant. The reasons for this business relationship are no less compelling.
Captain Ted Morley, Master Mariner and Chief Operations officer of MPT, in February explained why. "MPT selected Transas back in 2002 when we built the first privately-owned simulation facility in the country. Transas proved eager to answer our specific needs and responded to our out-of-the-box thinking with regards to simulation applications. They continue to set the standard for simulation with their integration and ability to utilize actual bridge equipment in the simulators. The ability of integrating all three of our full mission bridges, along with our (4) all weather simulators and our engine room simulator, provides an amazing depth to the training scenarios that would not be possible with other equipment."
Morley's faith in Transas, over time, has been well-placed. That's because Transas has hardly been sitting on its hands. The recent Transas Simulation User Conference in Singapore introduced THESIS, the Transas Harmonized Eco System of Integrated Solutions. At that conference, new Transas CEO Frank Coles vocalized his plan to shake up the market with even more innovation. According to Coles, "THESIS is the connected community of the ship, shore office, the ship traffic authorities and academy working together on a cloud based shared data platform to enable smarter operations, safety and navigation."
The THESIS vision is for all sectors to share data, and enable one another to make better decisions, better operations and better training. Ship operations would be a coordinated evolution, with ship and shore based operations centers working together, on shared information platforms, the ship and office would also work in a community where the ship traffic control would enable better coordination of traffic movements, with decision based tools to enable direction of traffic.
Coles continues, "The fourth element would be training, or what we call the academy. Simulators and content would be connected – for sharing data and enabling decisions to be tested, but also connected to enable schools to share content and ship models so that the community can learn. All of this training capability can also be shared with the ship. Scenarios can be run on the simulators using ship traffic control, ships and operations centers." THESIS, in essence, promises a partnership with industry that far transcends simple simulation.
Back at MPT, an ongoing facility expansion has brought MPT's facilities to an impressive 25,000 square feet with over 15,000 square feet dedicated to simulation alone. An additional 9,000 of existing space is being remodeled with new classrooms, meeting areas, and a conference center. MPT's four Broward County campuses are all receiving significant technology upgrades allowing for live streaming and cloud-based data sharing between them. Morley adds, "Our main campus will be 61,000 square feet and able to host 350 students a week in our classrooms, not including the conference center or meeting halls."
The upgrades to MPT simulation capabilities start with three expanded Transas Class A FMSHS Navigational Bridges, two of which are equipped with DP2 installations. All three bridges have received new consoles, new INS hardware, and new projection technology. The upgrades also include a new Class A ECR Simulator that can be linked to any of the three bridge simulators, providing Ship Resource Management integration training between the engine room and bridge. The ERS will also feature High Voltage equipment for STCW compulsory training and be able to emulate the conditions found on a range of modern vessels.
According to Morley, simulation has changed dramatically in the past 5 years. "Operators are able to utilize simulators for much more than simple regulatory training. Being able to conduct realistic vessel familiarization, port building projects, dredging impact studies, and extremely realistic tug/ship interactions are vital as our ports get more congested and the ships get larger. Simulation is a major component of port safety, from the ship and tug operators up to the VTS controllers," said Morley.
For example, says Morley, practical assessments are a major component of the STCW Code and are part of the credentialing process. And, he adds, "More and more companies are looking to integrate their company specific SMS protocols into simulation scenarios; not only as a means of assessing the ability of the mariner, but also as a means of assessing the viability of the protocol itself."
Like CMS, MPT's clients have a tremendous impact on the school's development. "We respond to what their needs and desires are; with that, the NI was the logical choice. We did however create our own training system that builds upon the NI standard. Even in our Induction Course the students have access not only to the DP hardware, but also to integrated ARPA and ECDIS equipment, visual channels, conning controls, autopilot, and ship systems. They learn the basics but they also learn how DP integrates into the bridge systems. This makes them much more competent when they get back to their ship and can therefore assimilate into the workforce that much faster."
Morley told MarPro in February that ISO 9001:2008 certified MPT constantly looks inward for areas of improvement and outward for areas of growth. Like CMS, they are not only trainers, but also, innovators. "Our evaluation procedures and practices have led to several unique programs for both new mariners as well as established mariners. Our programs are efficient and they create efficient mariners; learning not only the skills but the job itself. This effort has led to several innovative approaches that have become standard 'best practices' within many of our client companies."
Relationships Matter
When it comes to maritime training and simulation itself, MPT and CMS have one important thing in common. Longstanding relationships with simulation technology providers has improved training, competency and allowed both institutions to remain at the forefront of their respective specialties. Looking ahead, it is obvious that the evolution of simulation capabilities – for both Kongsberg and Transas – is anything but over. Because of it, maritime training will continue to evolve for the better. No doubt the next big thing is just over the horizon.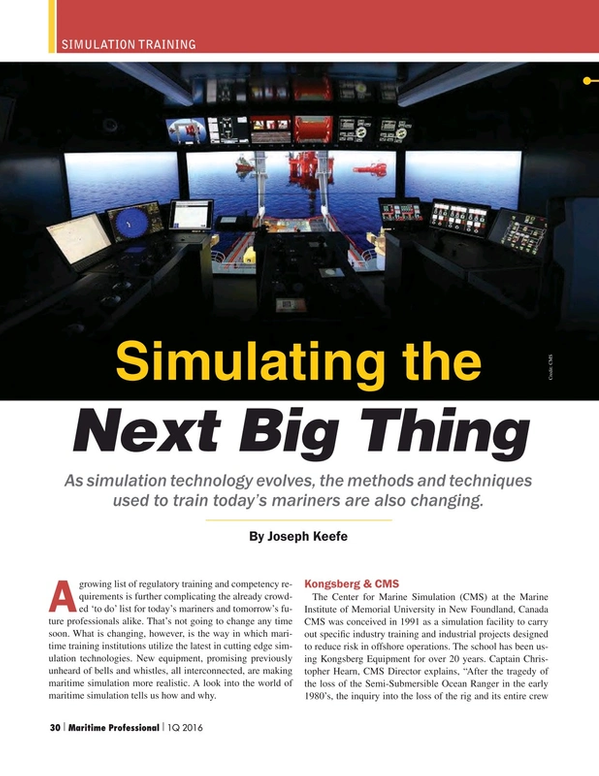 Read Simulating the Next Big Thing in Pdf, Flash or Html5 edition of Q1 2016 Maritime Logistics Professional
Other stories from Q1 2016 issue
Content