Seafarers Trust in Technology
By Henry Norman
The ITF Seafarers' Trust recently re-released an upgraded version of Shore Leave 2.0, enabling seafarers to access the internet in ports on tablet consoles. Together with Shore Leave, the Seafarers' Trust believes that these initiatives will effect real change, attending to the global welfare of seafarers.
In today's world of fiber optic broadband, 4G mobile networks and app innovation, we have all come to expect the super-fast delivery of our online communications. For seafarers, however, the unique environment of being away at sea for many months at a time challenges this norm. Access to a reliable Wi-Fi connection – both at sea and ashore – for most seafarers is hard to come by. For the ITF Seafarers' Trust, the launch of Shore Leave 2.0 aims to fill a gap in the provision of offline apps for seafarers.
There's an App for That …
The app, as it was originally conceived, aimed to digitize the Seafarers' Centers Directory published by the International Seafarers' Welfare and Assistance Network (ISWAN). Borne out of an initial idea by the ITF Seafarers' Trust Trustees, the inaugural app – launched in 2012 – was designed to assist seafarers in looking for reliable port-based transport. Once downloaded, seafarers were able to access the contact details of seafarers' centers globally, viewing available facilities as well as providing the contact details for Seafarers Help, the 24/7 helpline available for seafarers in need. The benefits of an offline app were, it seems, readily apparent. After the first download the app was able to function completely offline enabling seafarers to call welfare providers relatively easily.
Shore Leave 2.0, which is available for download on both Android and iPhone, represents the Seafarers' Trust's new and improved design and aims to build upon the existing 10,000 downloads. Considered alongside similar charity-sector innovations such as tootoot – an app launched by Bullying UK allowing children to report incidences of bullying directly to their place of learning – the app's new reporting feature enabling seafarers to leave reviews of centers visited will play a role in helping funding organizations such as the Seafarers' Trust better identify need and allocate their resources.
App development is a multibillion dollar industry. Just eight years ago Apple's App store didn't even exist, which is perhaps all the more staggering considering the fact that by 2017 the industry is estimated to be worth nearly $80 billion. In terms of the maritime sector specifically, Futurenautics estimates that the combined worth of shore-based and sea-based communications market to be in excess of $3.3 billion per annum.
The Seafarers' Trust firmly believes that third-sector organizations play an important role in helping realize the power of digital technology in terms of welfare provision. Surveys conducted by the Trust and other maritime welfare organizations repeatedly reveal seafarers' current dissatisfaction with the lack of Wi-FI in ports and aboard ships. The results of a comprehensive survey by Futurenautics research, produced in association with Crewtoo, PTC, InterManager, BIMCO and ISWAN, reveals that 77 percent of seafarers now take a smartphone aboard.
Initial results of a more recent survey carried out by the Seafarers' Trust shows that while the majority of on-board communication is still undertaken via telephone, instant messaging (WhatsApp, Facebook Messenger, etc.) is increasing in popularity; hindered only by the lack of reliable connection. In lieu of improved Wi-Fi access for seafarers, apps which require no on-going internet connection become more vital – especially considering the findings of the Futernautics survey revealing that on average, seafarers' monthly internet-related expenditure amounts to approximately $70. The Seafarers' Trust's own survey reveals that over 35 percent of respondents spend between $50 and $100 on communication costs per month. The more that digital technology can integrate with the port services that matter most to seafarers, the more useful offline apps such as Shore Leave 2.0 can become.
Alongside app development, in the coming few months and years, the Seafarers' Trust will be implementing a range of programs and projects seeking to improve connectivity both ashore and at sea, making it easier for seafarers to communicate. Currently in the piloting phase, Onboard Online aims to provide ITF inspectors with a portable Wi-Fi hot spot to be carried with them on inspections. The device will be capable of turning the mess room into a free Wi-Fi zone for the use of seafarers.
The Seafarers' Trust is also in the process of rolling out the construction of unmanned seafarers' centers in ports lacking in existing welfare provision. Working with port authorities, unions and other interested stakeholders, these centers will enable seafarers to access the internet in ports on tablet consoles. Together with Shore Leave, the Seafarers' Trust believes that these initiatives have the potential to effect real change, attending to the welfare needs of the world's population of seafarers.
Since the launch of Shore Leave 2.0 in November, 2015, the Seafarers' Trust has reported a steady increase in the total number of downloads. Like any other charitable organization, however, the Seafarers' Trust's ability to conduct a wide scale promotional campaign over and beyond the use of social media and the Seafarers' Trust own website is of course limited.
Calling all Shipowners
The Seafarers' Trust is therefore calling upon the participation of shipping companies, manning agents, welfare providers and port authorities alike to help them in promoting Shore Leave more globally. While the Seafarers' Trust already has the support from Intermanager, ICS, AMOSUP and the P&I Club West Coast of England to distribute promotional posters on board their member's vessels and facilities, more can be done to help publicize this important tool for seafarers. As Peter Hinchcliffe, Secretary General of the International Chamber of Shipping has stated: "ICS always welcomes new tools to help seafarers have a proper and refreshing break. This new Shore Leave app will allow them to make the most of their limited free time."
The Author
Henry Norman is an ITF Seafarers' Trust Assistant Trust Administrator. He has completed an MPhil in International Relations at the University of Cambridge specializing in labor relations. He is assisting the Trust on a range of projects including improving the Seafarers' Trust's external communication strategy. Established in 1981, The ITF Seafarers' Trust is a charitable organization that financially supports welfare services to seafarers, acting as a catalyst for positive change in the maritime community, and supporting long-term programs that improve maritime workers' health and welfare.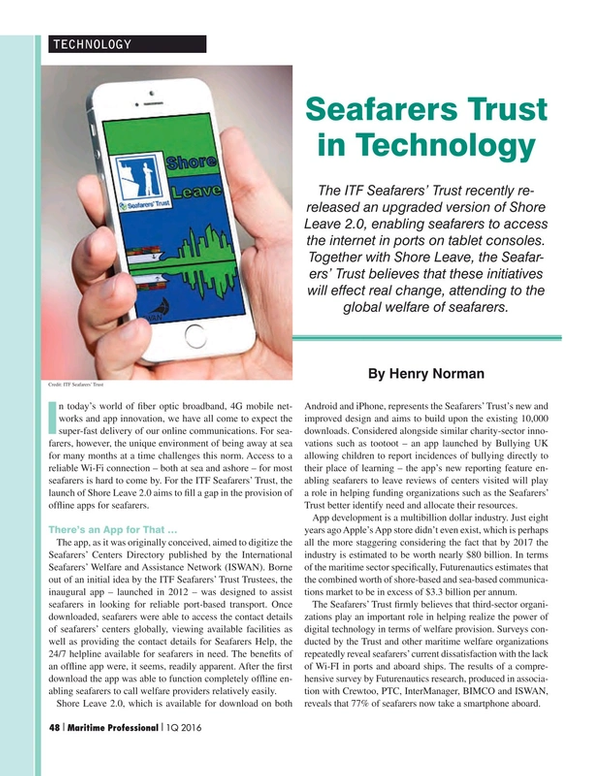 Read Seafarers Trust in Technology in Pdf, Flash or Html5 edition of Q1 2016 Maritime Logistics Professional
Other stories from Q1 2016 issue
Content