SCPA Making All the Right Moves
By Joseph Keefe
What does it take to become – and Stay – a World Class Port in a Post-Panamax world? The South Carolina Ports Authority thinks it has the answers.
In late October, the South Carolina Ports Authority (SCPA) reported year-over-year growth during the first quarter of its 2017 fiscal year. Those numbers; bolstered by loaded container volumes, particularly on the import side, supported SCPA's growth. Strong volumes on the breakbulk side of the business and record throughput at SCPA's Inland Port at Greer, SC, provided a solid start to FY2017. And, where some ports – in particular on the U.S. West Coast – are seeing impacts from the slowing Asian economy and a nasty hangover from the Hanjin collapse, a diversified and meticulously planned strategy at the U.S. Southeast's deepest and 4th largest East Coast port is yielding fruit.
South Carolina Ports Authority (SCPA) owns and operates public seaport facilities in Charleston, Georgetown and an inland port in Greer. A second inland port, located in Dillon, SC, has been planned, approved and ground broken on its construction. In 2015 SCPA handled international commerce valued at more than $74 billion while receiving no direct taxpayer subsidy. According to SCPA itself, the port(s) represent a robust economic development engine for the state. To that end, port operations facilitate almost 190,000 statewide jobs and generate nearly $53 billion annual economic activity. The port itself employs about 500 people directly, impacting as many as 10,000 jobs locally in the greater Charleston area.
SCPA: on the move
Automobile and truck tires are among the top commodities moving through the Port of Charleston. In 2015 alone, as many as 45,442 containers of tires were imported to Charleston, the second-largest import category behind automobile parts. Tires were also the Number six export commodity, with 26,752 cargo containers sent to foreign markets. That success largely hinges upon a close relationship between the port and Michelin, a tire firm that has moved ahead aggressively to expand local capabilities.
Michelin North America's decision to move ahead with plans to build a $270 million distribution center near Spartanburg was influenced in no small part by its need to efficiently leverage the supply chain for its many products. Moving tires to retailers regionally and between the Port of Charleston and the inland port in Greer, Michelin will take advantage of SCPA's long range plans to modernize an intermodal package that the port envisions will be second-to-none on this coast, once completed.
Separately, and as this edition went to press, the American Association of Port Authorities (AAPA), the self-described voice of seaports in the Americas, was focusing on key priorities for the 2016 Water Resources Development Act (WRDA) in advance of final language being worked out by a House-Senate conference committee. And, because SCPA is intent on significantly deepening navigation channels in its quest to position itself as the East coast choice for ever-larger so-called 'post-Panamax' vessels, the outcome of those negotiations is very much on the mind of James I. (Jim) Newsome, III, President and CEO of the South Carolina Ports Authority.
Newsome told Maritime Logistics Professional in October, "We need the WRDA bill to be reconciled; we need it to go to conference committee, and hopefully, that will be done in the lame duck session. From there, we'll move into the next phase, which is pre-construction engineering design or PED. And then, we move into construction and hopefully, we're into construction in the fall of next year." In a nutshell, Newsome and SCPA hope to deepen the Charleston harbor from 45 to 52 feet by the end of this decade, and in the process, provide 24-hour access to the outer harbor without tidal restrictions. The project will make Charleston the deepest on the East Coast.
Concurrent with that ambitious undertaking, SCPA is at the same time embarking on another equally challenging improvement, this time involving a second inland port intended to duplicate the success of SCPA's first such facility, now producing real dividends in Greer, SC. The inland port at Greer – near Greenville – was opened on the premise of handling BMW manufacturing output, getting that cargo off the trucks and onto rail. Newsome explains, "We partnered with Norfolk Southern on that and we built and opened that inland port in November of 2012. And, I'm pleased to say that in that time, it handled 100,000 rail lifts. I think it is safe to say that it is the largest of port-owned inland ports today. It's given us the confidence to open a second inland port in Dillon, SC."
The Dillon inland port will be on the CSX line. Newsome adds, "You've got to be on a main rail line to make this thing work. It's a good way of diversifying our cargo moves and growing our inland infrastructure. When I joined the port in 2009, we moved 12 percent of our traffic – and on a much lower volume – by intermodal container rail. Today, we move about 25 percent by intermodal rail. That's a really big deal for us. So, that moves about 100,000 trucks off of I-26 every year – or 250 trucks per day. And, rail is more environmentally efficient in terms of moving freight domestically. We see an application for coastal barging as well."
If all of that wasn't enough, the port is also in the process of building a third terminal in the old Navy yard. The Leatherman Terminal, when it opens in 2020, will add a whopping 50 percent (from 2.8 million to 4.2 million TEU) to SCPA's already impressive container capacity. Currently the only permitted container terminal under construction on the East Coast, the facility is subject to a permitting process and the conditions that emanate from that effort. Newsome explains, "Access to the terminal – in this case from I-26 – is very important. That's being built now and there's going to be an intermodal container transfer facility. So, yes, the infrastructure is being put into place to make sure that the terminal is able to make the best use of its capabilities."
Separately, a Terminal Modernization project involves $600 million in spending to strengthen and modernize terminals, including structural improvements and new container cranes to accommodate still larger tonnage. Those new cranes – two of which are already in place – increase the reach of the port's box handling capabilities from 115' to 155', just in time to handle the growing volume of post-Panamax vessels.
Hat Trick: Leadership, Experience (and Vision)
Jim Newsome became just the fifth President and CEO of the South Carolina Ports Authority in September of 2009. Previously employed as President of Hapag-Lloyd (America), and before that, as Executive Vice President at Nedlloyd Lines and President of Nedlloyd Lines (USA) Corporation, his resume also leverages senior management experience in various roles the intermodal supply chain along the way. A Savannah native, Mr. Newsome received a bachelor's degree in Transportation and Logistics in 1976 and an MBA in Transportation and Logistics in 1977 from the University of Tennessee in Knoxville.
Newsome is arguably the ideal leader to position SCPA for the future, working not only to expand a port, but also to service the customers that he knows so well. That, according to Newsome, may well be the most important part of running a major port today. "We needed to make sure that we were focused on the needs of our customers. And, working for a major shipping line previously, I felt that I had a pretty good idea of how the major ports worked and what was important to the shippers and customers."
SCPA's chief executive knew only too well what was important to a shipping line. Beyond that, he was acutely aware of the 'big ship' trend in the industry and what SCPA needed to do to get ahead of it. "That led us to continue and renew our focus on deepening our harbor and to invest in a new terminal, as well as to improve existing terminals," says Newsome. All of that, Newsome knows, probably isn't enough, especially when the average citizen has no concept of where 98 percent of what they consume comes from and perhaps more importantly, how it got there. Community outreach, therefore, is a big part of SCPA's great leap forward.
Local middle school students, for example, will get to name the new container cranes. That represents a concerted (but fun) effort to educate children and adults alike as to the port's value, as well as the possibility of maritime careers. "We try to make sure people know that port jobs are good jobs – jobs that you don't need a four year college degree in order to make a good living," says Newsome, continuing, "We try to get middle school kids involved and interested in the port. When the maritime community gets involved with a local event like the annual 'heart walk' we raise over ten percent of the funds collected. We have a grant program that funds educational efforts and healthcare. We try to be good stewards. That involves co-existing with coastal communities and being a good corporate citizen."
Methodically Executing the Strategy
Today's good news involves years of planning and sweat equity. Newsome knows that better than most. "We finalized the study in a record time for a deep draft navigation project. Four years doesn't sound fast, but in a deepening project, it is very fast. Our last major step was to get authorized," he says, also conceding, "Authorized doesn't mean that you get a federal appropriation for the deepening, but it does mean that the federal government will maintain the harbor, once it is deepened. It's a $500 million project; a cost-share project and we need an appropriation of about $ 180 million from the federal government. It's never easy, but we feel that it's a good project and that we compete well."
In Charleston, the Corps (USACE) looked into three primary things: the financials, the environment and the navigation piece. In fact, this was the first such study done under something called 'Smart Planning' (SMART), with its intended purpose to reduce the time frame involved with the process. Newsome adds, "Some prior studies, for example, have taken up to twenty years; this one was done in just four."
But dredging is only one part of modernizing today's ports. Piers built for T-2 sized tonnage won't support post-Panamax sized boxships. Newsome lays out an aggressive strategy, already underway, to answer those questions. "The major challenge in a top ten port today is obviously about investment. That's what it takes to stay as a top 10 port. In our case, we're not only deepening our harbor, we're building a terminal to increase our capacity. And, we'll improve our existing container terminals were built in the 1980s, when ships were a lot smaller. We're strengthening the wharves with new pilings, installing new fender systems – significant investments that we simply have to make to handle the new Panamax ships. Our plan is to have two systems next year that can handle 13,000 TEU ships. And looking at the order books for today's container lines, we knew that we had to make these improvements to compete."
Supporting that infrastructure is a significant investment in operational technology, and in the face of another regulatory challenge, some good old common sense. The port is employing RFID technology and in fact has a new scanner as of June 20th. An advanced gate system works on camera technology which enables gate transactions to be processed faster, and in a safer way. Mechanics and clerks who are now housed in a gate processing center – or as SCPA calls it, the 'Kitchen' – keeps workers safer and doing the same work in climate-controlled conditions at a faster pace. "Certainly, our objective was not headcount reduction," says Newsome quickly, adding "Like any new technology effort, we had some initial system glitches but we got through that pretty quickly. I'm proud to say that today; we're handling a record number of transactions."
Newsome shrugged off questions about the controversial, but all-important container weighing requirement now in place everywhere. "I'm proud to say that we were the driver among U.S. ports, in terms of coming up with a very practical solution to do that. This involved weighing the containers as we had been doing all along for 30 years due to OSHA rules. Hence, our position was that we should continue to do what we were doing before. There is no inconvenience to the truckers – we have scales at every gate and it has worked very well. It was just an application of common sense, if you want to get right down to it."
Planning Ahead involves Looking Back
In terms of TEU throughput, Charleston now ranks 4th on the East Coast and 9th nationally. Jim Newsome and SCPA have plans to change those metrics. "We think we're going to grow twice the U.S. port market. Right now, we think the Southeast is the best place to be in the port business because we have an import growth based on population and export growth, based on expanding manufacturing." Pressed to project the port's future position the intermodal supply chain, Newsome offered, "I don't have an absolute number in mind; I certainly think that we can move up the top 10 list – perhaps 5th or 6th nationally as a stretch target."
Doing that means concentrating on and improving what the port already does best. That involves moving containers and manufactured, break bulk cargo "This includes RO/RO traffic, involving BMW vehicles, power turbines, things of that nature. We have a small niche cruise business which involves about 100 cruise ships annually, something we're not really looking to grow since we think we've already approximated the size of the market. We're happy with what we are focused on and there isn't a whole lot of new terminal capacity out there," says Newsome.
Thinking Outside the Port
SCPA bills itself as "the industry leader in delivering speed-to-market, seamless processes and flexibility to ensure reliable operations, big ship handling, efficient market reach and environmental responsibility." Statistically, it is also the fastest growing major U.S. port (since 2011) and by some yardsticks, the most productive in the nation, with high container crane production and low truck turnaround times. How it got there is, perhaps, the more important story. Jim Newsome, arguably, knows this better than most.
"My Dad was the number two man at the port of Savannah and I grew up around a port. It's why I got into the industry. But, I never worked in the port industry until this job. So, it was a unique segway for me to come back into this industry." That unique entryway and family heritage also provides Newsome with perspective that allows for equal respect for all parts of the equation. And, if the mark of a good deal is that all parties to the deal – in this case the intermodal equation itself – go away 'a little bit unhappy,' that's not something he's willing to say out loud. Instead, he says, there has to be something for everyone. At Charleston, South Carolina, that's the ultimate ticket to becoming a world class port – and staying there.
Charleston Port - Numbers that Matter …
53 billion: Dollars in annual statewide economic impact
2 Billion: Dollars in infrastructure investments over 10 years
1.12 million: Handled containers in 2015
1 million: Tons of non-containerized cargo moved in 2015
2,066: Total vessel calls last year.
29: Days from Shanghai to Memphis (via SCPA)
23: Minutes for an Average Truck Turn
19 of 20: Top Container Lines call at Charleston
16: Weekly calls by Post-Panamax vessels
1: Days to ship from Vessel to Inland Port Greer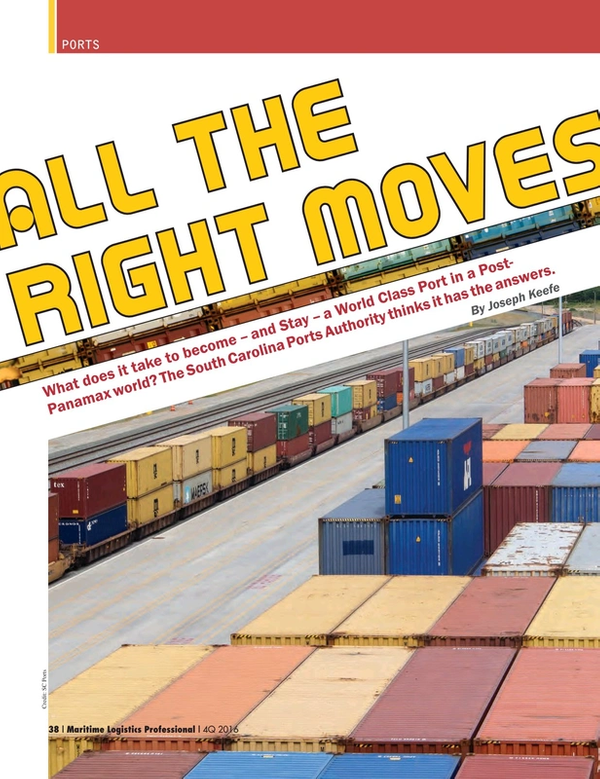 Read SCPA Making All the Right Moves in Pdf, Flash or Html5 edition of Q4 2016 Maritime Logistics Professional
Other stories from Q4 2016 issue
Content