Transforming Today's Transportation Terminal for Tomorrow's Technology
By Matthias Jablonowski
LTE/5G industrial wireless prepares terminals for a digital future.

Having implemented successive waves of digital technology over the last few decades, most terminal operations in ports worldwide have a variety of wired and wireless network technologies ranging from UHF and VHF, over wireless sensor networks (WSN) and LPWA, to Ethernet, meshed wireless and Wi-Fi — each supporting a different application of the terminal. With today's 4G/LTE networks and the coming of 5G, it is now possible to consider consolidating many of these digital applications onto a single, secure wireless network that will lay the foundation for further automation and significant productivity gains.
Challenged by volatile global markets and growing volumes, terminal operators need to become more agile and responsive. Faster turnaround times, better coordination with truck and rail operators, and the ability to accommodate changing vessel sizes all put additional pressure on terminal operations. Across berth, yard, truck and train operations, there is a growing reliance on digital technologies. Industry 4.0 technologies such as IoT, machine learning and AI will play an increasingly critical role in meeting these challenges, partly by enabling the automation of terminals, which will, in turn, provide greater flexibility and operational savings.

The 'Siloed' Terminal Technologies of Today
Current communications technologies at use in most ports are not sufficient to meet the future needs of terminal operations as they embrace digital transformation — especially the requirements of Industry 4.0 applications in the area of autonomous and remote operations. Most terminals today have implemented a wireless infrastructure based on Wi-Fi for data communications between the central TOS and TOS clients running on vehicle-mounted computers and tablets in cranes, terminal trucks and straddle carriers. This is mostly used for job allocation and workflow coordination.
Voice communications are usually handled by TETRA or VHF radio for staff communications. An Ethernet LAN typically backhauls the Wi-Fi access points and connects cameras and more stationary equipment, such as rail-mounted cranes, to the central operational and business applications.
The wireless portion is the area that can be best improved upon with today's 4G/LTE technology. The high degree of mobility inherent in port operations presents challenges for Wi-Fi and, in general, it is not nearly as reliable, secure or predictable.
4G/LTE technology, which was designed for mobile networks, is also much more secure, can handle greater numbers of users per radio and is capable of handling higher bandwidth applications such as video. Crucially, it can even provide Ethernet-level performance for video cameras, rubber-tired cranes or any other application that today requires expensive cabling infrastructure.
Although LTE has been available for almost a decade, it has mostly been monopolized by mobile network operators who licensed the spectrum for use by 4G/LTE mobile networks worldwide. Some of those public carriers have leased the spectrum for industrial applications, but the cost was usually too high to justify its use. Hence, the widespread reliance on Wi-Fi, which was never designed as anything other than a best-effort network technology, is unsuitable for business or mission-critical applications. Unfortunately, it was the only wireless networking option for most enterprises.

Future Tech for Terminals
At the same time, widespread pressure placed on governments has freed up spectrum for use by enterprises in industrial and other applications from healthcare to mining. Additionally, 4G/LTE vendors have developed solutions that use unlicensed (e.g., Multefire) or 'lightly' licensed spectrum. They have also begun to produce enterprise-sized versions of the technology that are no more difficult to install and maintain than a standard LAN or Wi-Fi mesh network. The result is that port authorities and terminal operators now have better choices as they plan for their digital futures.

Figure 1 presents a summary of the advantages and disadvantages of Ethernet and Wi-Fi as compared to a private LTE network. There are additional features with the latest releases. Release 4.9G has specific enhancements for handling IoT devices, as well as the ability to create secure slices within the network to provide specific quality-level controls (QoS) for applications, for instance, higher bandwidth for video or low latency for automated or remotely controlled operations.
Over the coming five years, 4G/LTE is designed to evolve into 5G, which will be like a super-charged wireless Ethernet. In other words, it will be able to handle any of the applications currently being run over Ethernet in terms of reliability, security and capacity with far greater ability to scale, handle extreme low latency applications and generally support industrial automation.
Although the general availability of 5G for industrial applications is still some years off, 4G/LTE is fully capable of handling the communication needs of the terminal with a single network infrastructure today. As we've seen, it can replace Wi-Fi with a much more robust, secure and reliable network, but it can also replace the TETRA or VHF network as well. It supports dynamic group communications, push-to-talk and push-to-video, as well as call dispatch control and management.
On the mobility front, 4G/LTE also immediately enables applications such as unmanned aerial or drone inspections. Drones have proven themselves as a key technology in emergency situations where they can provide instant situational awareness. They are especially useful in terminal and yard operations where they can provide remote visual asset inspection, monitoring of dangerous goods and perimeter surveillance. There are LTE-based drone solutions available that include command and control of the drones in flight as well as transport of the HDTV signal.

Autonomy, Remote Operations … and Beyond
The remote control of equipment, such as rubber-tired gantry cranes, is another application that showcases the capabilities of 4G/LTE and 5G. Remote operations require very low latency communications because of the need for almost instantaneous response from the remote operator. LTE/5G systems support these low latency requirements, including support for layer-2 transport of PROFINET. They also support the video uplink requirements from multiple cameras that would be required for remote command and control of the unit.
The advantages of using mobile cellular technology also go beyond drones and remote control of moving equipment. The greatest challenge for public 4G and LTE networks is to provide sufficient coverage to dense urban cores where there are numerous high buildings that create multiple challenges for wireless connections — challenges that 4G/LTE were specifically designed to overcome. On a smaller scale this is also the case in terminal and yard operations where stacks of containers can create real difficulties for many forms of wireless. LTE/5G technologies can easily overcome these challenges to provide ubiquitous coverage in the terminal yard.
Looking further into the future, Industry 4.0 applications will continue to digitally transform terminal operations. Along with automation and remote-control applications, we can also see the possibility of end-to-end management of all operational processes based on real-time data and sophisticated workflow management software.
Linking the various digital point solutions will require a robust, mission-critical communications system to connect mobile devices, sensors and actuators. This allows the creation of a digital twin, which software analytics can use, for example, to optimize the overall workflow. In terms of terminal operations, it is possible to save between 7 and 10 percent in the overall efficiency of operations using workflow optimization alone.
Although this may sound far off in the future, once installed, a private LTE network can function as a platform for future evolution. As an example of this, Steveco, a terminal operator in the HaminaKotka port in Kotka, Finland, worked with Nokia to build a private LTE network to support video cameras that were installed on ship-to-shore cranes. The application was designed simply to record the status of containers before and after handling. Thus, in the case of future insurance claims, it was easy to establish clear responsibility.
Steveco has since built other applications on top of the LTE network, because it was there. They have added perimeter surveillance and asset monitoring by video. All cargo handling equipment and personnel in the terminal and warehouses communicate over the LTE network. And they are considering future Industry 4.0 applications that they can launch off the LTE network.
Separately, Kalmar, part of Cargotec, is doing ongoing research on terminal automation and energy-efficient cargo handling. Their research test bed includes a private LTE network from Nokia as well. "The digital automation platform with its connectivity and application layers makes it possible for us to test new service products and concepts. That gives us the opportunity to demonstrate to our customers how our new services work, which is particularly valuable," says Pekka Yli-Paunu, Director, Automation Research, Kalmar.
Digital transformation of all industries is coming very quickly. Terminal operations are no exception. As part of a vital link in today's industrial supply chains, it will become table stakes for future ports to have digital awareness and management of everything passing through them in real time. Automation and autonomous technologies will find new roles in port operations just as they are being employed in many other areas of the economy. There is already a strong business case for moving to 4G/LTE, and it will only strengthen over time.
Matthias Jablonowski is global practice lead of the Ports program at Nokia. Being intrigued by the opportunities of connected technologies and digital transformation, he works with port authorities and terminal operators on Port 4.0 and terminal automation projects as they embark on their smart ports journeys. Matthias has been instrumental in the expansion of Nokia into the Transportation industry.
This article first appeared in the JULY/AUG print edition of Maritime Logistics Professional magazine.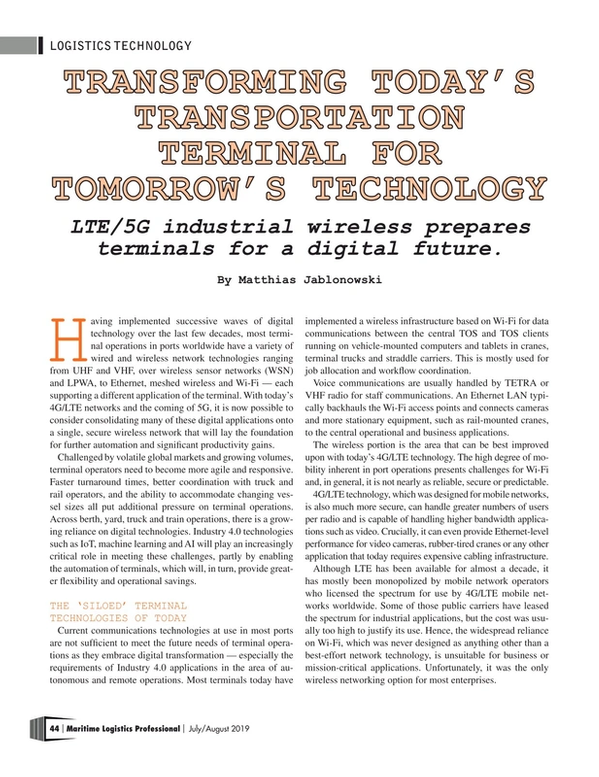 Read Transforming Today's Transportation Terminal for Tomorrow's Technology in Pdf, Flash or Html5 edition of Jul/Aug 2019 Maritime Logistics Professional
Other stories from Jul/Aug 2019 issue
Content