Maritime Industry Impact On Nation's Economy Shown In MarAd Report
The Maritime Administration has released the results of the first major Government effort to analyze the impact of the U.S.- flag shipping and American shipbuilding industries on the nation's economy. The findings demonstrate conclusively that these industries contribute greatly to the productive output of the United States.
The results of the study are presented in "Economic Impact of the U.S. Merchant Marine and Shipbuilding Industries: An Input- Output Analysis," a report prepared under a MarAd contract by the Planning and Development Department of the Port Authority of New York and New Jersey.
The following items are among the major findings of the study: • The U.S.-flag merchant fleet accounts for total sales of $8.3- billion annually, and its activities create and maintain 244,900 jobs throughout the nation. This generates personal incomes of $2.4 billion, and corporate incomes of $0.8 billion.
• The American shipbuilding industry has a total annual output of $6 billion, and generates 235,400 jobs in this country. Personal incomes generated throughout the economy by. this industry total $2 billion; corporate incomes total $0.6 billion. The privately owned and operated U.S. merchant marine is responsible for one-third of the shipbuilding industry's activities.
• Operating- and constructiondifferential subsidies are responsible for a combined total output of $2.5 billion in the national economy, and 88,500 jobs on ships and ashore. The subsidies generate personal incomes totaling $0.9 billion, and corporate incomes totaling $0.2 billion.
• From one-third to one-half of the total costs of the subsidy programs are recovered by the U.S.
Treasury in the form of tax accruals induced by the economic activities of subsidized vessel operations and construction.
The study used an Input-Output (I-O) Model to measure the impact of the maritime industries on the economy. The model makes it possible to measure the interactions not only between producers and final consumers, but also among the industries.
The 1-0 Model revealed that through the chain of purchases initiated by maritime activities, the output of the U.S.-flag merchant fleet has a "multiplier effect" of 1.8, meaning that each dollar of sales produces a total output of $1.80 in sales throughout the economy. The multiplier for the American shipbuilding industry has an even higher rating of 2.1.
It should be noted that figures used in construction of the 1-0 Model were from 1970, the latest year for which complete inputoutput data were available. In 1976 dollars (adjusted for inflation), the figures for shipping would be higher by 36 percent, and the figures for shipbuilding would be higher by 44 percent.
The 56-page study (plus appendices) is available from the National Technical Information Service, 5285 Port Royal Road, Springfield, Va. 22161. The price is $10.75 and the order number is PB-272518/AS.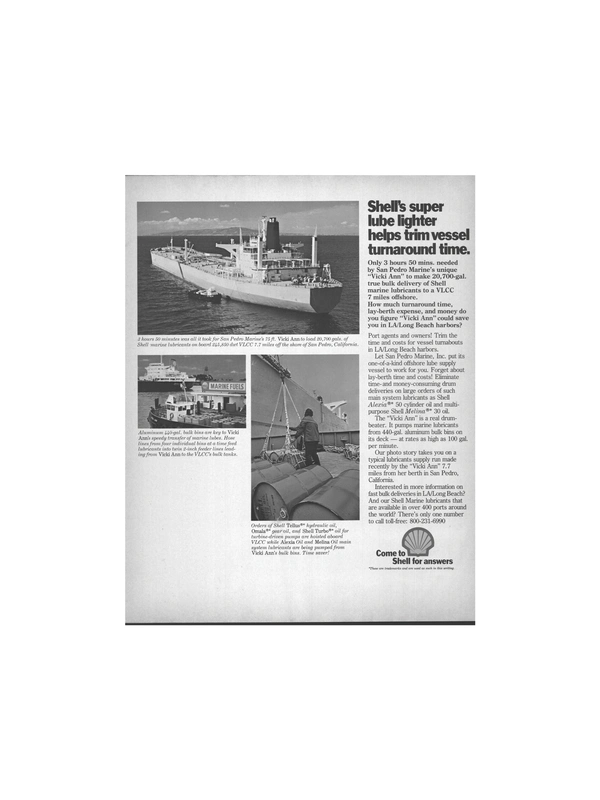 Read Maritime Industry Impact On Nation's Economy Shown In MarAd Report in Pdf, Flash or Html5 edition of March 1978 Maritime Reporter
Other stories from March 1978 issue
Content