Boeing Awards Six Hydrofoil Contracts Totaling $4,360,000
Boeing Marine Systems, P.O.
Box 3707, Seattle, Wash. 98124, has awarded contracts totaling more than $4,360,000 for work in connection with the production of Patrol Hydrofoil Missileships (PHM) for the U.S. Navy.
More than 30 major contractors will supply materials for the five PHMs now under construction.
The ships, of the Pegasus class and based upon prototype built by Boeing now in service with the U.S. Pacific Fleet, are capable of speeds in excess of 40 knots (50 mph).
AiResearch Manufacturing Company of Phoenix, Ariz., and Torrance, Calif., has received two contracts for a total in excess of $1,600,000. AiResearch of Arizona will design, develop, test and manufacture the shipservice power units, and air start compressors for the production program will be provided by AiResearch of California.
The flap and steering actuators will be supplied by Hydraulic Research (Textron) of Valencia, Calif. The actuators are an inte- gral part of the overall control system which provides the high maneuverability of PHM. The Hydraulic Research contract is valued at approximately $1,600,000.
Vard Newport of Santa Ana, Calif., has been chosen to provide chilled water, bilge and wastewater pumps under a $580,000 contract.
A Wisconsin company, Aqua- Chem, Inc., will supply the water distillers for the five PHMs. The Aqua-Chem contract is in excess of $300,000. Evaporative waste systems will be provided by GARD, Inc. of Niles, 111., at a value of $280,000.
Manufacture of the fast, compact warships is on schedule toward delivery of the first production PHM to the U.S. Navy in February 1981. Delivery of the fifth ship is scheduled for the spring of 1982.
The PHM is ideally suited for area surveillance in support of task force operations. Design f l e x i b i l i t y in the 131-foot-long 230-ton hydrofoils includes weight and space reserves to permit expansion of operational roles to antisubmarine (ASM) and antiair warfare (AAW).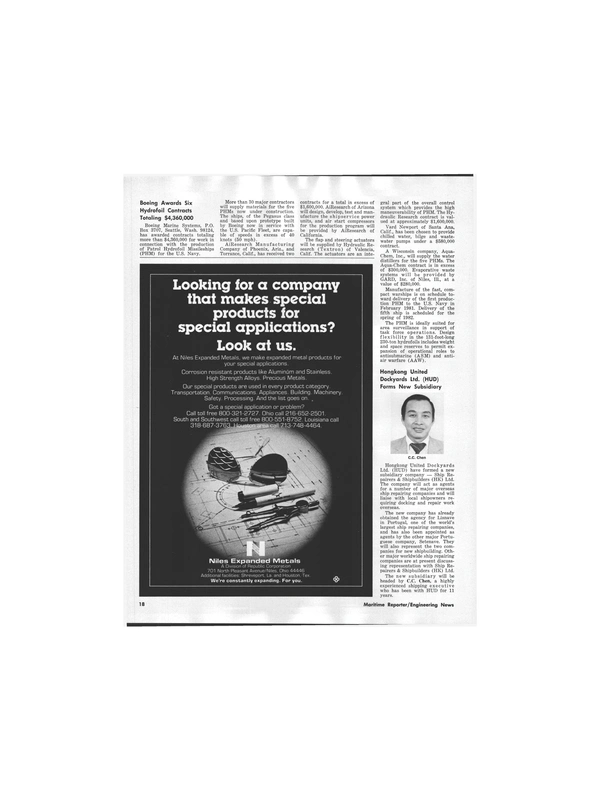 Read Boeing Awards Six Hydrofoil Contracts Totaling $4,360,000 in Pdf, Flash or Html5 edition of September 15, 1978 Maritime Reporter
Other stories from September 15, 1978 issue
Content