DIESEL POWER REVIEW
Latest Developments In Fuel-Efficient Engines High fuel costs and lower grades of marine fuel continue to dominate the thinking of diesel engine manufacturers as well as vessel owners and designers.
Engine designs reflect these concerns as diesel manufacturers produce new and modified models capable of burning less fuel, of lower quality, much more efficiently.
MARITIME REPORTER asked diesel manufacturers to provide details on the latest developments and designs in fuel-efficient diesels.
The following review is based on the replies we received at press time..
Brochures, product literature and technical reports are available, at no cost, on all of the diesel engines surveyed in this article.
FOR MORE INFORMATION If you wish to receive additional information on any particular products in the following review, write the corresponding reader service card number(s) on the reader service card in the back of this issue.
If you wish to receive information from all the manufacturers and suppliers of diesel engines and systems included in this review, Write 40 on Reader Service Card AKASAKA Write 41 on Reader Service Card Akasaka Diesels Limited of Japan, a privately owned diesel manufacturing company, has been building diesels for over 70 years.
In that time it has built engines totaling six million horsepower.
Akasaka has been developing and marketing a new "A" series of engines which bring all the advantages of large bore slow speed down to the 1,500-hp to 3,300-hp per engine range. These engines turn from 303 rpm to 218 rpm at continuous service output, and reach fuel efficiencies below .300 lbs/shp in the larger sizes.
The Akasaka "A" series are all four-cycle long-stroke engines with the single exhaust valve on each cylinder built in a cage so it can be removed and replaced without removing the cylinder head. The low rpm makes them ideal for propulsion.
They can be purchased with direct reversing, and require no reverse reduction gear.
Even when used as a generator engine—with a relatively high cost generator at such slow speed—the fact that the engines can burn 1500 to 3500 seconds Redwood fuel at 100 degrees Fahrenheit can offset the higher capital cost in two or three years of operation.
ALCO POWER Write 42 on Reader Service Card Alco Power Inc. has gained valuable experience in the past year with operation on 400 SRI blended fuel using six of their 16-cylinder 251 engines in river push-boat service on the Lower Mississippi.
Due to the lower cost of this fuel compared with normal diesel fuel, considerable reductions in operating costs can be realized.
These engines are rated 240 bmep at 900 and 1,000 rpm. One of these engines has reached the 9,000 hour mark in this operation. Although it is too early to give an accurate analysis of increased maintenance necessitated by using the blend, preliminary indications are, for example, that valves will need replacing at 5,000 hours and rings at 10,000 hours. Alco has recently released a publication (2F-1500-1/ 83) outlining the operation of its 251 engines on intermediate fuel and the fuel-handling system. The publication outlines some of the items that are to be considered in the handling and treatment of the fuel to avoid excessive engine wear.
In May of this year, Alco began testing the spark-ignited natural gas version of its new 270 series engine. The 12-cylinder engine is rated 2,650 bhp at 1,000 rpm. The ability to test these and newer models up to 8,000 hp was recently accomplished with the completion of a new $2.8-million production test facility in Auburn, N.Y. This facility will also be able to test diesel engines.
Engines will be loaded by a micro-processor controlled fluid friction dynamometer connected to the engine by a universal shaft.
Three cooling towers cool the dynamometers and engine fluid heat exchangers.
The new facility incorporates state-of-the-art instrumentation for testing both the 251 and 270 diesels and the 270 spark-ignited gas engine. Most engine parameters can be measured remotely in the control room. This expansion provides greater on-site testing efficiency for Alco. Write the number above on the Reader Service Card for additional information on the Alco engines and a copy of the 2F- 1500-1/83 report.
AMERICAN LOHMANN Write 43 on Reader Service Card Next year, Lohmann & Stolterfoht, the power transmission specialist headquartered in West Germany, will celebrate its 100th birthday. American Lohmann, its U.S. Subsidiary, is located in Hillside, N.J.
In the beginning, the development and production of in-motion engaging and disengaging clutchcouplings constituted the firm's main activity. Later, L&S began the production of complete transmission lines with gearboxes, couplings, clutches, and shaft bearings particularly for the shipbuilding industry.
Included in the extensive marine power transmission line from L&S are the following products.
Navilus Marine Gearboxes GUU reverse reduction gear units, with a power range from 110 hp to 910 hp, are designed for small fishing and workboats as well as yachts and patrol craft.
Lightweight and compact design make the units particularly suited for high-speed craft. GUS type gear units have the same basic design features with a power range from 500 hp to 1960 hp.
GW gear units are designed for high power transmission especially under heavy service conditions and are available in a variety of configurations, i.e. reverse reduction and plain reduction, coaxial, vertical offset and horizontal offset. The GCS/H, GUC/H and GUO types are reduction gearboxes and cover the complete application range of medium-speed direct-reversible diesel engines with a power range from 1,500 hp to 65,000 hp. Combining two or more engines to drive a single propeller shaft may be accomplished with L&S compound gear GVA or GVG units with a power range of 1,800 hp to 60,000 hp and more per input line.
A wide selection of specially designed gearboxes such as alternator gear units, dredger transmissions, i.e. cutter head drives, gear units for sand pumps, electric generators, and winch drives are also available.
Couplings, Clutches and Bearings The exitations of diesel power for high-speed craft. GUS type gear units have the same basic design features with a power range from 500 hp to 1960 hp.
GW gear units are designed for high power transmission especially under heavy service conditions and are available in a variety of configurations, i.e. reverse reduction and plain reduction, coaxial, vertical offset and horizontal offset. The GCS/H, GUC/H and GUO types are reduction gearboxes and cover the complete application range of medium-speed direct-reversible diesel engines with a power range from 1,500 hp to 65,000 hp. Combining two or more engines to drive a single propeller shaft may be accomplished with L&S compound gear GVA or GVG units with a power range of 1,800 hp to 60,000 hp and more per input line.
A wide selection of specially designed gearboxes such as alternator gear units, dredger transmissions, i.e. cutter head drives, gear units for sand pumps, electric generators, and winch drives are also available.
Couplings, Clutches and Bearings The exitations of diesel power transmissions call for torsionally flexible couplings and clutches which eliminate excessive vibration and stress in the propulsion system. The Spiroflex is a highly elastic coupling with a torque capacity up to 140,000 kNm. The pneumaflex is a torsionally flexible clutch, pneumatically actuated which may transmit up to 50,000 hp.
The torsionally rigid Pneumastar clutch is a pneumatically operated dry friction clutch with tapered friction surface, which is free of backlash and able to transmit power up to 95,000 hp. Radilus propeller shaft bearings and Axilus thrust bearings for shaft diameters between 4 and 34 inches are standard L&S production designs.
In addition, in close cooperation with engine manufacturers, shipyards, and owners, L&S provides customers with reports on the latest studies and developments in the power transmission area as well as software including circuit diagrams, torsional vibration, and clutching heat dissipation calculations.
BERGEN DIESEL Write 44 on Reader Service Card The Bergen Diesel factory, or the BMV—Marine Engineering Plant, is located near Bergen, the second largest city in Norway. The company constructed this new and completely modern factory and moved into the facilities in 1971.
Bergen Diesel is represented in the U.S.A. by Bergen Diesel, Inc., of Kenner, Louisiana. The office is headed by Tor Torgersen.
Right after World War II, the Bergen Machine Works, then only a shipyard, started building diesel engines for propulsion for a series of new ships to be built to replace tonnage lost during the war. Production began with loop scavenged two-cycle engines.
The first four-stroke Bergen Diesel, the R-type, was introduced in 1953 and received great interest as an auxiliary engine. It was removed from the Bergen line in the mid-1960s.
In 1955, Bergen Diesel built a prime mover, designated the L-type (Locomotive), designed with a 250-mm (10-inch) bore; but with a shorter 300-mm (12-inch) stroke for higher speeds ranging from 720 to 900 rpm; and yielding 195 bhp (143 kw) per cylinder. This engine gained world-wide recognition as a reliable auxiliary engine for large vessels and as a propulsion engine for smaller vessels.
In the late 1960s, the demand for ever increasing output and the necessity to burn fuels of decreasing quality led Bergen Diesel to design the K-type engine. The 250-mm (10-inch) bore, 300-mm (12-inch) stroke, four-cycle engine is made in an in-line version with 3, 5, 6, 8 and 9 cylinders, and in a V-version with 12, 16 and 18 cylinders, covering an output range from 545 bhp (400 kw) to 4,300 bhp (3,200 kw). The K-engine is also made for auxiliary and for propulsion duty and is particularly well suited to run on intermediate fuels.
The first Bergen Diesel engines to be run on intermediate fuels ranging from 1F-30 (200 sec. RW1/ 100°F) to 1F-180 (1500 sec. RW1/ 100°F) were commissioned in 1963.
Even then, when the price difference between marine diesel fuel and intermediate fuel was around $10/ton, some shipowners used intermediate fuels on their Bergen Diesel auxiliary engines.
Since then the number of engines equipped for intermediate fuel operation has increased every year. Now, about 80 percent of the company's annual engine production is sold for intermediate fuel operation.
The mean effective pressure for these engines is limited to 16 bar (230 PSI), whereas the engines are released with a BMEP of 18 bar (260 PSI) for MDO-operation. The fuel viscosity has long been in the range of 30 to 180 cSt/50°C (200 to 1500 sRWl/100°F), but, since 1982, IF-380 (3500 sRWl/100°F) installations have been in service.
The majority of the generating engines and a fairly large number of the propulsion engines in operation world-wide have to accept the wide variety of fuel qualities available.
Experience has shown that, provided the manufacturer's recommendations for fuel treatment, engine temperatures and load levels could be met, overhaul times and wear figures generally do not change significantly as compared to MDO-operation.
The demand for higher ratings and increased fuel viscosity, together with the reduction of fuel quality, has prompted Bergen Diesel to undertake extensive development work in the following areas: engine components—including exhaust valves, pistons and rings; turbocharger matching; nozzle cooling/heating arrangement/start and shut-down on IFO; injection and combustion performance; part load performance; heat transfer; and fuel oil preparation.
A free, 70-page technical report on Bergen Diesel engines operating on intermediate fuels is available on request.
CATERPILLAR Write 45 on Reader Service Card Caterpillar Engine Division offers complete, matched propulsion package with ratings from 85 hp (63 kw) to 1,600 hp (1,194 kw) and marine auxiliary generator sets with ratings from 55 kw (69 kv - a). Caterpillar reports all engines have rugged four-cycle design with medium operating speeds which result in proven reliability and long service life. Their compact design allows easy installation and servicing when machinery space is limited. Their low fuel consumption reduces engine owning and operating costs.
Factory matched engines and transmissions are factory assembled and tested. Design compatibility allows concurrent scheduling of major overhauls, reducing repair time and expense. Caterpillar 7200 series of marine transmissions match applications ranging from 300 hp (224 kw) to 1,600 hp (1,194 kw) and a full range of attachments (power takeoffs, protection devices, mechanical control systems, duplex fuel and oil filters, etc.) facilitate specific application requirements.
Service and product support is available from a worldwide network of 232 full-line Caterpillar dealers in more than 1,100 locations in more than 140 countries.
Caterpillar dealers conduct sea trials to audit your system's performance, including air intake subsystems, exhaust, cooling and lubrication to ensure optimum engine performance and life.
Caterpillar offers a complete marine auxiliary generator set package. Cat auxiliaries provide essential ship services and emergency power for lighting, communications, powering winches, operating compressors, pumping water and operating bow and stern thrusters. The entire generator package is factory warranted with Caterpillar dealers providing one source responsibility for parts and service.
COLT INDUSTRIES Write 46 on Reader Service Card Two new projects are underway at Colt Industries, Fairbanks Morse Engine Division in Beloit, Wis., which are of special importance to the U.S. maritime industry. Colt Industries has secured a licensing agreement with S.E.M.T. Pielstick of France to manufacture the Pielstick PC4.2V and PC2.6L diesel engines at its Wisconsin plant.
An $11.5-million transfer of technology program is underway with commitments already made on long lead time tooling for PC4.2V engines. Modifications to the Beloit facilities Colt-Pielstick assembly and test areas include the purchase of a 250-ton bridge crane, new railroad trackage, and modifications to the 30,000-hp dynamometer test cell to permit assembly and test of the Colt-Pielstick PC4.2V marine engine.
Ratings for the PC2.6L are between 4,500 hp and 6,750 hp. For the PC4.2V, the ratings are between 16,500 hp and 29,700 hp.
With improved fuel economy and the ability to burn some of the poorest quality heavy fuels, these two Colt-Pielstick engines will be valuable assets to the marine industry.
Fairbanks Morse Engine Division continues to offer the Colt- Pielstick PC2.5V and the Fairbanks Morse opposed piston diesel engines. These two engines have been widely used by the maritime industry for many years. Four each of these two engines provide propulsion power and electric power for the U.S. Navy's LSD-41 Whidbey Island launched during June of 1983, with engines for LSD-42, 43, and 44 on order.
The Colt-Pielstick PC2, 2.3, and 2.5V engines are rated between 6,000 hp and 11,700 hp. Colt-Pielstick engine operation is readily adaptable to remote control and automatic monitoring. Fairbanks Morse engineers have designed systems meeting ASCG and ABS 1976 rules (ACCU requirements) for a "no-man" engine room watch.
All Colt-Pielstick engines enjoy parts availability in major ports all over the world.
The Fairbanks Morse 38D8-1/8 series opposed piston diesel engines are available with ratings from 708 hp to 4,200 hp with both blower scavenged and turbocharged models. The two-cycle opposed piston configuration provides an improved power to weight ratio and reduced space requirements.
It also results in fewer moving parts for increased reliability.
This engine has been used in marine propulsion and power generation applications since the mid 1930s.
In addition to the U.S. Navy's Whidbey Island class LSDs, Fairbanks Morse opposed piston diesel engines provide power for secondary propulsion systems and emergency power for U.S. Navy submarines.
CUMMINS Write 47 on Reader Service Card Cummins Engine Company of Columbus, Ind., manufactures six series of marine propulsion engines.
Designed for heavy-duty workboat and fishboat applications, the Cummins engines are rated at 170 to 1,250 hp (127 to 932 kw) for continuous, 24-hourper- day propulsion service. Several reverse and reduction gears are available for each model.
The compact V series diesel engines are V8 configuration with "oversquare" cylinders in which the bore diameter is larger than the stroke. By allowing faster rpm without increasing internal stresses, an "oversquare" engine combines high horsepower, compact size, and light weight. The V-504-M is a naturally aspirated engine with a 504-cubic-inch (8.3 litre) displacement and is rated at 170 continuous hp at 2,800 rpm.
The 555 series engines have a 555 cubic inch (9.1 litre) displacement and are naturally aspirated when rated for continuous duty at 185 hp at 2,800 rpm.
The V/VT/VTA-903 series marine diesels have the "oversquare" cylinder design and range in horsepower from 255 to 320, continuous duty. Today's 903 engines have proven their reliability and economy in over 40,000 marine and industrial applications. The V-903-M is naturally aspirated rated at 255 hp, the VT-903-M is turbocharged rated at 285 hp, and the VTA-903-M is both turbocharged and aftercooled rated at 320 hp. All are rated for continuous operation at 2,300 rpm and have a 903 cubic inch displacement (14.8 litres).
The Cummins N/NT/NTA-855- M series engines are Cummins' most proven marine diesel. For 50 years the 855 series and its predecessors, the 672 and 743 series, have been the standard for comparison of performance and economy in marine and other heavyduty applications. These engines are six-cylinder in-line diesels with a C.I.D. of 855 (14 litres) and operate at 1,800 rpm. The N-855-M is naturally aspirated and rated for continuous duty at 195 hp. The NT-855-M is turbocharged and rated at 270 or 240 hp. The NTA- 855-M is both turbocharged and aftercooled and rated at 325 hp.
The KT/KTA-1150 series engines are in-line six-cylinder models and have become the standard for fishing boats in the U.S since their introduction in 1974. In the development of the K engines, Cummins applied the knowledge gained through over 60 years of heavy-duty diesel experience.
The KT-1150-M is a turbocharged model rated 365 or 400 hp at 1,800 rpm and the KTA-1150-M is turbocharged and aftercooled and is rated 470 hp at 1,800 rpm.
Displacement is 1,150 cubic inches (18.9 litres).
The VT/VTA-1710- series are 12-cylinder, V configuration diesels with a displacement of 1,710 cubic inches (28 litres). This series has established a reputation for exceptional reliability and durability in a wide variety of workboat and fishboat applications. The VT-1710-M is turbocharged, rated 490 hp at 1,800 rpm continuous, and the VTA-1710-M is turbocharged and aftercooled with continuous ratings of 545 or 620 hp at 1,800 rpm.
Introduced into the fish and workboat market in 1974 and 1980, respectively, the KT/KTA-2300-M and KTA-3067-M series complete the Cummins' product line with the high horsepower, reliability, durability, and fuel economy required for such engine applications.
The 2300 series engines are 12-cylinder V configuration design with a displacement of 2,300 cubic inches (37.8 litres), and ratings of 800 hp at 1,800 rpm for the turbocharged KT, and 940 hp at 1,800 rpm for the turbocharged and aftercooled KTA. The turbocharged and aftercooled KTA-3067-M is a 16-cylinder model with a 3067- cubic-inch (50.3 litre) displacement and is rated 1,250 hp at 1,800 rpm.
DETROIT DIESEL Write 48 on Reader Service Card Detroit Diesel Allison has announced new advanced fuel economy models of its series 149 diesel engines. The turbocharged and intercooled engines are the most fuel efficient, heavy-duty diesels available in their power range, according to David Merrion, director of diesel engine sales.
The Detroit Diesel 149 engines in 12 and 16-cylinder, vee-block configurations are expected to show fuel economy improvements of about 3.5 percent over current engines at the same horsepower ratings, Mr. Merrion said. Twelvecylinder models are available up to 894 bhp, 16-cylinder models to 1212 bhp, in turbocharged and intercooled intercooled versions for marine continuous applications.
The fuel economy improvements are the result of a number of engineering developments by Detroit Diesel Allison, including new turbochargers, unit fuel injectors, and a new airflow system, he said.
With the new system, the power required to drive the Roots type blower used in Detroit Diesel twostroke cycle engines is significantly reduced as the engine reaches operating speeds. As that happens, the increased airflow from the turbochargers takes over the function of providing the intake air needed to maintain combustion and scavenging in the cylinders. A special valve takes the load off of the blower by equalizing the pressure on both sides of the rotors, reducing blower horsepower.
The new turbochargers and unit fuel injectors have been carefully tailored to match the needs of the new system for optimum fuel efficiency, Mr. Merrion explained.
Detroit Diesel series 149 engines have been popular with the commercial fishing industry for many years. Their high dependability and continuing improvements in fuel economy and durability have made them "a standard of the industry," according to Mr.
Merrion.
ELECTRO-MOTIVE DIVISION—GM Write 49 on Reader Service Card A new, more fuel-efficient series 645 engine was introduced by Electro-Motive Division of General Motors this year. This new engine provides a 3 percent reduction in fuel consumption over previous models.
"This new model," said T. J.
Lehman, EMD marine and industrial sales manager, "represents the latest step in our continuing efforts to provide our customers with the most fuel-efficient diesel, while maintaining our levels of reliability, interchangeability, and maintainability. We are very excited about this more fuel-efficient model. Further, we expect even more improvements in fuel efficiency in the future." The new EC engine series combines innovative design features that ensure superior field performance, extended operating service, and enable the engine to withstand higher operating pressures with state-of-the-art turbocharger technology. The 645EC uses a 16:1 compression ratio piston. The increased compression ratio from 14.5:1 produces the same power output with less fuel. A newly designed impeller and compressor has been incorporated into the turbocharger.
EMD has also introduced, this year, a heavier crankcase option, the 645F engine. This engine, designed for high horsepower levels, is currently available in 16 and 20-cylinder models.
Later this year, results should be in on the next phase of EMD's blended fuels field testing program.
The division will report on the findings.
A new multimillion-dollar blended fuels engine test facility is under construction at EMD. This is in addition to the 13 performance and durability test facilities EMD already has.
In addition to this investment, EMD has expanded its computerized design and manufacturing capabilities into an integrated system (CAD/CAM) which enables engineering designs to be communicated directly to the shop floor.
The result is improved quality.
Computer Aided Design/Computer Aided Manufacturing puts the factory of the future into EMD's operations today.
GENERAL ELECTRIC DIESEL Write 50 on Reader Service Card Rating increases of approximately 10 percent, resulting from a series of significant technological advances, have been announced by General Electric Diesel Power Products, Erie, Pa., for its line of diesel engines and power modules.
The recent advances have been completely laboratory and field tested and include a higher strength piston, modified exhaust valves and seats, 18-mm double helix fuel pump, enlarged parallel low-pressure fuel system, grooveless bearings, and turbocharger improvements.
As a result of the newly developed advances, General Electric is offering the following ratings: In addition to product improvements, General Electric is offering its customers complete service and parts support and training capabilities.
For example, the new GE Actionline gets the parts required to repair an engine breakdown to the customer within 48 hours or less.
And with the Actionline, parts for normal delivery are shipped by the end of the second working day.
General Electric's new multimillion- dollar Learning and Communications Center at its Erie, As far as safe starting is concerned, Deutz benefitted from the existence of an optional starting system on the 816 using compressed air piped direct to the cylinders.
This avoids the need to flameproof starter motors and avoids the risk of sparks from gear teeth. There is the added advantage that an inert gas such as nitrogen, which is commonly found in pressure cylinders on oil rigs, will perform the starting functions.
Deutz is offering a 24-page fullcolor brochure on its series B/AM 816 diesel engines. The brochure includes color photographs, cutaway and sectional drawings of the engines which are offered in both in-line and "V" configurations.
Deutz maintains sales and service offices worldwide. The company is represented in the United States by Deutz Corporation of Atlanta, Ga., and Metairie, La.
KRUPP MaK DIESEL, INC.
Write 55 on Reader Service Card Krupp MaK Diesel, Inc., a leading supplier of medium-speed, four stroke, heavy-oil engines, has relocated its North American headquarters from Rosemont to Glenview, 111., to provide the latest state-of-the-art services to the U.S.
and Canadian marine industries.
The firm maintains 112 service centers worldwide and has sold more than 700 heavy fuel engines worldwide.
Since it was established in the fall of 1980, Krupp MaK Diesel, Inc., a subsidiary of Krupp MaK Maschinenbau GmbH, Kiel, West Germany, has placed more than 160 engines in operation throughout North America.
"Our heavy-oil technology has been developed over the past 15 years," explains MaK vice president, Rainer Von Minden. "And new designs continue to lead improved operation of MaK's fourstroke engines, especially when running on bunker fuels. The capability to burn heavy oil contributes considerably to the reduction of operating costs because of lower fuel costs and lower specific consumption.
"Although medium-speed, heavyfuel engines are relatively new to North America, they have proven to be very successful. . . . Our need to expand after two years in business here suggests that MaK's engines have been accepted by the market and become a fixture in this continent's marine industry," Mr. Von Minden stated.
MaK manufactures (in West Germany) five series of mediumspeed, four-stroke diesels with outputs from 1,000 hp-13,000 hp. The engine range includes the M 282/ M332, M 453, M35, M 551/M 552, and M 601. In-line engines are produced for the entire range, and V engines with 12 or 16-cylinders are available for very compact drive systems. All of MaK's engines have cast-iron crankcase housings. Engines with bores of 320 MM or more have multisectional engine blocks and are connected by continuous steel tension rods. High initial tension of the rods prevents tensile stress in the cast material. Engines with a 240- mm bore have a crankcase with an underslung crankshaft.
The M 552, widely used to power Great Lakes Ships, has an output from 4,000 hp-10,000 hp. The three-part arrangement consists of bedplate with embedded crankshaft, superimposed box frame with large power unit ports, and cylinder block. The pistons are designed to accommodate the heavy-oil operation, including a steel upper section, aluminum piston skirt, chromium-plated piston rings, and exhaust valves in separate cast steel housings with intensive valve seat cooling. The cylinder liners are a salt bath nitrided working surface and separate cylinder lubrication.
Low engine speed and low load values combined with solid design have enabled the M 552 to run on bunker fuel of 700 CST/50 degrees C. The M 552 is available in 6, 8, 9, or 12-cylinders. It has a 450-mm bore; 520-mm stroke, and a speed range of 425-514 rpm.
The M 601 is the largest in MaK's series, with an output range of 8,000-12,300 hp. It is used to power larger vessels or vessels with small space capacity where higher horsepower is required.
Available with 6, 8, and 9-cylinders, the compact M 601 has an almost quadratic stroke bore ratio of 600 mm-580 mm and a speed range of 400—428 rpm. It is operating on bunker fuel grades up to 700 CST/50 degrees C.
The M 601 is designed with proven bedplate construction with embedded crankshaft, superimposed box frame and cylinder block.
Well suited for most types of ships and often used as a high output auxiliary engine, the compact M 453 powers propulsion systems.
With the capacity to burn bunker fuels up to 700 CST, it is designed either as a direct reversible or as a undirectional engine. The M 453 is available in 6, 8, 9, 12 or 16-cylinder configurations. It has a 320- mm bore, 420-mm stroke, speed range of 500—600 rpm; and an output range of 2,200-6,530 hp. with heavy fuels with a viscosity above 180 CST/50 degrees C.
LUFKIN Write 56 on Reader Service Card Lufkin Industries, Inc., of Lufkin, Texas, has enjoyed an enviable reputation throughout the marine industry for many years because of the high quality and rugged design of their marine gear drives.
Lufkin states they build marine gear drives to last even under the most severe operating conditions.
To provide vessel owners with an extra margin of protection, all Lufkin drives employ heavy, double helical gears mounted in rugged housings capable of absorbing unexpected shock loads. Clutches are mounted externally for better access and greater ease of maintenance.
The firm stated they can and have designed marine drives for any application. Since World War II, Lufkin has supplied a standard line of marine gear drives in vertical, horizontal and inline arrangements for 500 to 8,000 hp service. The company has customdesigned gears for much larger applications and worked with builders from design stages to installation.
Lufkin has an informative brochure available at no cost which completely describes their standard line of marine gear drives and the availability of customdesigned units for particular applications.
M.A.N. - B&W DIESEL Write 57 on Reader Service Card Ten years ago, improvements in specific fuel oil consumption was one of the least important design considerations for future generations of diesel engines. This situation changed radically during the 1970's and today, specific fuel oil consumption, propulsion efficiency, and operation on heavy fuel, outweigh all other considerations by a wide margin.
As a result, M.A.N.-B&W is now one of the leaders in the design of efficient engines as measured by the very low fuel oil consumptions confirmed on testbed. Actual engine sales, in percentage of the total world horsepower demand for marine propulsion and auxiliary generator units, is in excess of 42 percent, one of the largest in the world with the broadest range of low and medium-speed engines from 500 to over 56,000 hp.
The M.A.N.-B&W family of diesel engines of the latest design includes: 22 low-speed engines de- veloping from 2,340 bhp at 200 rpm to 56,160 bhp at 74 rpm, and 11 medium-speed engines developing from 545 bhp at 1,000 rpm to 18,990 bhp at 450 rpm. M.A.N.- B&W reports specific fuel oil consumption for medium & low speed engines as low as 0.26 lbs/bhp-hr at part load. The M.A.N.-B&W service organization consists of 29 service centers worldwide, 104 sales agents, and 74 authorized repair agents, which ensure that the operator of any M.A.N, or B&W designed engine has rapid access to spare parts, technical expertise, and qualified repair assistance.
This service organization is backed by modern plants in both Germany and Denmark, plus a family of licensees who supply spares and maintain stocks in all major traffic centers. Immediate delivery of a wide range of important spare parts is available in any area of the world.
An additional service area development provides a range of maintenance management modules which are tailored to suit individual needs. This service includes a highly developed and computer supported Compex maintenance system. Based on M.A.N.-B&W's experience gained from more than 400 plant-years of operation, Compex enables operators to optimize maintenance schedules for maximum reduction in costs.
B&W ALPHA Write 58 on Reader Service Card B&W Alpha Division of B&W Diesel A/S is a company in the M.A.N.-B&W Diesel Group that designs, manufactures, markets, and services complete ship propulsion systems.
For 1983, Alpha Diesel has completed the integration of the inline and V-version of the 20/27 M.A.N.-B&W Diesel engine and the in-line version of the 32/36 M.A.N.-B&W Diesel engine with already existing Alpha controllable- pitch propeller equipment and gearboxes. This results in fourcycle diesel propulsion systems developing as little as 680 hp at 1,000 rpm, which can burn heavy fuel oil to 2100 sec. Redwood 1 at 100 degrees F.
One of the new series being offered by Alpha Diesel is the new 20/27-VO propulsion system. While the engine itself is not new, it has been included in Alpha Diesel's complete propulsion system offerings.
This propulsion system incorporates the new Alphatronic I and Alphatronic II remote controls— the company's latest electronic remote control systems.
Features of the new remote control systems include: a) reliable attainment of economical operation through the optimum combination of engine rev/minute and propeller pitch; b) simple controls requiring minimum attention of the navigator; c) simple installation (basically a single electrical cable connection from the wheelhouse control panel to the engine); d) easy maintenance (with as many functions as possible on easily replaceable printed circuit boards); and e) a clear, understandable display of essential information.
The Alphatronic I is intended for vessels operating under widely varying conditions (for example, harbor tugs, trawlers, etc.) or where the maintenance of a specific engine or take-off rev/min is a major factor in operation. The Alphatronic II is designed for use on ships where operating conditions are not dominated by a fixed engine speed requirement, allowing free choice in the combination of rev/min and propeller pitch. With either system, the navigator can always override the automatic system should special circumstances require a different pitch of rev/ minute setting.
For more than 30 years, M.A.N, and B&W have been among the leaders in the development of fourstroke medium-speed diesel engines using heavy fuel. The L28/ 32 engine can provide maximum operating economy during both high and low load operations as well as idling by virtue of the fol- lowing: low inertia fuel injection, high injection pressure, optimized valve timing, resistance in gas ways, and a carefully adapted high efficiency turbocharger which gives low fuel consumption and clean combustion when running on heavy fuel.
The L28/32 and V28/32, with their redesigned cylinder heads, offer better gas flows and improved fuel economy as well as heavy fuel burning characteristics.
Research is continuing to further reduce fuel consumption in all engine models.
The Alpha Diesel product line now includes the following series: 20/27 which develops 136 hp per cylinder at 1,000 rpm; model 23L which develops 155 hp per cylinder at 825 rpm; 23/30 developing 170 hp per cylinder at 825 rpm; L28/32 developing 285 hp per cylinder at 775 rpm and L32/36 which develops 500 hp per cylinder at 750 rpm. Alpha Diesel can now offer more horsepower with fewer cylinders.
B&W HOLEBY Write 59 on Reader Service Card B&W Holeby manufactures fourstroke diesel engines ranging from 450 to 5,500 bhp. The company supplies diesel generator systems for shipboard electrical power and to power auxiliary equipment aboard ships.
In addition to diesel engines, production includes spare parts and components, such as crankshafts and connecting rods, for the licensees' production of four-stroke B&W diesel engines. Fuel oil mixing units and other auxiliary units are also manufactured.
As a result of recent development projects, all types of Holeby engines can now be supplied in uprated four-valve versions which operate efficiently on the same heavy oil used in the main engines.
Holeby has termed this their Unifuel system.
MTU OF NORTH AMERICA Write 60 on Reader Service Card MTU of North America, Inc., Greenwich, Conn., is the American- based subsidiary of MTUFriedrichshafen, West Germany, which is owned jointly by Daimler- Benz AG and Maschinenfabrik Augsburg-Nurnberg AG (MAN Corp). The company has devoted the past five years to building an organization in the U.S. which mirrors the high standards of the MTU organization worldwide. It has adopted a policy of matching proven MTU engineering technology to each important segment of the American market, backed by a commitment to providing the highest possible degree of service and technical support.
In addition to MTU-Friedrichshafen's worldwide service network, MTU of North America has established service centers for engine repair and overhaul and personnel training, as well as testing and warehouse facilities, at strategic locations throughout the U.S.
The MTU diesel line covers a power output range of 440 to 10,000 hp at rated speeds between 1,000 and 2,400 rpm. Basic design features common to the series are: V-configuration, water cooling, exhaust gas turbocharging and charge air cooling. All engines are the result of the collective experience gained by Maybach, Mercedes-Benz, and MAN in the development of cost-effective, highperformance diesel engines.
The model 20V 1163 TB 93 engine, introduced this year, is evidence of MTU's continued success in its engine development program.
MTU states the program focuses on increasing engine power and power concentration to open new powering possibilities, reducing fuel consumption throughout the entire speed range, extending operating range through higher MEPS and improving partial-load characteristics and the use of poorer/heavier fuels with lower cetain numbers and higher impurity levels. MTU employs cylinder cutout, cylinder charge transfer, and sequential turbocharging. All three systems, which have been proven in service trials, will be employed in the engines in the 1983 sales program.
Power in the series 1163 has been increased from 349 to 496 bhp/cyl (corresponding to an increase in MEP from 305 for 426 psi). MTU's two-stage turbocharging is also employed for the first time in addition to other systems mentioned. This allows -overall engine dimensions to be kept almost constant and results in a power-tovolume ratio of 11.7 bhp/cu ft and a weight-to-power ratio of 4.4 lbs/ bhp with the 20V 1163 producing 9,920 bhp.
Output of the series 396 engines has also been increased. With a maximum rating of 2,570 bhp and a weight of 10,475 lbs, the 16V 396 penetrates a power range which could previously be served only by larger and heavier engines.
MTU's marine diesels are designed for a wide range of commercial and naval applications.
These include continuous duty with a power range of 590 to 4,930 bhp, and a medium duty, with a power range of 640 to 5,425 bhp.
Light duty engines have a power range of up to 10,000 bhp. Some of the advantages of MTU's compact engines include light weight, low volume, and decreased noise levels.
In addition, they are prepackaged with accessories for fast, inexpensive installation of the complete power plant.
Electronic monitoring and control systems for diesel engines, gas turbines, marine transmissions, and combined propulsion systems complement the MTU product line.
MTU electronics include monitoring and control systems for unattended propulsion plants. Engine room control stands, bridge control posts, and control consoles are also available, as well as simulation systems for personnel training.
MTU of North America, Inc., currently has facilities in Greenwich, Conn., Sugar Land (Houston), Texas, Morgan City, La., Washington, D.C., and Seattle, Wash.
MWM-MURPHY Write 61 on Reader Service Card Earlier this year, MWM announced the expansion of its U.S.
Large Bore Division for the express purpose of marketing the company's higher output engine series in North America. The MWM-Murphy Large Bore Division, headquartered in Houston, Texas, has been organized to market the company's 400 and 500 series multi-fuel engine families.
The 400 series is a four-stroke, direct-injection design engine family available in diesel, natural gas, dual fuel, intermediate, and heavy fuel versions. The 400 is divided into three basic model classifications, the 440, 441, and the new 444. The 440 and 441 are designed around a common bore (9.06 in.) and stroke (10.6 in.) and a swept volume of 684 in.3/cylinder. The new 444 shares the same bore as the other family members, however the stroke of the 444 has been extended to 12.6 in., the displacement to 812 in.3/cylinder.
The 440 and 441 are offered in both naturally aspirated and turbocharged- intercooled models. The 440 denotes the series inline engines, available in 6 and 8-cylinders, the 441 by contrast, designates the VEE type engines available in 12 and 16-cylinder engine models. The operating range for the 440 and 441 is between 600—1,000 rpm on diesel fuel and 750-1,000 rpm on alternative fuels.
Outputs of course, vary based upon type of fuel consumed; however, maximum output on reference fuels may be said to be 71 hp/cylinder (diesel and dual fuel), and 69 hp/ cylinder (natural gas), for the naturally aspirated versions, 128 hp/ cylinder (natural gas and dual fuel), and 208 hp/cylinder (diesel) for the turbocharged-intercooled models.
The longer stroke 444 is available in inline 6 and 8-cylinder turbocharged- intercooled models and has an operating speed up to 750 rpm. Released this year, the 444 was designed for optimized performance on lower grade and heavy fuels up to 3500 Redwood which may be the norm in years to come.
A redesign of the internal cooling circuit and new generation turbochargers has increased the overall efficiency of the basic engine design allowing for the initial development output to be significantly greater than the 440, with no detrimental effects on fuel consumption.
Output on diesel fuel at this time is 250 hp/cylinder at 750 rpm or 2,000 hp for the 8-cylinder model.
Basic design features of the 400 series include individual cylinder heads with four valves per head (2 inlet, 2 exhaust) in an overhead arrangement. Piston cooling on all turbocharged-intercooled models, all models both naturally aspirated and turbocharged-intercooled are oil cooled.
The 500 series, the largest of the MWM product line, is divided into two separate and distinct engine families; the 510B and the 501.
The 510B is comprised of four basic turbocharged-intercooled engines with a common bore (13 in.) and stroke (14.2 in.); two inline (6 and 8 cylinder) and two VEE type (12 and 16-cylinder). Like the 400 series, the 510B has been designed to operate on a variety of fuels with significant experience on the poorer grade fuels, even fuels with viscosity up to 3500 Sec. Redwood.
The design characteristics of this family allow operating speeds between 600 rpm and 750 rpm. The 510B has a swept volume of 1879 in.3/cylinder and an output per cylinder of 525 hp, up to 8,400 hp on the 16-cylinder model (diesel fuel).
Currently only the 6 and 8-cylinder models are available for operation on dual fuel and natural gas, output at 750 rpm is 1,890 hp for the 6-cylinder and 2,515 hp for the 8-cylinder.
The 501 in contrast to the 510B, is available in a turbocharged-intercooled inline 6 and 8-cylinder engine only. Each shares a bore of 14.2 in. and a stroke of 17.7 in., operating speed for the 501 is between 428 rpm and 514 rpm. The 501 has been designed specifically for operation on diesel and poorer grade fuels, operation on natural gas and dual fuel is not available.
Output at 514 rpm for the 6-cylinder is 2,475 hp, 3,300 hp for the 8-cylinder model.
ONAN CORPORATION Write 62 on Reader Service Card The Onan Corporation, of Minneapolis, Minn., recently introduced the L317D-M and L423D-M Marine propulsion engines.
With ratings of 43.5-ph (32.5- kw) and 60-hp (4.8-kw) at 3,600- rpm and weights of 475-lb (215-kg) and 549-lb (249-kg), respectively, the new Onan engines are part of a family that will eventually offer diesels with ratings up to 150-hp (111.9 kw).
With a weight to hp ratio of about 11-lb/hp, the four-cycle L317D-M engine has a displacement of 1.7-L (105-in). The L423DM has a weight/hp ratio of about 9-lb/hp with a displacement of 2.3L (140-in). Both engines have a common cylinder of bore: 89-mm (3.5-in), and stroke: 92-mm (3.62- in).
Onan Corporation, which designed and developed the new family of marine propulsion engines, has been a well-known supplier of marine equipment for more than 25 years. Such experience has resulted in a number of marine features and options on the propulsion engines, including a marine cooling system, marine gear, marine alternator, and mounting system.
SACM DIESEL Write 63 on Reader Service Card SACM of France manufactures medium and high-speed, fourstroke, direct injection diesel engines known for their low specific fuel consumption and compact size.
F. W. Donnelly Company of Houston, Texas represents SACM in the United States.
For the offshore drilling and production industry, SACM is one of Europe's leading suppliers of diesel generator sets with continuous, 60-cycle set ratings from 100 kw to 4,000 kw. The compact diesel generator sets are in use on the world's largest semisubmersible, the Dyvi Delta, and on the largest production platforms, Statfjord B and Statfjord C.
SACM engines, from 100 hp to 8,400 hp, are in use throughout the world in a wide range of commercial and military high-speed vessels. These vessels include the well-known Bell Halter BH 110 SES, Westamarin Catamaran, and SAR 33. SACM is a leader in the development of Reduced Volumetric Ratio (RVR), Hyperbar, and two-stage turbocharged engines, providing excellent power/weight ratios. The SACM 520 V12 S3 (Hyperbar) engine has a peak rating for fast patrol boats of 1,400 hp / 2,500 rpm and a dry weight with accessories and gear of 7,480 pounds.
SACM is active in the development of crude and intermediate fuel burning capabilities for their medium and high-speed engines.
This development is based on over 13 years of experience gained since the delivery of SACM's first crude and intermediate fuel burning engines.
For marine propulsion, these engines range from 100 hp to 5,600 hp, while for generator sets ratings from 100 kw to 3,600 kw are available.
STORK-WERKSPOOR Stork-Werkspoor Diesel (SWD) produces five models of heavy-duty four-stroke diesel engines from 320 hp to 22,000 hp. All of the engines are capable of operating on heavy fuel. Applications include oceangoing ships, naval vessels, coastal ships, supply and tug boats, fishing vessels, dredges, drill rigs and on-board auxiliary power.
In 1981, SWD introduced the SW280. The new engine covers the range from 2,000 bhp to 5,000 bhp with four-cylinder configurations, 6, 8, and 9 in-line and 12 cylinder V models. SWD has continued to conduct tests on all models for heavy fuel operation with special attention to low-load, low-speed (part-load) operation.
Further research and development on the TM 410 and TM 620 engines to reduce fuel consumption have been undertaken, leading to a number of modifications including: the application of high efficiency turboblowers, adopted valve timing, and the application of an injection system with higher injection pressures. Modifications to reduce maintenance costs and improve accessibility were also introduced.
In January 1983, the 500th TM 410 engine produced in Amsterdam was delivered. Ten 18- cylinder TM 410 engines have been ordered by the Quincy Shipbuilding Division of General Dynamics for the five prepositioning ro/ro's being built for the U.S.
Navy.
SWD's presence and activity in the United States have been intensified by the establishment of SWDiesel Gulf Incorporated in New Orleans, La. This company is headed by A.L.S. van Heel, formerly commercial director of SWDiesel head office in Amsterdam, the Netherlands.
S U L Z ER Write 67 on Reader Service Card Sulzer Brothers of Winterthur, Switzerland, successfully tested the firm's new generation of low-speed engines early in 1983. This uniflow scavenged RTA "Superlongstroke" series, with a thermal efficiency of more than 50 percent, has proven a success with excellent acceptance in the marine marketplace.
Early this year, 85 of the RTA engines had been committed for production with eleven different manufacturers. Five of the engines were being built at the headquarters in Winterthur.
In addition, Sulzer's RL series continues to prove its value and, because of its simple design, remains in demand for many standard ships.
Sulzer further developed it's medium- speed ZA40 engine and began production in its Mantes, France facility. The ZA40 is particularly suited to ship propulsion installations requiring minimum engine height as well as for standard power installations.
The ZA40 offers high reliability with low lube oil consumption when burning poor quality heavy fuel.
The engine is well into the manufacturing phase at Sulzer licensees in Japan and Finland.
New orders for Sulzer marine engines worldwide—for both Sulzer and through its licensees—reached 1.6-million kw (2.2-million bhp) during 1982. Also during 1982 Sulzer engines with a total output of 2.4-million kw (3.2-million bhp) were installed in oceangoing vessels of 2,000 dwt and above, an increase from 2.2-million kw (3.0- million bhp) in the previous year.
Sulzer offers 10 types of slowspeed, two-stroke engines each with four basic ratings, designed for the widest possible range of applications.
The smallest of these engines is rated at 2,320 bhp/152 rpm, or 3,320 bhp/190 rpm. On the other end of the scale, the largest engine develops 34,200 bhp at 70 rpm, or 48,360 bhp at 87 rpm. Specific fuel consumptions for the entire range are between 123 and 235 gr/bhp/hr. This includes the proven RL design, with the valveless loop scavenging system as well as the newly designed RTA.
In addition, for special applications as well as auxiliary power, Sulzer offers four-stroke engines from 840 to 15,660 bhp. These A and Z type engines have been designed for heavy fuel operation and have proven their efficiency in over 10 years of service.
For electrical power, choices include turbogenerator, slow-speed shaft generator, power take-off and/ or heavy fuel burning auxiliary engines. The best choice can be determined with a feasibility study of a vessel's intended service, the capabilities of the main engine, and the waste heat system.
Sulzer is offering a free 12-page "Technical Summary of Sulzer Diesel Engines." TRANSAMERICA DELAVAL Write 68 on Reader Service Card The Enterprise R and RV medium- speed diesels of Transamerica Delaval have proved themselves over hundreds of thousands of operating hours, powering vessels ranging from rig work boats to 1,000-foot ore carriers. The R4 series is composed of 6 and 8-cylinder in-line engines and vee-form engines with 12, 16, or 20-cylinders.
The bore is 17 inches (432 mm), the stroke 21 inches (533 mm), and the output ranges up to 677 bhp per cylinder.
The latest development in the Enterprise line of marine engines is the R5. Rated at 514 rpm, the R5 produces 850 bhp per cylinder with a bmep of 275. Bore and stroke are the same as the R4.
Through selective redevelopment and design advances of critical engine parts, test results show that Transamerica Delaval has achieved in the R5, as compared to the R4: 40 percent more horsepower per cylinder; 40 percent more horsepower per sq. ft. of installation space; and 3.5 percent lower fuel consumption.
Enterprise engines are experienced burning cost-saving residual fuels, and designed with the intensive cooling heavy fuels demand.
For America's river towboats this heavy fuel capability in the R4 size range can mean substantial savings. Rising fuel costs account for an ever increasing share of total operating expenses for towboat fleets—up to 70 percent in some cases.
The ability to burn heavy fuel reliably is paying off for a wide range of Enterprise equipped vessels.
Three 36,000-dwt dry bulk carriers, Pride of Texas, Star of Texas, and Spirit of Texas, built by Levingston Shipbuilding, of Orange, Texas, for Asco Falcon I are powered by twin Enterprise R4- V12 direct-reversing engines, giving each ship a total of 15,600 hp.
By burning residual fuels these vessels remain competitive with international dry bulk carriers.
Twin Enterprise R4-V16 engines propel U.S. Steel's M/V Edwin H. Gott, a mammoth ore boat longer than three football fields.
Inspections of the main propulsion engines continue to show clean internals and very low wear rates under heavy fuel service.
Ship service diesel generators for three American President Lines containerships were supplied by Transamerica Delaval. Constructed by Avondale Shipyards of New Orleans, these are the largest containerships ever built in the U.S. Their refrigerated cargo is safeguarded by three heavy fuel burning Enterprise R4-L6 diesels, rated at 2500 kw each.
Four Enterprise R4-V16 engines power two 35,000-dwt tankers built by Bath Iron Works for Falcon I Sea Transport Company. These will be chartered to the Military Sealift Command for transporting fuels to government bases worldn wide. The R4-V16s, each rated at 7,360 bhp, are designed to operate on various fuels including the more economical grades with viscosities up to 3500 Redwood.
Other Enterprise equipped vessels include the world-circling rig work boats of Biehl, Inc. and six 47,000-dwt Catug petroleum carriers built by Halter Marine and Bethlehem Steel.
Transamerica Delaval has complemented its line of Enterprise diesels by signing an agreement with the Dutch firm of Stork- Werkspoor Diesel B.V. of Amsterdam, which gives Transamerica Delaval the rights to the exclusive manufacture and marketing of the Enterprise-SWD TM 620 diesel.
This engine, which operates up to 430 rpm, is offered as a 9-cylinder in-line unit with an output of 16,650 at the flywheel, and a veetype 12-cylinder unit rated at 22,200 bhp.
Available from Transamerica Delaval free of charge are technical reports examining heavy fuel economics in marine applications, including today's river boat industry.
VOLVO PENTA Write 69 on Reader Service Card Volvo Penta has introduced a new, improved version of its turbocharged 12-liter diesel engine, the TMD 120. Specially designed for use as the main engine in workboats and leisure craft, it is claimed to exhibit high output in relation to weight and installed dimensions, low fuel consumption, and a high level of operational reliability.
The B-version of the TMD-120 features advanced control of the injection and combustion processes with new injectors which provide the possibility of more rapid injection at higher pressure and with decreased combustion delay. Together with efficient turbocharging and a combustion chamber of new design, this will yield a considerable improvement in efficiency.
Other technical refinements in Volvo Penta's 12-liter diesel include piston-cooling, a hose-free seawater system with a heat exchanger, and thermostat-controlled cooling of the engine block, cylinder heads, turbo, and exhaust manifold.
The Swedish firm's line of diesels includes 2, 3, 4, and 6-cylinder engines covering 12 different models. Some models are equipped with turbochargers and others with both turbo and after-coolers.
Additionally, Volvo Penta offers twin engines driving through a compound gear providing a single shaft output from 336 shp to 580 shp. The twin-engine/single-output package provides many advantages including "take-home" capability on one engine.
A wide range of accessories designed for commercial use are available such as front or side mounted power take-offs, flexibleengine mounts and shaft couplings, freshwater filters, auxiliary alternators, engine-mounted pumps, and many more.
The heavy-duty Volvo line includes the model MD 120A, a 6- cylinder engine with maximum continuous rating of 168 shp at 1,800 rpm, and the 6-cylinder TMD 120A with mcr of 260 shp at 1,800.
WARTS I LA DIESEL Write 7 0 on Reader Service Card Wartsila Diesel, one of the world's leading manufacturers of medium-speed diesel engines, has three production plants: the Wartsila Vasa factory in Finland, the Trollhattan factory in Sweden, and the newest factory, Wartsila Power Singapore in Singapore.
The purpose of Wartsila's product development program was to create diesel engines capable of both maximum economy and safe operation even in the most demanding applications. As a result, Wartsila now produces two highstandard medium-speed diesel engines designed and developed from the very beginning to operate on the poorest quality fuel.
The Vasa 32, introduced in 1977, is well established in the world's engine market as a main or auxiliary power source on a variety of ships. This engine, with its seven different cylinder versions—4R32, 8R32, 9R32, 12V32, 16V32 and 18V32—covers an output range of 1,820 to 8,350 hp at 720 to 800 rpm. The Vasa 32 accepts fuel with a maximum viscosity of 380 cSt.
The second of Wartsila's very heavy fuel engines is the Wartsila Vasa 22HF—the smallest engine in the world developed exclusively to operate on heavy fuel. The output range of Vasa 22HF covers 720 to 3,480 hp at 900 to 1,200 rpm. The engine is built in five different cylinder versions— 4R22HF, 6R22HF, 8R22HF, 12V22HF, and 16V22HF—running on heavy fuel with the same maximum viscosity as the Vasa 32 engine, 380 cSt.
The main features of these engines are: starting, stopping, and running over the entire load range on heavy fuel without any limitations; heavy fuel operation with the same safety and reliability as when operating on distillate fuel; and all engines can run on the same type of heavy fuel.
The Wartsila Diesel very heavy fuel engines can be operated equally well on distillate fuels such as gas, oil, or diesel oil. The high level of reliability and durability when operated on heavy fuel oil will be improved by a factor of 1.5 to 5 when operated on distillate fuel. The engines retain this advantage with distillate fuels of lower quality proposed in future international standards.
Distillate fuel quality has been deteriorating rapidly. Sulphur content in the region of 2 percent will be normal in the future for the cheaper grades. The Wartsila Vasa 32 and Vasa 22 diesels were designed from the outset to burn the poorest quality heavy fuel anticipated during the next decade.
Wartsila Diesel reports, because it was the first company to introduce purpose-designed heavy fuel engines with outputs below 9,000 hp, it has gained extensive field experience with heavy fuel engines in that range. This experience confirms: low maintenance costs resulting from long periods between overhauls, ease of maintenance, and low spare part consumption.
Wartsila Diesel engines are backed by an efficient service organization in three factories and at numerous service centers worldwide.
Since 1980, Wartsila Diesel has been represented in the U.S. by Wartsila Power Inc., with its main office in New Orleans, La., and branch offices in Houston, Texas, Seattle, Wash., and New York City.
WAUKESHA Write 7 1 on Reader Service Card Waukesha Engine Division, Waukesha, Wis., has begun production of the AT25 diesel series at its Wisconsin plant. These highoutput, medium-speed 250-mm bore diesels are built under a license agreement with Sulzer Brothers Ltd., Winterthur, Switzerland. Designed to operate economically on distillate or blended fuels, the primary applications for the AT25 are marine propulsion and offshore drilling platforms.
Available in V-16 and V-12 configurations, in-line versions of the AT25 will be offered late in 1984.
These diesels are rated up to 300 bhp per cylinder at 1,000 rpm on distillate fuel, and up to 270 bhp per cylinder at 1,000 rpm on heavy fuels.
The AT25 is ideal for heavy fuel operation. The bore-cooled cylinder head and the two-part piston assure lower induced stresses and moderate valve seat temperatures, both important when running on heavy fuel. Also when compared with a former double bottom design, (used for most engines of this kind), the bore-cooled head has 2.5 times fewer deformations. This enhances valve sealing conditions, resulting in more efficient combustion of heavy oil fuel.
The application of a Brown Boveri pulse-type turbocharger provides more rapid response to load changes and helps lower fuel consumption at both part and full loads. Low fuel consumption is also achieved by high pressure fuel injection and optimized injection timing.
All pistons, piston rings, connecting rods, cylinder heads, cylinder liners, injection pumps and nozzles are completely interchangeable among all models offered.
A significant capital investment program at Waukesha includes new AT25 cylinder block and crankshaft machining centers, and new assembly and test centers for the new series. Waukesha's major thrust with the AT25 will be in the coastal marine, inland waterways, and oceangoing vessel markets.
Gary V. Bollenbach has been appointed head of the AT25 program at Waukesha.
ZF OF AMERICA Write 72 on Reader Service Card ZF of North America, Inc. of Northbrook, 111., offers a full line of light-weight high-performance marine gears.
The ZF BW 250 marine gear series provides all the advantages of compa.ctness and light weight without sacrificing speed, power and durability. The BW 250 series is designed to handle up to 1,500 hp over a wide range of marine applications in a compact, modular design that's easy to operate and easy to maintain.
Available in reversing/reduction or reduction only, the BW 250 features: hydraulically-operated oilcooled multiple disc clutches; motor-driven and prop-driven pumps; anti-friction bearings; and a wide range of standard ratios. Udrive engine or separate mounting is available.
ZF maintains a worldwide service organization for service and parts back-up.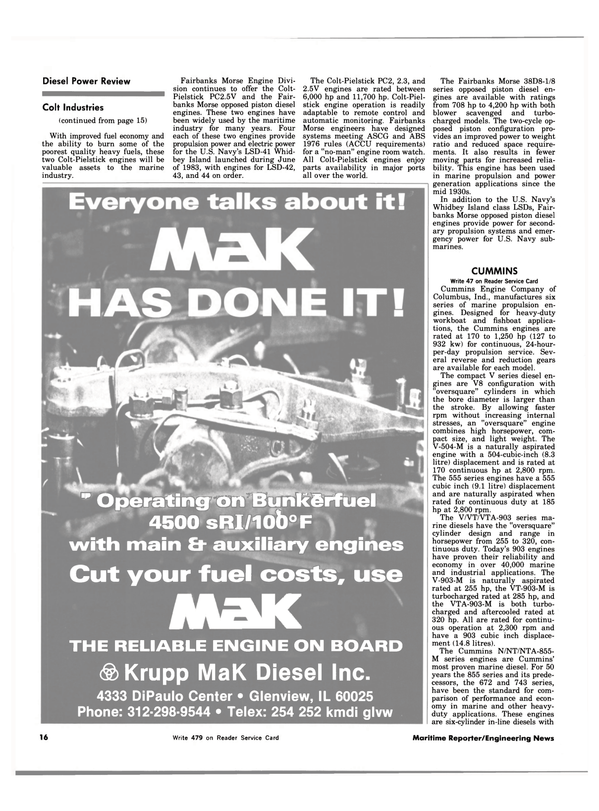 Read DIESEL POWER REVIEW in Pdf, Flash or Html5 edition of July 15, 1983 Maritime Reporter
Other stories from July 15, 1983 issue
Content