Pennsylvania Shipbuilding Dedicates Fast Supply Ship U.S.N.S. Denebola
Another of the U.S. Navy's T-AKR Class of fast supply ships, the USNS Denebola was dedicated recently at the Pennsylvania Shipbuilding Company's yard in Chest e r , Pa. Congressman Dick Schulze (R-PA) was the keynote speaker at the ceremony and his wife, Nancy Schulze, christened the ship. Vice Adm. William H.
Rowden, USN, commander of the Naval Sea Systems Command, spoke on behalf of the United States Navy.
The U.S.N.S. Denebola (T-AKR 289) is the sister ship of the U.S.N.S. Capella, which was dedicated in June 1984 and delivered ahead of schedule by Pennsylvania Shipbuilding. The Denebola, which will be formally delivered to the Navy later this month, is the second of a two-ship contract awarded to Pennsylvania Shipbuilding which is part of a total eight-ship program.
One of the Navy's largest and fastest auxiliary ships, the Denebola has an overall length of about 946 feet, beam of 105 Vi feet, depth of 66 feet 7V2 inches, and draft of 36 feet 8 inches. Displacement is 55,000 long tons. She is powered by a steam turbine plant of 120,000 shp that gives her a service speed of 33 knots.
The ship will carry tanks, armored personnel carriers, helicopters, and other wheeled equipment for an armored division of the U.S. Army. In one typical arrangement she will carry 122 M-l tanks, 183 helicopters of various sizes, and other assorted wheeled vehicles.
The Denebola was built in Rotterdam in 1973 as the Sea-Land Resource. She was the third of a revolutionary new class of eight big containerships known as SL-7s constructed in European shipyards for Sea-Land Service, for operation in the U.S. foreign trade in the North Atlantic and North Pacific. At the time, they were the largest pure containerships ever built. What made them unique, however, was their speed. At 33 knots they could cross the Atlantic in four days, and operate a two-week sailing schedule comfortably. The former SL-7s are still the fastest commercial cargo ships of any size ever built.
In 1980, the high-powered vessels were sold by Sea-Land to the U.S.
Navy for conversion to fast supply ships. The converted ships will be based in continental U.S. ports and will be on 48-hour notice to load and sail to wherever U.S. forces might be needed. From the U.S. East Coast they can reach France in four days, Lebanon in six, and the Arabian Gulf in 14. From the U.S. Pacific Coast they can reach Korea in six days and Southeast Asia in 10. They can be turned around and headed back to the U.S. for another load in only 24 hours. The Denebola will be manned by a civilian crew and will be based at the Military Ocean Terminal in Bayonne, N.J.
While the Denebola's engine room and living quarters have not been significantly altered, her cargo holds have been completely restructured.
Where formerly she had four cargo holds arranged with vertical cells for container stowage, she now has five continuous decks connected by fixed ramps. She can carry up to 120 UH-1 helicopters or larger numbers of smaller models; up to 183 M-l tanks or larger numbers of smaller tanks or armored personnel carriers, and multitudes of other military vehicles.
Two conventional holds aft of her superstructure can carry up to 46 twenty-foot containers, 25 thirtyfive- foot containers, and 53 thirtyfive- foot flat racks of supplies, spare parts, etc. She is also fitted for the carriage of eight Sea Sheds, an open-frame super-container 35 feet long, 25 feet wide, and 13 feet deep, designed for the transport of outsize and very heavy loads.
Helicopters can hold on and take off from two landing pads on her topmost deck, and can be stored in the space below it. Tanks and wheeled vehicles are loaded through special doors on each side of the ship. Each door is fitted with a 73-foot by 20-foot folding ramp that has a design load capacity of 65 tons. These doors give access to 185,000 square feet of stowage area distributed over the five decks.
Two Hagglunds heavy-duty, 35-ton cranes are fitted amidships to handle loads over the side of the ship, and two more, each of 50 tons capacity, are fitted aft for the same purpose. Each pair of cranes can be worked in tandem to provide 70-ton lifts.
Pennsylvania Shipbuilding was also awarded another contract earlier this year by the Department of the Navy for the construction of two new fleet oilers of the T-AO 187 class. The basic contract value is $222,476,849 (See MARITIME REPORTER, July 16, 1985 issue, page 33).
A new free capabilities brochure is available describing Pennsylvania Shipbuilding Corporation, all of its facilities and all services offered by this leading yard. For your copy, Circle 77 on Reader Service Card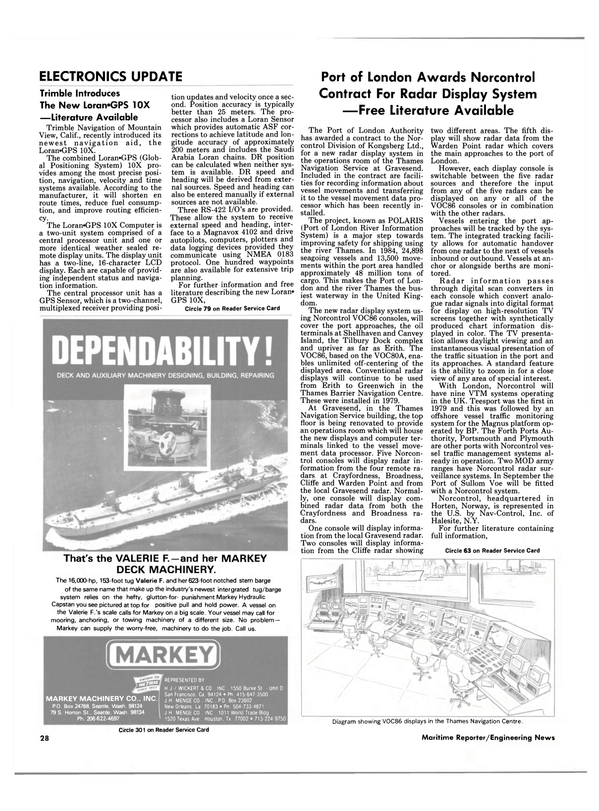 Read Pennsylvania Shipbuilding Dedicates Fast Supply Ship U.S.N.S. Denebola in Pdf, Flash or Html5 edition of October 15, 1985 Maritime Reporter
Other stories from October 15, 1985 issue
Content