Carnival's Newest Superliner, Luxurious 70,000-GRT Fantasy, Nears Completion At Wartsila Yard
The first of three giant 70,000-grt Superliners, the Fantasy, built by the Helsinki, Finland, shipyard of Wartsila Marine Industries, for Carnival Cruise Lines, Miami, Fla., has completed her first sea trials and is expected to be delivered next month.
The 855-foot, 2,600-passenger vessel is one of the most expensive ships ever built. The Fantasy and her sister ships, the Ecstacy and the Sensation, are being constructed under a $600-million contract. The Ecstasy is expected to join the CCL fleet in 1990 and the Sensation in 1991. The three passenger ships are the largest ever constructed in Finland.
The liner, which was christened by Mrs. Tellervo Koivisto, wife of the President of Finland, has completed her four-day test, which was conducted July 4-7 in the Baltic Sea by the Wartsila shipyard. Capt.
Vittorio Fabietti, Carnival's chief coordinator of new ship construction, who was on board the vessel along with representatives of Carnival's consultants, Technical Marine Planning of London, said he was extremely satisfied with the ship's performance.
"All functions of the ship relating to the engines and other mechanical operation were tested and met or exceeded our expectations," said Captain Fabietti. "Most impressive was the performance of the ship's six-engine diesel-electric power plant. At all speeds tested, and even in maneuvering, the ship operates virtually vibration-free and is extremely stable," he said.
In speed trials, the Fantasy achieved its contractual speed of 22.3 knots. Even though the maneuvers were carried out in the Baltic Sea, Captain Fabietti said that the extremely favorable weather conditions encountered more closely approximated the Caribbean during the winter.
"These have been most useful preliminary trials. We are all favorably impressed and know even now that we have something very special in this great ship," said Captain Fabietti.
The 14-passenger deck Fantasy and her two sister cruise vessels under construction at Wartsila Marine will each feature 2 x 14 MW Cyclo propulsion drives, 6.6 kv switchboards, four 10.3 MVA main and two 6.8 MVA auxiliary generators, plus six thruster motors and the main transformers, all engineered and supplied by ABB Marine of Helsinki. Six Wartsila-Sulzer diesel engines with a total of more than 57,000 bhp are the prime movers of the diesel-electric propulsion system. The Fantasy is also fitted with two highly skewed KaMeWa type 144 x F3/4W controllable-pitch propellers. Six Brunvoll 1,500-kw thrusters provide the ship with added maneuverability.
Cabins aboard the Fantasy and her sisters will be among the largest afloat among the cruise industry's new generation of mega-ton ships, according to CCL.
Carnival's three new 70,000-grt sister ships will feature a new cabin category. Called "demi-suites," these will be substantially larger than standard cabins and feature private balconies. A standard inside cabin will measure 183 square feet and standard outside cabin 190 square feet, while the 26 demi-suites aboard each vessel will be 226 square feet, all with 36-square-foot private balconies. The 28 suites aboard each ship will be 360 square feet with 71-square-foot private balconies.
Joe Farcus, interior architect for all of Carnival's Superliners, points out that the cruise industry has been fighting concerns over confinement aboard ships for years.
"We have to do everything possible to eliminate that objection from the passenger's subconscious, and small, cramped cabins only reinforce it.
This totally contradicts the logic behind building larger ships," said Mr. Farcus. "One of the first things a passenger examines when he comes aboard is his cabin," he explained. "The cabin is his homeaway- from home—his haven while at sea—it's absolutely critical that it be as large and comfortable as possible." According to Mr. Farcus, the interior design of the new ships' cabins will be similar to Carnival's current Superliners, Holiday, Jubilee, and Celebration, yet new color schemes and refined details will make them more sophisticated.
Aboard the Fantasy, a light, pinkish stain in the oak woodwork in the cabins will create an elegant feeling.
Bulkheads of light gray, will complement ceilings of pale sunrise orange. Gray carpeting will be highlighted by red, purple, green, and blue pinstripes, and black bedspreads will be accented by small dots in the colors of the carpeting.
The Fantasy will also feature the "first true spa" at sea, unprecedented in size, number of facilities, selection of programs and state-ofthe- art equipment.
At nearly 12,000 square feet, the Nautica Spa will provide passengers tremendous space in which to exercise or simply seek some pampering and relaxation.
"There isn't a spa afloat that compares to this one," said Carnival Cruise Line president Mickey Arison.
Universe Lounge. Cleopatra's has an Egyptian motif—sarcophagi, life-size sculptures, hieroglyphics, and other artifacts. It will have a circular bar with a piano on a turntable in the center.
Located on the Atlantic Deck, the Universe Lounge will serve as both a performance showcase, with Vegastype revues on its 69-foot-wide stage, and as a ballroom and showroom.
Expected to be delivered at the end of November, the Fantasy will make her inaugural voyage January 12, 1990. She will depart from Miami for a four-day cruise to Freeport and Nassau.
For free literature detailing the shipbuilding services of Wartsila Marine, Circle 16 on Reader Service Card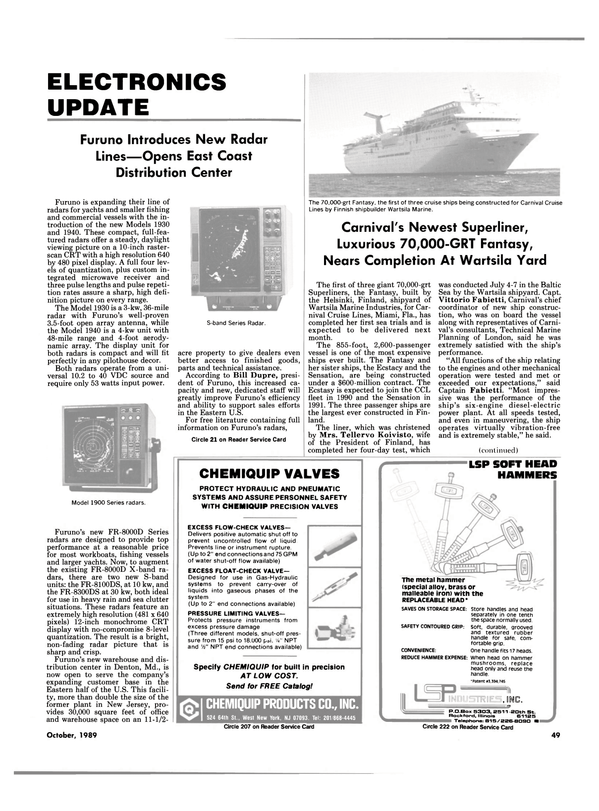 Read Carnival's Newest Superliner, Luxurious 70,000-GRT Fantasy, Nears Completion At Wartsila Yard in Pdf, Flash or Html5 edition of October 1989 Maritime Reporter
Other stories from October 1989 issue
Content