EURO PORTt '89
The maritime industry now views the future with greater confidence than it has done for many years.
The shipping and shipbuilding sectors are now making a slow but steady recovery. For the first time in many years, the number of orders for the construction of new vessels has risen, thereby confirming that confidence in the future of the industry is increasing. This is apparent among other things from the great interest generated by the international maritime exhibition Europort 89, which will be held at the RAI International Exhibition and Congress Center in Amsterdam, the Netherlands, from November 14 to November 18.
By as early as mid-May of this year over 400 firms and organizations from the Netherlands and around the world had registered to take part in the exhibition.
Amsterdam's RAI International Exhibition and Congress Center is ideally suited to house and present one of the world's largest marine industry exhibitions. The Multi-lingual staff are trained to assist at every stage of stand design, construction and dismantling. The RAI restaurant service can undertake cocktail parties, supply light meals or even a full business banquet.
In addition, Amsterdam itself is at the heart of the European road and railway network and served by one of the world's largest international airports—Schiphol.
Held biennially, the Europort show has acquired a reputation over the years as one of the most important maritime exhibitions in the world. Among the main items in the exhibition program are materials and equipment for ships, systems and technology for the design, construction, operation and inspection of ships. The program also covers fishing and inland shipping.
Over 500 firms from 21 countries took part in the 1987 Europort, which attracted around 47,000 visitors from 56 countries. The visitors' assessment of Europort 87 was extremely favorable. No fewer than 95 percent stated that they were satisfied with the exhibition program.
The new technologies of the late 20th century already play a major role in the design and planning of modern ships. The computer, microchip and space satellite feature prominently now in shaping the pattern and performance of every type of vessel whether cargo coaster, RO/RO carrier, oil tanker, containership, ferry boat, tug or dredger.
Modern aids to ship design and naval architecture will be shown at the exhibition.
The range of equipment and materials used in modern shipyards to build and trial the ships of the future—many varieties of steel, welding systems, cranes, benders, cutters, grinders, etc.—will also be exhibited.
Other aspects of marine industry covered at the exhibition will include operations (ship propulsion, navigation, communication, fueling, etc.), inspection (yards and classification societies), and repair and maintenance (welding, forging, piping, etc.).
The 1989 exhibition will be accompanied by various important conferences. One of the most important elements of the conference program will be the events organized by the Central Dredging Association (CEDA). On Tuesday, November 14 there will be what is known as the CEDA Dredging Day, the theme of which will be Aggregate Dredging.
And seminars on Drdeging and the Environment will be held on November 15, 16, and 17. These seminars, which, as the name suggests, will deal with environmental aspects of dredging, are intended for graduates and other people with comparable qualifications who are involved in some capacity of dredging activities. In addition, the Dutch Association of Shipping Technicians will once again be organizing various events as part of Europort 89.
Daily admission to Europort 89 will be from 10 a.m. to 5 p.m., except on Thursday, November 16, when the exhibition will be open from 10 a.m to 9 p.m.
For further information on attending or exhibiting at Europort 89, contact: RAI Gebouw bv, Europaplein, 1078 GZ Amsterdam, the Netherlands; telephone: (020) 549- 1212; telex: 12443; or telefax: (020) 464-469. In North America, contact: Ad-Expo Marketing International, 16151 Cairnway, Suite, Houston, Texas 77084; telephone: (713) 463- 0502; or telex: 3787754.
The RAI Hotel Service holds a limited amount of accommodations at a number of hotels in Amsterdam for the nights of November 13-15.
Delegates requiring a reservation should contact: Nicola Hindle at the Financial Times Conference Organization; telephone: (01) 925- 2323; telex: 27347 FTCONF G; and fax: (01) 925-2125.
WORLD SHIPPING CONFERENCE PROGRAM Chairmen: Henk Rootliep. chairman, Royal Nedlloyd Group, and Paul J. Vogt, chairman, the Baltic Exchange.
"Prospects for the World Shipping Industry— Is there Light at the End of the Tunnel?" by Hans Jakob Kruse. chairman, Hapag- Lloyd AG, and Erik Tonseth, president, Kvaerner Group.
"Growing Demand of Third World Countries to have their own Fleets," by Dr. Rainer Vogel. Deputy Director, Shipping Division, United Nations Conference on Trade & Development (UNCTAD).
"An EEC Perspective of the Industry," speaker to be announced.
"Long-Term Outlook for Rtaes in Shipping Markets," by Dr. R. Martin Stopford, vice president and senior shipping economist, Chase Manhattan Bank NA.
"Innovative Ways of Financing New Tonnage— the New Relationship between Owners and Charterers," by Paul Slater, chairman, First International Financial Corporation.
"The Second-Hand Ship Market," by Alan Kennedy, chairman, Global Ocean Carriers Limited.
"The Growth of Open Registers," by Jeremy M.S. Smith, general secretary, Liberian Shipowners Council Ltd.
"Better Navigational and Communication Aids for Modern Shipping," by Keith Thacker, general manager. Maritime Services Division, International Maritime Satellite Organization (INMARSAT).
"Pollution and the Environment—Problems Facing Europe's New Shipping Laws," by Dr. Thomas A. Mensah, assistant secretary- general, International Maritime Organization.
"Shipowners and Classification," by Sir Roderick MacLeod, chairman, Lloyd's Register of Shipping.
"The Importatnce of Specialist Vessels to North American and European Owners," speaker to be announced.
"International Strategies for the Future," by Jens Ulltveit-Moe, chairman, Knutsen OAS Shipping AS. vice president. Norwegian Shipowners' Association. Ernest Fong. managing director. Marine Navigation Co. Ltd., and Hiroshi Takahashi, managing director, NYK Line.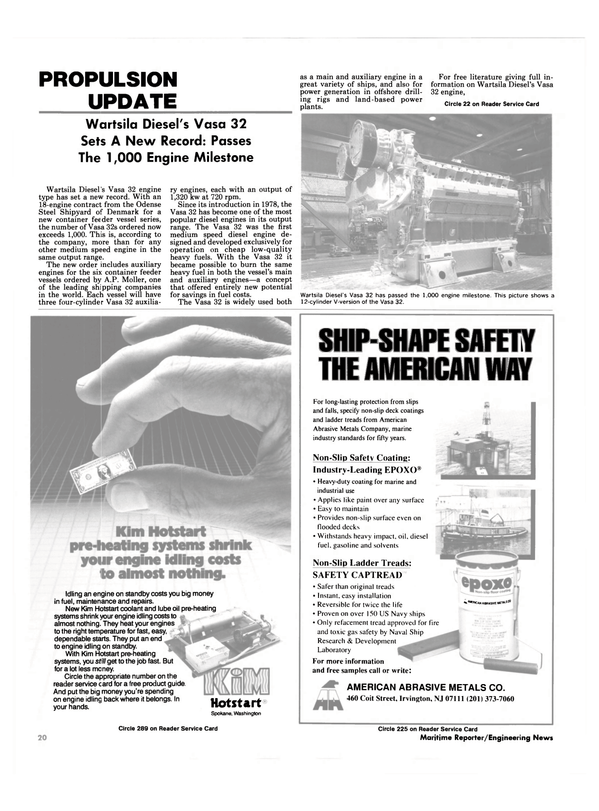 Read EURO PORTt '89 in Pdf, Flash or Html5 edition of October 1989 Maritime Reporter
Other stories from October 1989 issue
Content