A&R Introduces New SWATH Concept
Abeking & Rasmussen introduced its SWATH vessel concept under the brand [email protected]&R, a design which takes into account the effects of a vessel's motion on the crew's ability to maintain concentration, and thus the proper control. The vessel offers unique features that are designed to ensure superior seakeeping performance. For example, by minimizing the waterplane area of the vessel, Abeking & Rasmussen believes it has succeeded in minimizing the forces, which lead to sea response motion. The yard contends that various stabilization systems have been developed to reduce rolling and pitching of existing vessels, but notes that all of these systems have their limits. As humans are built to live on shore, extended periods of motion at sea lead directly to lack of concentration, fatigue and seasickness, even in the most experienced sailors. In order to keep crew and passengers fairly comfortable and enable them to perform their main duties, the motion parameters of a vessel must be limited. Therefore limits have been defined, e.g. by the U.S. Navy or by ISO standards for the permanent accelerations on board of seagoing vessels.. The following limits have been widely accepted: Crew and passenger comfort: 0,2g ( - 2 m/s1) Operating limit experienced Crew: 0,4g ( - 4 m/s2) Figure 1 shows a comparison between the accelerations measured onboard of a 108-ft. (33-m) Abeking & Rasmussen built DeepVee Mono- hull and a slightly smaller 82 ft. (25- m) [email protected]&R Pilot Tender.
Both vessels are sailing in a head sea of approximately 6 ft. (2m) and 10 ft.
(3m), respectively, significant wave height. The above-referenced 108 ft.
(33-m) monohull vessel was designed for a top speed of 39 knots.
However, to keep its movements within the Crew Limit of 4m/s2, the maximum speed it can achieve is approximately 15 to 20 knots.
In comparison, the 82 ft. (25-m) [email protected]&R Pilot Tender can maintain its top speed of 20 knots, without even exceeding the limit for Crew Comfort of 2m/s2, making it a faster vessel in rough seas.
The results noted are far from theoretical, as a pair of aluminium 82-ft.
(25-m) Pilot Tenders with a displacement of 12.5 tons have been in continuous operation since the summer of 1999, with a reported great success.
Recently, both 82-ft. (25-m) Pilot Tenders were docked to carry out minor modifications with respect to retrofitting of a hydraulic platform to make boarding of large ships more convenient. An inspection showed no signs of structural fatigue.
In Hamburg A&R exhibited the versatility of the design. For offshore services [email protected]&R Crewboats would be desirable as it reportedly will be able to operate more often in bad weather, creating fewer off-hire days. Although a SWATH will be slower than a semi-planing monohull of equal size and displacement under calm water conditions, A&R contends that it will be much faster when the sea gets rough.
Circle 70 on Reader Service Card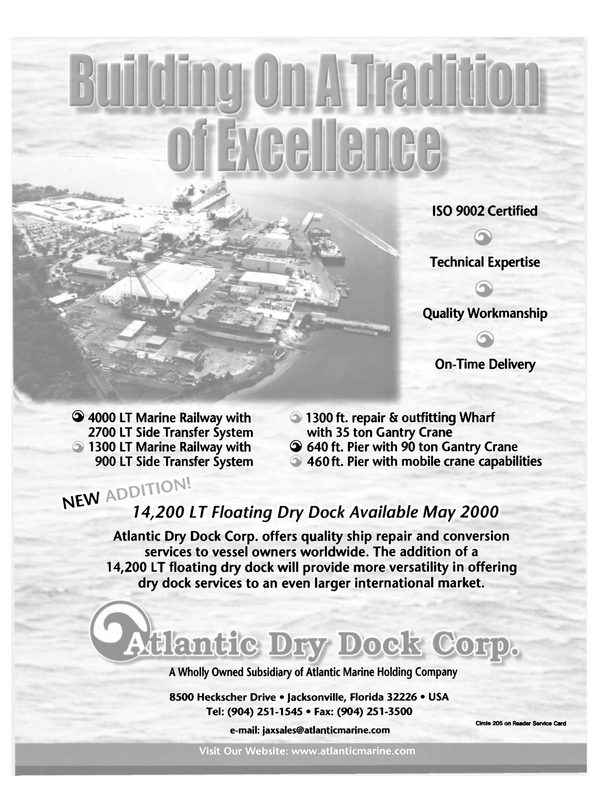 Read A&R Introduces New SWATH Concept in Pdf, Flash or Html5 edition of December 2000 Maritime Reporter
Other stories from December 2000 issue
Content