A USV Franchise Grows Strong in Abu Dhabi
By Greg Trauthwein, Editor
As the evolution and integration of robotics in maritime vehicles continues to reshape missions and capabilities inland, near-shore and at sea, Maritime Reporter & Engineering News last month was on hand in Abu Dhabi for the unveiling of a new Unmanned Surface Vessel family. If it delivers as designed, it will revolutionize marine robotic vehicle applications for both military and commercial purposes.

Robert J. Murphy is certainly no stranger to the world of autonomous robotic marine vehicles, having worked in the field for more than a quarter of a century, dating to the mid-1980s. But the latest turn for Murphy and his 5G International crew is perhaps the most intriguing, as he has linked up with Abu Dhabi, UAE-based Al Seer Marine to jointly develop and deliver a revolutionary family of Unmanned Surface Vessels that, if delivered as designed, will open a world of opportunities for marine robotics precisely at the time when the technology is gaining traction in military and commercial sectors.
Set to debut at this month's International Defense Exhibition and Conference (IDEX) in Abu Dhabi, the Al Seer Marine/5G offering includes three vehicles:

- Sea Serpent, the small 3-m "jet ski" version;
- Boomeranger, the larger 11-m RIB; and
- Eclipse, the top-of-class 11-m monohull.

The Middle East: An Emerging Market
As Murphy and his team work toward finishing its unique family of unmanned service vessels, the question begs: why here, why now?
The partnership between Murphy's 5G International and Abu Dhabi-based Al Seer Marine is not unlike many other budding business relationships, a matter of coincidence, timing and opportunity. For Murphy it is a chance to see his lifelong ambition come to life again on the water, with a motivated partner that has the financial and technical wherewithal. "They have a real need to protect vital coastal assets here; these unmanned surface vessels are now coming into their own, finally," said Murphy. While Murphy was born and raised in the U.S., he is no stranger to foreign ports of call. "We have had a lot of participation in this area for many years, and I think people are starting to realize that having manned vehicles at sea is not very productive. You're beating people up out there."
In Al Seer Marine Murphy's 5G has a partner with broad ambitions to not simply produce a prototype for display, but with the aim to develop, design and mass produce large number of USVs to serve local military and globally security needs.
"Our primary business is super yacht management, operations, repair and refit," said Russel Bartlett, Operations Manager, Al Seer Marine. "It is our core business and always has been."
Making the leap from Superyacht specialist to USV manufacturer might seem a large chasm to bridge, but not in the United Arab Emirates, where business is booming on many fronts and there is a palpable push for growth and diversity across many industries, as the government invites and inspires innovation with an eye towards the future when one day energy production is not the primary driver of the country's economy.
Al Seer Marine is a small local company with an enviable core of talent and technical expertise, and some big ambitions. "We do everything from jet skis to 140 m boats," Bartlett said. In 5G it believes it has found the ideal partner to enable it to grow its business in a lucrative new direction, and in the eight months since the relationship has begun, it has not been shy to invest in facilities, technology and people to see its vision through. Bartlett explains. "About seven years ago we were approached to do a joint venture with a company, for the exact same style of project and vessel; and it never went anywhere."
Fast forward to the Spring of 2012, when Bartlett received a call from top management to essentially ask "can we do it;" meaning could the company as currently situated design, build and deliver a USV to serve the home military market.
"I told them that technically we can design and build them, but we couldn't do the integration and telemetry," Bartlett said. "So he said 'alright, find me a company who can.'"

Enter 5G
"We did our research and came up with 5G Marine, based on their history building unmanned vessels," Bartlett said. And in keeping with trends today in the UAE, when things start to move, they tend to evolve quickly. What started in the summer of 2012 as an eight-month contract to design and deliver one boat, has been recently extended to a 14-month contract to design and deliver three boats. But to be perfectly clear, this is not a long-term development plan: from Day 1, the goal was to design, build and deliver a vessel that was "100% ready to go, where we could actually sell the boats to a customer," said Bartlett, and to ramp up operations and develop the ability to produce them en masse. "It is one thing to build one boat, quite another to build 100 of them consecutively."
The tight time-frame and urgency was centered solely on the upcoming IDEX military technology exhibition which is a tri-service (land, sea, air) defense exhibition, scheduled to be held February 17-21 at the Abu Dhabi National Exhibition Centre (ADNEC) is centrally located in Abu Dhabi, the capital of the United Arab Emirates.
"IDEX only happens every two years," Barlett said, "and we wanted to launch in our own country, and we didn't want to wait an additional two years (for the next IDEX). There is a requirement for the military here, right now. So the initial program was set up to service the UAE military. As it's turned out now, requirements outside the UAE are 100 times bigger than our own country's requirement."

Meet the Fleet
In the budding relationship between Al Seer Marine and 5G International, the initial target for the vessel was the UAE military, but as the project has evolved and markets explored, the collective believe the potential outside of military circles is much larger in potential. Focused first on the UAE military, however, has helped to create an end product that is attractive to both sectors. "First and foremost, it has to be off-the-shelf, designed and built in the UAE," said Bartlett. In part this harkens back to the government's desire to inspire and develop home-grown technology and industry.
"We are putting together a world-class project, (and there are other competitors in the world) but not in this country," said Bartlett. "There are of course competitors outside of the UAE, but we've got a better product, and we certainly have a better price."
Today the fleet of USVs centers on three vessels, from the Sea Serpent, a small 3-m "jet ski" version; to the Boomeranger, the larger 11-m RIB; and the Eclipse, the top-of-class 11-m monohull.
While USV technology is surely not in its infancy, in relative terms, particularly when considering dramatic strides made in aerial and ground robotics, it is still pre-puberty. To help propel its maturity, the Al Seer/5G solution takes into account not simply the vessels, but the entire package, from technical outfit to maintenance, as well as safe and efficient launch and recovery.
For example, an outstanding feature of the top model, the 11m Eclipse monohull, is a proprietary hybrid propulsion system. Powered by twin Fiat N67500 engines with a light commercial rating of just over 500 hp driving Rolls-Royce jets through ZF gears, the USV sports a top speed excess of 60 knots.
But it is when the vessel slows down that it truly shows its value.
Featuring a pair of 13kW electric motors, the proprietary hybrid propulsion system gives the USV the ability to loiter for extended lengths of time, an intelligent system that allows the user, for example, to use only one jet at a time to hold station, effectively extending battery life and subsequently loiter time by eight to 10 hours.
"A lot of the hybrid systems have been developed for recreational use to give you electric power out of the marina. But we are obviously looking for something that will provide hundreds of thousands of hours of reliable use," said Keith Henderson, Director, 5G Marine Systems LLC, and the man that Murphy credits with identifying and bringing together the suppliers and components in quick, seamless order. "The system is robust, with only minimal moving parts and with service after 20,000 hours at sea before anything has to be replaced."
The Fiat engines were selected because of their high power to weight ratio, in part, and the fact that they have been proven to be a successful performance power plant, particularly in the international race sector. The Rolls-Royce (KaMeWa) jets were a natural for Henderson, as he points out Rolls-Royce has its own hydrodynamic test cell, helping to make their units highly efficient. The team submitted the hull design to Rolls-Royce, which in turn was able to provide speed prediction based on the engines specified as well as the gear ratio matched each boat's waterjet. Henderson was also quick to point out the value of the ZF reversing gearbox in the autonomous environment. "By using a reversing gearbox, it not only changes the engine speed to the ideal speed for the waterjet, but also gives us the reversing capability, which is important if the waterjet gets clogged, you can back-flush it to free the obstruction. When you're operating remotely is a very important feature."
Close cooperation among all suppliers and the builder was a critical element to keeping the job on target, as Henderson succinctly points out: "For several of the companies, the application is a new one for them, their first for USV operation. For example, engines of these sizes are normally on vessels that are manned, so there is the remote control aspect to consider."
"One of the key advantages in using the hybrid is first, you get a longer life in the sea," said Aditya Nawab, Director, M.S. Robotics, Robosys Automation and Robotics Private Ltd., who brings robotics and computer code writing expertise to the team. "Second, in mission specific times when you want the USV to loiter, the battery management system switches between the engines and the hybrid motors (to ensure maximum deployment time each mission. In addition, if on a mission it actually runs out of fuel and runs out of batteries, it can actually home itself to recharge the batteries."

Refuel at Sea
You can't spend more than five minutes with Robert Murphy before seeing that he is an inventor to the core. Born into an innovative family, and by his own reckoning, "raised in a factory," Murphy's mind seems to perpetually gravitate towards technical solutions. Hence, his work on the development of USVs doesn't stop at the vessel, rather extends through its operational life, and he has patents on a number of ancilliary systems, from USV launch and recovery to refueling safety, efficiently at sea.
"In 2002 I was asked by two Captains of Naval Research labs in Washington to develop a handling system for unmanned vessels," Murphy said.
Launch and recovery of unmanned systems in optimal conditions can be dangerous, not to mention dealing with the pitch, roll and yaw of bigger ships, and their interaction with the smaller USV's in rough seas.
"So I designed and patented a system with International Patents in 2009 for deploying, recovering and refueling at sea manned as well as unmanned boats. We're going to have an Autonomous Remote Control fuel station at sea, that can loiter with the same hybrid system, that can loiter for months at a time. If you have a battlefield theater where you have a lot of small boats moving around, you don't have to go back 20 or 30 miles over the horizon to look for a fueling ship."
The envisioned "refueling station at sea" measures 45 ft. long, with the USVs literally docking inside and via onboard sensors delivering the appropriate quantity of fuel.
The shipboard recovery system "comes down like a little gondola, it sits in the water along side the ship; the boat come in and it locks; and the device raises the boat like an elevator," Murphy said.
While the IDEX show this month will prove a critical litmus test for the Al Seer/5G USV collaboration, it will not fully define the collaboration, which is intent to revolutionize the business of Unmanned Surface Vessels in military and commerical markets, domestic and abroad.

Doing Business in the Middle East

While having an address in the Middle East comes with a number of preconceived notions, doing business in the UAE is as close to a seamless "Western" model that you will find. The region is booming, led primarily by the continued hunt for offshore oil and gas, but diversifying to deal with a future when the resources run dry. While the UAE is pro-business, and in fact a virtual United Nations of nationalities working together throughout the country, conducting efficient business there can sometimes be trying, as the 5G found out.
"As an example, when we were bringing over a boat from Florida, it was booked to go on a particular ship," said Keith Henderson. "A week before it was to be shipped, we received a call from the shipper to say that the department of defense has taken over that whole ship, therefore it will be another two weeks before it could get on the next ship. Bringing the Boomeranger (RIB) in via road freight was a challenge too, as it went from Finland to Turkey. Normally from there it would go by road through Syria. But the unrest in Syria precludes that. So it had to go from Turkey, to Port Said in Egypt, transship to another ship to bring it down through the canal around to Jeddah, and driven up to here. These are things that could not be foreseen when we started."
(As published in the February 2013 edition of Maritime Reporter & Engineering News - www.marinelink.com)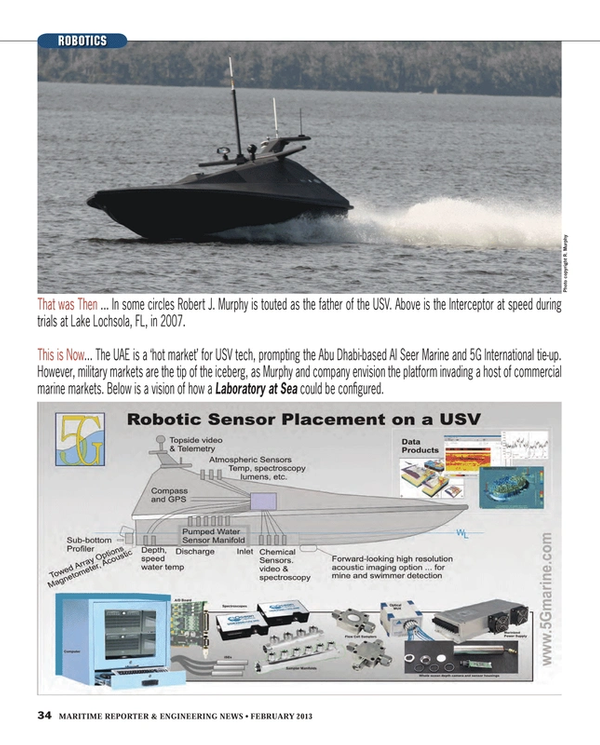 Read A USV Franchise Grows Strong in Abu Dhabi in Pdf, Flash or Html5 edition of February 2013 Maritime Reporter
Other stories from February 2013 issue
Content