Ready for Launch: MTN Nexus Targets high-volume Cruise Market
By Greg Trauthwein, Editor
MTN Satellite Communications launched MTN Nexus, a next-generation comms network billed as a hybrid that integrates it with new terrestrial wireless technologies as well as sophisticated computing, powerful processing and specialized optimization. Targeting the high volume cruise sector, MR thought an apt time to sit down with CEO Errol Olivier to discuss Nexus and its relevance to communications at sea.
We understand you are a maritime satcom industry veteran. Can you give our readers a briefing on your background serving this market?

I started in the oil and gas telecoms industry more than 25 years ago, working for Shell Oil Company and later CapRock Communications where I served as president and COO. I was involved in pioneering the first commercial multi-tenant satellite communications business strategy serving the oil industry in the Gulf of Mexico.

What attracted you to the top position at MTN more than 1.5 years ago?

MTN has had a great company history of many "firsts" in the satellite communications industry, which creates an excellent foundation as we invent firsts in terrestrial communications, cloud computing and future technologies that connect people moving around the world. Richard Hadsall, MTN's founder, is an industry-recognized pioneer. When I joined the team in May of 2011, I saw the great potential that MTN had thanks to its talented and passionate employees. My vision for MTN was to continue to provide the best customer service it's been known for, as well as create new communications solutions that even anticipate customer demands. I see MTN as a perfect place to earn customer loyalty by solving the problems of the industry and helping our cruise partners improve their bottom line while delighting their passengers and crew.

Coming into the job, what were your initial goals for the company?

MTN has built a name in the industry and it is known for its value, innovation, and commitment to service excellence.
But we couldn't live up to our pioneering legacy if we didn't address the issue of demand for ever-increasing – and ever-costly – bandwidth head-on. My initial goal for the company was to face that concern. I am happy to say that we launched our next-generation hybrid satellite and terrestrial network – MTN Nexus – to transform communications at sea and tackle the demand for increased bandwidth head-on.

What do you consider to be the single greatest factor that has made communications between ship and shore more efficient and cost effective?

The idea of simply adding more satellite capacity to a ship is not the solution. MTN saw this many years ago, so when I joined the company, we were in position to launch a hybrid network vision to address the satellite capacity costs as well as the performance constraints of today's at-sea communications networks. A key component to MTN Nexus will be terrestrial network capabilities that enable passengers and crew to switch from satellite to Wi-Fi connectivity to increase efficiencies and improve the customer experience for users of handheld, wireless devices onboard ships. That is just the first component of MTN Nexus. In addition, this new network will deliver sophisticated computing, caching and security infrastructure to deliver connectivity and communications.

What are the trends today that will define your sector's offering to the market in the coming 5 years?

The way people communicate is constantly evolving. In the past few years we have seen an exponential growth in the use of mobile devices and social media. Whereas passengers used to go on cruises to disconnect, they now want to upload pictures from their excursions on Facebook so family and friends back at home can see what they're doing. Cell phones and tablets are now preferred over laptops to surf the internet, which has been pushing the industry to shape new communication products and services to attend to this demand. The market requires apps that are optimized to be used with satellite, that deliver a mobile-friendly log interface, and that optimize bandwidth. These are some of the demands that MTN Nexus will address to reshape the industry.

Late last year MTN announced the launch of MTN NEXUS. In a paragraph, can you describe the technology and why it is significant?

MTN Nexus is a hybrid network that will deliver sophisticated computing, caching, and security infrastructure to deliver connectivity and communications at sea and in port. Nexus seamlessly integrates a hybrid satellite and terrestrial wireless network, a cloud computing-based optimization platform, and new products and services enabled only through this hybrid solution. MTN Nexus addresses the industry's bandwidth demands with alternative solutions to satellite, which is a limited, expensive resource.

We understand that the MTN NEXUS spot beam technology is dependent upon the launch of Intelsat's EPIC, which is not due until 2015. With that as a back drop, why was the system announced late 2012?

Three elements make up MTN Nexus. Intelsat Epic is the High Throughput, Multi-Spot Beam (HTMS) element of our multi-pronged satellite network just to initially deliver maximum bit-to-hertz to the Caribbean region, which is key to our cruise industry customers. That said NEXUS incorporates the entire constellation of geosynchronous satellites to create the global infrastructure. As such, it is one component of the first element of MTN Nexus:
1) A hybrid satellite and terrestrial wireless network
The other two components of MTN Nexus comprise:
2) A cloud computing-based optimization platform, and
3) New products and services enabled only through this hybrid solution
We will be announcing progress on the MTN Nexus network in the coming months. They will reflect all three elements of our vision.

As this is our Cruise Shipping edition, please elaborate on how Cruise Ships have been such an instrumental driver in development of modern maritime communication solutions.

We built the MTN network to support cruise ships all over the world. Due to the diversity of destinations, the high communication demands of floating cities-on-the-sea, and the industry's exponential market growth, MTN has been successful at supplying this high-demand sector with critical communications solutions. That said, we are very pleased to serve our very first market – the U.S. Government – as well as the ferry, yacht, and oil & gas markets. We learn a lot from our cruise industry customers that we can translate to these other industries. It was in 1981 when Richard Hadsall installed the first licensed Ku-band stabilized vsat system on a cruise ship which revolutionized vsat for the maritime industry.

How is MTN investing today to ensure its tomorrow?

Our Product Innovation Team in Seattle is constantly coming up with solutions and offerings to exceed our customers' expectations. MTN hires software developers and engineers with the exceptional technology skills required to build our next-generation communications infrastructure and network, as well as the products it will enable. We intend to continue leading delivery of Internet, content and social media at sea in ways never before imagined. Our Product Innovation Team is charged with raising the bar on ways customers can connect to people, content and applications using cloud computing, mobile technology and advanced communications. As MTN has for more than three decades, we plan to continue surprising the market with exceptional advances in consumer and enterprise connectivity.

In overview, what do you count as the top challenge to running an efficient and profitable business in this sector?

Our key challenge is not making our business most efficient and profitable, but our goal of making our customers more efficient and profitable. Increased connectivity demands cannot translate into increased bills. We must exercise our technology tenure and savvy to keep coming up with new ways to connect devices and deliver higher-bandwidth content in a cost-efficient fashion. MTN is about delivering innovative ways for crew and customers to communicate in a way that brings value to the vessel.
(As published in the February 2013 edition of Maritime Reporter & Engineering News - www.marinelink.com)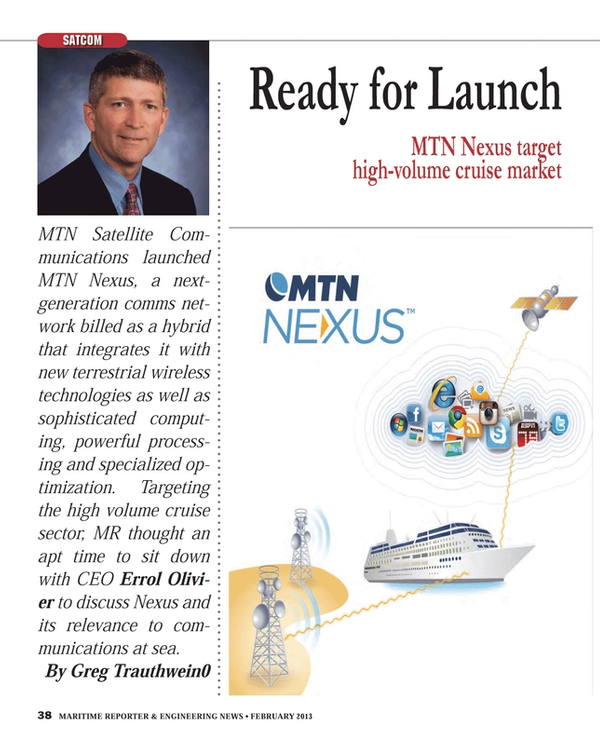 Read Ready for Launch: MTN Nexus Targets high-volume Cruise Market in Pdf, Flash or Html5 edition of February 2013 Maritime Reporter
Other stories from February 2013 issue
Content