MSC Preziosa: The Ultimate in Cruise Ship Tech
By Claudio Paschoa
MSC Cruises recently added a new state-of-the-art liner, the MSC Preziosa, helping the Italian company, truly a family business, attain the status of third largest cruise line in the world.
MSC Preziosa is a Fantasia class cruise ship owned and operated by MSC Cruises. It entered service in March 2013 as an enhanced version of its sister ships, MSC Splendida and MSC Fantasia, and is identical to MSC Divina, which was launched in 2012. Built at the STX shipyard in St. Nazaire, France, MSC Preziosa is the new flagship of MSC Cruises. The new ship gained immediate recognition famous courtesy of its christening by actress Sophia Loren, and was significant as it signified that MSC Cruises is now the third largest cruise line in the world.

From Humble Beginnings
MSC Cruises had a humble start, created in the 1960s when Gianluigi Aponte, owner of Mediterranean Shipping Company, acquired Starlauro, a one-ship cruise line whose fleet consisted of the Achille Lauro, the infamous ship which had been hijacked by terrorists in 1986. This ship continued its troubled under the MSC flag, as in 1996 it caught fire off the coast of Africa and ultimately sank. A setback for sure, but it did not hinder MSC's growth, as the small cruise line had steadily increased its fleet to include MSC Melody and MSC Rhapsody. The turn of the century was a breakthrough for MSC, which for the first time commissioned its own series of newbuilds.
MSC Lirica, a 59,058-ton, 1,445-passenger vessel was the first to emerge in April 2003, followed by the slightly larger MSC Opera, carrying 1,756 passengers, in June 2004. The introduction of an even larger class of ships, ships with more amenities and an even higher ratio of private verandahs, began with MSC Musica. At 89,600 tons and accommodating 2,550 passengers, that flagship of the class was launched in June 2006, its sister ships include MSC Orchestra, launched in of spring of 2007 and MSC Poesia launched in the spring of 2008. MSC Magnifica, the fourth ship in the Musica class, was launched in 2010. MSC's biggest step forward to date has been the innovative new design for its Fantasia class of ships.
MSC Fantasia (133,500 tons, 3,300 passengers), which sailed in December 2008, was the first of four Fantasia class vessels. Sister ship MSC Splendida (133,500 tons, 3,300 passengers) debuted in 2009, and MSC Divina (139,400 tons, 4,232 passengers) arrived in May 2012.
The new MSC Flagship, MSC Preziosa (139,400 tons, 4,232 passengers) joined the fleet in 2013. These two post-Panamax-sized vessels are based on a unique prototype that incorporates novel features, such as the ship-within-a-ship Yacht Club concept for suite holders, a pool with a dome for all-seasons swimming and an interactive center with a 4D theater and a Formula One simulator. Both the MSC Divina and the MSC Preziosa were built by STX Europe.

Eco Ship Concept
While it has taken some time for cruise lines (and for that matter, most of commercial shipping) to become environmentally conscious, the last 10 years have been transcendent with a significant, legislatively mandated decrease in emissions from the cruise industry along with an increase in the efficiency of waste management systems, water treatment systems and energy monitoring and conservation systems.
According to MSC Cruises' owner Gianluigi Aponte, "We maintain high standards in disposing of waste materials and monitoring our energy usage, doing our utmost to minimize the impact of our ships on the ocean water. We are totally committed to ensuring that our vessels are as environmentally friendly as possible." Also according to Aponte, "MSC Cruises is committed to making green choices that keep the oceans blue." The company's energy efficiency matches the industry-leading ecoship and cleanship credentials and its green efforts have been recognized with a string of environmental certifications, along with awards recognizing its creative interior design, comfort, cuisine and service.
The latest flagship in the MSC fleet is set to become a green paragon in the industry, with Bureau Veritas officially conferring the "7 Golden Pearls" award to the ship, which is one of highest awards for cruise vessels in recognition of the specific voluntary attention paid, from design and building to operation, to "Quality Health Safety Environment" (QHSE).
The ship features an energy monitoring system, too. In order to decrease unnecessary energy use, a cabin monitoring system manages climate conditions in cabins and public areas at all times, automatically intervening in instances of wasteful overuse of air conditioning systems. MSC Preziosa had its hull painted with a new "foul release" paint, with flour polymers, a non-toxic substance which helps reduce CO² emissions through the reduction of fuel consumption. The ship also boasts a "Voyage Planning and Monitoring System" which is a 'track and trace' system used for planning and monitoring positions and itineraries of the MSC fleet in real time with updates as frequent as every two seconds.

Waste Management
Advanced Water Treatment (AWT) is a system that recycles and treats waste- water. A distillation plant produces all the fresh water needed onboard using two evaporators and two reverse osmosis plants. In normal operating conditions, the ship does not require water from shore water stations. The vaporators are pollution-free and use a system of free heat recovery as its power source. Scanship provided the waste-water treatment plant (AWP) and also the vacuum food waste conveying and handling systems. An agreement was also established with the Italian Consortium for Waste and Aluminum Recycling (CiAl), for the collection onboard of aluminum and disposal ashore to recycling facilities.

Propulsion Machinery
The propulsion machinery on the MSC Divina and the MSC Preziosa are different from those aboard their earlier sister ships thanks also to technological developments that have taken place over the years. The MSC Preziosa is equipped with Converteam's (now called GE Energy, Power Conversion) latest induction-type electric propulsion machinery, first applied on a cruise ship in 2010 aboard the Norwegian Cruise Line's MS Norwegian Epic, which has a maximum rated power of 2 x 24 MW at 130 rpm at max 6.6kV. It is fitted with propulsion motors identical to the NCL vessel, with a power of 2 x 21,850 kW at 138 rpm and a maximum speed of 143rpm. In short, these motors, fed by two PWM MV7000 type frequency converters each (MV7612) are fitted with a low resistive squirrel cage rotor, with no active insulated parts. The torque is produced by an induced magnetic field into the rotor without the need to feed any current.
The result is a simpler design, an improvement in efficiency by about 1% and a lighter design compared to earlier synchronous motor technology, resulting from its shorter shaft and casing. The weight savings is close to 10%. Maintenance is simpler too, as there are no excitation converters nor brushes, no rotating transformer parts, no rotating rectifier and no winding in the rotating part. GE also delivered the five alternators, 2 x 19.2MVA, 3 x 14.3MVA, providing 11kV voltage at 60Hz. The total alternator power installed is 81.3MVA

Navigation and automation
As on the previous MSC vessels, the integrated navigation system is supplied by SAM Electronics, part of L3 Communications. The NACOS 65-5 system is identical to that of the previous sister ships. The bridge is laid out with safety desk aft in the same room. Also, the Integrated Automation System is supplied by Valmarine AS.


MSC Preziosa Main Particulars
Built 2013
Gross tonnage 139,072 tons
Number of passengers 3,502
Crew members 1,388
Number of cabins 1.751
Length 333.3m
Beam 37.9 m
Height 67.7 m
Decks 18
Maximum speed 24.21 knots
Average speed 18 knots
Number of whirlpools: 12
Number of restaurants: 4
1 dedicated to MSC Yacht Club guests
Number of bars: 21
Theater: 3 levels, seating capacity approximately 1,700

MSC Preziosa Highlights
Number of guest staterooms:
1,751 including; 1,125 Balcony Staterooms, 28 of which are wheelchair accessible; 124 Oceanview Staterooms, 2 of which are wheelchair accessible; 405 Interior Staterooms, 13 of which are wheelchair accessible

MSC Yacht Club:
Exclusive area comprised of 69 suites located on four decks; 24-hour Butler and Concierge services; Top Sail observation lounge; The One Pool & Bar with a swimming pool, two whirlpools, sun deck and bar-buffet; two dedicated massage rooms in the MSC Aurea Spa; and private restaurant.

Number of swimming pools:
4, including the main pool, an aft infinity pool, a covered pool and a pool in the MSC Yacht Club area

Medical facilities:
Medical Center located on Deck 4 includes 2 doctor's offices, intensive care unit, operating room, x-ray developing room, laboratory, and pharmacy.

Number of guest elevators:
17, including 2 panoramic elevators and 1 elevator inside MSC Yacht Club.

(As published in the February 2014 edition of Maritime Reporter & Engineering News - www.marinelink.com)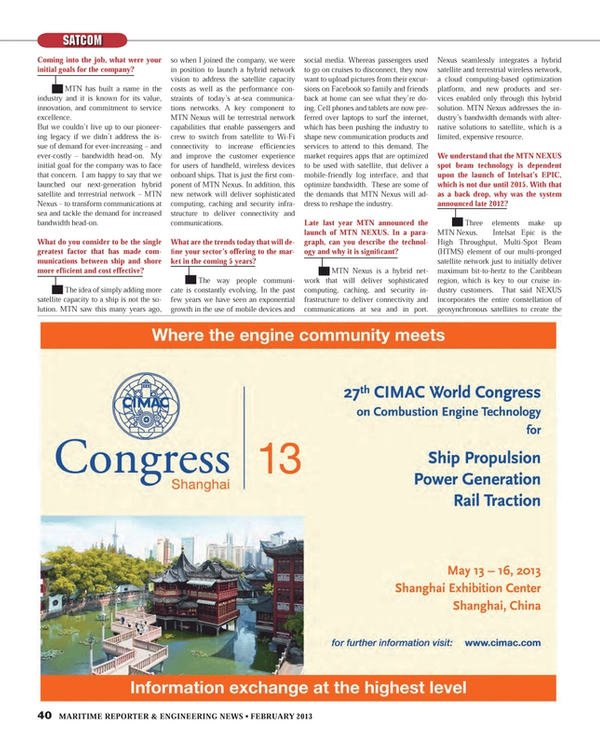 Read MSC Preziosa: The Ultimate in Cruise Ship Tech in Pdf, Flash or Html5 edition of February 2013 Maritime Reporter
Other stories from February 2013 issue
Content