Brazil Class
By Claudio Paschoa, Brazil
To understand how ABS and DNV participate in Brazil's complex and challenging Maritime and O&G industries, MR spoke to ABS's João Carlos Ferreira , DNV's Tommy Bjørnsen and their colleagues in Rio de Janeiro.
ABS Group
The American Bureau of Shipping (ABS) is a non-profit classification society founded in 1862. ABS has been present in Brazil for more than 40 years, with more than 200 employees distributed between six offices in Brazil.
"We have been providing classification services to the offshore industry longer than any other class society, and we are the current market leader in worldwide MODU classification and also market leaders in floating production units (FPI), more than 50% of the global overbook for FPSOs is being classified by ABS," said João Carlos Ferreira, Vice-President South American Region. "Our key areas in Brazil are Asset Integrity, Risk and Reliability and Naval Engineering. We are also present in a special feature of the Brazilian market, which is Local Content certification, being accredited by Brazil's ANP (National Petroleum Agency) for this purpose," he said. "Brazil is a growing offshore market with almost unlimited potential and we are working closely with companies involved to maximize this potential."
ABS is also working with Petrobras' R&D center CENPES, COPPE/UFRJ (Federal University of Rio de Janeiro) and other organizations on R&D efforts, local content certification, FPSO life extension (FLEx) and more. Buoyed by Brazil's development and to leverage its global R&D resources, ABS established its Brazil Offshore Technology Center (BOTC) in Rio de Janeiro in 2009. Christiane Machado, Head of ABS's BOTC said, "We have been developing various projects for the offshore industry, such as FLEx, involving new rules and requirements for developing a continued operation protocol in order to extend FPSO operations while decreasing their need to drydock." Some other BOTC projects include Production Riser Connectors (2012-2013), Aging of Subsea Equipment (2013-2014), which involves accessing the level of safety threat posed by aging subsea equipment not easily substitutable, such as ESPs (electrical submersible pumps).
João Carlos Pacheco, ABS's General Manager in Brazil spoke about the challenges faced in the country. "ABS is directly involved in all aspects of the offshore industry in Brazil, be it pipelines and other subsea equipment certification or FPSOs and OSV classification, along with industry training and guidance. We are classifying deepwater drilling rigs for Sete Brasil (a Petrobras company), being built or to be built in five different Brazilian shipyards. These will be the first drillships ever built in Brazil." He explained that there have been delays in the process of awarding these contracts and that these delays are part of the challenge of operating in Brazil, where bureaucracy commonly affects the duration of industry projects.
Sidney dos Santos Bereicoa, ABS's Director of Engineering for South America said, "ABS is committed to developing new concepts for the offshore industry in Brazil, such as Offshore GTL (Gas to Liquid) and we have given an AIP (Approval in Principal) for the technological concept." The GTL concept will permit associated gas to be processed without continuous flaring. This concept is being developed by partnerships between Petrobras and CompactGTL (A British company based Abingdon, Oxfordshire), this AIP was given by ABS Houston.
"This is a vital new technological concept as is permits operators to discontinue flaring which is wasteful and aggressive to the environment and at the same time transform the liquefied gas into sulfur-free synthetic crude, which can then be mixed with crude oil," said Sidney dos Santos Bereicoa. SBM will be including GTL modules in its new pre-salt FPSOs already ordered by Petrobras.
Another new concept underway in Brazil with ABS guidance is the Multi-Column Buoy concept being developed by Petrobras' CENPES Technology Center. Sidney dos Santos Bereicoa pointed out that "Between 2012 and 2013 three FPSOs were classified and had equipment certified by ABS, these were FPSO Cidade de Anchieta, the FPSO Cidade de Itaja and FPSO Cidade de São Paulo."
ABS is also classifying another five pre-salt FPSOs and a variety of modules for pre-salt FPSOs, along with the TLWP P-61 and OSX-2 and 3, which are FPSOs for OGX fields at the Campos Basin, among other projects.

DNV
DNV was founded in 1864 in Oslo, Norway and has been present in Brazil since 1974, currently having 300 employees in the country. DNV has participated in numerous JIPs along with development projects aimed at Brazilian pre-salt E&P challenges. According to DNV's Director of Operations, Tommy Bjørnsen, a good example of a DNV led JIP was the project on recommended practices for horizontal drilling. "This JIP had the objective of evaluating and agreeing on a guideline for planning, engineering and execution of HDD (Horizontal Directional Drilling) for pipeline installation," said Bjørnsen. It had eleven participating companies, such as, Petrobras, Subsea7, Sinopec, Brasfix, DrillTec, Intech, Laney Drilling, Polidrill, Megadrill, MGI/Oceânica and Herrenknecht and was completed in December 2012.
Bjørnsen said that there have been delays in the development of some systems due to bureaucratic issues and that in other cases progress has been hampered by financial constraints of the companies involved. Yet he said this does not affect DNVs classification and certification, only affecting the time it takes to develop certain projects and get them functioning.
Other internally funded development projects have also contributed to advancing local industry technology, such as X-Stream, which is a pipeline installation concept to accommodate reduced pipeline wall thickness for deep waters. "This offers benefits like reduced steel quantities, and more pipe mills and pipe laying vessels being qualified and also allows for a significant CAPEX reduction. In particular, X-Stream will be highly applicable to the recent finds in pre-salt fields off Brazil, some located over 300km from the coast, posing a number of exploration and gas transportation challenges which can be attenuated through the new concept," said Bjørnsen.
In terms of offshore energy solutions, a good example is OPera, which involves the concept of a floating power hub and an electrical distribution system capable of supplying power to a network of offshore installations. "This is interesting for the Brazilian offshore as it involves a shared, centralized power supply to improve logistics and decrease offshore power costs. The concept would also increase availability of deck space in rigs and FPSOs, while increasing power reliability to various offshore structures," Bjørnsen explained.
"DNV has been a main player in pre-salt development, with key deepwater riser system certification such as the Guará/Lula NE pre-salt riser system," said Bjørnsen. This system is composed of four submerged buoys with 32 tethers, 27 SCRs (Steel Catenary Risers), Production Clad lines (7.5 in.), WI Clad lines (9.5 in.) and GI lines (8 in.), 21 suction and 18 torpedo riser anchoring piles. DNV also certified the Sapinhoá pre-salt riser system, composed of 10 SLWRs (Steel Lazy Wave Risers), eight production risers, two gas injection risers, one FSHR (Free Standing Hybrid Riser) and a gas export riser system.
"A significant X-Stream study in Brazil is the JIP on Collapse Assessment of Offshore Pipelines with D/t < 15, which considers the problem of optimizing pipe wall thickness for a deep and ultra-deepwater pipeline while still complying with strict safety and integrity standards," said Ana Paula França Santos, Senior Pipeline Engineer. DNV launched the JIP to assess the behavior of pipelines with low D/t and revisit the design equation and safety factors currently in use. "We are in the phase where the objectives are clear, the systematics are in place, but we want to capture more knowledge and experience. From this JIP, the recommendations and possible updates to the standard will have far reaching consequences, so we welcome broad industry participation," Ana Paula, who will manage this JIP for DNV.
DNV will also be certifying the 394km long Cernambi-Cabiúnas pipeline, which will connect the Cernambi gas field to the Cabiúnas gas treatment plant on the coast of Rio de Janeiro and also includes the Lula Nordeste-Cabiúbas trunkline. This new trunkline will be installed by the Saipem's MV CastorOne, the world's largest pipelay vessel. It is important to note that the MV CastorOne and some of the FPSOs to be linked by the trunkline were classed by ABS, which shows how both DNV and ABS efforts complement each other in the busy Brazilian offshore scene.
65% of the world's offshore pipelines are designed and installed to DNV's pipeline standard and the trend is that more deepwater pipelines with long tie-ins will need to be installed in the near future along the Santos Basin in Brazil.

(As published in the July 2013 edition of Maritime Reporter & Engineering News - www.marinelink.com)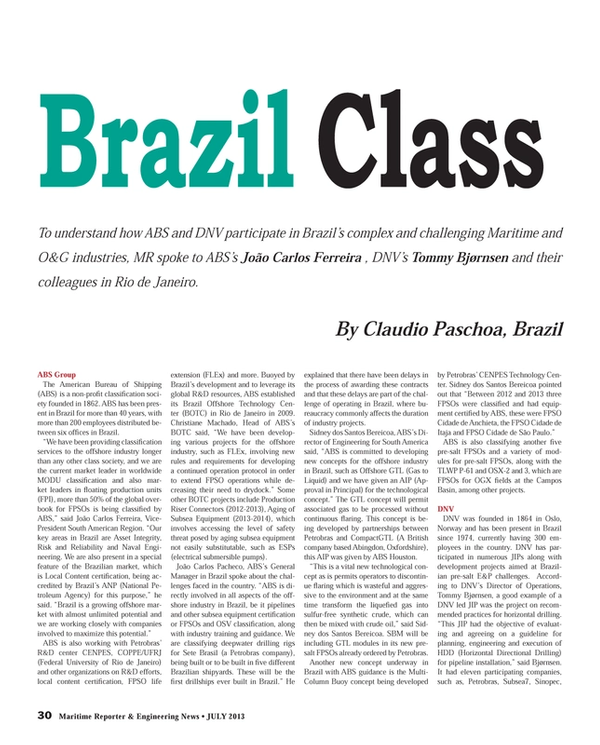 Read Brazil Class in Pdf, Flash or Html5 edition of July 2013 Maritime Reporter
Other stories from July 2013 issue
Content