Inside the USS Gerald R. Ford
By Edward Lundquist
President Donald Trump addressed the more than 10,000 people attending the ceremony where the Navy's newest aircraft carrier, USS Gerald R. Ford (CVN 78), was commissioned on Saturday, July 22 in Norfolk, Va.
"Wherever this vessel cuts through the horizon, our allies will rest easy and our enemies will shake with fear because everyone will know that America is coming and America is coming strong," said Trump. "American hands and American steel constructed a 100,000-ton message to the world."
Acting Secretary of the Navy Sean Stackley recalled President Theodore Roosevelt, who used to say, "Walk softly, and carry a big stick." Stackley then turned to Trump and said, "Mr. President, I present you with a big stick."
CVN-78 honors the 38th president of the United States and pays tribute to his lifetime of service in the Navy, in the U.S. government and to the nation. During World War II Ford attained the rank of lieutenant commander in the Navy, serving on the light carrier USS Monterey (CVL 26). Ford served in the U.S. House of Representatives and became vice president and then president in the aftermath of the Watergate scandal. He served as president from 1974-1977.
The ship's sponsor and President Ford's daughter Susan Ford Bales gave the traditional command to "Man our ship and bring her to life."
Many Technology Firsts
The Gerald R. Ford represents a leap in technology over the 10 Nimitz-class nuclear-powered aircraft carriers in operation. The first, USS Nimitz (CVN 68) ,was commissioned in 1975, but was designed using and with technology from the 1960s.
Fittingly, the President Gerald R. Ford presided over the commissioning of Nimitz in 1975.
Construction on Ford started in 2009. The ship cost about $13 billion.
The Ford's hull is similar to the Nimitz-class predecessors, but what's inside, and on deck, is very different. In fact, Ford has many new critical systems not found on any ship.
"Gerald R. Ford has several technologies that are unique to the Ford-class, such as a redesigned reactor plant, dual band radar, electromagnetic launch system and advanced arresting gear," said Capt. Richard McCormack, the Ford's commanding officer. "The technologies were designed to ensure that our aircraft carrier is capable of meeting our nation's needs and project power for several decades to come."
According to Rear Adm. Brian Antonio, the program executive officer for carriers, CVN 78 has increased flexibility, with nearly three times the electric plant capacity; a bigger flight deck and hangar bay for flight deck operations and aircraft maintenance, and a 33 percent increase in sortie generation rate; and reduced manning and a 20 percent reduction in maintenance costs. And it requires a smaller crew.
Because of the way the ship was designed, it won't require the same periodicity for major maintenance. That means a longer time where the ship is operational before having to be brought into the shipyard for refit. The 43-month maintenance cycle and 12-year docking intervals means the ship will spend less time in the shipyard and more time deployed.
Navy officials say the total lifecycle operating cost is reduced by nearly $4 billion per hull compared to the Nimitz-class, in large part due to a reduce crew size.
The Ford's integrated electric propulsion system includes a pair of A1B reactors that each generate 300 MW of power, three times what the Nimitz-class A4W reactors produced. That extra power also provides significant margin for future electrical loads. That's especially important when considering that the warships of tomorrow will have sensor and weapons power demands that rival the propulsion requirement. The CVN 78 electrical system operates at 13,800 volts of electrical power, compared to 4,160 volts found on Nimitz-class carriers, and features all-electric auxiliary services. This means steam heavy and maintenance-intensive hydraulic systems and pneumatic piping are eliminated. It has a zonal electrical distribution system and all-electric advanced weapons elevators. The steam catapult is replaced by an electro-magnetic aircraft launch system (EMALS), and aircraft will be recovered using an advanced arresting gear (AAG). The new dual-band radar (DBR) helps coordinate the ship's aircraft and defend itself and the strike group.
"Gerald R. Ford will leverage design changes from bow to stern and from keel to mast, enabling ships of the class to fly today's carrier aircraft with improved efficiency and ready to accommodate future manned aircraft and unmanned aerial systems," wrote Rear Adm. Bruce Lindsey, commander, Naval Air Force Atlantic. "With the Gerald R. Ford's island scaled down and set farther aft, the flight deck has more usable area than a Nimitz class aircraft carrier, with this improved flight deck geometry, she can more efficiently prepare, launch and recover aircraft of today and of the future."
"In all, 23 new or modified systems distinguish Gerald R. Ford from aircraft carriers of the Nimitz-class, bringing increased safety, effectiveness and efficiency to the ship's crew members, flight deck, propulsion system, electric plant, machinery control and integrated warfare systems," said Lindsey.
Some of the new technology has been controversial. Some has taken longer than anticipated to mature. Like all new technology, there are growing pains.
Following his visit to the carrier in March while in the Newport News Shipyard, Trump told Time magazine that he questioned the replacement of the traditional steam catapult systems with what he referred to as a "digital" system.
Trump said the system was too complicated. "You have to be Albert Einstein to figure it out."
He said that he told people on the ship that the Navy would have to return to the older technology for future ships. "You're going to goddamned steam. The digital costs hundreds of millions of dollars more money and it's no good," Trump said.
The "digital" system is actually the Electromagnetic Aircraft Launch System or EMALS, similar to a maglev system or railgun, which has fewer moving parts and avoids the troublesome pressure, leaks and corrosive nature of steam-driven piston systems and the associated hydraulic retrieval systems.
EMALS, made by General Atomics, uses linear induction motors and accelerates more smoothly, subjecting aircraft to less stress. The aircraft are connected to a carriage that runs between beams. Electro-magnets attracts and repels the carriage as it moves. It is purported to weigh less, cost less and require less maintenance than steam. Steam systems use a lot of fresh water, which is a valuable commodity on a warship at sea.
Within a week of her commissioning ceremony, Ford was underway and tested both the EMALS and AAG. As Ford marked a milestone by launching and recovering its first fighter jet, it also marked the first use of the Advanced Arresting Gear (AAG) and EMALS.
"AAG and EMALS have been successfully tested ashore at Lakehurst, N.J. but this is the first shipboard recovery and launch of a fleet fixed wing aircraft," said McCormack.
The AAG system will recover aircraft in a wider range of environmental and operational conditions than is currently possible," said Lindsey. "Using stored kinetic energy and solid-state electrical power conversion, EMALS provides greater control and precision when launching aircraft, expanding the ship's operational capability to launch more types of planes, from heavy strike fighter jets to light unmanned aircraft."
According to Lindsey, other design changes provide for the comfort and wellbeing of the Sailors in the crew, air wing and embarked staffs in Gerald R. Ford. "Crew members will find more privacy in redesigned sleeping areas with fewer racks per room and easier access to restroom and shower facilities. Separate spaces hold crew recreation and television viewing areas, providing consistent quiet for sleeping crew members. Wider passageways make travel through the ship more efficient in both peace and combat. Well-equipped gyms enable a variety of exercise routines. Increased air conditioning capacity adds to crew comfort and reduces maintenance caused by high heat and humidity. Even the lighting is better; 44,000 high-efficiency fluorescent T-8 light bulbs produces more light and last nearly twice as long as lighting on a Nimitz-class carrier."
Digital Design
Traditionally ships have been designed with a series of blueprints. However, there's a newer and better way to design and build ships today. The design process for CVN 78 has been different from other ships in general, and carriers in specific. Instead of physical paper drawings, the designs are digital. "CVN-78 was the first aircraft carrier to utilize a 3D product model as the design implementation tool for the entire ship. A 3D product model had been used for submarine design previously, and for discrete areas of carriers in the past, but never to the extent that it was used for CVN-78," said Craig Byrum, Newport News Shipbuilding engineering director. "Also, CVN-78 started with a clean sheet space arrangement and was configured to optimize material movement, weapons handling, and allow for a reduced crew."
The all-electric system eliminates steam lines and pumps, and reduces hydraulic systems, cutting down on weight and maintenance. CVN 78 has a third fewer valves than the Nimitz-class ships. Ship construction normally begins with a keel laying. When the keel — sort of the spine of the ship — is laid down, the frames can be built up, then the decks and the skin of the ship. When the ship can be floated, it's launched into the water, where the rest of assembly and outfitting takes place.
In modern ship construction, instead of building the ship piece by piece from the ground up, sections are assembled into modules, which are completely outfitted with piping, wiring, lighting, ducting and furnishing. The modules are efficiently built on land, then assembled into larger units until it becomes a ship that can be taken into the water and floated, at a much higher degree of completion than before. Altogether, the ship has more than 1.900 miles of electrical cable and more than 750 miles of fiber optic wire.
After completing builder's sea trials in April, the Ford pulled into Naval Station Norfolk for the first time.
The second ship of the Gerald R. Ford-class, the future USS John F. Kennedy (CVN 79), is well along in construction, and the shipbuilder has begun work on the third ship, future USS Enterprise (CVN 80). These carriers will serve alongside and complement the Nimitz-class ships.
"The age of the Ford-class carrier has arrived, and I am confident that these ships will continue to push the envelope for technological advancements and enable the United States to not only maintain, but to increase our maritime superiority throughout the world for the next 50 years plus," said Lindsey.
Lindsey said the commissioning of Gerald R. Ford was a "celebration of the contributions of tens of thousands of active duty Sailors, government civilians, and private sector patriots who envisioned, designed and built the lead ship of a new class of aircraft carriers, unmatched by anything else in the world."
Huntington Ingalls Industries works with a network of shipbuilding suppliers that is 5,000 companies strong and spans all 50 states.
Integrity at the Helm
"I could not be more proud of Ford Sailors and the effort and skill they have put into getting this warship ready for delivery to the fleet," said McCormack. "The role of 'plankowner' is an important one. Getting a ship ready for service is a challenging business, and it is a challenge Ford Sailors have risen to meet head-on. No matter where they go in their career, they will always remember the experience and teamwork that goes into going from a 'Pre-Commissioning Unit' to a 'United States Ship.'"
As a former test pilot, McCormack can attest to the challenges and growing pains that come with any first-in-class technology. "Many of the Sailors on board worked directly with the manufacturers and industry to establish processes for operating equipment that doesn't exist anywhere else in the fleet. In doing so, they set the standard for the Ford-class carriers to follow. It's a tremendous responsibility to get it right, and it's a challenge Ford Sailors actively seek."
And for the crew of Gerald R. Ford, they have higher purpose because of the constant inspiration provided by the ship's namesake, the 38th president of the United States. The ship's motto is "Integrity at the Helm."
"Integrity at the Helm means taking care of, and looking out for, our Shipmates. It is at the forefront of all that we do," said Capt. McCormack. "It means that we operate – both in and out of uniform – with great character, that we do not take the easy way out, and that we make an ongoing commitment to give our best in all that we do."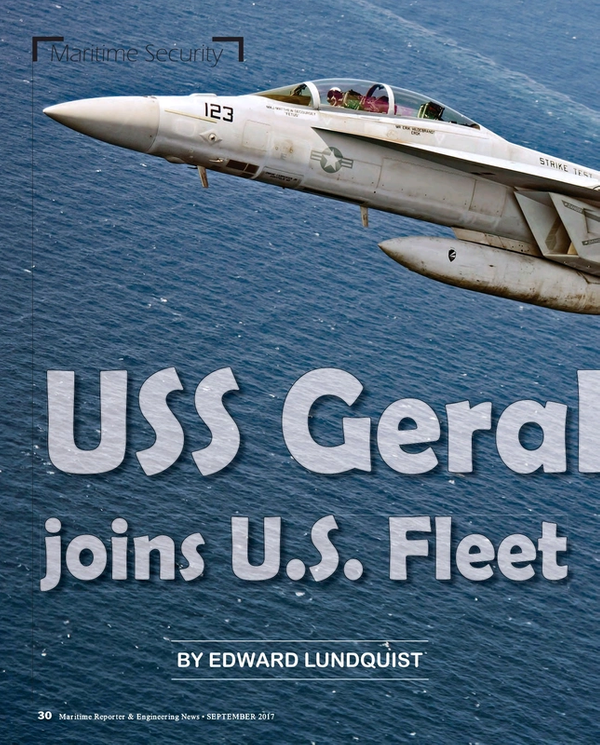 Read Inside the USS Gerald R. Ford in Pdf, Flash or Html5 edition of September 2017 Maritime Reporter
Other stories from September 2017 issue
Content