LNG: Maritime's 'Fuel of the Future'
By Greg Trauthwein
As the maritime world increasingly mulls alternative fuel and propulsion solutions, Maritime Reporter & Engineering News discusses the path ahead for (liquefied natural gas (LNG) with Timo Koponen, VP, Flow & Gas Solutions, Gas and LNG, Wärtsilä.
The road toward acceptance of LNG as marine fuel has neither been short nor straight, but anyone who knows this market could not reasonably expect anything different. "Even though it (LNG) is very well proven both from the technology side and its benefit to the environment, nevertheless there are too many people who still doubt," said Koponen. "If you look at it on an 'S curve' we are still on the first plateau. The steep hill is still to come." There are compelling arguments on both sides of the LNG fence, as traditional ship owners are comfortable with diesel, the prohibitive favorite fuel of choice for generations, while a depressed energy market and the sub-$50 per barrel for oil has muted one of the biggest drivers of LNG from the outset: tremendous fuel savings to offset higher capital expenditure for the LNG set-up. Nevertheless, the looming sulfur reduction regulations set to enter force in 2020, and the inevitable tightening environmental regulations to follow, has Kopenen and his colleagues bullish on the future of LNG in the maritime sector.
"I believe that LNG is still the fuel of the future," said Koponen, saying that environmental regulation will help drive the change to LNG and other alternative systems further faster.
Ever since the new sulfur reduction regulation was announced, "The number of inquiries we get has doubled," said Koponen. "There is definitely interest, with new segments coming in, including product tankers showing interest in using LNG as fuel. It is gaining ground. It is clear that offshore is already convinced, and ferries are increasingly coming around, led by pioneers like Viking Line. You are starting to see movement in cruise shipping – for example Carnival has ticked the box."
In the Name of Research
Most recently Wärtsilä announced the deal to supply the engines for a new LNG-fuelled research vessel being built for the German government. Wärtsilä will also supply exhaust cleaning systems based on selective catalytic reduction (SCR) technology and the LNGPac system for complete fuel gas handling. The SCR technology will be needed when the engines are running on conventional marine diesel fuel if the vessel exhausts its supply of LNG on long voyages. The 75m Atair is under construction at the Fassmer shipyard in Germany and will be owned by Bundesamt für Seeschifffahrt und Hydrographie (BSH), the Federal Maritime and Hydrographic Agency. The contract was signed with Wärtsilä in June 2017.
In all Wärtsilä's will supply two 6-cylinder Wärtsilä 20DF dual-fuel engines capable of running on either LNG or conventional liquid fuels, one 6-cylinder Wärtsilä 20 engine, two exhaust cleaning systems, and a Wärtsilä LNGPac fuel storage, supply and control system.
The engines will have Tier III classification since the dual-fuel engines comply with this classification when running in gas mode, and all the engines will be compliant when operating on diesel because of the Wärtsilä SCR systems. In addition, as it is a research vessel and the reduction of noise is paramount to successful onboard operations, the engines will be double elastically mounted, a special Wärtsilä technique to enable the ship to fulfill the DNVGL classification society's 'Silent R' rating..
The Hybrid Solution
While Koponen is a champion of Wärtsilä's LNG and gas efforts, he is adamant to say that there is no 'one-size-fits-all' solution, and there are a plethora of alternative fuels and hybrid solutions comingon the market. In Oslo earlier this year at Norshipping Wärtsilä debuted its HY Hybrid Power Module, a fully integrated hybrid power module combining engines, energy storage system and power electronics optimized to work together through a newly developed energy management system (EMS). While the company debuted the system in Norway, it also announced its inaugural order fo installation on Rimorchiatori Riuniti's new tug boat. The system is designed to provide a range of benefits through increased operational efficiency and flexibility, resulting in lower fuel consumption, reduced emissions and improved vessel performance. When operating in 'Green Mode' zero emissions can be achieved. Smokeless operation is also achievable at all load points and in all operating modes, thanks to a new patent pending automation procedure. In addition, the reduction in engine operating hours lowers maintenance requirements and extends the intervals between overhauls. Lloyds Register (LR) has issued an Approval in Principle (AIP) certificate for the Wärtsilä HY, and the Wärtsilä HY will have dedicated versions for each category of vessels. While the first versions being made available will be designed for tugs and medium sized ferries, the company also sees big potential in other types of vessels as well.
The first order for the new Wärtsilä HY has been placed by Italy based Rimorchiatori Riuniti, the biggest owner and operator of tugs in the Mediterranean Sea region with a fleet of approximately 100 vessels.
The Wärtsilä HY will be dedicated to a project for a new 80 TBP (tons bollard pull) harbor tug.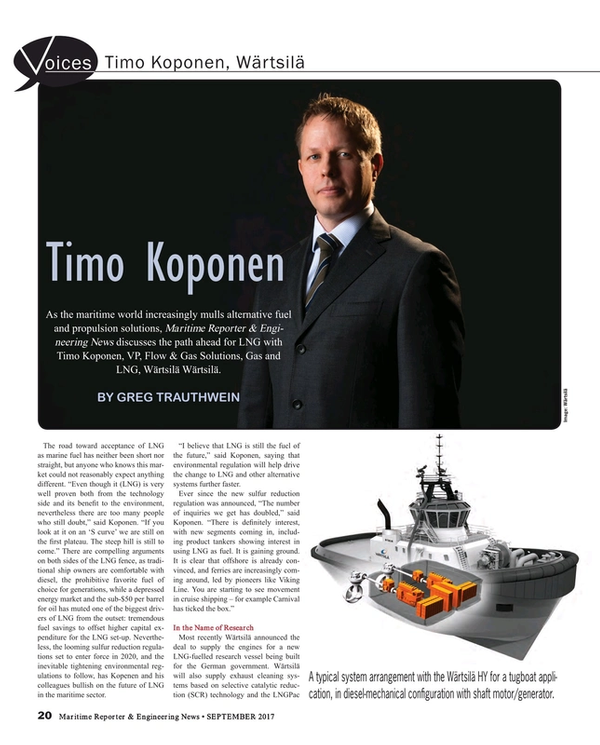 Read LNG: Maritime's 'Fuel of the Future' in Pdf, Flash or Html5 edition of September 2017 Maritime Reporter
Other stories from September 2017 issue
Content